Real-life detectorists: The metal hunters who are digging up a treasure trove of British history
A quarter of a century ago, the biggest Roman hoard of coins and artefacts ever discovered in Britain was uncovered by an amateur metal detectorist. David Barnett goes inside in the world of the treasure-hunting hobbyist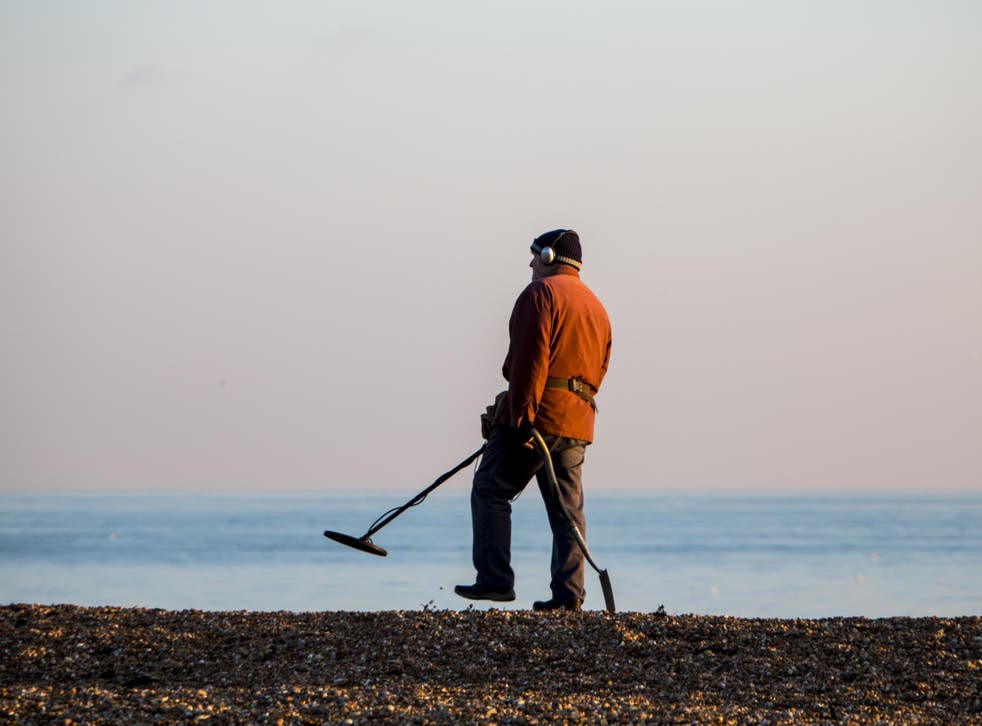 The first question I ask Steve Critchley is whether he watches The Detectorists, and what he thinks about it.
The third season of this gentle comedy, written by and starring Mackenzie Crook with Toby Jones as an odd couple united by their passion for metal detecting, has just started on BBC4, and has focused the spotlight on this very British activity. What could be more quintessentially of these isles, than the silhouette of a lone figure sweeping a metal detector back and forth in contemplative solitude in some remote English field?
"I do chuckle," admits Critchley. He's been metal detecting for 40 years, and served for 16 of those as the chairman of the National Council for Metal Detecting. Now he acts as policy adviser to the body. He's pretty impressed with the way the sitcom portrays metal detecting, and the nuances of the hobby it touches upon. He adds: "I've a lot of experience of metal detecting clubs, and a lot of what they show is very true to life. It does raise a smile."
Originally from Yorkshire, Critchley now ploughs his metal-detecting furrows in Cambridgeshire, where he's lived since 1985 – "I came down to work for two years, and never left" – and at least a couple of weekends a month he'll be out with his kit, seeing what he can see.
Perhaps he's looking for the next Hoxne Hoard. This is the gold standard of metal detecting: the holy grail of the hobby, and it came to light 25 years ago today. On 16 November 1992, metal detectorist Eric Lawes went out in his home village of Hoxne (in Suffolk) at the request of local farmer Peter Whatling, who had lost a prized hammer on one of his fields and thought Lawes might help turn it up.
Lawes didn't find the hammer, but he did discover something else: spoons, coins and silver and gold jewellery. Lawes and Whatling immediately notified Suffolk County Council, who owned the field on which Whatling was a tenant farmer, and a team of professional archaeologists descended on the site.
They discovered the rest of what became known as the Hoxne Hoard: the largest find of late-Roman artefacts ever made in Britain. Because the hoard was contained in a large box, it was designated Treasure Trove – in other words, something that had been hidden with the intent to retrieve it, rather than just lost or abandoned.
Proper, actual buried treasure. It was valued at £1.75m, and money to that value was paid from the Crown to Lawes, as per the rules at the time.
Lawes shared his reward with Whatling, and the Hoxne Hoard was taken to the British Museum, where it can be seen still today. A couple of years later in 1996, the Treasure Act was passed, which altered the regulations on Treasure Trove finds – meaning that rewards were shared between finders, tenants and landowners, ending the ages-old rule of "finders keepers".
But Steve Critchley doesn't go out most weekends expecting to find another Hoxne Hoard. Some newcomers to the activity do, though. Critchley says: "There are those who think it's a way to make some easy money. I tell them they're better off putting a pound on the lottery – the odds are much better than expecting to find something valuable while metal detecting."
Critchley's high point could be said to be a small hoard of 49 Roman coins he turned up a few years ago, but for him and the thousands of other detectorists who turn out every weekend, it's not about finding something of monetary value; it's more about the thrill of the chase.
Although "thrill" might be the wrong word to use. Metal detecting is an often solitary, slow pastime, which more often than not turns up little more than a few buttons or a sewing needle. But wait, for in such innocuous items buried in the soil, there's a picture of an England lost to time.
Buttons, hairclips, loose change – that's what detectorists like Critchley call "casual losses". Things not buried deliberately, but just accidentally discarded. And through such finds, stories can be told across the chasm of years.
"Imagine finding a bit of loose change, then some more further along, and some more," says Critchley. "Then it emerges that there was probably a path across this field at some point in the past. Or say you find some buttons. You can imagine men working the field on a hot day, taking off their waistcoat, a button pinging off. A little further away you'll perhaps find a needle, lost by one of the farm-worker's wives who sat at the edge of the field, sewing, while the men worked."
These are visions of a time long gone that will never be turned up by professional archaeological digs, which mainly take place at sites where there is some hard evidence of a major find, or at the behest of commercial developers who are requested to carry out a historical survey before commencing work on a new housing estate.
Minor they might seem, but all the same, the army of detectorists – especially those who, like Critchley, log and extrapolate their data – are uncovering and preserving our very history. And not just recent history, says Critchley; under those farmers' fields lie other, older agricultural systems, sometimes going back as far as the Bronze Age.
So if your curiosity for history – or hunger for a million pound trove – has been whetted, what should you do? The answer is not to rush out and buy a metal detector.
"I get so many inquiries from people saying they've bought a detector and now want to know where they can go," he says. "That's what you should be finding out first before you spend any money."
The kit for metal detecting can cost anything from a couple of hundred pounds, to a couple of thousand. Buying the gear isn't the problem; finding somewhere to use it might be. What you can't just do is head off into the countryside and start swinging your detector around. All land is owned by someone, and to detect on it you need permission.
"There's only one way to do that, and that's go knocking on doors and asking," says Critchley. But even then, it's not so simple. That farmer's field might already be the turf of one or more detectorists; they're unlikely to want the competition, and the farmer won't want more people than he's happy with turning up on to his land at the weekends.
Detectorists such as Critchley build up a relationship with the owners of the land on which they detect. Sometimes a gentleman's agreement is shaken upon; other times, contracts will be drawn up. For finds that are not classed as Treasure Trove, the ownership falls to the landowner, no matter who finds it.
It might be possible to agree to share everything 50-50, or to give the landowner first refusal on whether any items are kept. Most of the time, as with buttons or scatterings of coins, the farmer will be happy for the detectorist to keep them – but it's something that needs thrashing out beforehand.
Detectorists and landowners, especially farmers, can develop a relationship of mutual trust and respect. Critchley will be popping in to see many of his farmers for a sociable Christmas drink. They know who he is, when he comes to the fields. He can keep an eye out for illegal practices on the fields: people hanging about farm buildings who shouldn't be there, hare-coursers or poachers.
Sometimes farmers might charge a fee for detectorists to use their land, a practice Critchley doesn't agree with. Sometimes they might allow practically free access, which can lead to mild competitiveness. Critchley says: "Sometimes when that happens, one group or individual will try to out-gun the other, maybe taking the day off on Friday to detect on a site when they know the other people can only go at the weekends."
But largely, it's a civilised, agreeable activity. And for those who can't obtain access to fields themselves, there's a growing number of detecting rallies across the country, where detectorists are charged an admission fee to access a site in relatively large numbers.
Metal detecting has grown in popularity; even Mackenzie Crook, since starting writing and acting in The Detectorists, has taken up the hobby. Critchley says: "The high point was probably the 1980s, and then it dropped off a bit in the 1990s. The last four or five years, though, it's absolutely shot up."
Perhaps that's to do with The Detectorists; perhaps it's the interest in archaeology from shows like Time Team (now an artefact of television history) and its successors; perhaps it's the deep-seated desire to turn up a hoard like Eric Lawes discovered at Hoxne.
Or perhaps, for thousands of those who spend their weekends in a muddy field like Steve Critchley, it's because being a detectorist offers the chance to get down and dirty with real-life history.
For more information, contact the National Council for Metal Detecting at ncmd.co.uk
Join our new commenting forum
Join thought-provoking conversations, follow other Independent readers and see their replies