The controversial type of farming that's upsetting its neighbours
In the Willamette Valley of Oregon, longtime residents clash with the new cannabis farmer next door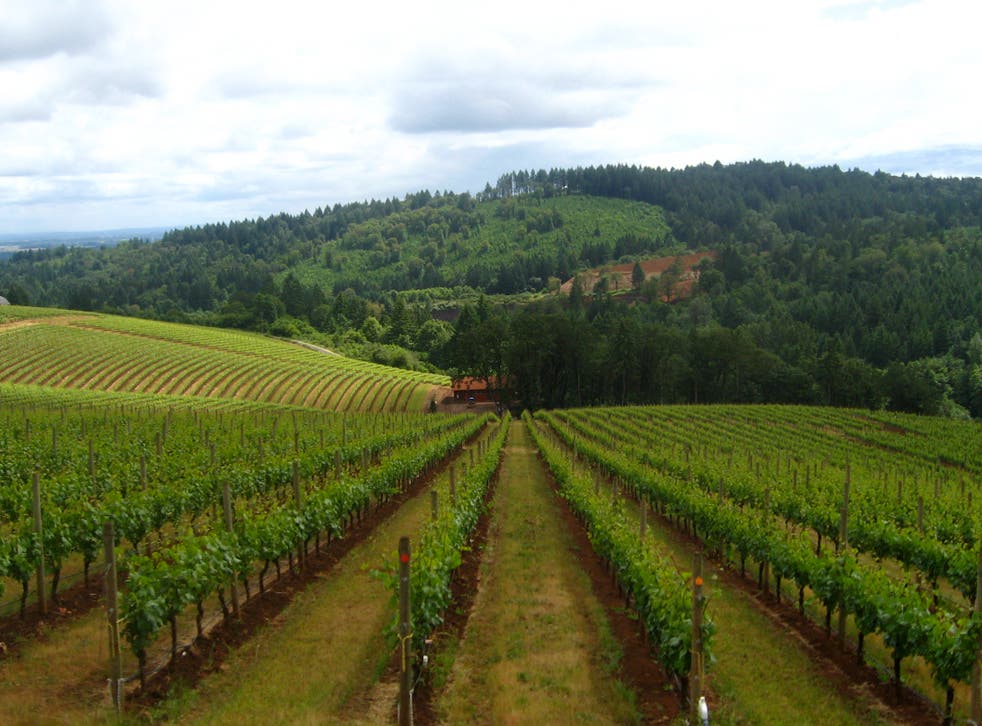 "This is hostile territory. Everyone hates us."
Riding up a steep hill near Highway 18 one afternoon, Richard Wagner blurts out what his lawyer had told me weeks earlier: No one wanted to be his neighbour.
Mr Wagner, 33, is sitting next to his mother, Mary, who is behind the wheel of her Subaru Outback, navigating a strip of dry grass and rocks in a meadow here overlooking the Willamette Valley. Mr Wagner's neighbours had made it possible last year for his parents to buy 6.7 acres. But in February, when he told them he was going to grow and process marijuana, his quaint country fellows suddenly were not so chilled out.
He was sued. The neighbours also asked for a temporary restraining order to stop him from using a shared road to haul his products to market. When Mr Wagner made a case for his processing facility at a county commission meeting in April, he was outnumbered by critics, 14-1. Even mother nature turned a cold shoulder. A storm walloped his hilltop home with a foot of snow in January, one of the worst storms since the 1940s.
Mr Wagner, though, saves his ire for the winemaker who works at the bottom of the hill. "We don't talk," he says.
In April, the winery owner filed a report with the sheriff's office after the tail of one his cows was severed, warning it could have been retaliation for opposing Mr Wagner's cannabis farm. Worse, the winemaker got threatening phone calls, one from a man who said he would torch the winery if he did not make peace with his ganja-loving neighbour.
Now, no one wants to talk to Mr Wagner. One resident simply scowls when he drives by. "He just stares at me, like he is trying to make me disappear," he said.
Many farmers see gold in today's green rush, where a pound of high-grade marijuana can fetch the same price as a tonne of grapes. But as pot farming has moved out of the forest and into the field, uneighbourly relations are withering under the harshest light.
Residents near Wenatchee, Washington, complained last year that the stink from a marijuana operation was so bad they couldn't barbecue outside. The county of San Luis Obispo, California, brought legal action to stop pot growers who, they said, depleted the natural water supply, left rubbish and dangerous chemicals, and toppled portable toilets.
In Colorado, a federal appeals court ruled that a horse farm could sue a pot grower whose warehouse, it said, not only emitted noxious odours but also attracted ne'er-do-wells.
Marijuana businesses are flush with cash and product: Last year thieves in Oregon made off with 240 pounds of cannabis worth about $500,000.
In Oregon, where recreational marijuana has been legal for two years, commercial growing is approved with a permit. But towns and counties – let alone people who live in rural areas and on farms – are only beginning to learn what it means to greet the pot farmer next door. Rick Olson, the former mayor of McMinnville and one of the commissioners who reviewed Mr Wagner's case, says feuds like these are likely to multiply. Especially so in states such as California and Arizona where the marijuana business is booming.
"This isn't going away," he says.
The Terroir of Tiny Town
In 1997, Moe Momtazi bought an abandoned wheat farm in this bucolic corner of the Willamette Valley, where he planted grape vines and took a holistic approach to farming. He brews tea from stinging nettle and sprays it on foliage to ward off disease. He eschews pesticides and embraces mystical alchemy.
On a tree outside his tasting room, a swollen deer bladder stuffed with yarrow blossoms once hung. Mr Momtazi, 66, left it there to absorb celestial energy until it was buried on the autumnal equinox on his 532-acre estate.
The Maysara Winery is a peaceful haven for Mr Momtazi, who fled post-revolution Tehran on the back of a motorcycle in 1982 with his wife, Flora, then eight months pregnant. They slipped over the mountains into Pakistan, he says, paying informants who threatened to report them to the police. He sometimes sits by the reservoir he built on his land, a reminder of a childhood spent at his family's farm near the Caspian Sea.
It is with melancholy mixed with anger that Mr Momtazi gestures up the hill and points at Mr Wagner tending to his plants. They haven't spoken in six months, Mr Momtazi says, and when they did, he hung up the phone in frustration. "This is all very unfortunate," he says, shaking his head.
World news in pictures

Show all 50
Mr Wagner has a sinewy skateboarder's body and is dressed in a grey T-shirt and loose-fitting tan shorts when we meet the next day on the deck of his house overlooking Mr Momtazi's vineyard. For roughly two years he and his parents, Mary and Steven, sought land so he could start growing and processing marijuana. As a younger man, Mr Wagner dabbled with growing pot in an Oregon forest, he says. He studied horticulture and landscaping in junior college, and he liked to make hashish.
"I'm a good grower," Wagner says. "But I'm a great processor."
Last year, the Wagners acquired the 6.7-acre lot for $682,000 at the end of Dusty Drive after months of negotiations over property adjustments involving the seller and his new neighbours. The land included an 8,000-square-foot barn big enough to cure and dry marijuana buds, as well as room to process extracts, rosins and hash. The Yamhill County planning director approved Mr Wagner's processing facility, contingent upon his building a 32,000-gallon water tank.
"That's awesome, right?" says Mr Wagner, adding: "Just doing what I love."
It is here, perhaps, Mr Wagner made a critical misstep. Mr Momtazi says neither he, nor his neighbours, were told about plans for the pot farm despite months of pre-sale negotiations. Worse, Mr Momtazi says that when he later asked one of the real estate brokers about the farm, he was told it was a hushed affair.
Mr Wagner said the timing was irrelevant. "They would have fought it anyway," he says now.
In late February, Mr Wagner sent postcards to his neighbours with the name Yamhill Naturals printed in white script. "I am your new neighbour at the end of the road," he cheerily scrawled on the back of each card. He left his phone number and email address. "I also would like to discuss my plans for my new farming venture," he wrote.
A Prolonged Silence
The first neighbours he met were Glenda and Van Keck, organic farmers who have lived on Dusty Drive since 1974. "They were worried about the cannabis growing right from the get-go," Mr Wagner says. "And I came over in hopes of quelling their concerns, to introduce myself and to show them my plans."
At the time, he wanted to cultivate half an acre of organically grown marijuana, or about 1,000 pounds per year. He told the Kecks he would process in the barn using ice and water, a non-chemical method. Van Keck grumbled about his property values, Mr Wagner says. Glenda Keck was largely silent. "She became very uncomfortable pretty quickly, and she left to go to Costco." The Kecks did not return phone calls seeking comment.
Parvathy Mahesh says she and her husband, Harihara, were told an older couple was moving in, not a pot farmer. She worried about trucks rumbling past her front yard, close to Mr Wagner's gate. And the road was too steep to sustain commercial traffic, she says. "If it was on a private road, that would be one thing," she says. "But this road is shared by all the residents."
In early March, the Maheshes called the Kecks. Then they went to talk to Mr Momtazi at his tasting room. "I said, 'I don't know anything about this,'" Mr Momtazi says.
He recalls that he and Mr Wagner had talked weeks earlier. His new neighbour mostly complimented him on his biodynamic farming practices, he says, and failed to mention marijuana. Mr Wagner says he was hesitant to mention his farm but did address the topic.
The visit from the Maheshes sent Mr Momtazi reeling. He wasn't opposed to marijuana use, but a processing operation was something altogether different. His daughter, Hanna, who oversees events, scoured the internet and found Mr Wagner's Instagram account. On 14 Januar he posted a photograph of the barn, a wall of storm clouds on the horizon.
"The future sight of greenhouses, and processing facility," Mr Wagner wrote. "Watch for the build out coming soon!"
Twelve days later, he posted another photograph, this time a selfie, his scruffy brown hair tucked under a baseball cap. "When I'm out on my land, my eyes stay glowing, and I still pinch myself occasionally just to make sure this is real!" he wrote. The posts stretched back to October 2016, about the same time the previous owners were negotiating with the neighbours to make it possible for the Wagners to buy the land.
"He was planning this all along," Hanna Momtazi said.
Moe Momtazi and the Maheshes researched the marijuana industry. The more they learned, the more nervous they became. State regulations required the Wagners to instal cameras near gates and fences, along with motion sensors and alarms. There was the problem of the shared steep road.
Despite telling the Kecks he would not use chemicals, Mr Wagner, in his initial business application, stated he wanted to use solvents, which are highly flammable. This gave his neighbours pause. Many explosions at illicit butane hash oil labs, for example, have been reported in Oregon, leading to fire and death.
When asked about it, Mr Wagner says he did not intend to mislead his neighbours. But by then, the relationships had soured. An attempt at détente failed. Mr Wagner says he got into a shouting match with Mr Momtazi over the phone.
"We had very little trust," Parvathy Mahesh said.
So, when the county commissioners agreed to hold a hearing in April regarding Mr Wagner's processing facility, the neighbours showed up in force.
Furious Messages
At 10.49am on 13 April, Mr Wagner and a dozen of his neighboUrs and their supporters met face to face in room 32 in the county courthouse in downtown McMinnville. Mr Wagner spoke first, outlining his organic farming and processing practices and why he believed he would have no negative impact on the environment.
A pile of grievances followed. Mr Momtazi warned that the marijuana operation would produce "foul-smelling particles" that could change the flavour of his grapes. He worried, too, that the reservoir he built might be contaminated if Mr Wagner used pesticides or solvents.
The Maheshes complained about the condition of the road and a lack of privacy once Mr Wagner's cameras went up. And the Kecks said the value of their land would plummet. Glenda Keck even mentioned that the smell of marijuana set off her migraines.
After an hour and a half, Mr Wagner and his opponents were spent. "I thought I was going to black out, I was so mad," says Mr Wagner. He ended the hearing, telling the commissioners that Yamhill County farmers were once afraid of wineries. But now they were "the lifeblood" of the Willamette Valley.
Three days after the hearing, the Maneshes and Mr Momtazi petitioned a judge for a temporary restraining order against Mr Wagner. The petition was denied.
On 19 April, The Oregonian published an article about the feud. More than 500 people posted comments online, most in support of Mr Wagner. Within days, Mr Momtazi started getting threatening phone calls.
"We are going to burn the building," he recalled one person saying on his answering machine.
"They said that?" asked his wife, Flora, who was visiting the winery at the time.
"Yeah, we didn't tell you that," he told his wife. "It was really scary. They said, 'We are going to kill you. We are going to burn the building'. And that is when we called the sheriff and we found out one of the calves was mysteriously dead. The tail of one of the cows was cut in half." His wife stared, dumbfounded.
"She kept telling us," Mr Momtazi says of his wife, "'You need to be careful.'"
Hanna, Mr Momtazi's daughter, retrieved her mobile phone. "Ganja rules, man!" one caller shouted. Another left his phone number. She plays the recording. "What's wrong with you," the man said, his message peppered with foul language. "Try to live peaceably among your neighbours."
The man was Richard Colvin, 53, a Portland resident who says he heard about the story from local news. When asked, though, he could not recall what the dispute was about. He blames the media. "The way it sounded to us, it was a bunch of people whining about a marijuana grower," he says. "Maybe I was feeling bad, but I'm tired of the whole marijuana nonsense."
He later apologised to the Momtazis. But by then, Mr Momtazi had had enough. He filed an incident report with the sheriff's office and told them about the threatening calls. He installed cameras around the vineyard. And Hanna stayed overnight in case an arsonist showed up. Indeed every time the tussle made headlines, the winery was subjected to another wave of threats.
As a result, Mr Momtazi became even more suspicious of the marijuana community. "It is a scare tactic they use," Mr Momtazi said of the calls. "That made me more firm."
The Island of Love
Mr Olson, the former mayor of McMinnville and one of Yamhill County's three commissioners at Mr Wagner's hearing, meets me at the Red Fox Bakery downtown for a cup of coffee. McMinnville has a quirky vibe, a cultural stew of ageing hippies, hipsters with man buns and young professionals who enjoy the relaxed Oregon vibe.
Every May the town celebrates its UFO Festival, a weekend extravaganza with parades and costume contests. "We always say there is the Yamhill County and there is the rest of Oregon," says Mr Olson.
In June, the commissioners voted to uphold the appeal in favour of Mr Momtazi and the other neighbours. Mr Olson says he was concerned about how much water Mr Wagner's processing facility might use, as well as the safety of the road shared with neighbours. "We upheld the appeal based on these issues," Mr Olson says. "It had nothing to do with whether we like marijuana or not." Mr Wagner is not out of the business altogether; he can still apply for a permit to grow marijuana commercially.
The lawsuit filed against Mr Wagner by his neighbours is pending. Mr Wagner says the odds of being able to process at his farm were slim to none. Instead he would like to join a farm collective or find an investor to fund his operation. "No one ever really met me," he says. "It's like they act like I should go someplace else."
Mr Momtazi sent an email with one of Mr Wagner's deleted Instagram posts that showed the barn against a brilliant sky at sunset. "Right now I am an island of love with an ocean of fear around me," Wagner had written. Then, he added, "#xenophobia is #venom to the #haters and those they believe they #hate #manifestdestiny #cannabiscommunity."
Mr Momtazi surmises that Mr Wagner hasn't exactly embraced them, either. Posts like that split their farm community, he says, "causing more hatred toward us." © New York Times
Join our new commenting forum
Join thought-provoking conversations, follow other Independent readers and see their replies