Forgotten Women: How one Kenyan woman escaped FGM and saved thousands more girls from the cut
'I saw death because of circumcision': Nice Nailantei Leng'ete was shunned from her village for avoiding the cut. Now, she tells Lucy Anna Gray, she's leading a global campaign to end the practice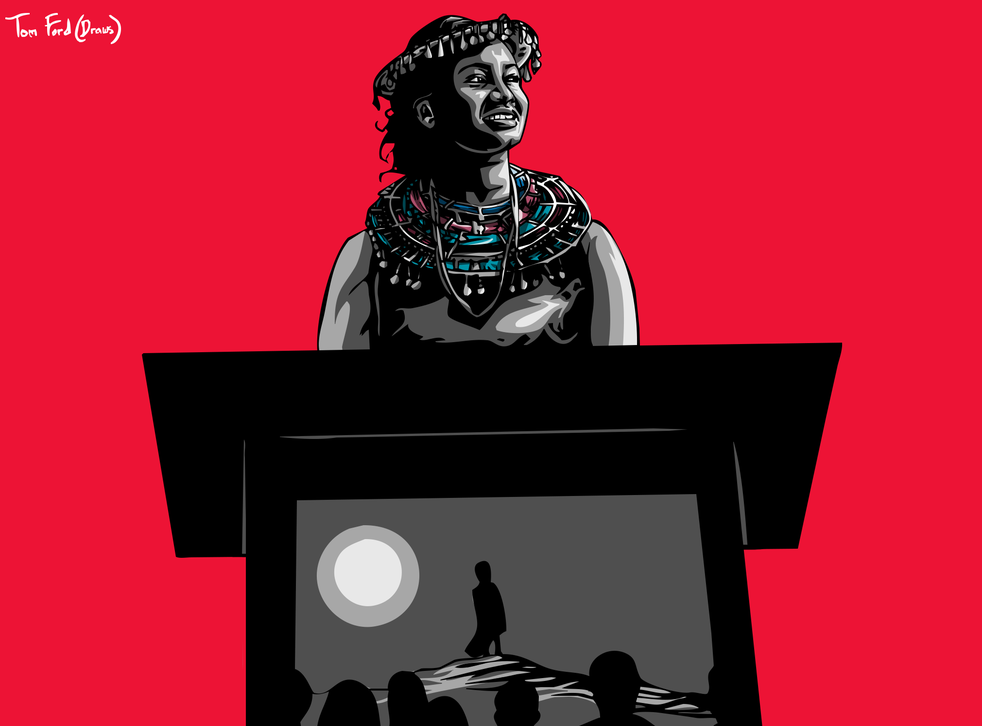 When she was eight, Nice Nailantei Leng'ete ran away to avoid being cut. Along with her elder sister, she left her home in the early hours of the morning and hid. When her uncles found the girls, they beat them.
"When I was hiding in the tree I was thinking: will they find me and force me to go through FGM? I saw death because of circumcision and I was worried that I might die, or if I did not die I would not be able to go back to school and I would be married."
This act of rebellion did not deter Nice's family. Living with her grandfather after the death of both her parents, she once again tried to escape the cut.
"The next time I ran away but my sister did not; she was tired of the beatings… it was a way of sacrificing herself. She was 10 and I was eight and because she was older she felt that if she went through FGM then they may leave me."
Forgotten Women: Ending FGM in Kenya

Show all 13
Female genital mutilation or cutting (FGM/C) is a ritual that involves the partial or total removal of the external genitalia, including the clitoris. There are no health benefits to this harmful and invasive procedure. Girls can haemorrhage to death, die from infections, and suffer chronic pain, infertility and a plethora of medical dangers.
At least 200 millions girls and women alive today have been through FGM, mostly during their infancy and childhood, while an estimated 3 million girls are at risk each year.
Nice is from a Maasai community in Kilmana, Kenya, a nation where the practice has been prevalent for centuries.
"Undergoing FGM/C in my village was a rite of passage from girlhood to womanhood, so every girl had to go through it… if you didn't you were not considered a woman, no matter your age," Nice says.
Soon after being cut, her sister left school to be married and have two children, but Nice was desperate to avoid that path. She repeatedly explained to her grandfather how she wanted to stay in school, how desperate she was to get an education. Eventually she persuaded him.
"I faced challenges being the only girl who had not undergone the cut in my community," she says. "There was pressure from girls, the community, my family to have the cut and quit getting an education… I was not seen as a good example.
"Once you are empowered from going to school and getting an education, you can make more decisions yourself and become the woman of your dreams."
But Nice would not stop at getting her own education – she was determined to give other girls the same opportunity.
"I realised that if more girls were like me and did not undergo FGM/C in my community then things would begin to change – there would be more Nices and so it would not be seen as just something I was doing alone."
When she was 17 years old, a charitable organisation called Amref Health Africa came to her village. They asked the elders for permission to give medical training to one boy and girl. As the only girl who could write, Nice was chosen.
"Even at the time the elders didn't like it because I was seen as a bad example for not undergoing FGM/C."
Despite the judgment she faced, Nice took her training seriously, learning about sexual and reproductive health, FGM/C and child marriage and, most importantly, how to talk about them.
"I used those skills to work with everyone in my whole community to find an alternative to FGM/C; something that would still recognise our culture of celebrating girls becoming women but that would abandon the harmful practice of FGM/C and would let girls continue their education.
"I started talking to other leaders in my community, and the morans [young men]… Eventually morans started to be convinced through dialogue, more elders were convinced."
Her passion for change grew into the Alternative Rites of Passage, beginning with 17 girls becoming women without the cut.
"It grew and grew in my community and we started to spread it to other Maasai communities nearby; then, through Amref Health Africa, it started to spread to Maasai communities in Tanzania."
The programme has now helped prevent more than 16,000 FGM/C procedures across Kenya and Tanzania, evolving traditional attitudes towards the practice. In 2018 Nice was named as one of the 100 most influential people in the world by Time – at the age of 27. She also became the first woman in her village to be given the Black Walking Stick, a great symbol of respect and power.
"We've come a long way since we saved the first 17 girls from FGM/C in my community. Because we involved the whole community and listened and talked together. The whole community needs to be part of the change and they need to lead the way… It's not one person making the change."
Kenya has seen remarkable progress since the practice was made illegal in 2011. Rates of cutting among women aged 15-49 have dropped from 37.6 per cent in 1998 to 21 per cent in 2014, according to the Kenyan Demographic Health Survey.
There has been a global decline of FGM/C over recent decades – but there are barriers hindering its total elimination.
As Nice explains, it is deeply ingrained in many cultures – such as that of the Maasai – that a girl must undergo a form of female circumcision to become a woman.
"Sometimes I am asked how parents could make their daughters undergo FGM/C," Nice says. "I think that can be hard for people to understand, especially when they come from communities that do not practice FGM/C.
"Parents are following culture that has been in place for a very long time… hundreds of years, even. In my community, parents knew that their daughters would not be accepted as women unless they went through FGM/C – they would not be accepted in the community. That means they could not be married, have a family and all of the things that being a woman in my community meant."
Rates vary depending on religion and region, with the majority of cases in the northeastern province of Kenya. FGM/C is practised in varying degrees by around 30 of the country's more than 40 ethnic groups, according to Amref. Despite a nationwide drop over the past 20 years, specific ethnic communities continue to see high FGM/C prevalence, such as among the Maasai, where it is still at 78 per cent.
"FGM/C is not the same everywhere. Individual communities in Kenya practice it for different reasons. In my Maasai community, FGM/C is practised as a rite of passage from girlhood to womanhood and happens once a girl starts to show signs of maturing – from eight years old and upwards. In other communities in Kenya, girls may undergo FGM/C when they are very young, infants even, or when they are in their teens or older.
"That is why it is so important that efforts to abandon the practice of FGM/C are created and led by the community itself because each community needs to find a solution that works in its own context."
As well as the multifaceted nature of the issue, as Nice points to, other campaigners suggest the commonly cited statistics showing a drop in rates do not reflect the whole picture.
"We are pleased to see that the numbers are coming down in a lot of countries," Emma Lightowlers, spokeswoman for research group 28TooMany, told Reuters, "but it doesn't tell the whole story and there are other groups where cutting takes place after the age of 14. It takes place in teenagers, or in fact, even in women in preparation for marriage."
This means although efforts from activists such as Nice are having a huge impact, many girls still face being cut when they get older.
There is a deep-rooted link between FGM/C, child marriage, school dropout rates and teenage pregnancy. As Nice's explanation of the Maasai show, female circumcision is often seen as the first step on the ladder to womanhood, and is not something a girl chooses, but rather must do. By fighting against FGM/C, Nice's work has inevitably led her to prevent the latter stages of this cycle.
"I have a lot of resistance or even threats sometimes from either the men who are marrying these girls or the families that are marrying them off," Nice says. "Remember also the father of the bride has sometimes taken cows from the groom's family for dowry. It takes time to change mindsets and behaviour and changing harmful practices means changing all of this – a culture that has been there for hundreds of years.
"I can't give up because of threats from communities because this is an issue that is so dear to my heart. I have seen the problems and the pain that our girls and women have undergone and that is what I care about – changing that."
Be it the work of governments, international organisations, community work, or the remarkable efforts of individuals such as Nice, progress is being made. Eight years after making FGM/C illegal, Kenya has taken huge steps forward – but there is still more to be done to end the practice in the country, and all over the world.
"Never give up; we can all become the women of our dreams – the women we choose to be," Nice says.
"Let's not just see ourselves as people who are less or people who are voiceless; let us see ourselves as important people in society; believing in ourselves that we can do it; once our voice is risen, why not? There is hope. Let's also try and talk to one another and work together always. Whether you are Kenyan, African or European – globally our problems are the same all of the world so let's work together and support each other. The problems we are facing make us one.
"The journey is still long but if we work together, lift the voice of the voiceless women and make sure all girls and women are empowered then we can do it."
You can find out more about Amref here
Support free-thinking journalism and attend Independent events
Register for free to continue reading
Registration is a free and easy way to support our truly independent journalism
By registering, you will also enjoy limited access to Premium articles, exclusive newsletters, commenting, and virtual events with our leading journalists
Already have an account? sign in
Register for free to continue reading
Registration is a free and easy way to support our truly independent journalism
By registering, you will also enjoy limited access to Premium articles, exclusive newsletters, commenting, and virtual events with our leading journalists
Already have an account? sign in
Join our new commenting forum
Join thought-provoking conversations, follow other Independent readers and see their replies