Floating festivals: Yesteryear's music stars enjoy a life on the ocean rave
What happens when you just can't face Glastonbury anymore? You take to the high seas, says David Barnett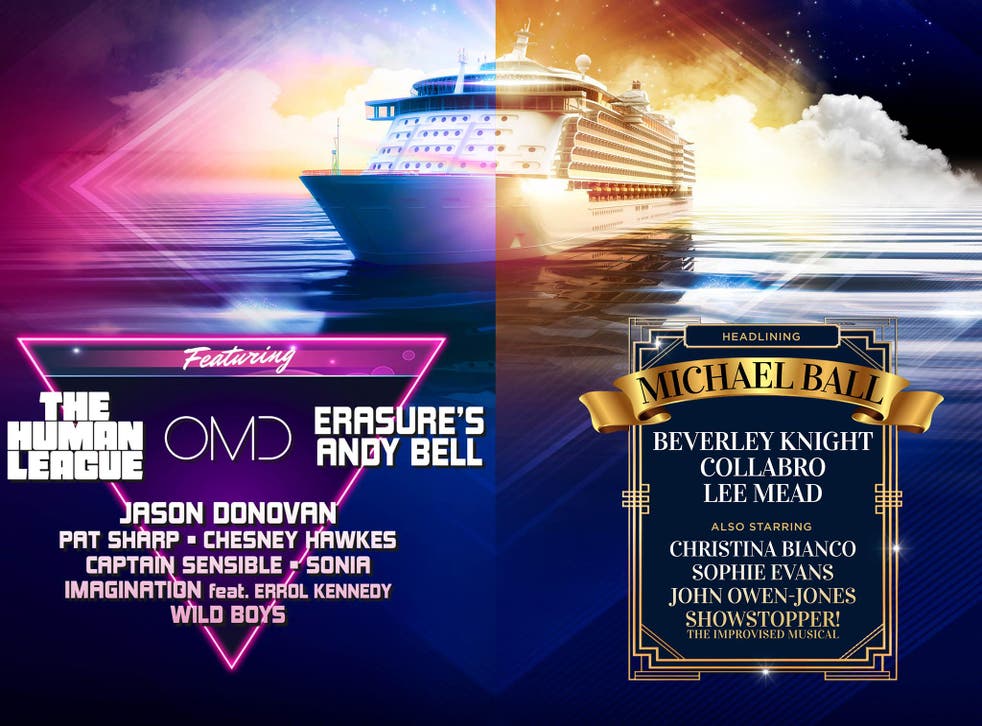 You love live music. You love watching lots of bands on the same bill. You're not yet ready to hang up your dancing shoes.
What you don't love so much these days is the festival experience. Ticket lotteries, chemical toilets, getting your tent broken into by some scally, and trudging home through acres of mud with only trench foot to show for the weekend.
What to do? Well, there's a growing trend that looks set to explode in 2018, and it's just for you. Old pop kids don't fade away, they go to sea.
Themed cruises have been a thing in the States for a while, and pretty much all tastes are catered for. You can get a floating stadium experience with cosmetically enhanced rockers Kiss or relive your raving days on a dance music cruise. The idea has taken a little longer to gain traction in the UK (perhaps because we don't have the balmy Florida Keys to sail around) but all that's about to change.
The Shiine On brand made the first tentative steps into catering for the post-festival crowd with weekend events featuring bands and artists predominantly from the Nineties indie scene, hosted at the Butlins holiday camp in Minehead. Then, this year they dipped a toe into the water – pun intended – of the themed mini-cruise, a three-day event departing from Hull to Amsterdam.
It was such a success that the Shiine On cruise is back in March 2018, with a line-up including such notable Nineties luminaries as EMF, The Farm, Cud and a mind-boggling Evening With Bez of the Happy Mondays,
But Shiine On isn't going to be alone on the high seas next year. If Nineties indie isn't your bag, how about a prog-rock cruise? HMS Prog promises to be a little more chin-stroking than freaky dancing, its two-day March voyage across the topographic oceans – well, from Hull to Amsterdam – starring legendary Yes and Asia keyboard player Geoff Downes, an acoustic set from Pendragon, and even an appearance by Roger Dean, artist behind some of the most iconic gatefold sleeves of the prog rock era.
And diving headlong into this brave new watery pop world is the Floating Festivals brand, which next October brings two music cruises to the party, a perhaps more traditional musical theatre one, Stages, but also the undisputed jewel of their schedule for pop fans, Throwback.
Throwback will feel like you've jumped into a DeLorean with Doc Brown and headed straight back to the Eighties. In fact, when travellers board the three-night mini-cruise in Southampton there'll actually be a DeLorean on the docks, as well as an Eighties costumed farewell contingent and, for all anyone knows, a couple of mischievous gremlins hiding in the toilets.
It's all part of what Floating Festivals boss Jonathan Blackburn calls the "immersive experience" he's striving for with the Throwback mini-cruise. He says, "From the moment people arrive at Southampton we want to put them in the Eighties. Aside from the music, there's going to be Eighties content shown on screens, there's going to be Eighties food, even a shop selling Eighties gear for those who want to really get into it."
The lineup is pretty nifty, with the Human League, OMD, Andy Bell from Erasure, Jason Donovan, Sonia, Chesney Hawkes and even Captain Sensible. Blackburn has for a long time been in the business of booking acts and organising entertainment for holiday resorts, and has had strong links with the cruise industry, so reckons there's a headwind of interest for music mini-cruises in the UK.
"In the US it's a multibillion-dollar industry," he says. "There's a full range of themed cruises… whatever you're into or whatever you can think of, you can get that on a ship. The UK is definitely waking up to this as a new market and we think it's going to be hugely successful. We're already booking acts for the 2019 cruise, even before our 2018 cruises have taken place."
For the Throwback cruise, Blackburn has chartered the Royal Caribbean ship Navigator of the Seas. If your experience of sailing is limited to a storm-tossed cheap booze run to Calais, then Blackburn says you've got a lot of catching up to do.
For the downtime when you're not singing along to "I Am The One And Only" with Chesney Hawkes there's a climbing wall, an ice rink, a promenade of shops and even a robot bartender – not, one assumes, like Michael Sheen in the movie Passengers, but one where you order drinks via a touch-pad and they are delivered via an automated mixologist.
But what about the bands? Is it a bit weird for them to be playing on a ship when they're more used to sweaty gig venues and outdoor festivals? Cud formed in Leeds in the late 1980s and indie-kids will remember well their signature tunes "Rich and Strange" and "Only A Prawn in Whitby", and their album Leggy Mambo. Cud will be on the Shiine On cruise in March, after several years of playing the landlubber version at Butlins.
Bassist Will Potter thinks music mini-cruises are definitely the way to go. He says, "We jumped at the chance to play. We haven't played the Continent for a while so we're going to chalk this one up as a foreign tour. I really like the idea that we're playing out at sea… it's almost got that feeling that you're doing something slightly illegal, that pirate radio vibe."
Cud have just finished a UK tour (at the same time as, perhaps surprisingly, Potter and vocalist Carl Puttnam writing comics for the American publisher IDW's new Black Crown imprint as a side project) and as the fanbase gets older – Cud were formed 30 years ago, remember – he thinks it's important to evolve with the needs of the followers.
"Maybe in a few more years the Cud fans will be going on proper Mediterranean cruises," muses Potter. "Instead of playing Vegas when he gets old, perhaps Carl will be doing singing spots on long cruises to an audience of old indie fans in their sixties and seventies."
These music mini-cruises might well be a canny move to groom the more traditional cruise holidaymakers of the future. Floating Festivals' Jonathan Blackburn says, "It might be that most people who remember Eighties music are in, say, their forties up to their early sixties, though the music is so well-loved there's a much wider range of people interested than that.
"But these might be people who've been curious about going on a cruise, but never wanted to commit to a week or ten nights or whatever. A three-night cruise might be the way in for them.
"I've had a knowledge and understanding of the cruise market for a long time and I've seen how it's evolved. These days cruises are less about the destinations and more about the journey, and because of that the cruise companies are having to make the on-board experience as high quality as it can possibly be."
That will include air-conditioned cabins with sea views, mass karaoke sessions and opportunities to meet the stars on board the ship while you're waiting for the Human League to take the stage.
Blackburn will be on both the Throwback and the Stages cruises, not only because he wants to keep a weather eye on these inaugural events but also because he loves his music. He says, "I went to see Blondie the other night and it was fantastic. So much Eighties music still stands up, it's still fabulous, and we've got these amazing bands playing their hits.
"People still love to see live music, but very often they just don't want the hassle of going to a traditional festival. So we want to create that festival atmosphere but on the most modern, hi-tech ship available."
Acts for the 2019 cruises have not yet been announced, and Blackburn hints that they're thinking of adding a third and possibly a fourth cruise to their schedule, based on different musical eras and genres than either the Stages or Throwback cruises, but he's keeping those close to his chest for now.
"I'm completely committed to this and it is my belief that music mini-cruises are definitely going to be massive in the UK in the next few years," he says.
For those of us in the no man's land between post-festival years and not-yet-ready-to-cruise-the-Med years, maybe he's right. And, who knows, if you go on the Throwback cruise you might even get to sit at the captain's table for dinner. Captain Sensible, that is.
For more information go to: floatingfestivals.co.uk; shiineon.com; hmsprog.co.uk
Register for free to continue reading
Registration is a free and easy way to support our truly independent journalism
By registering, you will also enjoy limited access to Premium articles, exclusive newsletters, commenting, and virtual events with our leading journalists
Already have an account? sign in
Register for free to continue reading
Registration is a free and easy way to support our truly independent journalism
By registering, you will also enjoy limited access to Premium articles, exclusive newsletters, commenting, and virtual events with our leading journalists
Already have an account? sign in
Join our new commenting forum
Join thought-provoking conversations, follow other Independent readers and see their replies