From the classroom to Somkhanda Game Reserve
The bush university has become a rite of passage for zoology and conservation students who want hands-on experience away from campus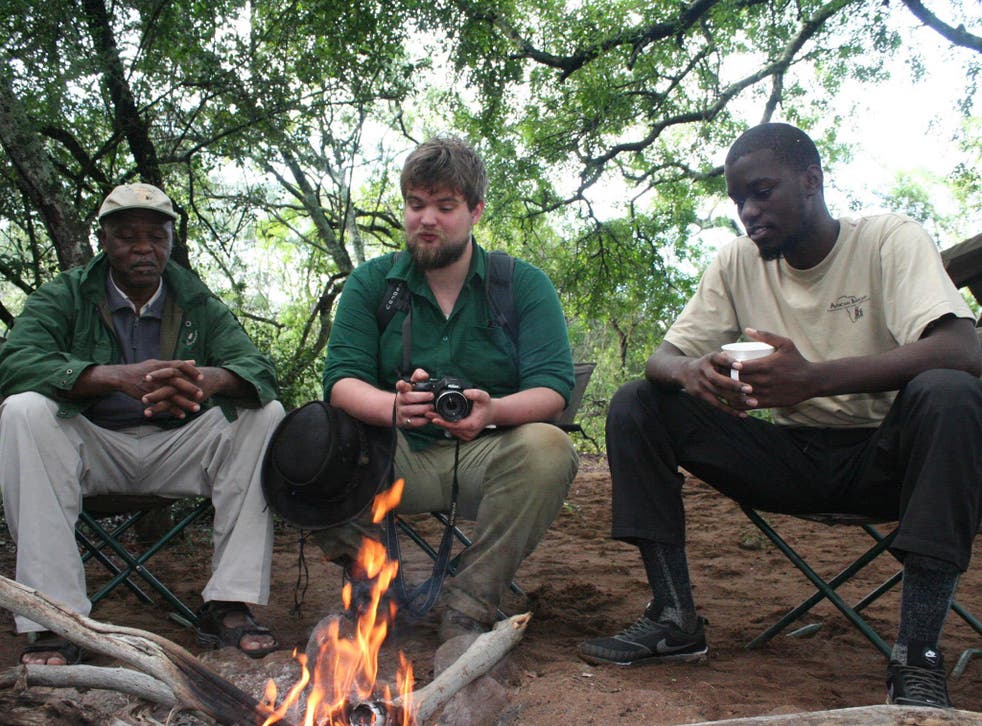 Alex Parr spent his boyhood in the English countryside, but had to adapt fast to the speed and noise of the urban jungle after enrolling as a biology student at the University of Roehampton in London.
But lately, putting his head down after another long day in the African sun, his ears have become attuned to some very different noises – the nocturnal growling of leopards and lions, or the sound of elephants snapping and munching the juicy branches just metres away from his flimsy canvas tent.
Here, in Somkhanda Game Reserve – a 12 000-hectare Big Five wildlife reserve in South Africa's KwaZulu-Natal province – Parr is probably as far as he could hope to get from the frenzy of central London and the buzz of student life at Roehampton.
The bearded 22-year-old undergraduate was among a group of several conservation interns taking advantage of an innovative Science on Safari project that allows students from across the world the chance to further their studies and gain practical field experience in a tented "university in the bush".
Parr, who grew up next to Dartmoor National Park in Devon, returned to London recently after studying the feasibility of re-introducing baboons to a region from which they disappeared more than 60 years ago.
Now studying towards his Masters degree in primate biology and conservation, Parr also interviewed local residents and wildlife ranchers about their perceptions regarding baboons.
One of the oldest residents of the area, 80-year-old Sakhile Gumbi, told him that the last baboons disappeared from the area in 1955. They were killed by hunters looking for body parts to supply the muthi (traditional medicine) trade.
"I'm told that baboon parts can be mixed with certain herbs or other animal parts to improve a man's ability in stick-fighting, to cast away evil spirits or to help recover lost cattle," says Parr.
"There are several wildlife species that seem to be a risk from traditional medicine, including hyenas, baboons and vultures. They may not be the prettiest animals, but their conservation can't be overlooked in favour of the more glamorous species."
In a nearby tent, fellow intern Katarina Rybarikova has just returned from a late-night "frogging" expedition in the marshlands next to the Mkhuze River.
Slovenian-born Rybarikova, a biology student at Fribourg University in Switzerland, was hoping to study elephants at Somkhanda but found that "someone was doing that already", so she has been investigating some much smaller creatures instead.
There are about 16 different frog and toad species at Somkhanda, and she has already found four "new" species that have not been documented previously on the reserve.
"I organise a frogging event at least once a week so that the other students can help me catch them. I knew virtually nothing about frogs when I arrived and the first traps we made were pretty hopeless. But I have learned many, many new things since then – quite apart from how to catch and identify frogs."
Rybarikova, who wants to study for a Masters degree in conservation when she returns to Fribourg, says she was always attracted to Africa. "I just feel good here. It's hard to explain – it was a bit like coming home when I arrived."
Other interns include Lennon Mkwananzi from Zimbabwe, who is spending six months in the reserve studying community-based wildlife projects, having completed his degree in wildlife and safari management at the Chinhoyi University of Technology last year.
"Community-based wildlife management is about giving people more power to manage their wildlife," he believes.
"From what I am learning, communities just want to be more involved in the decision-making."
And Somkhanda, as a community-owned game reserve, seems the ideal place to study his chosen subject.
The Science on Safari project was launched by Andrew Anderson, a former Natal Parks Board wilderness trails ranger who set up his own wildlife and environmental travel business, African Insight.
African Insight and the Wildlands Conservation Trust are helping to develop and manage tourism on Somkhanda after a land claim by the Gumbi community on four large properties that were previously cattle or game farms.
"We can take up to 12 interns at a time, allowing each to do a specific project, generally for three-month stints," says Anderson.
Though Science on Safari provides comfortable accommodation and support, Anderson stresses that there are no "mommies or nannies".
"The students are here not just to study, but also to learn life skills – so everyone has to cook and clean for themselves."
There is also a degree of symbiosis. By encouraging academic students to work on the reserve while doing their dissertations, students benefit from having a place to do their research, while Somkhanda benefits by gaining valuable data about the fauna and flora in the reserve.
Each intern has their own two-room tent with a proper bed and mattress, solar lamp, wardrobe, desk and chair, also making use of the nearby lodge and interns' office to download emails and write up their research.
They share communal ablutions (which include open-roofed hot shower cubicles) as well as a communal kitchen and commons area, with plug points for charging electronics.
Students are in charge of their own time, generally working from 8am to 6pm – unless they go out very early to help track black rhinos, wild dogs and other threatened species.
Every weekend interns and conservation volunteers are also expected to pitch in to help with community assistance projects like cattle-dipping.
There are also opportunities to get involved in daily management work such as game capture, game introductions and priority-species monitoring and fence-line maintenance.​
Register for free to continue reading
Registration is a free and easy way to support our truly independent journalism
By registering, you will also enjoy limited access to Premium articles, exclusive newsletters, commenting, and virtual events with our leading journalists
Already have an account? sign in
Register for free to continue reading
Registration is a free and easy way to support our truly independent journalism
By registering, you will also enjoy limited access to Premium articles, exclusive newsletters, commenting, and virtual events with our leading journalists
Already have an account? sign in
Join our new commenting forum
Join thought-provoking conversations, follow other Independent readers and see their replies