Homelessness in New York: A life of spectacular promise undone by demons
Nakesha Williams resisted help from social workers, friends and acquaintances, some who only knew her as a homeless woman, and others who knew of her past
Benjamin Weiser
Friday 09 March 2018 17:36 Comments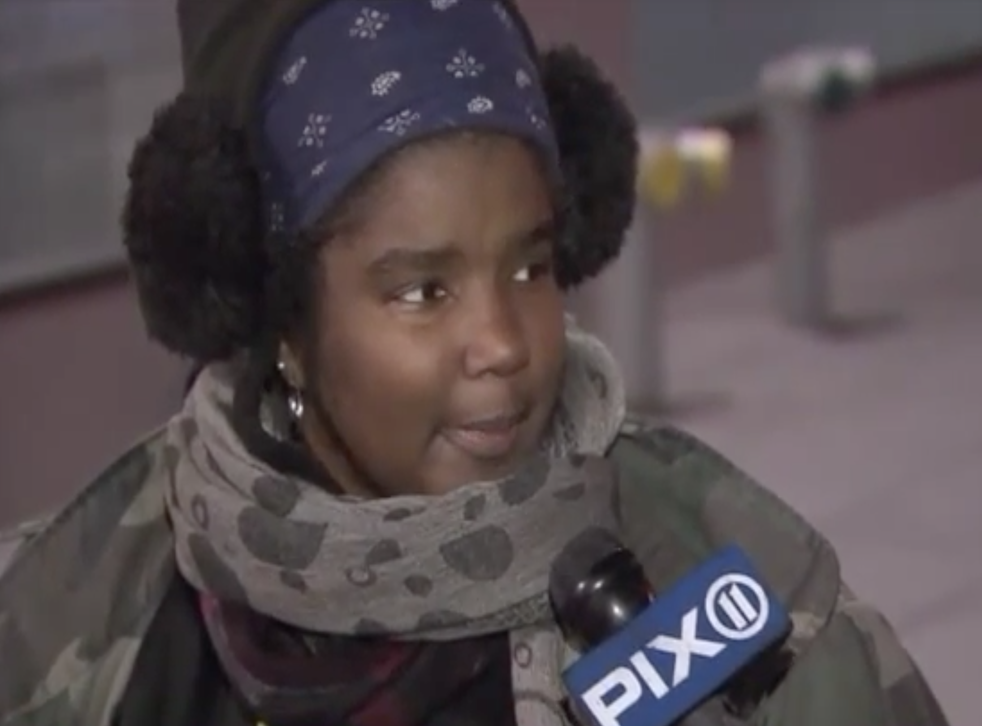 They met on a rainy morning several years ago, at the base of the Helmsley Building in Midtown Manhattan. As others hurried to work, Pamela J Dearden, an executive with JPMorgan Chase, noticed a woman, unperturbed by the rain or her surroundings, standing on a sidewalk grate she had chosen as her home.
Dearden, known to everyone as PJ, offered her umbrella to the woman, who took it and thanked her.
A friendship blossomed. PJ would often stop to talk with the woman, who sat amid shopping bags, books, food containers and a metal utility cart. PJ admired her hardiness, but also her smile, her soft features and her humour. If the woman was sleeping or talking loudly to herself, PJ held back, but other times she engaged her in short conversations, which could go into unexpected places.
The woman's name was Nakesha Williams. She said she loved novels, and they discussed the authors she was reading, from Jane Austen to Jodi Picoult. She and PJ chatted as time allowed, or until Nakesha veered into topics that hinted at paranoia: plots and lies against her. Yet, PJ realised she knew little about Nakesha, and she wondered about her past.
Nearly three decades earlier, another woman took notice of Nakesha, then an 18-year-old college freshman, and considered her seemingly boundless future.
Sandra Burton, director of the dance programme at Williams College in Massachusetts, was struck immediately by Nakesha's vibrancy and talent as a dancer. She became Nakesha's teacher and mentor, and she began to closely track her development.
But three years after graduation, Burton and other friends started getting strange phone calls and emails from Nakesha, with bizarre claims she was being followed by strangers. She abandoned people who were close to her and spurned their offers of help. In 2010, more than two decades after they met, Burton received what would be her last communication from Nakesha, an email in which her former student angrily lashed out at her.
Burton and PJ were bookends to a promising life derailed by mental illness and homelessness. But their paths never crossed. One woman held answers to Nakesha's past, the other to her present.
What had happened in between?
Over the course of more than a year, I delved into Nakesha's life, trying to understand the events and forces that put her and so many of the city's homeless on the street. I spoke with dozens of people and benefited from having access to hundreds of emails that Nakesha sent over the years to friends and others, and scores of meticulously typed letters she copied at libraries and handed to passers-by. In these, she offered a winding, rudimentary diary of her existence on the street.
My effort revealed a deeply complicated, at times contradictory, journey – a life of spectacular promise undone by demons.
On her grate at East 46th Street and Park Avenue, Nakesha was surrounded by a collection of strangers who offered their company, care and generosity. Sidewalk vendors watched over her and her belongings. Restaurant owners let her use their restrooms. People like PJ brought her food and warm clothing.
And yet Nakesha continued to spiral downward. She rejected PJ's suggestion that she enter a shelter or seek help. "I was like, 'I have a friend that you can talk to,'" PJ recalls telling her, referring to a social worker she knew. "She's like, 'Oh, no, I'm fine.'" PJ tried again. "Do you need any medication?" The answer was no.
So PJ tried to address her other needs. She bought her sandwiches and toiletries. She bought her a raincoat, a duffel bag, two pairs of pants, shirts, socks and underwear. She bought a pair of black leather boots that she helped Nakesha pull over her swollen feet. She gave her presents on her birthday and at Christmas.
Then one day in August 2016, PJ realised that she had not seen Nakesha for weeks. With a sense of foreboding, she began to search for her friend.
A stellar student
As a student at Woodrow Wilson High School in Camden, New Jersey, Nakesha had excelled. She was class president and a member of the National Honour Society; she sang in two choirs and worked on the school newspaper.
She graduated in 1988 third in her class of more than 200 seniors, and her college tuition was covered by scholarships, some from local churches.
In her dorm room, Nakesha kept a photograph of her mother, Geraldine Williams, and she had saved her mother's cards and letters, which often bore an imprint of a lipstick kiss.
In fall 1990, several weeks into her junior year, Nakesha learned that her mother, who had breast cancer, had become gravely ill. Nakesha withdrew from school and returned to New Jersey, moving into the Willingboro home of her aunt, Jacqueline Fattore, who was caring for Geraldine.
Geraldine was an unwed teenager when Nakesha was born in 1970. Although she soon married Nakesha's father, Marvin Rothmiller, they divorced several years later. Geraldine became involved with an abusive man who repeatedly molested Nakesha when she was just a child. (The man was later convicted in a drug case and has since died.)
But she remained close to her mother and was devastated by her death in February 1991, at age 37.
In the fall, Nakesha returned to Williams College with a renewed sense of dedication and seriousness, Burton recalls. Over the next two years, Nakesha focused on researching, writing, choreographing and directing an ambitious senior project – a panoramic performance of black dance, from its origins in Africa through contemporary hip-hop.
Lithe and petite, Nakesha also performed in the two-hour show in March 1993, which involved some 20 dancers and musicians. She was awarded a prize for the "best scholarly work submitted by a Williams undergraduate in the field of Africana studies".
'A wandering, unstable state'
After graduation, Nakesha went to work at Sewickley Academy, a private school near Pittsburgh. One former student, Lisa Bevevino, to whom Nakesha taught sixth-grade history, remembers Nakesha as beloved by students, often sitting on the floor with them, talking through their problems and assigning projects that provoked creativity.
In 1996, however, after three years, Nakesha abruptly left Sewickley. No one could recall her giving a clear reason for her departure.
Nakesha drifted over the next decade, moving among family members and friends and holding odd jobs. Hints of her mental illness began to surface.
In 1997, Burton and her husband invited Nakesha to live with them in Hancock, Massachusetts, a short distance from Williams College, where Nakesha found administrative work in the dance department. The couple had been concerned that Nakesha had quit her teaching job, and they sensed something was not right. One day, Burton said, she arrived home and found all the curtains drawn. Nakesha said she believed someone had followed her home.
After a few months, Nakesha decided to move to New York. By summer 1998, she was living in Brooklyn with Anim Steel, a former college classmate. Steel had been captivated by Nakesha when they first met at Williams, writing in his journal, "I've never met anyone like her."
In Brooklyn, they shopped together, played kickball and visited the Statue of Liberty for Nakesha's birthday. But Nakesha was having bouts of anxiety, Steel says, and he found a therapist who agreed to see her on a pro bono basis.
The therapy did not last; Steel moved to Boston at summer's end, and Nakesha stopped seeing the doctor. She moved in with another friend, Greg Holland, a paralegal and friend from high school, whom she once described as being "like a brother".
After about two years, Holland recalls, Nakesha began claiming that the CIA was looking for her. She stopped working and paying her share of the rent. She moved back to New Jersey, first staying with her father and then with other relatives. Her erratic behaviour continued, and she began to cut off family members.
In summer 2001, a former college classmate, Joan Rocklin, invited Nakesha to dinner in Manhattan.
As they relaxed in Rocklin's apartment, Nakesha mentioned that she had found messages in books she was reading. Rocklin assumed Nakesha meant certain books had seemed meaningful to her; she was disturbed to learn that Nakesha meant actual written messages.
​Nakesha moved a few years later to Philadelphia, where she taught at an adult literacy centre. Her supervisor remembers her as a talented teacher but says she began talking to herself and complaining that people were stealing from her, and she eventually left the job without collecting her last paycheck.
It was in November 2006 that Rocklin received the first in a stream of emails from Nakesha.
"Hey Joan, What's going on?" wrote Nakesha, then 36. "I'm stuck in California right now."
Nakesha could be reached through the Los Angeles library system. She was "not exactly homeless", but was in "a wandering, unstable state that is sad at best".
Rocklin consulted with a psychiatrist in Los Angeles, collecting the names and numbers of shelters, clinics and a hospital, which she forwarded to Nakesha.
Nakesha thanked her, saying the information seemed "meant for the homeless".
"I'm not homeless," she said.
Her emails indicated otherwise. Nakesha wrote of sleeping in a Los Angeles motel lobby where the clerks knew her and sometimes got her a room, and of sitting in a doughnut shop in Hollywood until she fell asleep.
A week before Christmas, Nakesha wrote to say she had collected enough money to buy a bus ticket to the East Coast. A week later, she emailed to say she had arrived in Asheville, North Carolina, where the police had taken her to a Salvation Army homeless shelter.
Three days later, Nakesha emailed again, this time from Washington, where, she later noted, she was writing from the Martin Luther King Jr Memorial Library. In messages that followed, she described sleeping in the lobby of one apartment building and the laundry room of another, and outdoors on the National Mall.
In July 2007, Rocklin was travelling to Washington and emailed Nakesha, suggesting they have lunch together. They met at the library, then dined at a nearby seafood restaurant, where Rocklin says the conversation was pleasant if awkward; she felt she could not raise Nakesha's homelessness. She took Nakesha shopping, buying her CVS gift cards and a fare card for the subway.
Nakesha's emails eventually stopped, Rocklin says. Nearly a year later, in September 2008, Rocklin was in Washington again, for a wedding, and visited the library. She searched for Nakesha on each floor, without finding her.
Rejecting offers of help
By then, Nakesha had been in New York for nearly a year, arriving in December 2007, according to her letters. Around that time, Burton's husband, Don Quinn Kelley, a professor at the New School, came upon Nakesha at Grand Central Terminal. He called his wife, saying he was shocked at Nakesha's appearance: frail, underweight and apparently homeless.
"I said, 'Sweetie, go look for her,'" Burton recalls. "He was really clear that she needed our help – and she needed help beyond us."
The couple invited Nakesha to move into an apartment they kept in Washington Heights, clearing space for her in the living room. But after they broached the idea of her getting treatment, Nakesha moved out.
It would not be the last time Nakesha rejected offers of help, often from former classmates who had chance meetings with her on Manhattan streets.
Labouring alone
In January 2010, Burton received an email from a colleague in the school's alumni relations department.
"Sandra, FYI," the email said. "Looks like Nakesha had a baby."
Nakesha, now 39, had apparently hidden her pregnancy under clothing and blankets. She was discovered going into labour at Grand Central and was rushed to the hospital. "It's a miracle," Nakesha wrote in an email several months later, that the baby "was born at all".
The baby was placed in foster care, and Nakesha's parental rights were ultimately terminated by the family court. The boy was adopted by his foster mother.
In 2012, Nakesha gave birth to another son, who was allowed to remain with his biological father. The agency's social worker who oversaw the children's cases says that both boys were in loving households, and each was thriving and happy.
'This is not me'
By the time PJ Dearden first encountered Nakesha on the sidewalk in 2014, she had been homeless in Manhattan for more than six years, with only occasional breaks, her writing suggests. She described living for several months in Long Branch, New Jersey, a short "home stay" in the Bronx and spending some nights in a Brooklyn motel. Some periods are not documented. For the most part, she stayed on sidewalks near Bryant Park, Herald Square, Grand Central, Penn Station, a heated grate on 32nd Street near Seventh Avenue, and the sidewalk at 46th and Park. On some cold nights, she rode the subway.
PJ and several others had saved copies of the letters that Nakesha had handed them on the sidewalk. Nakesha typically wrote the letters on laptops she borrowed at the Grand Central branch of the New York Public Library, and then printed copies. The letters, like her emails, were a mixture of delusional statements, literary references, tart commentary and harsh attacks on other people. Some were addressed to public figures, like President Obama – "Dear Barack".
Nakesha's closest observers were two street vendors. One, Hamid Elhiri, a Moroccan migrant who each morning parked his coffee cart a few feet from the grate, says he typically made Nakesha a breakfast of eggs and a roll, with iced tea or cranberry juice. When he would ask how she was doing, she would respond, "Alive."
Sometimes, Nakesha stood in line and placed a few dollars at his window, he says. If she did not have money, she would approach the rear of his cart. "She has – how we say – pride?" he recalls.
Elhiri remembers how one day a man began taunting her, and Elhiri shouted at him to stop. Another time, he blocked a homeless man from stealing Nakesha's purse while she slept. Elhiri says he joked with her, "I'm your bodyguard."
Another vendor, Magdy Eltantawy, an Egyptian migrant, operated a sandwich cart with his wife and brother. They had known Nakesha for several years and enjoyed bantering with her and preparing her favourite lunch – chicken over rice, with raw onion.
Eltantawy says he saw all sides of Nakesha's personality. One day, he recalled, she began screaming uncontrollably, and he asked her, "What's going on, Ms Williams?"
"This is not me," she said. "This is other people in me."
Eltantawy's suggestions that she seek help were rebuffed: "I'm functioning very well," she told him.
An avid reader loses ground
For Nakesha, Christmas 2015 was a relatively happy time, at least by one measure. On 28 December, an outreach worker, Luis Alfredo Garcia, found her on her grate, surrounded by a pile of presents she had received from passers-by.
"Lots of gifts, food," Garcia had jotted down in his journal.
Nakesha's holiday bounty did not last long, Garcia noted several days later. "Sanitation took gifts" that she had left unattended, he wrote: "food, blanket, vase."
Garcia's journal served as a running account of his interactions with the street people he checked on.
His journal entries offer vivid snapshots of Nakesha's daily activities:
"Counting $."
"Reading War of the Worlds."
"Reading Huck Finn."
"Seated w/ umbrella, rain coat. Reading Anna Karenina."
"Still reading Anna K; about 200 pages left."
"Standing. Arguing w/ herself."
Garcia says he got a new perspective one day in January 2016 when he was surprised to see that Nakesha had been interviewed by a local news station.
New York's governor, Andrew M Cuomo, had just signed an executive order compelling authorities to move the homeless – forcibly if necessary – into shelters when the temperature dropped to 32 degrees or below.
The governor's order spurred widespread debate, and the television station, WPIX, seeking reaction from the street, found Nakesha seated on a bench. Asked what she thought of Cuomo's order, Nakesha responded that it "makes sense," but noted that there were risks associated with shelters.
"Your choice is between the cold and an unsafe situation," Nakesha explained. "Is it sanitary enough and is it safe enough? Those are the issues."
Garcia was impressed, he says, that Nakesha, despite her delusions, had cogently analysed the choices as she saw them: a potentially dangerous shelter, or the street, where she had proved self-sufficient.
"So, which is saner?" Garcia says. "It's such a moment of extreme clarity."
A last encounter
On the morning of 22 July 2016, Scott Erickson, an optician who worked on Fifth Avenue near 45th Street, smiled at Nakesha as he passed her on his way to buy a lottery ticket; she nodded back, he recalls. He had seen her frequently in recent weeks, introducing himself at one point, and had given her small gifts: hand lotion, fresh socks and a pair of unused sneakers from his closet.
That day, Nakesha was seated on a bench, surrounded by shopping bags, sandwiches wrapped in cellophane and an empty bottle of lemonade. When Erickson returned a few minutes later, he found Nakesha sitting motionless, her head tilted backward, her eyes open but empty.
He shook her arm and called 911. He began CPR, until the police and paramedics arrived and took over.
Nakesha was rushed to Bellevue, where she was pronounced dead at a minute past noon. She was transported to the medical examiner's office, where an employee wrote, "Unknown woman of unknown age found dead in a park."
Nakesha had died of a pulmonary embolism, a complication of her obesity, an autopsy showed. She was five feet tall and weighed 255 pounds, the report says. There was no evidence of alcohol or drugs in her system. She was 46 years old.
Her remains were placed in a body bag and kept in a basement mortuary, where she lay unclaimed.
A call to a reporter
PJ had been searching for Nakesha. Elhiri told her a customer had informed him Nakesha had died.
PJ sought a confirmation. Her wife, Dawn Dearden, a federal employee whom I knew, called me. I suggested she call the medical examiner's office.
Dawn did, and she learned that Nakesha's body had been in the morgue for nearly six weeks. If no relative claimed her remains, Dawn was told, Nakesha would most likely be buried on Hart Island, where the city inters unclaimed bodies in mass graves.
PJ claimed Nakesha's remains, had her cremated at a Greenwich Village funeral home and had her ashes placed in an urn made with mother-of-pearl with flecks of gold. She left her phone number with Elhiri, in case anyone asked about the woman on the grate.
On 15 October 2016, Nakesha's father, then 66, a retired postal worker, arrived at Penn Station with several relatives, including two of his sisters, Norlyn Garlic and Valerie Dillard, who had been close to Nakesha. I accompanied them on the walk to 46th Street, where PJ and Dawn Dearden were waiting by Nakesha's grate, with a suitcase containing Nakesha's urn.
PJ spoke for a few minutes about Nakesha, and the people who had watched over her. She showed the family the passageway under the Helmsley Building where Nakesha had sought refuge from the cold and rain, and the Grand Central library branch, where she had spent so many hours. The family returned to New Jersey, taking the suitcase with them.
© New York Times
Register for free to continue reading
Registration is a free and easy way to support our truly independent journalism
By registering, you will also enjoy limited access to Premium articles, exclusive newsletters, commenting, and virtual events with our leading journalists
Already have an account? sign in
Join our new commenting forum
Join thought-provoking conversations, follow other Independent readers and see their replies