Peat, bog and world-class whisky – why Islay remains the jewel in Scotland's single-malt crown
How the island's peated drams are beating the drum for Scotch on the global stage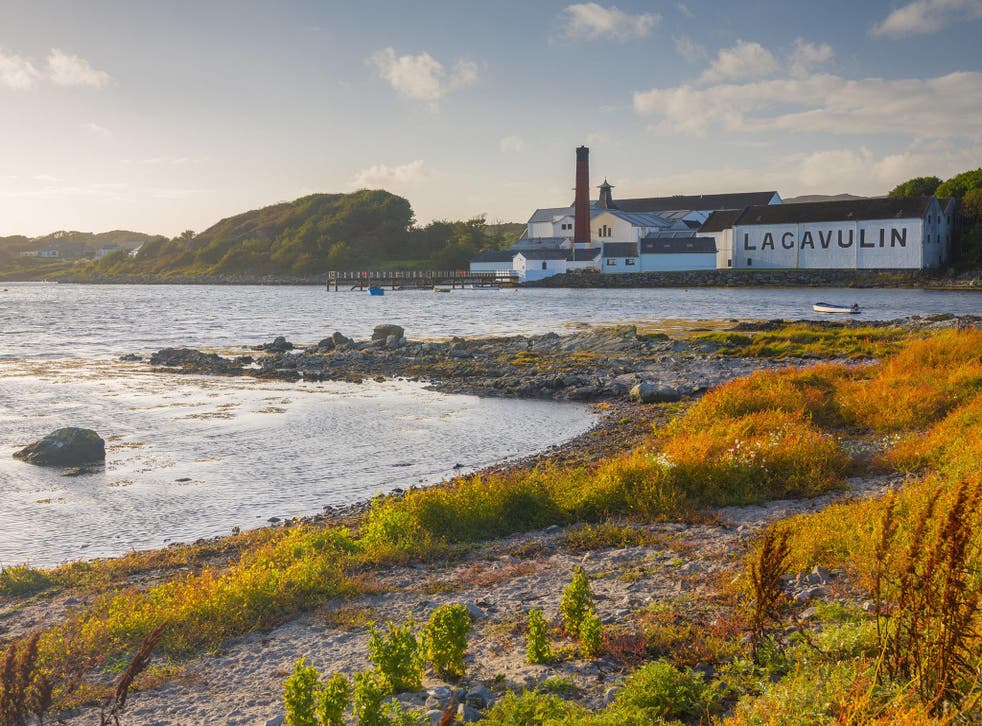 For over 200 years, the small island of Islay on Scotland's west coast has been one of the world's foremost places for whisky, and the island's affiliation with the spirit stretches back at least another 300 years beyond that.
Islay's human history is steeped in Scotch, and production of its famous smoky single malts remains a fundamental economic force on the island. Countless distilleries have been and gone here over the centuries, but whisky production is in ascendency again. New distilleries are opening and established names are expanding.
But what is it about this tiny island – a two-hour ferry away from the mainland and with a population of less than 4,000 – that makes it such a good place to make whisky?
Islay is an ancient anomaly stuck to the coast of the British Isles. The Atlantic-facing side is made up of rock formed 1.8 billion years ago, pre-dating multicellular life and making it some of the oldest rock on the surface of the earth.
It is a rain-lashed place where high winds can whip the sea into ferocious waves that thrash the rocks. But on a sunny day, the clear waters and sandy coves mean the white beaches could be mistaken for those of the Caribbean.
It is one of more than 100 islands and islets scattered down the side of Scotland's west coast, 36 of which are inhabited. Though not the largest, Islay is further south than the other large islands and is therefore well placed to enjoy the warming effect of the transatlantic Gulf Stream, keeping it mild while the Highlands freeze.
It is also the nearest Scottish island to Ireland – 22 miles as the crow flies. This fortunate geography and climate meant that between the 10th and early 15th centuries, Islay became an administrative centre that rivalled Edinburgh and Glasgow.
The good crops and booming population also made the island a natural location for early whisky distillation.
Islay's past is pervaded by innumerable tales of home distilling, smuggling and illegal whisky production. The island currently has eight distilleries and some of the biggest names are directly linked to illicit early production.
As well as Islay's outstanding historic relationship with whisky, there is one major factor that has maintained the popularity of its spirit over generations: peat.
There are few trees on Islay and much of the ground is bog land. But lack of wood has never been an insurmountable problem over the centuries, despite the fuel requirements of thousands of inhabitants.
Islay is so wet the island never really dries. Throughout the year, like much of Scotland, the abundant grasses, mosses and shrubs live and die in perpetual bog. Over centuries, the resultant decaying matter creates a dense black substance.
But on Islay, seaweed and the wind-blown sea salt give the peat unique characteristics. Once cut and dried on firmer ground, the peat can then be burnt in a manner similar to coal.
When large scale legal distilleries began to flourish on Islay in the 17th and 18th centuries, peat was the fuel used to dry the malt – the barley grain that thrives on Islay. And when peat burns, it produces pungent smoke.
Peat is Islay's signature in the world of whisky. The result of a peated malt is a flavour infused with rich smokiness that varies considerably from distillery to distillery, as each has its own unique techniques of production.
Earlier this month I travelled to Islay, ostensibly on holiday – but in reality it was a targeted mission in which I had a handful of the world's most celebrated whisky powerhouses firmly in my sights.
The south-east coast of the island is a whisky-enthusiast's dream, especially for lovers of heavily peated whiskies. Three preeminent distilleries lie in three separate secluded bays and are fed by three different lochs in the hills above them. These are, from west to east: Laphroaig, Lagavullin and Ardbeg.
In good weather, it would be hard to conceive of a situation more bewitching. The Atlantic sparkles in the distance, the spires of rocky islands pepper the protected waters, and on Islay the rich vegetation glows emerald.
But in November, it is grey. So grey I feel as though my eyes have misted over. The sea is cold and opaque. Large waves roll in and surging clouds bring smatterings of stinging rain.
And for some reason it is in these conditions I found myself clambering into a canoe.
This was in the name of entertainment, but also research. My plan was to travel from Lagavulin distillery to Ardbeg, with a view to gaining a maritime appreciation of the distilleries.
There is good reason why Islay's whisky production is almost entirely at the water's edge. Built as they were in an age before lorries and metalled roads, the water highways were the main means by which grain would arrive and whisky would leave the distilleries.
In the late 19th and early 20th centuries, flat-bottomed boats named puffers would beach in these protected bays to load and unload.
But as my small vessel rounded the 17th-century ruins of Dunyvaig Castle at Lagavulin Bay and we reached the heaving waves of the North Atlantic, I began to wonder how good a plan this was.
I had good reason to be fearful – an appalling number of experienced sailors have met their end on the rocks of Islay, and there are several memorials on the island to the passengers and crew of tragic shipping disasters.
With this in mind, we paddled steadily with the wind behind us and urged the boat forwards.
Soon enough, a large white wall with thick black letters spelt out our approach to Ardbeg distillery, its old peat-smoking pagoda chimneys poking out from the tiny valley in which it sits.
As we made our approach into the protection of the natural harbour, an inquisitive seal paid the canoe a visit, diving and popping up around us for five minutes as we reached a perfect little jetty on which to disembark.
Ardbeg is a beast of a whisky. It was, until relatively recently, the most heavily peated of all of Islay's whiskies (that crown has now been taken by Bruichladdich's Octomore).
"Not really a breakfast dram," was how our tour guide "Wee Emma" described Ardbeg's 57.1 per cent ABV Corryvreckan. "But that might be why it's my favourite," she added.
The history of this 200-year-old distillery perfectly illustrates the ups and downs of the whisky business on Islay. Twice closed, but now owned by Glenmorangie, it escaped bulldozers, neglect, and use as a warehouse by other whisky companies, before being resuscitated and has been thriving since the late 1990s.
For visitors, it is an extraordinary place – the old malting floors and kiln are now a beautiful bar, cafe and shop, where you can still see how vast an operation it was to peat industrial quantities of malt.
Back down the road, Lagavulin distillery has an equally enviable situation, where we sat in a cosy tasting lounge, getting warm by the fire and sampling the smoky offerings. The Lagavulin 16-year-old is a fundamental part of Islay's whisky heritage. Almost all the distilleries on the island are owned by large companies, and Lagavulin is one of two on the island owned by Diageo, the world's largest spirits producer. The other is Caol Isla, on the island's east coast.
Meanwhile, Laphroaig is arguably Islay's most famous peaty export at the moment; bottles of its powerfully flavoured 10-year-old can usually be found in a UK supermarket.
The Laphroaig distillery is at the head of a small and protected inlet. On our arrival, we were again greeted by a seal swimming out in the bay. This one looked almost like a friendly black Labrador.
The distillery is also home to a small museum, where you can learn (amongst many other things) that one of the early owners met his end at the distillery by falling into a vat of burnt ale.
It is also one of the few distilleries where a proportion of the peating is done in house – the vast majority of Islay malt now comes from an enormous maltings at the small town of Port Ellen.
The other distilleries on the island which still do a proportion of their own floor malting (the process by which the barley germinates in warm conditions) and their own peating include Bowmore, the island's oldest functioning distillery founded in 1779, and Kilkhoman, the island's newest distillery, which went into operation in 2005.
Such a new distillery on the island represents a significant change. The last new one was nearby Bruichladdich, which was founded in 1881.
Along with the prosperity of the older distilleries following decades of uncertainty in the mid-20th century, the opening of a brand new whisky-making enterprise is a sign of the strength of Islay's position today.
"The whisky industry has been seeing growing popularity for single malt over the last ten or fifteen years," Kilkhoman founder and MD Anthony Wills tells me in the cafe at his distillery. "Islay is an iconic single malt region, so locating it here was the single most important decision we made.
"I would say whisky is bigger than agriculture on Islay now [as an industry] and anyway, much of the agriculture is in growing barley. Islay is a very buoyant place economically at the moment, and it's mainly to do with the whisky."
At Kilkhoman, a proportion of the barley is floor-malted in the traditional style, and once it germinates, the malt is then peated at the on-site kiln. During our visit, the door to the kiln was opened, and despite it having been off for 24 hours, an explosive blast of heat combined with a powerful smell of the peat almost ripped my head off. It was wonderful.
Kilkhoman and its neighbour Bruichladdich are the only two distilleries on Islay which both bottle their product on the island and produce quantities of their own barley.
"Ach, it's all good," the friendly barman Garry, at the Port Charlotte Hotel told me of the current success the distilleries are enjoying. "You know it's popular when you've got fellas buying it who've got jackets on that are too tight and have shoes on but no socks on their feet." Exactly.
The wider success of Islay's whisky has meant huge new markets for the distilleries, and many are planning to expand.
Ardbeg's "Wee Emma" pointed out extensive works being carried out at that distillery as it moves to expand its operation, and explained how Chinese buyers have previously attempted to buy up impossible quantities of rare stocks.
During my conversation with Kilkhoman's Anthony Wills, someone emerged from the office to check if he was expecting an appointment with a European whisky broker.
Whisky remains an important employer on the island, though new-fangled inventions – like electricity – and the creation of the huge Port Ellen malting facility means full-time employment is not what it once was.
In the olden days, Ardbeg employed 60 people, many of whom lived on the site with their families too. Today, it employs 16.
At Caol Ila, which is the largest whisky producer by liquid volume on the island, the number of employees has been reduced to even fewer. This distillery provides a significant amount of Islay whisky used in blended whiskies. The majority made here goes into Johnnie Walker Black Label, but Caol Ila will also turn up in blends including Bells.
This is perhaps one of the biggest changes the Island has seen in recent years.
I spoke to BBC Alba presenter and Islay resident Heather Dewar, who had worked at the Caol Ila distillery in the 1950s.
"As teenagers we would go up to the peat moss, which was about four miles away from the distillery and the Irish men used to come over in the spring and they'd cut the peat, and the local women would set them up to dry. Then by the time we came home again for the holidays it was time to collect the peat. We'd take lorries and tractors and trailers and send them up to the distillery.
"Sometimes we went to work in the huge peat shed there, throwing them up and building "grieves". They were sort of walls of peat. You had to build a wall every now and again to hold that lot up. So it was great fun. And there was amazing camaraderie between the women. We had a gaffer – a huge man with a bald head and he had a terrible temper and he told us what to do. It was a good life.
"The biggest difference in my lifetime has been going from producing malt whisky to be used for blends, to the single malt thing. In my day, really Laphroaig was the only one that did it. But I lived at the other end of the island, so it was like a foreign country. We'd maybe go there maybe once a summer – they had dances there. People didn't really have cars and that was a long way to go."
But there was a highly visible downside to the distilleries going back to business after suspending operations during the Second World War.
Ms Dewar explained: "All the young boys leaving school at 14, because that was the age you did then, went to work in the distillery. But I suppose in order to try to encourage people not to steal from the distilleries, they would give them drams at regular times of the day, and of course in no time at all, a lot of them were alcoholics, and it ruined a lot of lives."
And it wasn't just the finished product that was the problem. She added: "All the old boys also used to take tin cans and drop them down into the washbacks to steal the porridge-like stuff. That was locally called "Cochen". It could blow your head off. It no doubt felt brilliant, but I think it ate holes in your stomach. It is quite quite strong."
Secret Scotland

Show all 9
Islay's place in world whisky is stronger than ever, though expansion on any grand scale comes with compromises that could risk undermining the Islay brand.
As already mentioned, most of the distilleries now largely or wholly depend on a single massive peat-malting plant for their malt.
And some distilleries no longer mature all their whisky on the island – some spend all their maturation years in barrels on the mainland, unexposed to the moist saline air that Islay distilleries are famed for. And almost all Islay whisky is bottled on the mainland.
Other significant changes in recent decades include the barrels used to age Islay whiskies. Scotch is never aged in new wood barrels, and in the past a significant quantity of barrels have come from European sherry casks as well as bourbon casks. Now, an increasing number of distilleries are less enthusiastic about paying more for sherry casks, when a huge abundance of cheap bourbon casks are available from America.
In an age where provenance and authenticity have become a key point of interest, it is vital that Islay's distilleries hold onto what makes them unique, and can stand up to higher levels of public scrutiny. Not least because a glut of new distilleries have opened across Scotland, and the marketplace for whisky is set to become an increasingly competitive one.
Fortunately many of the large companies which own Islay's distilleries recognise the heritage of the brands they have purchased, and have made particular efforts to preserve the techniques which have generated centuries of success.
"I never have a go at the big companies because they have done a tremendous job in promoting single malt," Kilkhoman's Anthony Wills tells me. "And when you get that big, you have to look at scales of economy and how you manage your business. If you asked all of the big distilleries to mature all of their whisky on Islay, then the island would be covered in nothing but warehouses."
There is good news too in that Diageo's Port Ellen distillery, which sits in the shadow of the maltings on the edge of the village, is to reopen after 37 years of silence, and is expected to start producing again in 2020.
For now, Islay is neither dominated by warehouses nor concerned about losing its popularity as a whisky haven. The roads are small. The weather is unpredictable. Exciting species of birds and animals far outnumber the people, and the whisky is excellent. It tastes even better if you arrive by canoe.
Join our new commenting forum
Join thought-provoking conversations, follow other Independent readers and see their replies