How Jeffrey Tambor's on-set meltdown exposes Hollywood's habit of indulging toxic male behaviour
Arrested Development star's 'blowup' at Jessica Walter is the latest in a long history of abusive behaviour by petulant and controlling lead actors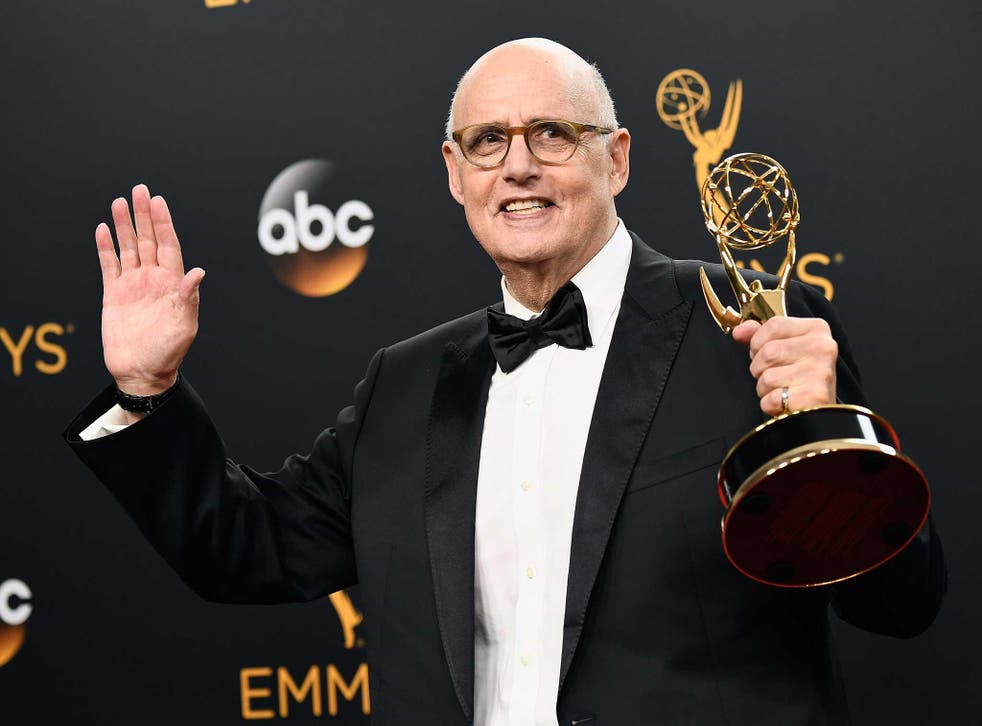 Promotion for the latest series of Netflix's sitcom Arrested Development got off to a difficult start over an alleged on-set "blowup" by star Jeffrey Tambor.
The actor, who plays conman patriarch George Bluth, had admitted to the row with co-star Jessica Walter, his onscreen wife, in an earlier interview with The Hollywood Reporter but matters came to a head when Ms Walter broke down in tears recalling the incident during a roundtable with fellow cast members for The New York Times.
The exact nature of the episode was not disclosed but Mr Tambor, recently fired from the Amazon show Transparent over sexual harassment allegations, is understood to have issues with anger management.
Refuting lead actor Jason Bateman's dismissive suggestion that such incidents are "common" in the hot house environment of film studios, Ms Walter said: "In almost 60 years of working, I've never had anybody yell at me like that on set."
"I have to let go of being angry at him. He never crossed the line on our show, with any, you know, sexual whatever. Verbally, yes, he harassed me, but he did apologise. I have to let it go. [Turning to Tambor] And I have to give you a chance to, you know, for us to be friends again," she added.
While actress Alia Shawkat supported Ms Walter, their male co-stars Mr Bateman, Tony Hale and David Cross sought to downplay the affair on the grounds that acting is not a "normal" profession and sometimes emotions, kept necessarily close to the surface, can spill over.
This explanation has been offered many times before to justify a toxic atmosphere on a film set, usually when revelations about an exhibition of self-indulgent male aggression from a powerful star have been leaked to the press. Johnny Depp was previously the most recent example, the star accused of drunkenly assaulting a location manager on the set of his new film City of Lies, further troubling claims against a leading man also accused of abusing his ex-wife Amber Heard.
The most famous such case undoubtedly remains Christian Bale's spectacular meltdown on the set of Terminator Salvation (2009) when director of photography Shane Harbut walked across his line of sight while the actor was preparing for a green screen shoot. Mr Bale's sweary rant – in which he railed against Mr Harbut as a "f***ing amateur" and threatened to "kick his f***ing ass" and "trash his lights" – became a viral sensation. It was even remixed by RevoLucian as an unlikely dance track entitled "Bale Out", also featuring a sample of Barbara Streisand haranguing a reporter over a political dispute in 2006.
Arguably even more shocking was the behind-the-scenes footage leaked from the set of David O Russell's "existential detectives" comedy I Heart Huckabees (2004).
Mr Russell, a director with a difficult reputation who is rumoured to have had a fist fight with George Clooney on the set of Three Kings in 1999, is seen going ballistic at veteran actress Lily Tomlin. The filmmaker berates his leading lady for questioning his contradictory orders, shoving a pile of paper off a prop desk, storming around the set and, with an astonishing lack of self-awareness, telling her to "Act like a f***ing grown up!"
Marlon Brando – notoriously disruptive late in his career, notably on the set of Richard Stanley's disastrous 1996 adaptation of The Island of Dr Moreau – angrily told director Frank Oz to "f*** off" while filming gangster drama The Score in 2001 with Robert DeNiro and Edward Norton. When Brando later discovered that Mr Oz had previously worked on The Muppet Show, he taunted him mercilessly: "I bet you wish I was a puppet so you could stick your hand up my ass and make me do what you want."
The style of Method acting Brando once embodied has often been used as an excuse for all manner of outrageous or appalling behaviour, particularly when actors insist on staying "in character".
The recent Netflix documentary Jim and Andy recounted Jim Carrey's antics on the set of the 1999 Andy Kaufman biopic Man on the Moon, driving his co-stars and the legendary Czech director Milos Forman to distraction in pursuit of the same "authenticity" Kaufman bought to his peculiar brand of comic performance art.
Perhaps the most extreme exponent of this was German actor Klaus Kinski. A uniquely driven but wildly temperamental man, Kinski's devotion to his craft saw him realise the extraordinary Aguirre, Wrath of God (1972) and Fitzcarraldo (1982) with Werner Herzog but his behaviour during the demanding location shoots for those films in the Amazon became the stuff of legend. Herzog documented their turbulent friendship in the 1999 documentary My Best Fiend.
The movie industry has relished stories of behind-the-scenes turmoil since the Golden Age heyday of professional gossip columnists Hedda Hopper and Louella Parsons and Kenneth Anger's scurrilous book Hollywood Babylon (1959). The rivalries of great stars like feuding sisters Olivia de Haviland and Joan Fontaine or Joan Crawford and Bette Davis provided fodder for the tabloids and the relentless glare of the spotlight has often provoked bizarre reactions.
While Tom Cruise leaping on Oprah Winfrey's couch to declare his love for new bride Katie Holmes in 2005 was endearing in an unhinged sort of way, the darker side of this privileging of male emotion has become all-too-apparent in the last year following the revelations about the sexual harassment of actresses by disgraced mogul Harvey Weinstein and others.
It should be stressed that the problem of male fury being indulged and fostered is not solely reserved for film production. Witness ex-Fox News anchor Bill O'Reilly's notorious "We'll do it live!" rant, Seinfeld star Michael Richards panicking and racially abusing a black audience member in a comedy club in 2006 when his set was going badly or Kevin Spacey breaking character at the Old Vic to hector his public for failing to silence their phones.
Jessica Walter's traumatic experience at the hands of Jeffrey Tambor is both the latest example of a petulant male star with a heavy sense of entitlement losing control and a timely warning to the industry that it must take greater responsibility for protecting its performers and holding its most powerful players to account.
That Tambor, Depp, Russell, O'Reilly and Spacey have all faced questions about their behaviour in their private lives as well as in the workplace is no accident.
Register for free to continue reading
Registration is a free and easy way to support our truly independent journalism
By registering, you will also enjoy limited access to Premium articles, exclusive newsletters, commenting, and virtual events with our leading journalists
Already have an account? sign in
Register for free to continue reading
Registration is a free and easy way to support our truly independent journalism
By registering, you will also enjoy limited access to Premium articles, exclusive newsletters, commenting, and virtual events with our leading journalists
Already have an account? sign in
Join our new commenting forum
Join thought-provoking conversations, follow other Independent readers and see their replies