Kings Cross fire anniversary: It's been 30 years since the deadly fireball engulfed the Tube station
Next Saturday, 18 November, marks the 30th anniversary of the Kings Cross fire. On that fateful day 31 lives were lost and 100 people were injured. Godfrey Holmes returns to the scene of the disaster to see what lessons have been learned
Godfrey Holmes
Saturday 18 November 2017 18:15 Comments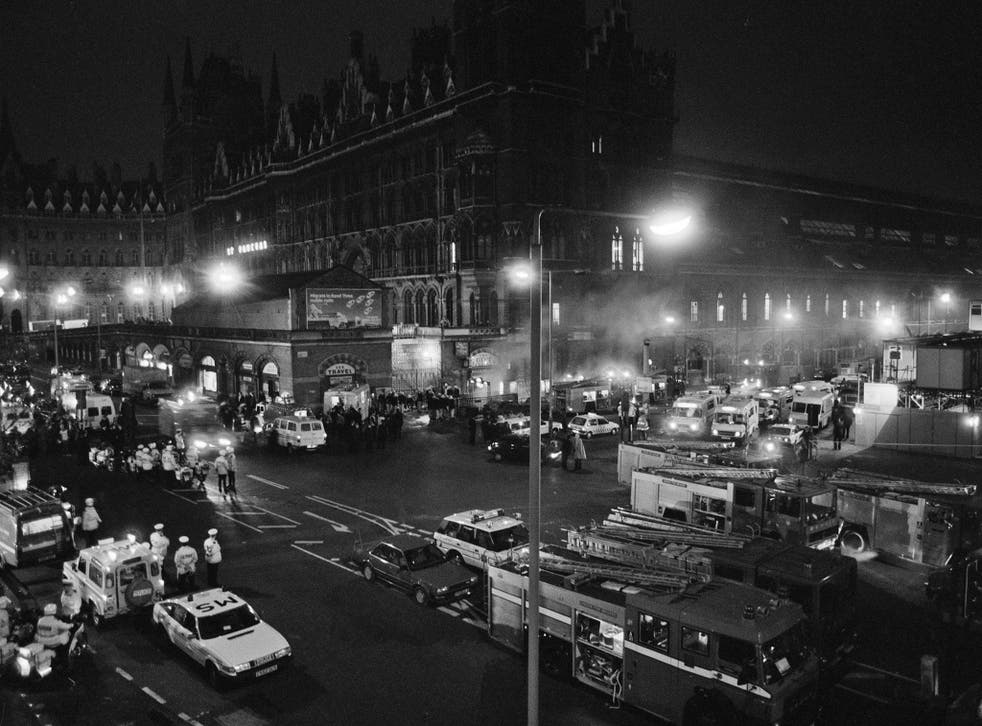 Spark, spill, candle, bonfire: no flame is too small to rage out of control. And in the entire litany of catastrophic blazes that have blighted Britain in the decades since the Blitzkrieg of 1939-41 – Piper Alpha, British Airtours Flight 28M, Grenfell Tower – the King's Cross disaster of 18 November 1987 guards its secrets from everyone fortunate enough not to have been there, or known to someone who was.
Up to a quarter of a million visitors or commuters pass through King's Cross every day, making it one of London's busiest interchanges. It's a little after rush hour on that day; Christmas shopping has begun. At around 7.15pm, somebody flouts the "ban" on smoking – a measure hastily introduced three years earlier when an Oxford Circus Underground fire led to more than a dozen travellers going to hospital – and drops a lit match through the slats of an ascending wooden escalator. He/she at least maintains Tube etiquette and stands on the right-hand side, in case anybody wishes to overtake on the left.
This match finds fertile territory along the running rail responding so smoothly to revolutions of the winding engine. After all, the pit of that escalator has probably never been cleaned during its 44-year life. Liberal applications of grease have, however, been administered at regular intervals, and the grease has attracted specks of dirt, chewing gum, human hair, sweet wrappers, fluff and rat fur.
At precisely 7.30pm, a solitary gentleman, homeward bound, points out to a guard that there seems to be a bright glow beneath the Piccadilly Line's up escalator – state-of-the-art when first installed. This burning alone does not cause alarm. After all, Underground staff have become accustomed escalator fires, with 46 recently and a total of 400 fires since 1956, each put down as a "smouldering".
In light of the lack of fire fatalities hitherto, their employer has implemented no emergency procedures; no practice evacuations. But on this Wednesday evening, the fire does not extinguish itself. Instead, the Piccadilly escalator catches fire, and in the next six minutes four London Fire Brigade trucks arrive, along with several hoses and a turntable ladder.
However, no public address system is working and worried passengers are still using the Victoria up escalator, only a matter of yards away. And still no reason to panic – the strategy was to simply drench the offending escalator with water and depend on the its solid steel casing to restrict any spread of danger.
Then the flashover. At exactly 7.45pm a violent and prolonged tongue of fire rises swiftly from the escalator, licking over the tunnel roof above it; entering the main booking hall at an estimated speed of 40 feet a second; engulfing anyone in its path, police and firefighters included.
This occurred at an astonishing estimated temperature of 600C. Thirty-one men and women die in that fierce and fearsome flashover including the the firefighter in charge, station officer Colin J Townsley (who was awarded the George Medal posthumously).
One rescuer – at the busy St Pancras Road exit, barely five metres above the carnage – offers his unmasked colleague CPR. Another rescuer – this time in a tunnel far below the blaze – kicks and wrenches at the padlocked iron gate that blocks off Midland City, as it was then known, dampening is his only hope of saving the casualty in his charge.
By 8pm, a fleet of 14 London ambulances is ferrying 100 injured survivors to local hospitals, principally University College. These stretchers also carry several firefighters overcome with smoke inhalation and exhaustion.
Investigating the fire's cause
The 7.15pm fire that gained momentum so speedily, so unpredictably, was not finally extinguished until 1.40am the next morning, by which time London's fire commissioner, Ron Dobson, was preparing a statement for the BBC. "The fire was a tragedy and my thoughts are with the friends, families and loved ones of all those who lost their lives. We also pay tribute to the firefighters who bravely fought the blaze which was, undoubtedly, the biggest challenge any of them would ever face," it said.
That same day, 19 November, the chairman of London Regional Transport, Sir Keith Bright, tendered his resignation. It was not accepted by the accident-prone Transport Secretary Paul Channon, beneficiary and heir of the Guinness empire. Nevertheless, his Prime Minister, Margaret Thatcher, was prepared to approach a little-known QC, Desmond Fennell, to ask him to chair the ensuing public inquiry, an inquiry enabled by the 1871 Railway Act. Convened in Methodist Central Hall, Westminster, this panel of five sat for 91 days between February and June 1988, sifting through 80,000 documents, 100 other reports and 15 videos.
Time was running out to establish the cause of the conflagration that fateful November evening in 1987 – an essential but by no means simple task. Extensive debriefing of "protected" firemen – and thorough, forensic assessments of the bleak seat of the fire – came up with nothing except the extraordinary discovery that the Underground applied no fewer than 20 layers of friable paint onto the King's Cross ceilings.
Arson had been ruled out. No isolated scorching was found – nor, crucially, any evidence of the spraying of paraffin, or other accelerants. Northern Ireland's perios of unrest, known as the Troubles, was raging at the time but terrorism was ruled out too. Even so, many known activists and informants were interviewed by police right up until the spring of 1988.
Meanwhile, it was over to the Atomic Energy Authority to remodel King's Cross Underground station using the relatively new invention of computer simulation. Useful, except that the scene needed real-life reincarnation. This is where Harpur Hill Health and Safety Laboratory, a mile or two outside Buxton, came into its own, but even then, successive experiments hit the buffers. Nobody could reproduce the flashover. It was easy to make a blaze go upwards, but not sideways.
Could the artificial pumping of air through a full-sized tunnel work, researchers wondered? After all, two Tube trains, not one, swept through the King's Cross Piccadilly line tunnel at precisely 7.42pm on the night. But no amount of wind in the wake of train movement produces an upward force of more than eight miler per hour; too small a gust to make much difference.
The researchers had one last throw of the dice. They rebuilt the entire King's Cross booking hall in a rented farmer's field adjacent to their Buxton facility. And soon, success! At last they managed to make a flame move sideways from right to left on one escalator tread, then another, then another. Within two minutes came the desired "trench effect": a combination of circumstances that can rush a fire up an inclined surface.
Investigators were able to replicate that dreadful quarter-hour in its entirety, including the sudden release of poisonous gases within the highly restricted space of an Underground station.
Fennell didn't hold back in his trenchant criticisms of London Transport. He condemned a complacent and ineffectual Underground management team as "blinkered and dangerously self-sufficient". He declared that their staff were frequently uncoordinated, haphazard and untrained.
He made no fewer than 157 recommendations: everything from sprinklers and loud fire alarms to speedier evacuation procedures; from the installation of less flammable metal escalators to the appointment of safety officers charged specifically with fire prevention.
Fennell was especially worried that police walkie-talkies – long before the age of smartphones – did not work underground, nor were there landlines. At least his panel didn't need to linger on the question of "No Smoking". Almost immediately after the King's Cross disaster, smoking was scheduled for prohibition everywhere on the Underground, something that entered into law as part of a brace of fire safety regulations in 1989.
It took many years, but more than a quarter of Fennell's propositions were implemented. Tottenham Court Road, Oxford Circus, Holborn and London Bridge Tube Stations, along with the rebuilt King's Cross, were promised radical improvements to cope with increased passenger flows.
Nobody was ever prosecuted after the disaster, not even for dereliction of duty. Formal inquests had simply returned 31 verdicts of "accidental death". Under more modern legislation, and with more pro-active police, there would almost certainly have been grounds for charges of gross negligence; even corporate manslaughter.
While Fennell was sitting, the well-remunerated, not necessarily well-regarded Keith Bright was curiously tight-lipped, to the point where he left his director of planning to do much of the explaining. Criminally, and extremely reluctantly, London Regional Transport (LRT) offered a derisory £4.5m to compensate bereaved families and survivors.
LRT's parsimonious gesture was, surely, the ultimate insult; not least its response to the most badly burned of all King's Cross survivors, Kwasi Afari Minta. The musician, whose only errand that day was to purchase a few vinyl records, suffered horrific burns after his clothes set alight, and was left with terrible scarring and no employment prospects despite his 30 trips to the operating theatre.
After much wrangling, Minta was grudgingly awarded £150,000, dwindling to £28,000 after he paid off his lawyers. As for the most difficult body to identify, known as Body 115, it took until January 2004 to discover that he was a rough sleeper: 73-year-old Alexander Fallon, late of Falkirk. All appeals to potential relatives – Fallon had four daughters – failed. In the end, it was the sheer fluke that Fallon had undergone a craniotomy at London Royal Hospital, involving a distinct imported surgical clip, that allowed his bulging, puzzling police file to be closed.
King's Cross itself refused to disappear from the news agenda. On the awful day dismissively called "7/7", 7 July 2005, three Underground trains and one RouteMaster bus suffered almost simultaneous explosions. All those trains had recently called at King's Cross, unwittingly to allow some of the suicide bombers to board. Fifty-two people died in these Islamist atrocities. Of crucial importance, the emergency services were again criticised for having no radios or telephones below street level able to transmit a message more than 500 yards. In other words, 18 years of potential rewiring had been totally wasted.
How has the anniversary of the King's Cross Fire been marked? A remembrance mass was held early on at the nearby Church of the Blessed Sacrament. The then Princess of Wales unveiled a plaque at the splendid St Pancras Church opposite Euston Station, this plaque supplementing two erected within the station itself, along with a dainty clock. Other memorial services were held on 18 November in 1988, 1997, 2007, and 2012.
During the King's Cross Fire and subsequent crises and evacuations of this station, Transport for London's emergency response has not been up to scratch: there are surely lessons to be learned if another disaster of these proportions is to be avoided.
Register for free to continue reading
Registration is a free and easy way to support our truly independent journalism
By registering, you will also enjoy limited access to Premium articles, exclusive newsletters, commenting, and virtual events with our leading journalists
Already have an account? sign in
Join our new commenting forum
Join thought-provoking conversations, follow other Independent readers and see their replies