Why no one is mourning the disappearance of traditional cuisine
The East End of London was for centuries the home for the less appealing industries which propped up the national economy, including slaughterhouses, lead making, fish farms, bone processing and gunpowder production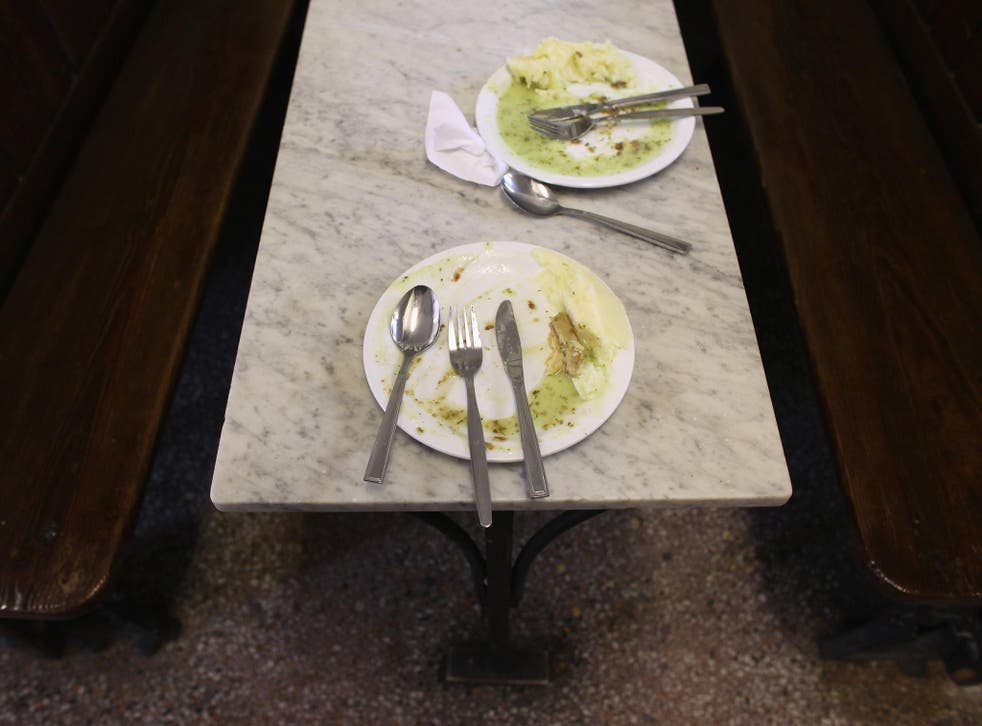 Londoners are not a squeamish bunch, but when I put the concept of "jellied eels" to a room of London-based creative professionals in their twenties and thirties, almost everyone instinctively curls their lip in disgust.
The nine friends are sitting across a long wooden table in the centre of a coffee shop in Shoreditch, east London. These guys aren't part of the "clean eating" revolution: while there's the odd matcha latte and chia pudding on the table, there are also scrambled eggs on toast, a chorizo and avocado sweet potato hash and even a full English breakfast, although the sausages are organic and the beans home-made.
But jellied eels were once a London staple. In the 18th and 19th centuries, eels were plentiful in the Thames River and Estuary. They were easy to fish and cheap to buy, and a popular way to cook them was by boiling with herbs and then allowing to cool, letting the natural gelatin congeal around them. At its heart, it's a very similar dish to potted shrimp, which solidifies in butter and is spread on toast or crackers, yet the latter – which can be found at gastropubs and bistros around the country – arouses interest and appetite to the former's disgust.
I ask the Shoreditch coffee shop-dwellers why they think this is, and Maria, a 30-year-old Snapchat content creator thinks for a moment before responding: "I guess we just haven't been exposed to it so it seems weird."
Despite her distaste for jellied eels, she wouldn't have a problem eating offal at St John or sashimi at Sushisamba, two upmarket and trendy restaurants just down the road in the heart of Shoreditch, one of east London's most gentrified districts located in the historically impoverished borough of Hackney.
Once a city suburb, by the 19th century Shoreditch was very much an inner-city area, home to Jack the Ripper and the Krays. The East End of London was, for centuries, the home for the less appealing industries which propped up the national economy, including slaughterhouses, lead making, fish farms, bone processing and gunpowder production. As a result, it was an undesirable area to live in, and attracted immigrants looking for lower skilled work and cheap accommodation.
By the early 19th century the core of immigration to east London came from Jewish Eastern European refugees, and by 1900 Jews formed around 95 per cent of the population in the Wentworth Street district of Spitalfields, permeating the food culture of the area. Salted herrings and pickled cucumber became a staple of local cuisine, and bagel shops became increasingly common, with one of the most famous ones, Beigel Bake, remaining a feature of Brick Lane to this day.
Over the course of the 19th century the Jewish community began to spread, with wealthier families moving to north London suburbs, paving the way for the next wave of Bangladeshi immigration which would land in the area following the partition of the Indian sub-continent in 1947 which caused major political upheavals in Bangladesh. With them came the proliferation of Bangladeshi cuisine to the East End, which still to this day remains known for the vast volume of curry houses, many of which today sit just a few feet away from Beigel Bake in Brick Lane.
By the 1980s, the area had internalised this array of different cultures, but remained an impoverished and somewhat segregated section of the capital.
Author Michael Smith remembers arriving in Shoreditch in the mid-1990s: "It seems so strange to remember that when I first set foot here, friends in Camden or wherever didn't even know where Shoreditch was. But back then it was all below the radar – there was nothing above ground to see, just a load of dilapidated old factories, many still blitzed out and roofless. There were no Sainsbury's Locals. The 24-hour garage was the only shop, and food beyond Ginsters or Bounties was a challenge. Shoreditch in those days was not user-friendly like it is now. It was user-hostile, and that was partly the point."
It wasn't until the early-2000s that Shoreditch gentrification began in earnest, as other formerly affordable areas such as Islington and Clapham became the beneficiaries of regeneration schemes, forcing the students and artists further and further east in order to be able to afford accommodation in the capital.
By the time the recession hit in 2007, the area was known for its edgy vintage fashion, cheap pubs and underground raves. Vice Magazine had set up its headquarters just off Shoreditch High Street and Nathan Barley had hit the mainstream, years before Being a Dickhead's Cool went absurdly viral among self-conscious neo-hipsters. Even then though, the side roads were lined with fish and chip shops, small understated cafes run by grandmas in hairnets speaking in rhyming slang and sticky pubs that served pie and mash in chipped beige bowls without a slate board in sight.
In 2007 the London Overground opened, and with stops going all the way through east London and down to New Cross it became affectionately known as the Hipster Express. The value of the area skyrocketed, making it appealing to young professionals looking for good transport links and upmarket amenities coupled with a sense of artsy alternative culture.
And it's this new wave of east London inhabitants who eschew the traditional food of the area in favour of the more Instagrammable options. The well-documented rise of food-based social media and blogging has led coffee shops, restaurants and pubs to focus almost as much on the aesthetics of their dishes as they do on the flavour.
One establishment which refuses to give up on its east London roots is F Cooke, a pie and mash shop which sits inconspicuously on Broadway Market, a short street on the border of Shoreditch and Haggerston that runs from London Fields park just over Regent's canal. It's surrounded in equal measures by the feats of architectural indifference that are mid-century council blocks and beautiful tree-lined Victorian roads. It's now comprised of organic greengrocers and artisan coffee houses, intermingled with betting shops and off-licences. It's east London at its almost-gentrified peak.
F Cooke is run by 70-year-old Bob Cooke, the grandson of the original founder, who started the shop in 1900. Bob was born in the small flat upstairs, which his family still owns. When I walk into the shop, it's completely empty, and Bob seems happy to sit and chat with me about his experiences, but also baffled by some of my questions. He tells me how the area has changed over the years, how it's become unaffordable to working-class people and the sense of community has disappeared, to which I ask him what has kept him here all these years.
"Well I just have," he replies shrugging, as if I'd just asked him why he hasn't amputated his foot if it's feeling a bit sore. "I wouldn't leave the shop. It's our shop. My daughter will take it over one day and hopefully it'll be here for another hundred years." Bob's family own the property, as well as the freehold, but with the average cost of property rising exponentially in Hackney, it's hard not to imagine a scenario in which F Cooke could be bought up and turned into a Scandi-chic minimalist homeware store.
Bob's shop isn't decked out in a cool retro vibe to evoke aesthetically pleasing nostalgia. It's stark and bland, with a few black and white pictures on the wall in cheap-looking frames. The chairs aren't particularly comfortable and a large counter displays nothing but cast-iron pots heating mashed potato and gravy. He doesn't offer a truffle oil version for an extra £10 or craft beer to rinse it all down. He's clearly not interested in appealing to the new demographics taking over Broadway Market.
Bob is reluctant to tell me that the reason for the decline in his business has to do with the changing face of the population of the area, but where once Broadway Market was inhabited by London families, it's now home to young professionals from around the country, in London to experience the new ever-evolving angles of the city, not its traditional roots, and many of the families who used to live in the area and frequent his eatery are completely priced out.
Part of the reason for the increase in property value is the privatisation of social housing, which has attracted a wealthier demographic. In 1980 Margaret Thatcher's Government enacted the Housing Act, which allowed low-income tenants of the council to buy their homes at incredible deals (sales often started at 33 per cent of the property's value) with 100 per cent mortgages available.
In his book Promised You A Miracle: Why 1980-82 Made Modern Britain, Andy Beckett writes: "Whether these terms represented a good deal for the state, which had after all built these homes and would lose the rental income from them, was not something the manifesto explored. Nor were related, even more fundamental questions. Would the country be left with enough cheap homes after the sell-off? And would the policy backfire if the population, and therefore the demand for housing, rose? Given that the UK was part of the EU, and also linked by other busy immigration routes to its vast former empire, and to the US, a stable or falling population, as had existed throughout the 1970s – a period of perceived British decline that Thatcher had noisily promised to reverse – could hardly be assumed."
Last year, an east London borough admitted it had a 50 year waiting list for social housing. London newspapers regularly mock the outrageous advertisements for tiny flats with the shower in the kitchen at extortionate cost, but if you're looking for somewhere to live on a low-income, it becomes less of a joke and more of a nightmare.
The traditional food of east London is disappearing along with the lower classes who can no longer afford to live in the capital. But what is it about the working class cuisine of the city which simply doesn't appeal to the young professionals taking their place?
Where British food was once considered bland, stodgy, and usually overboiled, perceptions have changed and there is a movement – primarily driven by classically trained chefs turning their hand to the gastropub – to revive it. But there is a unique self-consciousness in Britons, who are aware that international perception of our national cuisine isn't positive, and that in a post-Brexit landscape our reputation as insular and arrogant is being cemented around the world. Food is a way for us to prove our interest in and acceptance of other cultures.
I asked Maria, who I met in that coffee shop in Shoreditch, whether she'd post an Instagram shot of herself in a pie and mash shop. She said: "I don't think it's a meal that looks particularly pretty. If I made it myself from scratch, or if I found someone who deconstructed it or made a vegan version I probably would. But pie and mash is pretty boring, and I feel like it would be a bit nationalistic, sort of conjuring up images of football hooligans and National Front rallies, you know?" I asked her what her last food Instagram post was. Bibimbap followed by Jerk-spiced kale crisps with avocado and tofu dip.
I asked Bob whether he had given any thought to the fact that young people may find his kind of food boring or bland, and he insisted he has no resentment towards those driving the change in east London, but just as I was leaving F Cooke, I switched my recorder off and thanked Bob for his time. It was great to meet him, I said, and I don't live far so I'll definitely come by for pie and mash one day.
"No, you won't," he responded resolutely.
"What do you mean? Why won't I?" I asked, a little flustered.
"You just won't. I know you won't. If you do you can have a free pie, but I'll bet you won't," he told me.
No matter how many times I asked, I couldn't find a way for him to open up and tell me why he's so convinced that I won't come back. Sure, I like avocado on sourdough as much as the next millennial, but mashed potato is my comfort food of choice, and I'm certainly not above a steaming bowl of thick, umami-drenched meat sauce topped with golden, buttery, flaky puff pastry. I'm not sure I'd be able to bring myself to try the jellied eels Bob still sells, even though demand is almost non-existent, but a pie seems like a no-brainer.
That said, if I do go back, it's unlikely to be a meal I brag about. Although I've enjoyed bubble and squeak and toad in the hole, there's something inherently unexciting about these dishes. Born out of rationing and poverty, they don't include exotic ingredients or fascinating techniques. The flavours aren't new and the aesthetics aren't pleasing.
It seems that in creating a London which feels vibrant, tolerant and enthusiastic about integrating all cultures, we've forgotten about the people and the communities who got us here in the first place.`
I've lived in the Hackney area for five years, and for the past year I've lived 10 minutes' walk from F Cooke. In all this time I've often walked past, intrigued by how this relic of an east London I'll never know co-exists with the one I've come to love, but I'd never thought to go inside for a meal. When Bob tells me he doesn't believe I'll come back my liberal, inclusive sensibility bristles at the suggestion that I would feel superior to the culture of my ancestors, but maybe that's a criticism I deserve.
Londoners should be proud of the city they've created, which encompasses more than 270 nationalities and 300 languages, which wanted overwhelmingly to stay in the EU and voted in a Muslim mayor in the same year that Trump was elected US President. But being proud of our diversity and globalisation seems to be inadvertently causing us to squeeze out the cultures that got us here, and that fundamentally feels like it goes against the grain of everything this city stands for.
Register for free to continue reading
Registration is a free and easy way to support our truly independent journalism
By registering, you will also enjoy limited access to Premium articles, exclusive newsletters, commenting, and virtual events with our leading journalists
Already have an account? sign in
Register for free to continue reading
Registration is a free and easy way to support our truly independent journalism
By registering, you will also enjoy limited access to Premium articles, exclusive newsletters, commenting, and virtual events with our leading journalists
Already have an account? sign in
Join our new commenting forum
Join thought-provoking conversations, follow other Independent readers and see their replies