Inside the 'free market' of people smuggling
Social media skills are key to networking – and in an illicit trade with little hierarchy, smugglers have learned this quickly, using platforms like Facebook to make connections    
Chantal da Silva
Tuesday 24 October 2017 17:03 Comments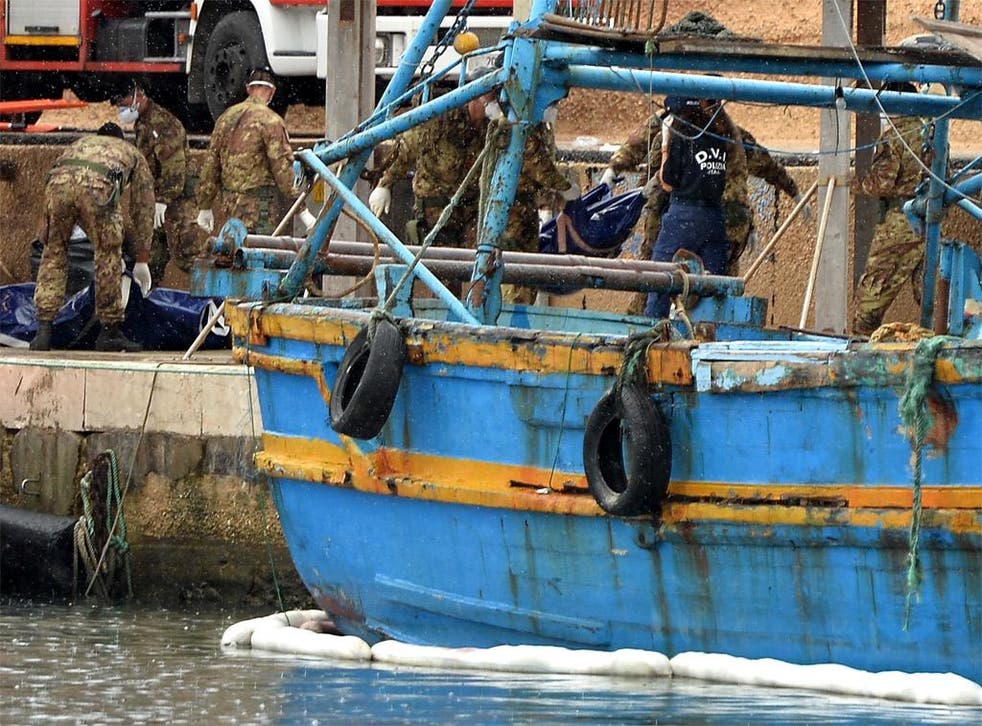 Most of the roughly 6,000 residents of Lampedusa would have been fast asleep as chaos unfolded on the Italian island's shores four years ago this month. What lights were on might have been seen from the distance by the more than 500 people packed on an overcrowded boat sailing from Libya, carrying refugees mainly from Eritrea, Somalia and Ghana.
Whatever they saw from the Mediterranean, more than half of the passengers on the ship would not survive the night to find out what laid beyond the water's edge.
Soon after the shipwreck on 3 October, 2013, it would emerge that the 20-metre long fishing boat began to sink after suffering engine trouble less than a quarter of a mile from Lampedusa. A blanket set on fire in a frantic bid to grab the attention of potential rescuers only made things worse – igniting gasoline and engulfing the boat in flames, forcing many passengers to throw themselves from the ship, while others gathered at one end of the sinking boat, causing it to capsize further.
Of the more than 500 passengers on board, only around 160 survived. At the time, it was the single largest loss of life to come as a result of the booming black market in illegal crossings on the Mediterranean.
It would be another two years before the full weight of Europe's refugee crisis would rock the continent in 2015, with thousands of refugees drowning in the Mediterranean in the years that have followed since.
But in the immediate aftermath of the disaster four years ago, came the inevitable question: who was to blame?
Selling a business
One people smuggler in Sudan thought he had the answer. Records from a wiretapped telephone exchange show him asking a fellow people smuggler in Libya how many people on the boat were "his".
Exactly 109, came the answer – of which 58 did not survive.
The Sudanese smuggler reproached his Libyan counterpart for his role in overcrowding the boat – and in the end, the Libyan smuggler took it upon himself to personally notify the families of the victims whose safe passage he had failed to deliver. He also shelled out $5,000 (£3,800) in compensation.
Certainly to some degree, his actions might have come from a place of remorse – but in large part, the move was likely part of a bid to save his reputation and prevent potential customers from turning to one of his many rivals.
In the illicit business of people smuggling, reputation, researchers at Cambridge University's Institute of Criminology say, is everything – at least, for those who want to stay in the trade.
"Demand is satisfied by a plethora of actors," Dr Paolo Campana, an expert in criminal networks at Cambridge, says. "It's not uncommon for many people to have another job, like owning a shop even, and be working as a people smuggler on the side.
"The market is very competitive, so smugglers have to go out of their way to attract people and convince them to choose them over someone else," Campana says. "That can be the difficult part."
Going social in an illicit trade
So how does one go about marketing an illicit service in a trade that international bodies across Europe are working to shut down?
The answer can be as easy as a 10-minute search on Facebook, depending on how good your web-surfing skills are. Smugglers have been found with a simple search for key words like "Libya" and "passage" written in Arabic.
I tried to find one myself and it only took a handful of minutes before I came up with a page that appeared to be advertising such services.
"I can't say with certainty, but yes, it looks like it may be connected to some smuggling activity based on the English translation," Campana agreed.
"Facebook is just one of the means," he says. "Because the market is so competitive, they have to find a way to do it and Facebook is one of the ways. They post pictures of themselves, of successful crossings, of their boats, and it's all a way to build trust and credibility."
A spokesperson from Facebook told The Independent the social media company works closely with law enforcement agencies around the world to shut down any pages or posts promoting people smuggling services on its website.
"People smuggling is illegal and any posts, pages or groups that coordinate this activity are not allowed on Facebook," the spokesperson said.
"We urge people to use our reporting tools to flag any content that they suspect may be illegal or violate our standards so it can be reviewed and swiftly removed by our global team of experts, who work closely with law enforcement agencies around the world."
As part of its bid to crack down on illicit networking on its platform, the social media giant has also recently announced it will be adding an additional 3,000 people to its investigative team.
But even more effective than Facebook, Campana says, is the age-old method of word of mouth. Most of the people researchers spoke to relied on the reviews of friends and family to find a smuggler they believed they could trust.
One Syrian refugee told researchers at Cambridge: "We spoke to people that we knew, people who left and who arrived and asked, 'which smuggler did you go with? How was the behaviour of the smuggler?' In the end, there were three smugglers that had honest behaviour."
Campana says that the fact that not everyone has access to a platform like Facebook, or the skills to use the technology, means that many have little choice but to rely on word of mouth.
"Education really matters. If you have the skills to use technology and find information, you are in a much better place," Campana says. "Human smuggling reflects the broader world in that sense. It's a mirror image. Young, educated Syrians for example, who are on the internet can find the info more easily. If you are older and don't have access to technology, you have to rely on family, friends and word of mouth."
Smugglers who are interested in staying in the illicit business for the long term know that they must deliver on their promises if they don't want to be shut out of the black market, Campana says. That is one of the main aspects of smuggling that set it apart from human trafficking, though the two are often mistakenly conflated.
"From an analytical perspective, human trafficking and smuggling are very different. With trafficking, the commodity at stake is control of a person with intent to exploit that person. The central element is control," Campana says. "With smuggling, the commodity at stake is the crossing of a border, getting from A to B and that is what smugglers care about."
Of course, as the devastating death toll of thousands of refugees who have lost their lives due to overcrowding on ships and ill-prepared crews will show, that does not mean smugglers who aren't interested in playing the long game don't get greedy. A refugee living in Greece described to The Independent how the transfer he had arranged from Egypt turned deadly after his boat, overloaded with passengers, began to sink during the crossing.
"I was in a little boat with 17 other people and there were these two baby girls on it. It capsized near Turkey," he said. "A helicopter came for us in the end and the police came, but they were too late. Two women and the two baby girls died."
"Yes, while exploitation is not the main goal, it does sometimes happen," Campana says. "Sometimes the smuggling is overpriced. Sometimes they make promises that they know they won't deliver. They promise a high quality boat and then provide a small dinghy. They promise immediate departure and then make you wait for days. Some care about safety, while others are more reckless."
'Staggering' growth
Unlike other forms of organised crime, the illicit business of human smuggling is a "quintessential free market" with few controls over who gets involved, Campana says. "I was surprised by the fragmentation of the market and the competition – and its ability to grow," the researcher adds.
"If you look at the percentages, the rate of growth has been staggering," the researcher says. "I have hardly seen such growth in other illegal markets."
​
​People smuggling now represents the third-largest business for international criminals, the International Organisation for Migration (IOM) has said, with as many as 1.8 million illegal border crossings recorded between 2010 and 2016, according to the European Border and Coast Guard Agency (Frontex). IOM estimates that people smugglers make a total of roughly $35bn (£27bn) a year worldwide, with a boom in profits in recent years from the migrant crisis.
Campana's research has found that the number of illegal border crossings along the Eastern Mediterranean route alone, which includes crossings into Greece and Italy, increased by 1,641 per cent from 2014 to 2015, translating into 885,386 illegal entries in 2015, compared to 50,834 in the previous year.
He says recent efforts to stem the surge in smuggling activity have shown some progress, however, with land-based policies like the 2016 deal between the EU and Turkey, which sees the country accepting the return of most asylum seekers who travel through its territory in exchange for billions of euros in aid, prompting a slow-down.
"The question becomes whether these flows will shift, for example, from the Central Mediterranean to the Western Mediterranean. Also, it might prove quite challenging to implement a similar agreement in places like Libya – both from a human rights perspective and a practical perspective. However, what it is clear, I think, is that naval operations like the ones in the Mediterranean are not being effective in disrupting smuggling operations".
Finding 'Mr Big'
Stopping smugglers from operating is a challenging enterprise, Campana says, for several reasons. First, there are limited barriers when it comes to entering the market. The business of people smuggling requires limited capital and relatively few skills. In a country, such as Libya, he says, militias are often also willing to grant smugglers protection for a fee, working as enforcers for those who are willing to pay the price to operate.
But a large part of the problem is the sheer number of smugglers operating in the market – and the fact that there is little hierarchy among its participants.
While Campana says it may seem tempting to frame criminal markets as being dominated by a select few "masterminds", he believes an important part of the puzzle of how to successfully crack down on people smuggling is looking at the illicit trade as a free market.
In such an unregulated market, there are no kingpins or monopolies. Targeting one smuggler or one specific group will do little good "because if one smuggler is targeted, his market share, so to speak, would be taken by others".
"The structure of smuggling is a far cry from the typical hierarchy of say, the mafia, the typical 'godfather' style does not exist," the researcher adds. "It's made up of very fragmented groups. Here, there are no Mr Bigs."
Register for free to continue reading
Registration is a free and easy way to support our truly independent journalism
By registering, you will also enjoy limited access to Premium articles, exclusive newsletters, commenting, and virtual events with our leading journalists
Already have an account? sign in
Join our new commenting forum
Join thought-provoking conversations, follow other Independent readers and see their replies