Literary festivals by the treble: Why Harrogate's wearing the crown of 2018's bookiest UK town
Arts festivals have been running in Harrogate for over half a century but 2018 sees the genteel North Yorkshire spa town outdo itself, with no fewer than three major literary conventions. David Barnett finds crime, comics and sci-fi on the menu, along with afternoon tea and a pint of ale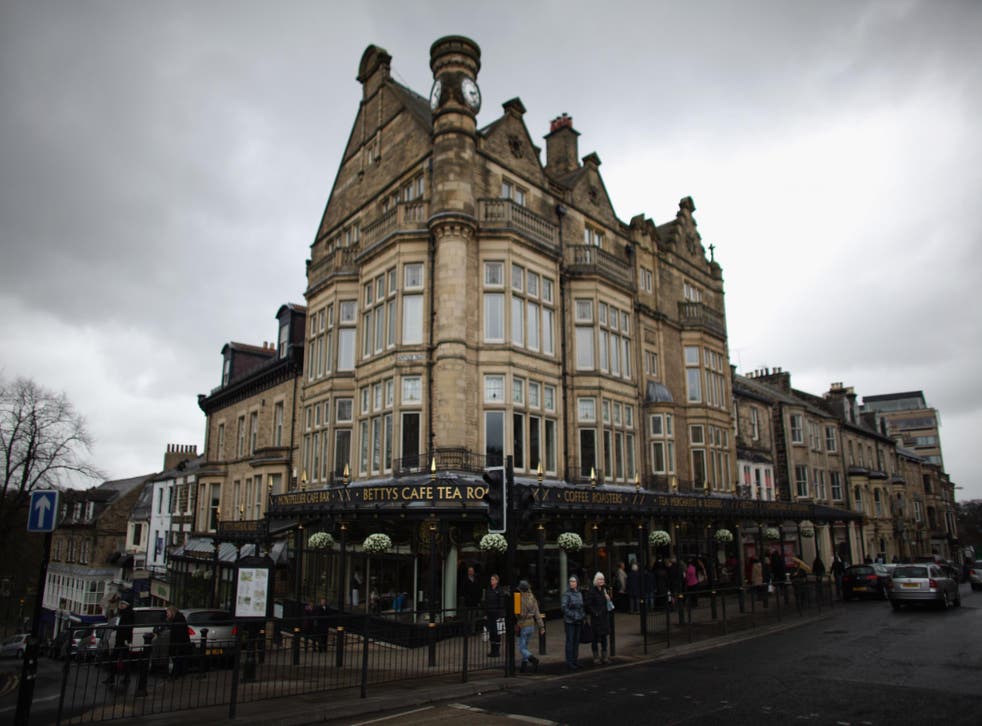 What would you say is Britain's most bookish town? You'd think Hay-on-Wye would be in with a shout, nestling on the Welsh-English border and home to one of the most famous literary festivals in the country.
In Scotland, Edinburgh of course has an annual, highly regarded lit fest, and Wigtown, in Dumfries and Galloway, has actually been designated Scotland's National Booktown, for its plethora of bookshops and its own 10-day festival in September.
But there's a case to be made, in 2018 at least, for Harrogate in North Yorkshire to rightfully wear the crown of the country's bookiest location, playing host as it does this year to no fewer than three major literary festivals.
Two of them are annual events – the Theakston Old Peculier Crime Writing Festival, which takes place every July and attracts the biggest names in crime and thriller fiction from across the world, while the Raworths Harrogate Literature Festival is an October treat that similarly attracts top-drawer authors.
Joining them this year is the annual travelling science fiction and fantasy convention, Eastercon, which will take up residence in the town (as the name suggests) over the long Easter weekend. Eastercon happens in a different UK town or city every year, each event given its own specific appellation, and this year's 69th annual event is called Follycon.
That's three major festivals in one smallish northern town. Can any other towns, or even cities, boast anything like that? October's lit festival lineup hasn't yet been announced, but last year saw names such as Joan Bakewell, Victoria Hislop, Dame Jenni Murray, Jonathan Aitken, Martin Sixsmith, Amanda Owen and – in a last gasp of civilised gentility before heading into the Celebrity Big Brother House – Ann Widdecombe.
There have been arts festivals running in Harrogate since 1966, and out of that grew the Harrogate International Festivals body, which organises and runs both the Raworths Literature Festival and the Theakston Old Peculier crime event, as well as a music festival in the heart of summer.
Initially funded in part by the Arts Council, grants dried up in the 1980s and the festivals committee repositioned itself to present a more populist series of events, and is now a charitable organisation that receives only two per cent of its funding from public sources, the rest being made up by ticket sales, sponsorship and donations.
And it seems they've hit on a winning formula. Last year the four-day crime writing festival sold out with 16,500 ticket sales, and is set to do similar brisk business in this, its 16th year. Among the big names just announced for the 2018 weekend is thriller writer John Grisham, who will be interviewed on stage by Lee Child, the author of the bestselling Jack Reacher books. Whether they'll bring along mutual friend Tom Cruise – the actor starred in the 1991 movie adaptation of Grisham's novel The Firm, and more recently played Child's itinerant tough guy Reacher on the big screen – has not been confirmed.
Grisham's appearance has been two decades in the making, and was first mooted over a pint (as the crime festival is sponsored by brewer Theakston and, like Harrogate's other events, is reliant on the money that comes in, we'll forgive the Arkansas author's waxing lyrical over the ale in question). As the author says: "About 20 years ago I attended a Chelsea football match with my close friend and editor, Oliver Johnson. Afterwards, we retired to a pub and I had my first pint of Theakston Old Peculier. Others followed. It's my favourite beer in the world. Then Lee Child invited me over for the crime festival, and when I discovered it was sponsored by Theakston, I knew I had to say yes! I've never been to Harrogate or even to Yorkshire and I'm really looking forward to the festival."
Grisham's beat is the legal thriller, and aside from The Firm he's seen many of his books hit the big screen, including The Pelican Brief with Julia Roberts, and A Time To Kill with Samuel L Jackson. His latest novel, The Rooster Bar, gets a UK publication in July, to coincide with his visit to Harrogate.
Also on the guest list for this year is Don Winslow, author of almost 20 novels including Satori, his 2011 prequel to Trevanian's 1970s spy classic Shibumi. Both are coming over thanks to festival regular Lee Child, UK-born but now living in America, who's chairing the event this year.
Child says: "As I live in New York, I'm bringing some very special American friends over and John Grisham and Don Winslow are two of the biggest authors out there. I'm really delighted they'll be hanging out in Harrogate. Alongside the blockbuster heavyweights, festival-goers can expect a really diverse mix of authors and panel events. It's fun to add my stamp as chair and bring some different names to Harrogate for the first time."
The crime festival was established in 2003 by Scottish author Val McDermid, literary agent Jane Gregory and the Harrogate International Festivals board, but of course Harrogate has a solid crime fiction link lurking beneath its leafy avenues and spa-town gentility. The Old Swan Hotel in the town was where Agatha Christie resurfaced after her infamous 11-day disappearance in December 1926, an event that made international news and was never satisfactorily explained. It's no accident that the Old Swan Hotel is the location for the annual festival.
Not linked to the Harrogate International Festival organisation, Eastercon is setting its controls for the heart of Harrogate under its own steam, bringing at the end of March a plethora of big names from the science fiction and fantasy literature, and comic books. Guests of honour include novelists Kim Stanley Robinson and Nnedi Okorafor and comics writer Kieron Gillen.
Okorafor, who is Nigerian-American, has won a shelf-full of awards for her fiction including her Afrocentric sci-fi Binti trilogy and is also writing for Marvel Comics a series featuring Black Panther, whose movie adaptation is currently burning down the box office.
Robinson is also American, with a huge body of work including his Mars trilogy and his most recent novel, New York 2140. Gillen, meanwhile, is one of the prolific writers in contemporary comics, having written for Marvel with Young Avengers, Darth Vader and Iron Man, as well as his indie hits with artist collaborator Jamie McKelvie, Phonogram and The Wicked + The Divine.
Follycon chair Alison Scott explains: "The British National Science Fiction Convention, known now as the Eastercon, is held over the Easter weekend every year. Early conventions weren't always at Easter, but we've been running every Easter since 1955. It's a general convention for fans of science fiction in all its forms – but when it started, that pretty well exclusively meant books. It moves around each year as different groups of volunteers bid to run it. The convention remains fully volunteer-run and not for profit. That means that every Eastercon is slightly different, and it's been as far north as Glasgow and as far south as Jersey."
This year, though, they've gone for Harrogate. Scott says: "When we were looking at possible locations for the convention we fell in love with Harrogate and with the Majestic Hotel in particular. It can be hard to find a site that's the right size for the Eastercon and all too often we find ourselves in an out-of-town conference hotel. We love that Harrogate is a walkable town with a sense of history and plenty of attractions, restaurants and shops. It's also been a good while since the Eastercon's come to Yorkshire.
"Harrogate's got loads of literary credibility and with loads of independent shops it's a great place to wander around. We've thoroughly enjoyed our reconnaissance visits. There's amazing Yorkshire scenery right on the doorstep too for people looking for inspiration."
Around 1,000 people are expected to attend over the weekend, and the committee is making day tickets available as well as weekend ones to attract those who might want to dip their toes into the world of SF conventions but are a little unsure. There's no need to be, though, says Scott, adding: "Everyone came to a convention for the first time once! It can be a bit overwhelming the first time but there will be programming specifically aimed at people who are there for the first time."
With Theakston covering crime, Follycon science fiction and fantasy, and the Raworths festival mopping up everything else, it seems that Harrogate really does have the festival season brought to book for 2018.
For more information on Follycon go to follycon.org.uk while details on both the Theakston Old Peculier Crime Writing Festival and the Raworths Harrogate Literature Festival are at harrogateinternationalfestivals.com
Join our new commenting forum
Join thought-provoking conversations, follow other Independent readers and see their replies