Rhino poaching: Latest figures show a decade of bloodshed in South Africa
When just 13 rhinos were poached in South Africa in 2007, it seemed like the problem was nearly under control – but over a 10-year period, the numbers soared. We explore the legacy of conservationist Dr Ian Player, and the monumental task of keeping these beautiful beasts safe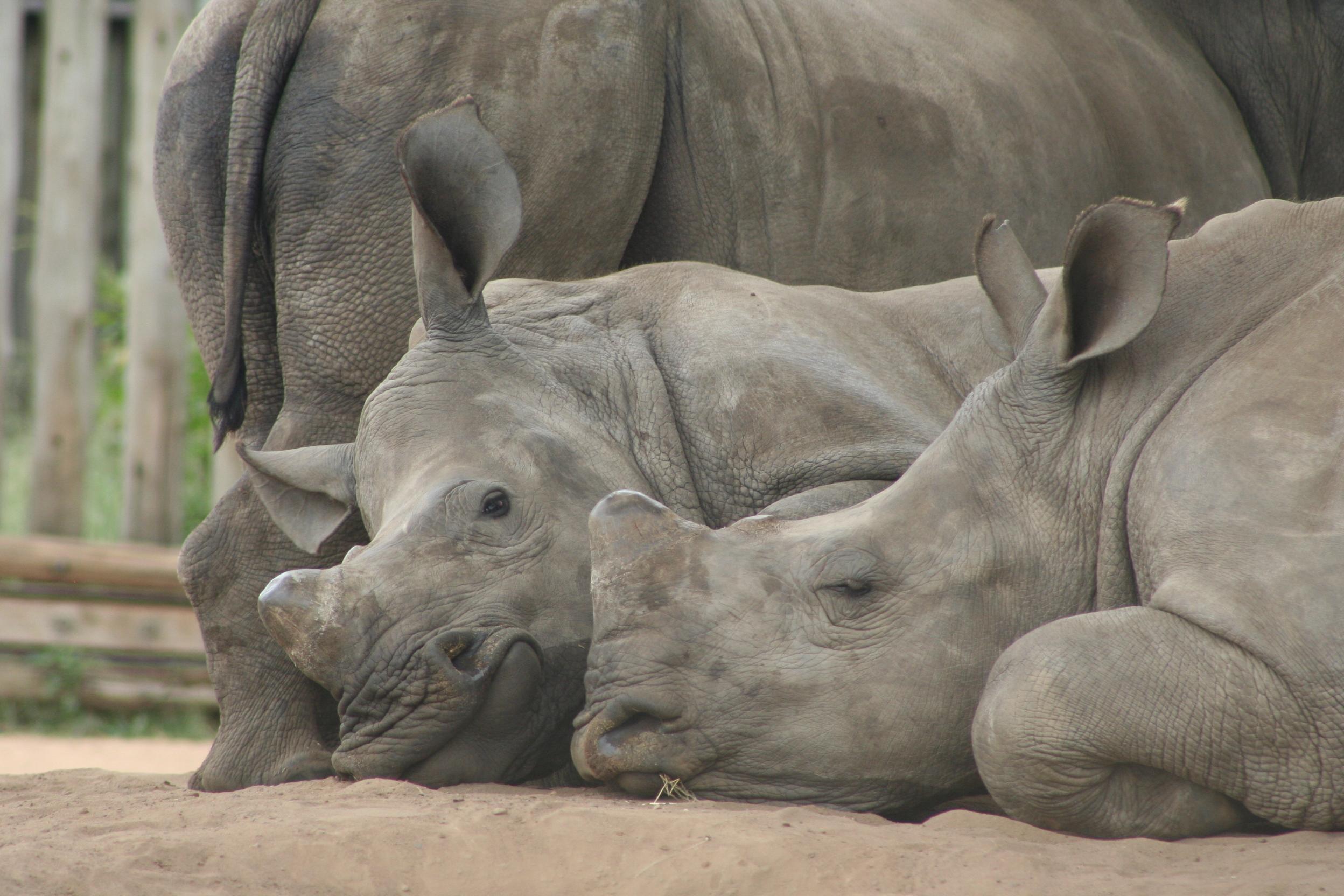 Dr Ian Player, the veteran South African game ranger and doyen of global rhino conservation, would be turning in his grave today were he to discover that another 1,000 rhinos had been slaughtered in the last calendar year.
The African-wildlife warrior died just over three years ago aged 87, at a point when poaching had just exploded to record levels in South Africa – with nearly three rhinos gunned down daily.
Annual government statistics announced last week complete the picture of 7,130 rhino carcasses piled up in South Africa over the last decade.
Shortly before his death, I visited Player at his home in the KwaZulu-Natal Midlands to ask him about his thoughts on the poaching crisis and the future of one of the "big five" (lion, leopard, rhinoceros, elephant and Cape buffalo) species he devoted most of his life to protecting.
Frail and dispirited, he had reached a point in life where he should have been taking things easy, after more than six decades of service to nature conservation. Instead, his cellphone rang incessantly as colleagues from all corners of the country reported the discovery of yet another rhino butchered for its horns.
Having worked so hard to save rhinos from extinction once before, there was no way Player could hang up his conservation boots amidst this new crisis.
He also told me about a dream that haunted him. "My dream was about a young white rhino which came to lie down next to me and then gently placed its head on my shoulder. That does not need too much interpretation – the rhinos still need our help more than ever before," he explained.
Player, the elder brother of golfing star Gary Player, first came across a rhino in Imfolozi Game Reserve in the early 1950s when he joined the Natal Parks Board as a learner game ranger.
A disciple of Carl Jung and Sir Laurens van der Post, Player went on to spearhead a global operation to safeguard the world's second-largest land animal from extinction.
Less than a decade ago, poaching deaths were limited to roughly 20 rhinos per year in South Africa, the country that provides sanctuary to 93 per cent of Africa's white rhinos and nearly 40 per cent of the continent's black rhinos.
In 2007, only 13 rhinos were poached in South Africa. But in 2008 that tally rose steeply to 80 deaths; to 333 in 2010 and then to a record level of 1,205 during 2014. Last year the death toll topped the 1,000 mark for the fifth year in a row.
To put this tragedy into some perspective, it is worth recalling that in 1897 there were only about 50 southern white rhinos left in the world – all of which were confined in the fledgling Imfolozi Game Reserve in KwaZulu-Natal.
When Player arrived in Imfolozi in 1952, the reserve's tiny remnant population had increased to about 430 animals and he was anxious to ensure that this species should never again teeter so close to extinction.
With the help of fellow rangers such as Magqubu Ntombela, Norman Deane, Owen Letley, Nick Steele, Alpheus Ntuli, John Clark and veterinarian Dr Toni Harthoorn, Player and his team began a massive capture and relocation project known as Operation Rhino.
Their aim was to shift this precious cargo away from a single conservation area, spreading the risk out and also providing more living space for the rhinos to multiply. Between 1961 and 1972, more than 1,100 southern white rhinos were translocated from KwaZulu-Natal to other reserves in South Africa and elsewhere in Africa and also to zoos or safari parks across the world.
By the mid-Sixties, the strategy bore some early fruit, when the southern white rhino became the first animal to be removed from the most critically endangered schedule compiled by the International Union for the Conservation of Nature (IUCN). Though the species was still not out of the woods, numbers grew progressively until 10 years ago, when South Africa boasted a population of almost 19,000 white rhinos – along with nearly 2,000 of the more endangered black rhino species that have been decimated elsewhere in Africa.
Last week, however, South African environmental affairs minister Edna Molewa confirmed that 1,028 rhinos were killed nationwide during 2017 – a very modest drop compared to 2016.
The reasons for the sudden upsurge in rhino poaching from 2008 onwards are complex and hotly-contested. Nevertheless, several observers attribute the upsurge to the South African government moratorium on the domestic sale of rhino horns that came into legal effect in early 2009.
While the commercial sale of rhino horns across international borders has been banned for nearly 40 years in terms of the Convention on International Trade in Endangered Species, South Africa continued to allow domestic sales until 2009 – even though rhinos horns have no utility or real commercial value there (unless they can be smuggled clandestinely to the lucrative consumer markets in China, Vietnam and other Eastern nations).
When the domestic trade ban came into effect in 2009, the volume of rhino horns for sale locally dried up, allegedly fuelling a rapid spike in poaching levels - though the South African government has argued that there is no empirical link between the moratorium and escalation in horn poaching.
Late last year, private rhino breeder John Hume – who together with other private ranchers in South Africa owns more than 30 per cent of the country's rhino herd – overturned this moratorium after a series of court cases. Rhino horns can now be sold legally within South Africa again under a strict permit system, but the international trade ban remains in place.
Molewa signalled the government's determination to curtail the poaching using a variety of strategies, yet conservation groups wonder how much longer the remaining South African population can sustain a death rate of more than 1,000 a year.
The World Wide Fund for Nature (WWF) warns that the rhino poaching crisis was not only spreading to include other wildlife species like elephants, but also impacting on rural people living around protected areas because of their exposure to organised crime syndicates.
"Overall 2017 also appeared to show a shift to poaching impacts on other species, with elephant losses in Kruger National Park reported to have increased to 67 in 2017 compared to 46 in 2016 – these are important trends to address now to be ahead of the curve and prevent the escalation seen previously for rhino," WWF says.
Dr Jo Shaw, African rhino lead for WWF International, adds: "Wildlife trafficking remains a pervasive threat to rhinos, and increasingly to other species such as elephants and lions which bring tourists and jobs to our important protected areas.
"We need ongoing government collaboration between agencies, across borders and with the private sector and civil society to stop the damage being done to wildlife and people. At the same time, we need to work to find a way to empower people living around protected areas to benefit legally from wildlife and become invested in their survival."
Fellow WWF campaigner, Dr Margaret Kinnaird, says: "News of the reduction in numbers of rhinos killed illegally in South Africa for the third consecutive year is encouraging. However, the numbers are still far too high. We must also shine a light on the ongoing struggles facing the people whose safety and livelihoods are threatened by this illicit trade."
More effort was needed to stop the corruption that facilitated the illegal horn trade, and to change consumer behaviour – particularly in Asia.
Tom Milliken, a spokesperson for the global wildlife-trade monitoring network, Traffic, says: "The marginally lower total in 2017 still remains unacceptably high and with close to three rhinos illegally killed daily in South Africa, the bottom line is that the crisis continues unabated."
Milliken says while there had been a "significant" drop in rhino deaths in the flagship Kruger National Park (504 killings in 2017 compared to 826 in 2015) the poaching crisis had largely been displaced to more vulnerable wildlife reserves elsewhere.
For example, 222 rhinos were killed in KwaZulu-Natal province last year (double the number killed in 2014 and a more than 10-fold increase compared to 2008) amid allegations of corruption in dealing with rhino-related crimes.
Worryingly, minister Molewa has confirmed that 21 suspects "from our own (conservation and law enforcement) personnel" were among the 581 people arrested last year for rhino-related crimes in South Africa.
Milliken noted that senior conservation officials had lamented the "increasing levels of corruption among our ranks, the police, immigration officials and other law enforcement and professional services such as veterinarians".
Late last year, Traffic also published disturbing new evidence of criminal networks of Chinese origin operating in South Africa – processing rhino horn locally into beads, bracelets, bangles and powder to evade detection and provide ready-made products to consumers in Asia, mainly in Vietnam and China.
"Traffic calls on South Africa urgently to adopt and implement its national strategy to combat wildlife trafficking: the potential growth of new markets for rhino products is a deeply worrying development that needs to be nipped in the bud – we're far from seeing the light at the end of this very long, dark tunnel," Milliken says.
Shortly before his death in November 2014, Ian Player said: "There are people who say the government is not doing enough to save rhinos, and there are others who say there is too much focus on these animals at a time when so many people are still hungry.
"We all have a duty to the other forms of life we share this planet with. I don't believe our generation has the right to just let the rhinos disappear."
Join our commenting forum
Join thought-provoking conversations, follow other Independent readers and see their replies