Roger McGough: the man who brought poetry down from the shelf and on to the streets
'Imagination is more important than information. If you're being bullied at school, you can imagine your revenge in a poem. You can get your own back'. Andy Martin talks to Roger McGough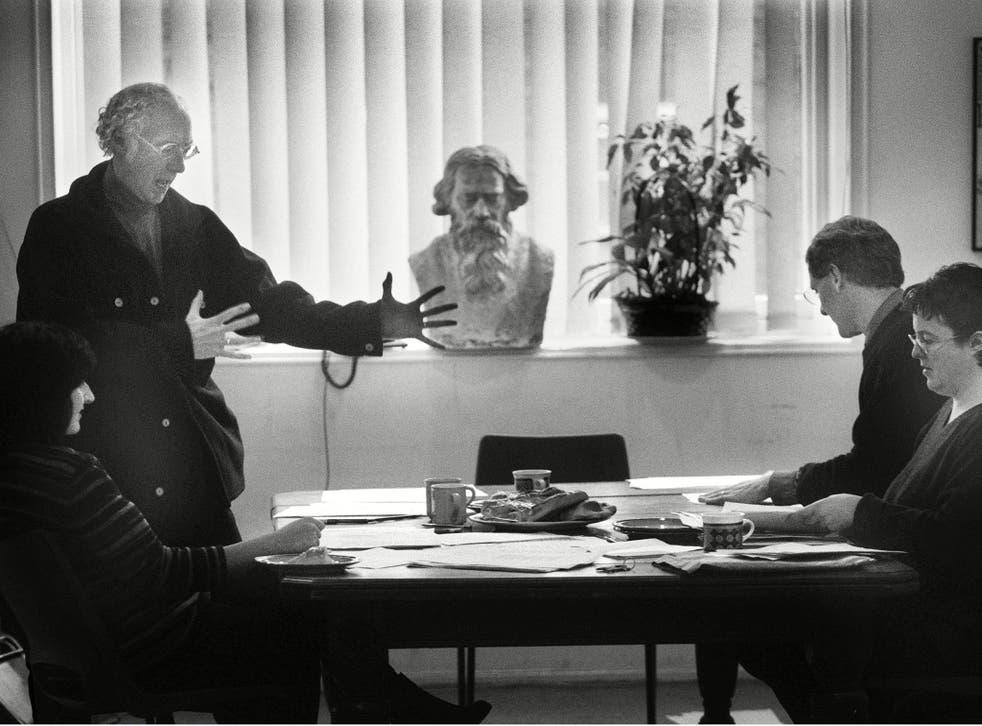 It was an old slogan of his (and James Dean's) – "Live fast, die young". "Yeah, I failed on both counts," said Roger McGough. He is 80 in November and is bringing out a collection of 80 poems funnily enough called Eighty. He looks like a bespectacled schoolboy who, on account of a naughty streak, decided to shave his head. Or something between Buddy Holly and a half-starved apprentice monk. An Irish Catholic choirboy brought up in Liverpool in the midst of the Beatles and the Mersey Sound, who wrote Lily the Pink and performed with The Scaffold, he still goes to church on Sunday and says he would go to confession, "except I don't have so much to confess about these days." As one of his poems neatly puts it:
I used to scintillate
Now I sin
Till ten past
Three
A broad-shouldered, well-preserved old construction worker, who could still put away a dozen pints of Guinness, once said to me: "I owe it all to my shovel!" McGough is a bit like that, only with poems. I went to see him at his home in south-west London, between the River Thames and Barnes Common. I only arrived about an hour and a half late and he sat me down in a comfortable sofa and gave me coffee and a chocolate biscuit. There is something obscurely poetic about that, or at least very forgiving.
There is a definite streak of Wordsworth to McGough. Not only has he written about daffodils, but he has the same celebration of youth. "Whither is fled the visionary gleam?" as Wordsworth put it in his robust Victorian idiom. "Shades of the prison house began to close upon the growing boy." McGough retains the vision of the kid who is closer to heaven than grown-ups: "Imagination is more important than information." And he gives a helpful practical example: "If you're being bullied at school, you can imagine your revenge in a poem. You can get your own back."
He argues that children are natural poets and then they have all the poetry ironed out of them. He gives the example of remarks made by his own kids. Finn watched a lighted candle on the table and saw the wax melting and running down the side. "Look, the candle's crying," he said. Matt comes running in with a splinter in his finger. "Daddy, daddy, the wood's bit me!" McGough remembers, in his beguiling autobiography, Said and Done; or the girl on the train passing Didcot, who looked out at the huge cooling towers and said, "Ooh, look, a cloud factory". In contrast, his poem, The Way Things Are, imagines a father figure telling a child to be sensible and grow up and stop all this silly poetry nonsense. Schools too often grind you down.
Even though on his second marriage and the father of four, Roger McGough still gives the impression of a precariously reformed juvenile delinquent, with an sticking plaster on his knee and a copy of Beano or The Dandy in his pocket (almost certainly nicked from the newsagent). He leapfrogged a year at school so he was always the youngest in his class and ended up at university at the age of 17. His self-image was imprinted and fixed early on. "It doesn't matter what company I'm in, I always feel as if I'm the youngest person in the room. I feel I'm younger than I actually am."
I think Roger McGough ought to be Minister for Poetry or something like that. Or Oxford Professor of, or maybe Poet Laureate. I imagine that not everyone would agree (and I'm not sure he would either). There is a line of Garrison ''Lake Wobegon'' Keillor's, speaking to an interviewer from the Paris Review, that sticks in my brain: "I'm glad that sales of my books have now dropped to where serious literary journals take an interest in me."
McGough probably suffers from being too prolific and too popular. He tends to polarise opinion. In the days when Craig Raine and Al Alvarez and Andrew Motion decided who was in The Poetry Review, he was definitely out. He keeps on coming out with jokes and puns and one-liners ("Married men live longer than single men. Or does it just seem that way?" "Is a dartboard an objet d'art?"), therefore he cannot be taken seriously. One or two fellow poets have said to him, in a benevolent kind of way: "Don't worry about what people say." Which of course worries him. He has managed to "keep himself out of" the aggro and argy-bargy and tittle-tattle that passes for the literary life, but even he has to ask himself, from time to time: "Is this proper poetry?"
Despite which, he received some encouragement from the great Philip Larkin for one. They were both at Hull University, McGough a wet-behind-the-ears first-year, studying French and Geography (it couldn't be English – he failed his English Literature O-level – maybe he can't really be a professor after all), and Larkin the university librarian, an established poet, 20 years older. And they were in the same hall of residence, Larkin having been given a job as "sub-warden" while waiting to find digs. "Poets were male, middle-class, protestant, probably gay and certainly dead," McGough wrote, "and suddenly here, within touching distance, was a published poet who was only three of those things." But the older poet was "scary". One of McGough's friends had plucked up the courage to go up to him at a bus-stop (without a shelter) in the pouring rain. "I did enjoy 'The North Ship'," begins the friend in a learned way. Larkin is dismissive: "If you think you can begin a conversation in order to share my umbrella you've got another think coming."
McGough was more into Rimbaud and Villon and the "dérèglement de tous les sens" at the time, and then the American beat poets such as Allen Ginsberg. But many years later Larkin included McGough in his Oxford Book of Twentieth-Century English Verse (1973) and sent him a grudging note of appreciation too. "I was certainly impressed by the condition of our copies of your books: they show signs of a good deal more wear and tear than mine do."
There is a disarming laddishness to McGough's best poems, perhaps nuanced by a certain Freudian tendency:
His poems are nets
in which he hopes
to capture girls
Ben Wright in his scholarly work, The Poetry of Roger McGough: the Liverpool Renaissance, insists on the "dark side" of his writing, the vein of melancholy and angst that counterpoints the zany humour and the fluent cheerfulness. He finds a lot of Catholic guilt, predatory machismo, and a certain "war between the sexes". "He would know more about that than I do," says McGough, although he admits that Germaine Greer once denounced him for gender stereotyping.
"Liverpudlian poet" has always seemed a bit reductive, especially now that he lives in Barnes. True, he and Brian Patten and Adrian Henri (once described as "a three-headed pantomime horse") together constituted the Penguin Modern Poets volume entitled "The Mersey Sound". And he got to hang out with the likes of John Lennon and Paul McCartney, but confesses to "being somewhat jealous of these handsome guys wearing expensive clobber they'd bought in Hamburg."
McGough is in demand around the world. He gets invitations to go to places like Argentina and New Zealand. "Why didn't they ask me when I had the energy," he says. But he is still touring. He has adapted German poetry and is currently being translated into French by a professor in Brittany. The old French lecturer at Hull University – who once said to him, "Mr McGough, how has the department arrived at a situation where you are about to sit for your final examinations, which include a viva conducted in French, a language of which you are unable to speak a word?" – would be amazed to learn that he has translated three of the plays of Molière into English – Tartuffe, The Hypochondriac, and The Misanthrope.
Contrary to Wordsworth, McGough has always had intimations of mortality. Larkin wrote of "Unresting death, a whole day nearer now, /Making all thought impossible but how/And where and when I shall myself die", but whereas Larkin was gloomy about it, McGough manages to make death sound like fun or at least a reasonably interesting option. The young Roger had about a zillion relatives. Many of them ended up peacefully in coffins in the parlour where he was required to go and pay his last respects. All of which he rebelled against, crying out for a dramatic, cinematic death.
In his modern classic, "Let Me Die A Young Man's Death", he dreams of being shot to pieces by gangsters or chopped up by a jealous lover rather than "a free from sin, tiptoe in candle wax and waning death". But, on the urging of Carol Ann Duffy, he recently reworked his own poem and turned it completely inside out, coming out against the big bang exit and going more zen:
Not for Me a Youngman's Death
Not for me a youngman's death
Not a car crash, whiplash
One more for the road, kind of death.
Not a gun in hand, in a far off land
IED hidden in the sand death
Not a slow-fade, razor blade                       
bloodbath in the bath, death.
Jump under a train, Kurt Cobain
bullet in the brain, death
Not a horse-riding, paragliding
mountain climbing fall, death.
Motorcycle into an old stone wall
you know the kind of death, death
My nights are rarely unruly.
My days of all-night parties
are over, well and truly. 
No mistresses no red sports cars
no shady deals no gangland bars
no drugs no fags no rock 'n roll
Time alone has taken its toll
Let me die an old man's death
Not a domestic brawl, blood in the hall
knife in the chest, death.
Not a drunken binge, dirty syringe
'What a waste of a life' death.
But note that either way, he embraces death, at least poetically. While not exactly eager for lights out (he envisages being assassinated at the age of 104), he is reasonably relaxed, and will probably go gentle into that good night, like a graceful yacht, gliding away across tranquil waters. Poetry is like an antidote, for just about anything, possibly even "death, death".
"I was reading an article by someone in the NHS just the other day," says McGough. "He said that poetry is good for you. Like an apple a day." Louise Kevan wrote a rather brilliant and funny poem that reminded me of McGough, all about how the Old Woman came to be living in that Shoe with all those kids in the first place ("There was a young man who lived in a boot…"). She is the mother of two young daughters and had become concerned about the risks of over-population. "Writing stopped me from going completely round the bend," she said. Poetry is a form of madness, but it saves you from having to actually go mad.
McGough says in his autobiography that "had the girls not got to me first, I might well have been the first Liverpudlian Pope." And while there is little of the metaphysical or mystical poet about Roger McGough, there is still more than a dash of the priestly, the chasuble or the thurible, as if he had officiated at many births, deaths, and marriages, and more than a few football matches too. He benevolently suggested that I should not go and blow my brains out, or not just yet anyway. McGough gives you the idea that poetry is all about saving souls, or at least soul. And I'm convinced that if you're waiting for a bus in the rain he would definitely invite you to share his umbrella.
A 50th anniversary edition of Summer with Monika, with illustrations by Chris Riddell, was published in July by Penguin. This is the text of an unpublished poem by Roger McGough, a tribute to Philip Larkin, inspired by his observation (in "Annus Mirabilis") that "Sexual intercourse began/in nineteen sixty-three,/(which was rather late for me) - /Between the end of the Chatterley ban/And the Beatles first LP".
Aubade
Needler Hall, the University of Hull.
Woken at dawn to the sound of Bechet's clarinet
coming from his room on the floor above,
as the door opens and he creeps down the stairs.
The flop of moth-eaten brocade slippers
along the corridor. The knock. The 'Come in'.
He stands in the doorway plain as a wardrobe.
'Thought you might be able to help'
He stays just on the edge of vision,
an unfocussed blur, a standing chill.
There is no escape. The curtain-edges grow light
and the room takes shape. 'Work has to be done.
What year was the Beatle's first LP?'
'Nineteen sixty-three' I mumble.
'ABBAB.  Excellent. ' And he is gone.
The sky is white as clay, with no sun.
The Mersey Sound is a BBC 4 programme airing in October, celebrating the 50th anniversary of the publication of the book The Mersey Sound, written by Roger McGough Brian Patten and Adrian Henri
Andy Martin is the author of Reacher Said Nothing: Lee Child and the Making of Make Me. He teaches at the University of Cambridge.
Join our new commenting forum
Join thought-provoking conversations, follow other Independent readers and see their replies