The Independent's journalism is supported by our readers. When you purchase through links on our site, we may earn commission.
Jumpin' Jack Flashback: Trips down memory lane with the Rolling Stones
With their No Filter European Tour reaching Dublin's Croke Park on 17 May, prior to eight shows in Britain, longtime Rolling Stones insider-aficionado Jane Hall Wallace shares her recollections of the greatest band on earth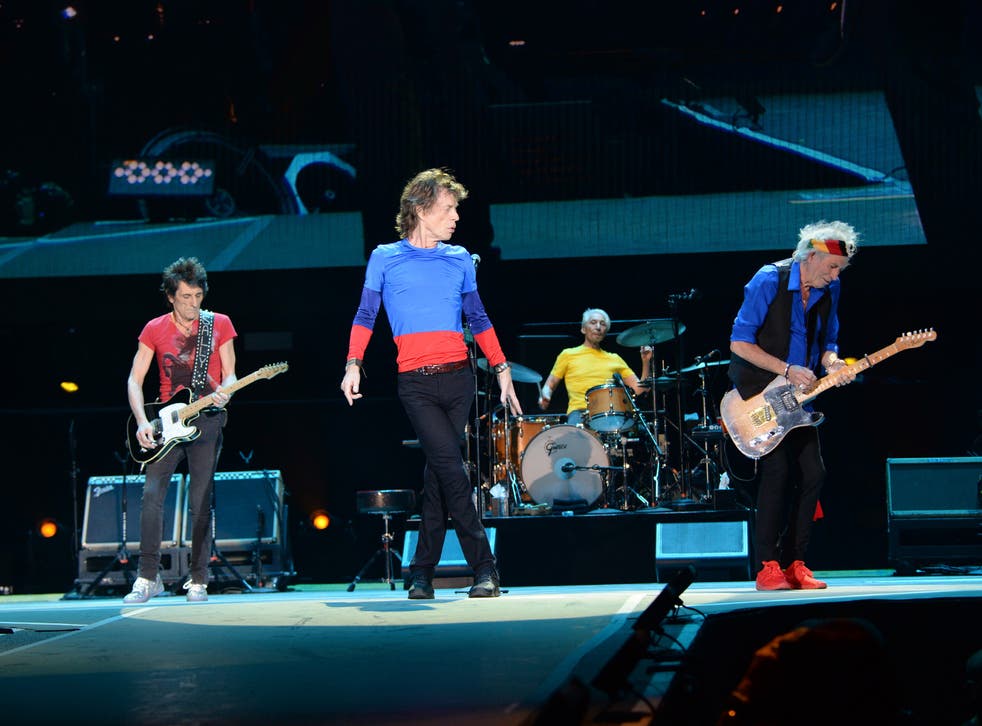 The Rolling Stones provided the soundtrack to my life, even before I got a job with a major record label taking artists and their records to radio and TV stations for interviews and performances, such as Top of the Pops.
Growing up in the north of England I was knocked out seeing Mick Jagger and co performing "Come On" for BBC Radio's Saturday Club in 1963 when I was just 10 years old; when I was 11, "Not Fade Away" came on Ready Steady Go on ITV.
"The Last Time" beamed into our living room from the US in the summer of 1965.
Crikey, pics from the moon landing came not long after! "It's All Over Now" or "Paint it, Black" blared out of the jukebox at Harry Ramsden's, the famous fish and chip restaurant, as we sheltered from the rain in our micro skirts and PVC go-go boots.
On The Ed Sullivan Show, with the Stones forced by conservative US network chiefs to sing the title line of "Let's Spend the Night Together" as "Let's spend some time together", the girls screamed the place down, which got me going.
Let it loose
The first time the Stones played Dublin in 1965 a full scale-riot occurred. Fans who couldn't get in went on the rampage. Cars were overturned. People were arrested in what was utter mayhem.
Those inside the Adelphi Cinema were privy to the Stones' somewhat limited repertoire, drawn from The Rolling Stones No 2, the album they released that year, and 1964's The Rolling Stones.
"Everybody Needs Somebody" played twice, opening and encore; then came "Route 66" and "Little Red Rooster".
Mick Jagger said: "Young people have started a big thing, they are anti-war and want their sexual lives freer".
Time was moving towards the Summer of Love... with the Manson Family Helter Skelter murders and the unrest about Vietnam soon to come.
Who knew then that more than 40 years later in 2007 the band would be playing to 64,000 at Slane Castle in Co Meath; still rocking out a plethora of deep down and dirty, more sophisticated material such as "You Can't Always Get What You Want", "Midnight Rambler", "Miss You", "Satisfaction", "Honky Tonk Women" and, of course, "Sympathy For The Devil".
Rough justice
The Stones' cover of Willy Dixon's 1954 classic "I Just Want to Make Love to You", released 10 years later, with its strong rhythm 'n' blues element, was something. We had never heard its like before: the music had raunchy blues-based beats delivered with a kind of arrogance which performers in the early Sixties never showed – singers like Cliff Richard adopted a boy-next-door personality, a throwback from the crooners of the Fifties with a clean-cut image that was the norm.
In 1966 came the monster "(I Can't Get No) Satisfaction", only played on pirate radio originally due to its subversive sexually driven lyrics. In 2004, it was given a No 2 slot in Rolling Stone magazine's 500 great songs of all time – runner up to Bob Dylan's "Like a Rolling Stone".
Somehow the Stones collectively had a genius for the kind of publicity which only made them bigger in the eyes of the public.
Take the Redlands drug bust in 1967 – after which Mick was sentenced to three months for possessing amphetamines and Keith Richards got one year in jail for allowing cannabis to be smoked in his home. (The sentences were quashed on appeal.)
Came with it the apocryphal tale of Marianne Faithful, naked wrapped in a rug, chewing a Mars bar.
Nigel Havers' QC father, Michael, was helped in sparing Mick and Keith jail time as a result of no other than The Times newspaper coming out in sympathy with a leader column headlined, "Who Breaks a Butterfly on a Wheel?" arguing that Mick's crime was a technicality – he had brought a few perfectly legitimate pills bought in Italy to the UK – one the Pope could have fallen victim too, the newspaper argued. This intervention was very possibly timed to influence the judge in the Glimmer Twins' favour on appeal.
Divine intervention
Cecil Beaton, the Queen Mother's personal photographer, shot the band on one of their many trips to Morocco. Stylish as these were I was struck by a simple snap taken of them with Stones' late founder Brian Jones sitting on some steps near Jemaa Al Fna square in Marrakesh with a cassette recorder. This was to record the Joujouka men playing their timeless music and this fascinated Brian. Later, Mick hung with Talitha Pol and Jean Paul Getty II, complete in hippy kaftans purchased in the Medina. Unfortunately Brian's demise was not far off and he died in suspicious circumstances at his house Pooh Corner, drowned in the swimming pool in 1969 aged 27.
As the Seventies dawned post-Get Your Ya-Ya's Out album and tour from 1970 moving into 1972's US concerts (marked by riots in Vancouver, San Diego and Detroit), the band, including Mick Taylor on rhythm guitar, worked it through the infectious "Midnight Rambler", "Sympathy" and "Honky Tonk Women".
This juggernaut of huge concerts in North America and Europe supplied us with plenty of salacious pictures of a wasted Keith backstage: antics that led him into mucho trouble up in Canada. For those who were living under a bush at the time, in 1977 Keith and Anita Pallenberg were full-on heroin addicts. They travelled to Toronto and unsurprisingly got busted by the renowned and zealous Canadian Royal Mounties.
Things were looking very serious for them charged with possession of a Class A controlled narcotic, the penalty being a maximum of seven years in prison, worse if "trafficking" stuck. This episode was marked by Nils Lofgren, Keith's buddy, writing an impassioned song "Keith Don't Go" and performed on BBC television's Old Grey Whistle Test. Proving there is God, however, the judge merely ordered the band to play a benefit concert for blind people. Keith is a cat who has nine lives.
Plumes of smoke
In 1985 the Stones album Dirty Work was being made in Paris and certain young men that I knew personally had ended up in hospital as a result of partying with these bad boys. A friend was present when Keith's red Ferrari Dino broke down on the motorway near Paris and after putting his head under the bonnet, which was teeming with great plumes of black smoke, Indian silk scarves blowing in his face, he decided to just abandon it and walk to a gas station, leaving a roadie to claim it back.
What a compliment
The band had already spent a lot of time in France when due to tax reasons they retired to the Cote d'Azur – to the Villa Nellcôte to write and rehearse Exile on Main Street, released in May 1972, a critically well-received blues and boogie LP with all tracks penned by Jagger and Richards bar one. Opening with "Rocks Off", progressing to "Tumbling Dice", it had a wicked sound.
Bill Wyman had been all for this "exile" idea suggested by business manager Prince Rupert Lowenstein. Bill slept first at Mougins, then acquired land for a house in Saint-Paul-de-Vence down the road. He was always popping up and I bumped into him on a couple of occasions when he was out in Cannes with his girlfriend at the time, Astrid. Thinking I was Marianne he tapped me on the shoulder to say "Hi"; what a compliment!
Dynamic duo
Mick and Jerry Hall, who met in 1977, never failed to cause a stir when they entered a room. Back then Jerry was like a goddess with legs that went on forever, usually in a dress with a great torn slit in it, and that golden wavy hair parted to one side.
It was at a charity do for the Music Industry Trust at the InterContinental in London's Park Lane. Everyone had already had dinner, it was around 11 pm when they arrived. The whole room went quiet. I had seen Mick years before at an exclusive Paris hotel called L'Hotel situated in the Rue des Beaux Arts down by the Seine. He had installed himself in a suite which had dove grey silk curtains and walls, with two dozen roses delivered daily as he started on his memoirs. Home to radicalism, liberals, poets and Jean-Paul Sartre and Simone de Beauvoir, the Left Bank was considered by Mick to be good for the flow of his pen.
New Barbarians
In 1979 I was working for CBS Columbia records on Ronnie Wood's solo album but because no tickets had arrived for the label, they sent me down to Shepperton Studios as the rehearsal took place.
I saw Keith sipping on a bottle of Roederer Cristal champagne (invented in a clear bottle for the Tzar of Russia); and the ever present bottle of Jack Daniels.
Keith's PA, Jane Rose, approached my good-looking companion, saying to him, "You appear to be the only person not drinking, could you do Keith a massive favour and run Marlon [his 10-year-old son] back to the house in Chelsea? The Mercedes is outside and Keith's personal selection of tapes is there in the glovebox".
The Rolling Stones announce UK 'No Filter' tour
Lo and behold, outside was a gleaming blue Merc Saloon 600 with anti-lock brakes and a V-8 engine, and the drive back was made jolly by a soundtrack consisting mainly of Toots and the Maytals, Peter Tosh, Culture and any number of superb reggae groups.
Back at Keith's home at 3 Cheyne Walk, more fun awaited. The posh house had wires hanging out everywhere from the walls; reportedly the work was done by a mate of Keith's who hadn't ever done any rewiring before so it was all in an unbelievable mess. Notwithstanding, Keith's mum Doris and dad Bert were staying the night.
Richards Snr kept saying he did not understand why they were taking a helicopter the next day to the New Barbarians – Ronnie and Keith's spin-off band – at Knebworth when he could take them in the black cab!
Turkish delight
After that I next saw the Stones perform at Leeds Roundhay Park in 1982, something of a comeback as it was. Sitting on damp grass in the guest area it was nonetheless a hell of a show; evidently this was just when they had rediscovered their groove, laying the groundwork for the tour de force live they'd be for the next four decades.
Around this time I was at dinner with Phil Carson at Langans when Ahmet Ertegun, legendary head of the Atlantic label, dropped by with socialite Sabrina Guinness on his arm. He cut a dashing figure in expensive suit, collar and tie, cufflinks and an ebony cane.
Signing with this label was one of the canniest deals that Jagger ever made, giving the band access to the mighty Warner Brothers US distribution operation, an outfit that had smashed all records with phenomenal sales of Led Zeppelin's albums.
Inside Keith Richards
This was a guy who was paid a royalty from Polygram by mistake, which was in the region of $200,000, and who hung onto it long enough to earn a handsome interest on the sum during the time it was sitting in his bank account before returning it.
I interviewed Bill Wyman for Metal Hammer magazine. Invited to attend his private flat in Evelyn Gardens, I was struck by a couple of things: the two lovebirds he had in a cage and the affection with which the Stones' longtime bassist spoke about Brian Jones being the one with true talent in the early days; not without more than a hint of nostalgia and a little regret. I joined Bill later at his invitation to the nightclub Tramp where we dined on lamb cutlets.
He was still talking about Jones when I decided to get a cab home around 2am. This was before his move to the moated manor house in Suffolk, his passion for the local cricket team and his enduring marriage and three daughters with American wife Suzanne.
Keith showed up with his wife Patti Hansen at London's Park Lane Hotel on a foggy November day in 1999 where he was to receive the Man of the Year from Q magazine. I observed Keith sober, very chipper and laughing, graciously signing autographs.
It was an insight into what it must be like being Keith Richards. People in that ballroom never left him alone for the whole time he was in there. Patti had to finally drag her dreadlocked (or rather deadlocked) husband away by his arm in the end.
Ron Wood was also there on that occasion, not so sober but he has since proved to one and all that he is fit and well, more than capable of sustaining the gruelling pace of this new full-blown tour. Wife Sally Humphreys and the twins accompany Ron to all shows. It's great to see him so committed to family.
Around and around
Speaking of family, on a Sunday night last September the No Filter European tour was in full swing. Dates in Europe culminated in a brand new venue: Paris's U Arena. Effectively a home crowd, the French have always adored the Stones.
Jagger warming up beforehand for over an hour, as is his routine. A very enjoyable show was delivered, guests having been treated to champagne backstage where crew had wrapped black crepe paper around the stark overhead lights to create a softer glow and then the after party was thrown at the George V Hotel bar that had been closed for private use with a pay bar.
I saw most of the family members there including Marlon, Georgia May and Jade Jagger, who calls it "the Dads tour" cheekily – only Mick himself was not at this famously ritzy hotel since he had retired to the flat he was left in the will and estate of L'Wren Scott who tragically took her own life in 2014 after a period of depression.
However in his absence the kids had gone to town, ordering burgers, side orders, cokes and desserts, mounting up a bill of €18,000 no less. Ronnie's twins were also present but too young to order for themselves, natch!
Child of the moon
Recently Charlie Watts and Ron Wood gave an interview to Clash magazine, streamed on Facebook, on the subject of live shows. They both reaffirmed that to play live shows is what the Stones are all about, Charlie noting that there are always twice as many people than there are supposed to be at the shows, making it chaos, but it's OK because he is behind the drums and cannot see too much while "Peter Pan runs about the place".
"It's all about Mick really," the septuagenarian chuckles. Jagger remains fitter than the average rock singer as a result of exercise and a plethora of avocados arranged in a pile in his Chelsea Embankment kitchen.
Often an open fire is burning, even in summer, with the doors open. Ron talked about the "weaving" technique between his and Keith's guitar technique, the sound of the two guitars complementing one another.
When asked about what the band think about their support acts, Watts candidly added that it was difficult for newer artists to face their huge audience and that something about performing with Mick seemed to actually "shrink people", adding that this had happened to Justin Timberlake but that Ed Sheeran, whom Ron had presented with a Brit award, had been "fantastic" in Canada.
Speaking on Desert Island Discs Keith Richards remarked that he is "a Mozart man", which is not something a person would normally associate him with, but in spite of this he went on to choose Vivaldi's Four Seasons to take to the Robinson Crusoe island with him.
As the Stones head out on the road one more time could this really be the last time?
"In the end is my beginning," said TS Eliot in his "Four Quartets" poem about late summer and the concept of time, written during the war in 1940. Michael Philip Jagger would be born just three years later.
Register for free to continue reading
Registration is a free and easy way to support our truly independent journalism
By registering, you will also enjoy limited access to Premium articles, exclusive newsletters, commenting, and virtual events with our leading journalists
Already have an account? sign in
Register for free to continue reading
Registration is a free and easy way to support our truly independent journalism
By registering, you will also enjoy limited access to Premium articles, exclusive newsletters, commenting, and virtual events with our leading journalists
Already have an account? sign in
Join our new commenting forum
Join thought-provoking conversations, follow other Independent readers and see their replies