The race to erase Kevin Spacey
'I took action,' the director Ridley Scott said of his whirlwind reshoot of 'All the Money in the World', which featured Christopher Plummer in a role originally played by Spacey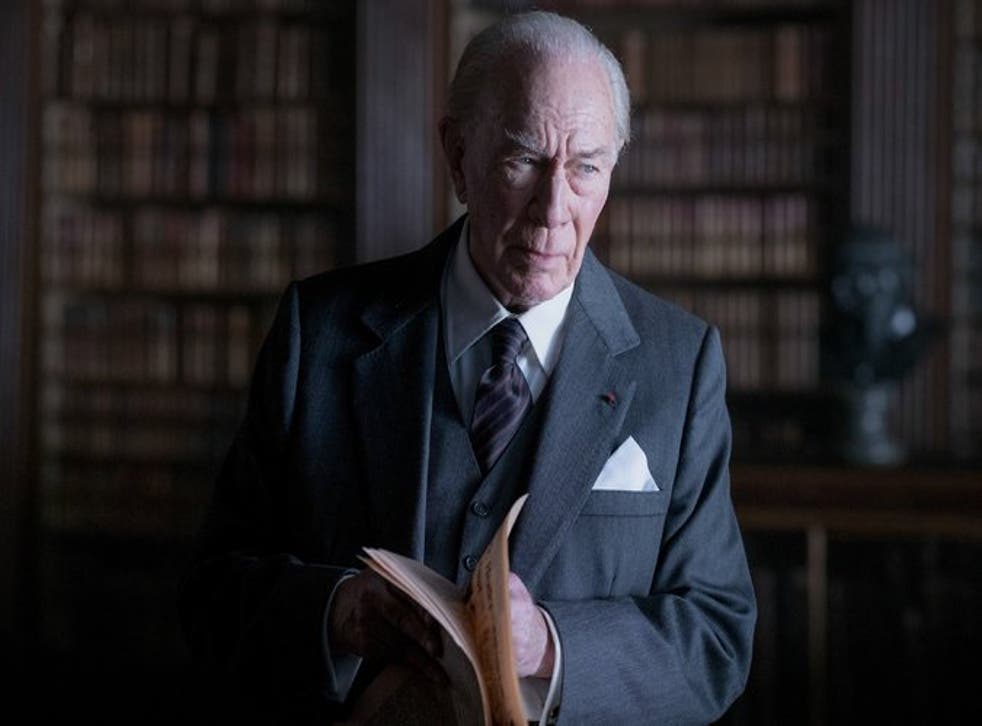 The sun was setting on 7 November when Christopher Plummer arrived at the Four Seasons Hotel in Manhattan for a secret, hastily arranged meeting.
He had intended to be resting in Connecticut after a whirlwind month. But Ridley Scott had flown in from London with an urgent plea: would Plummer help expunge the disgraced Kevin Spacey from Scott's latest film, one set for theatrical release by Sony in just six weeks?
It would mean refilming 22 scenes in All the Money in the World, about the 1973 kidnapping of John Paul Getty III and his grandfather's refusal to pay a $17m (£12.7) ransom. "I admire you very much, but I still have to read the script," Plummer, 88, recalled telling Scott, 80, as they met in the Terrace Boardroom on the hotel's 11th floor.
By the next morning, Plummer had agreed to replace Spacey as Grandpa Getty.
"At my age, which is enormous, you get worried that your memory won't hold up," Plummer said. "But this was too damn good to pass up."
And so began a race to pull off something never before attempted in Hollywood: revisiting a finished movie, reassembling major members of the cast, refilming crucial scenes, re-editing many sequences, retooling the marketing campaign – and doing it all at the last possible minute. Scott and others worked 18-hour days as they rushed to finish in nine days what would typically have taken at least a month.
"You can sit there and let something kill you, or you can take action," Scott said in his no-nonsense way. "I took action."
Over the last three months, sexual harassment scandals have impacted nearly every corner of Hollywood. As men like Spacey, Harvey Weinstein and Louis CK have been accused of vile behaviour, entertainment companies have mostly responded by shelving or delaying movies and TV shows associated with them. In the wake of the allegations against Spacey – he apologised for one incident and has not responded to other claims – Netflix halted production on House of Cards and abandoned Gore, a completed film starring Spacey as Gore Vidal.
Release plans were cancelled for Louis CK's film I Love You, Daddy after women told The New York Times that he masturbated in front of them. He later confirmed the accounts and has been trying to buy back the film's rights. Fighting to stay afloat in the aftermath of sexual harassment and rape allegations against Weinstein, the Weinstein Company was forced to sell distribution rights to Paddington 2, delay a period film called The Current War and watch as television networks terminated contracts for planned series. Through a spokeswoman, Weinstein has repeatedly denied "any allegations of nonconsensual sex".
But All the Money in the World presented unique challenges. A trailer was already on heavy rotation in theatres. Awards prognosticators (nudged along by Sony publicists) had also been touting Spacey's performance as Oscar-worthy.
Sony and Imperative Entertainment, which produced and financed All the Money in the World, held a series of emergency meetings starting on 30 October, a day after Spacey apologised for making unwanted sexual advances towards the actor Anthony Rapp in 1986, when Rapp was 14. As more men came forward with similar allegations, outrage poured onto the internet, with some people vowing to organise a boycott of All the Money in the World. At that point, the movie's scheduled premiere was two weeks away.
Hitting the pause button was the obvious move. But Thomas E Rothman, Sony's movie chief, said he was adamant that pushing back the release would tarnish the film even more. There was no better release window for a sophisticated drama than the Christmas holiday, the biggest ticket-selling period of the year. And they needed to stay ahead of a miniseries about the kidnapping in the works at FX.
It was decided that All the Money in the World, which also stars Michelle Williams as the kidnapped boy's desperate mother and Mark Wahlberg as a Getty family fixer, would arrive on 22 December as planned. (Sony eventually settled on Christmas Day.) "I didn't think there was any solution," Rothman said. "We would have to muddle through the best we could."
Sony marketers scrambled to shift gears. The studio had been leaning heavily on Spacey's performance to generate interest for the film. The trailer climaxed with images of him as the elderly Getty, a transformation that required facial prosthetics and heavy make-up. But suddenly the studio's messaging to entertainment journalists switched – Spacey's role was only supporting, the real stars were Williams and Wahlberg. Sony also rushed to distribute new posters in theatres, replacing ones that played up Spacey's character.
A few days later, two of the film's producers, Dan Friedkin and Bradley Thomas, unexpectedly arrived at Rothman's office. They told him they were determined not to let the wrongdoings of one person damage a film that had been worked on by more than 800 people. And they floated an audacious idea that they had privately discussed with Scott: what about replacing Spacey with another actor? Plummer, perhaps.
"That would theoretically be fantastic," Rothman said he responded. "But I have supervised 450 movies over the course of my career. And what you are saying is impossible. There is not enough time."
The producers conceded that reworking the movie was risky. Even if executed perfectly, the plan would cost roughly $10m, raising the total production budget to more than $50 million – a huge amount for a period drama aimed at older adults, especially considering that most of Hollywood has long left that market for dead.
But impossible? Not with the experienced and indefatigable Scott in the director's chair, Friedkin maintained. "Twenty years from now, I want to be able to pull this film off the shelf and be proud of it," Friedkin said.
This is where the story of All the Money in the World becomes about, as Rothman colourfully put it, "two octogenarians kicking absolute ass".
With Sony's blessing, Scott sprang to action, convincing Plummer to take on the challenge. (Why Plummer? Scott had considered him during the initial casting process but went with Spacey for reasons that included scheduling.) The director said he did not tell Spacey that he was being replaced because Spacey had never contacted him to discuss the misconduct allegations.
"A phone call would have been nice," Scott said. "At first I was disappointed. Then I was mad." (He added that nothing in Spacey's contract prohibited his replacement; he got paid.) Representatives for Spacey did not respond to requests for comment.
Scott, who called the assertions about Spacey's behaviour "shocking," also managed to bring back Wahlberg and Williams, both of whom agreed to work through Thanksgiving due to the severe time constraint. Production on All the Money in the World resumed on 20 November in London, with the cast and reassembled crew moving to Rome a few days later.
The actual kidnapping had taken place in Italy. Operatives in the 'Ndrangheta crime syndicate held the teenage Getty hostage for five months, even chaining him to a stake in a cave. At one point, the kidnappers cut off Getty's ear and mailed it to a Rome newspaper. He was ultimately released for a payment of roughly $3m.
"It's almost a grand documentary, a blow-by-blow look at how and why a family – one blessed with so much wealth – disintegrates into tragedy," Scott said.
Since the original scenes had all been filmed on location, no sets needed to be reconstructed, saving a lot of time. Also making the situation more manageable, Plummer was nearer in age to the character, making it possible to forgo the kind of facial disguise that Spacey had donned.
"There was no digital trickery required, either, contrary to the speculation," Scott said. "A little bit of good-morning make-up and some front lighting and he was ready to go. It was quite simple."
Plummer said that memorising lines at lightning speed also turned out to be relatively easy. "Thank God for my training in the theatre," he said, adding that he soon forgot that he was replacing another actor. "Very quickly I put that completely out of my mind," he said. (Plummer declined to comment about Spacey. "I'm not going to discuss him, because everything I have said so far has been misinterpreted," he said. In November, Vanity Fair quoted Plummer as saying he felt "awfully sad" for Spacey.)
Long hours may have been their biggest challenge.
For nine days, Scott arrived at filming locations by 6.30am to eat a quick breakfast and finalise planned shooting angles with his longtime cinematographer, Dariusz Wolski. (Together, they have made six movies, including The Martian, which was nominated for best picture at the 2016 Academy Awards.) Filming usually continued straight through lunch. As sequences were shot – Scott typically does very few takes – footage was digitally shipped to the film's editor, Claire Simpson, who would start stitching it together. In the evening, Scott would make adjustments.
"I'm kind of like a funny battery that never wears out," he said.
Despite their efforts, All the Money in the World faces an uphill battle at the box office.
Multiplexes will be chock-a-block with competing movies, including Downsizing, a social satire starring Matt Damon; The Greatest Showman, an original musical starring Hugh Jackman as PT Barnum; and Star Wars: The Last Jedi. Sony lost crucial weeks of marketing time as it waited for footage of Plummer to splice into a new trailer.
Of course, the publicity generated by Scott's race to scrub Spacey from the movie may prove helpful. The effort has been cheered online in some of the same forums where boycotts were brewing. "Mr Scott is an inspiration!" wrote one commenter on EW.com.
And it is possible that Plummer, an Oscar winner for Beginners in 2012, turned in a performance that eclipsed the one given by Spacey. In a surprise, Golden Globe voters, who saw a not-quite-finished version of All the Money in the World last week, nominated Plummer for best supporting actor and gave nods to Scott for his directing and Williams for best actress.
"I think it's a fantastic change," Scott said. "Kevin's performance was colder. Christopher has enormous charm – a twinkle and a smile – that makes this coldly logical character feel even more dangerous."
Will the original version of All the Money in the World ever be released, perhaps on DVD, so that viewers can judge for themselves?
Scott let out a huff. "I doubt it," he said.
© New York Times
Join our new commenting forum
Join thought-provoking conversations, follow other Independent readers and see their replies