The Salt Path: One woman's journey walking the entire South West Coast Path after becoming homeless
An investment went bad, their house was taken from them and then illness struck. So what to do next? Go for a 630-mile walk. David Barnett meets the woman who against all odds, found solace in putting one foot in front of the other to find a new life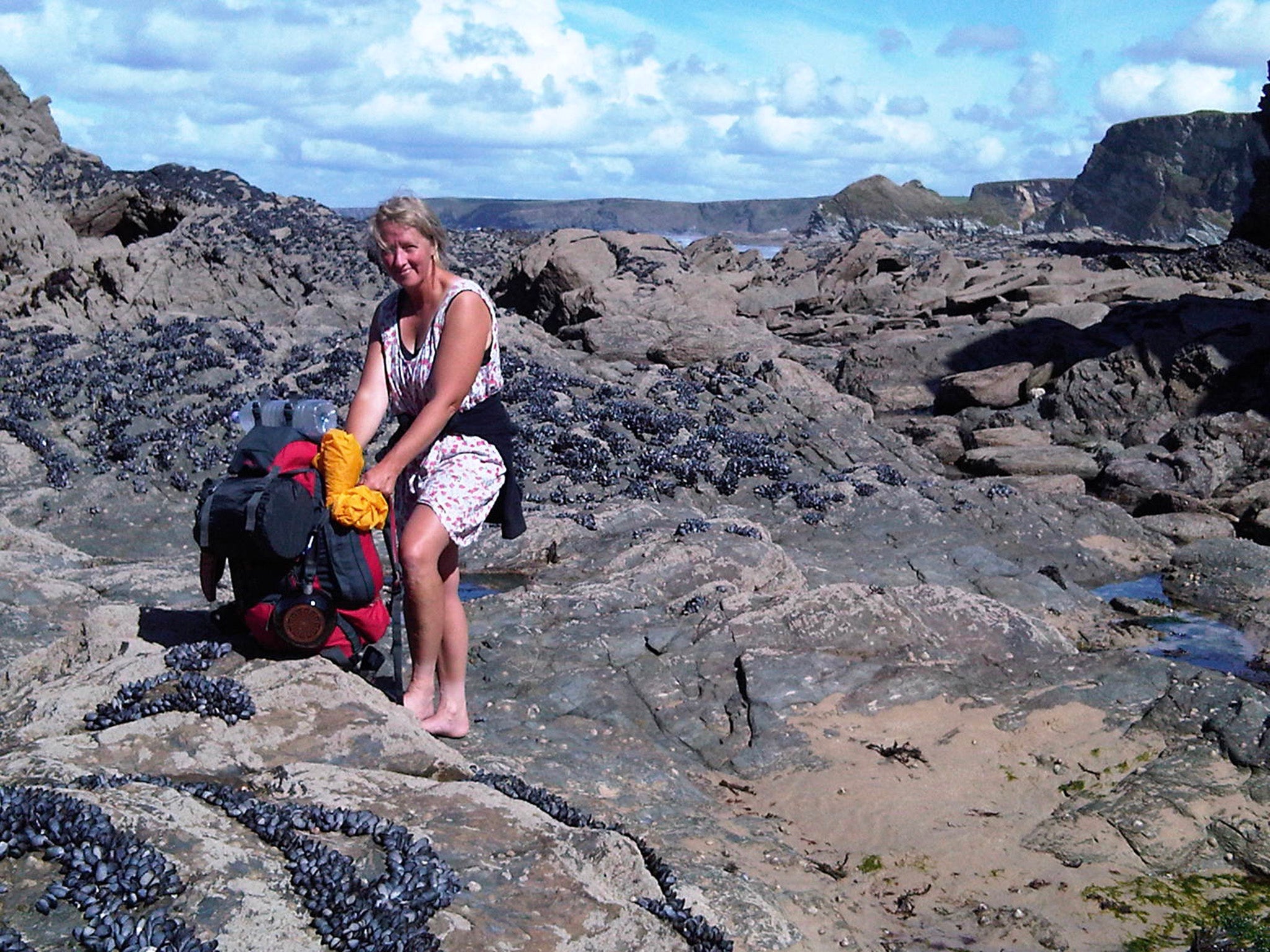 Last summer, Raynor Winn was strolling on the section of the South West Coast Path near her home in Fowey, Cornwall, when she saw a backpacker coming the other way.
They paused and met at a gate, and passed the time of day. He was young, wearing a high-visibility vest, with facial piercings. Not your average backpacker found on this 630-mile stretch of path that skirts the coast of the southwest of England, thought Winn.
It turned out he had set off to walk the entire Coast Path two weeks previously, after some time living rough in Exeter and subsisting on handouts. The impetus was an article in The Big Issue magazine, written by a woman who had been forcibly made homeless and, for want of anything else to do, in need of a plan, had walked the same path.
​Winn invited the backpacker to the home she shares with her husband for a meal to help him on his way; he thanked her but said he had to press on. He had to keep moving forward. He told her, "I'm never going back to my old life. I already feel I've changed forever."
She understood that need to keep moving, to focus ahead, to not stop. She hadn't told the young man, but the article he'd read in The Big Issue had been written by her. She'd been where he'd been. Every step of the way.
Winn was 50 in 2013 when she and husband Moth decided to walk the South West Coast Path, from Minehead, across the northern coast of Devon and Cornwall, down to Lands End and along the southern coastline ending in Poole, Dorset. It was not something they wanted to tick off their bucket list, nor a midlife desire for adventure. It was driven by despair.
Some years earlier, the couple had been persuaded by an old friend to invest in a company. The company subsequently failed. It would have been bad enough had they just lost their savings, but they were then told that the contract they had signed made them liable for the company's debts, and that their house was to be taken away from them to help pay the creditors.
And it wasn't just their home, it was their livelihood. Raynor and Moth lived on a farmhouse in Wales which they had rebuilt from practically a pile of stones and turned into a viable holiday business. There was a protracted legal battle which they ultimately thought they'd won, finally finding a piece of evidence that proved they were not liable for the company's debts. But the judge in the hearing refused to accept the evidence because it had not been submitted through the proper channels, and in the stroke of a pen shattered their lives.
Things couldn't be worse. But then, they got worse. In the days following the shock judgement, Moth was given bad news; he was suffering from corticobasal degeneration, or CBD. It was an illness that was going to drastically limit his life. "In fact," says Winn, "we were told that he probably wouldn't last two years."
They were going to be made homeless in five days and this devastating news had just been delivered. It was while literally hiding under the stairs while bailiffs banged on their door that Winn made a decision; she had read a book called Five Hundred Mile Walkies, about traversing the Coast Path, and there it was, hiding with them in the darkness. Her eyes fell on it, and the decision was made. If they were to have no home, they would walk until they had a plan as to what was to happen next.
So they packed up everything they could carry in two rucksacks, and set off to walk the South Coast Path. Raynor Winn talks to me from their one-bedroom flat in Fowey; it doesn't have sea views, she tells me, but it has a ceiling, and walls, which is not what they had when they set out on their walk.
Another thing they did not have was a book. The Salt Path, by Raynor Winn, was published earlier this year by Penguin's Michael Joseph imprint. It is an astonishing narrative of two people dragging themselves from the depths of despair along some of the most dramatic landscapes in the country, looking for a solution to their problems and ultimately finding themselves. But writing was not high on Winn's agenda when they began their monumental hike.
"When we started walking, it was in a state of despair," she says. "We lost the house, and then Moth's health diagnosis came in… it was just blow after blow. We had this idea that walking the path would give us time to form a plan, but it turned out not to be like that. It turned out to be about just putting one foot in front of the other, finding a reason to take the next step, a reason to go on. And ultimately, we became stronger as a result."
The walk was a struggle. They had no money, apart from £48 per week benefits between them, and often went hungry. Moth's health problems caused issues on the steep climbs. They camped wild in fields and on cliff edges, counted their coppers out to afford food.
And though many people walk the Coast Path every year, they found another obstacle laid out in their path that was worse than any steep hill or rocky campsite; prejudice against them when people they met along the way discovered their situation.
"People have such preconceptions about homelessness and its causes," says Winn. "I would never dreamed in a million years we would be made homeless, but suddenly we were. And when we told people we met along the way why we were walking the path… sometimes they would physically recoil. It was such a shock for us to see.
"We ended up not saying that we were homeless, just that we were walking the path. People seemed to think selling your house and doing the walk was a romantic sort of adventure, whereas losing your house and doing it was something else entirely."
Given that Winn is living in an apartment in Fowey, and has a book on the shelves about her travels, you would be right in thinking that the story ends well. But, like so many things, it's about the journey, not the destination, and that's what The Salt Path tells in sometimes painful detail.
What happened after they settled in Polruan, near Fowey, at the end of their journey is what led to the publication of the book.
When she was a child, Winn was a voracious reader and a budding writer, and remembers vowing when she was very small that one day she would write a book "with a Penguin on the spine" just like the favourite books she enjoyed reading.
She says, "It was about two years after we finished walking that I decided to write down what we had done, and I really did it for Moth. I presented him with about 40 pages for his birthday, and then our kids wanted to read it, and everybody was like, this isn't bad, you know."
Winn's childhood ambitions to write had melted away as "life got in the way", but she decided to try to boil down the experiences into an article, which she placed with The Big Issue. It was a good fit for her; their experiences with people's reaction to their homelessness fed into the ethos of The Big Issue, which benefits the homeless through its sales model.
The piece was published in the summer of 2017, and the reaction to it was so positive that it re-ignited Winn's literary ambitions. She contacted an agent one Friday and was signed up with them a week later. Then she got a book deal… with, of course, an imprint of Penguin.
The Salt Path came out in hardback in March and, says Winn, the response was "incredible". She says, "It really seems to resonate with a lot of people, and how their own lives are."
I ask Winn what would have happened if they'd never spontaneously decided to do the walk. There would have been no book, of course, and no apartment in Fowey (the story of how that came to be is a fascinating episode towards the end of the book). She says, "Well, we couldn't get any council accommodation right away and couldn't afford to rent a place. We could only have sofa-surfed until the council could have housed us somewhere. I dread to think how that would have impacted on Moth's health."
Moth – real name Ray, his nickname is a hangover from his ecological activism in the 1980s and 1990s – you will recall, was given two years at best after his diagnosis. How is he doing now? "He's just completed a degree," says Winn happily. "He studied at the Eden Project, doing horticulture and landscape design. He's not as well as he was when we started walking, but when you think he was originally told he wasn't going to last two years…"
Is The Salt Path the one book that Winn had inside of her? Or has publication at the age of 55 unleashed her literary passions once more? "I'm definitely going to write something else," she says enthusiastically. "Now I've started writing, I've got a lifetime's worth in me."
They might have stopped walking, but it seems like Raynor and Moth are still just putting one foot in front of the other, and seeing where life takes them.
The Salt Path by Raynor Winn is published by Michael Joseph, £14.99
Join our commenting forum
Join thought-provoking conversations, follow other Independent readers and see their replies