How armed vigilante groups are detaining migrants on US-Mexico border
Concerns grow over legal grey areas allowing self-described citizen militias to round up migrant families and asylum seekers
Thursday 25 April 2019 16:07 BST
Comments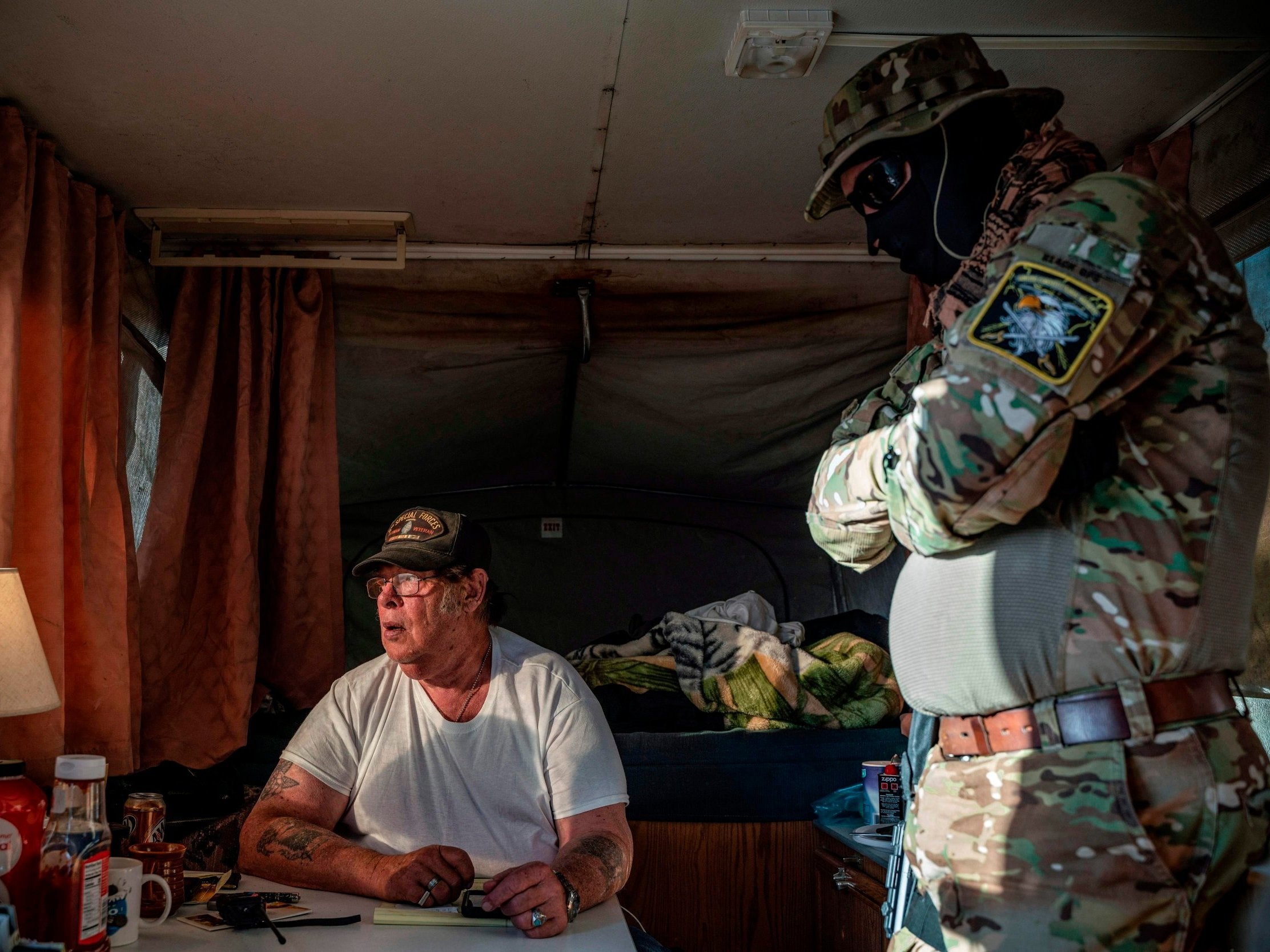 The camera panned across dozens of faces, exhausted migrants crouched in the New Mexico night, fenced in by armed civilians. The woman filming issued a stern warning.
"Don't aim the gun," she called out to a member of the group off-screen, before she commented about how many children were in the group being "detained".
The 16 April video of armed civilians holding migrants tore across social media and news outlets amid concerns by the American Civil Liberties Union that the actions of the United Constitutional Patriots amounted to armed kidnapping and coercion. The video and the stories that followed prompted stern denunciation from the state's governor and rights groups.
The elements of that video and others are fuelling inquiry over the legal grey areas in which self-described militias can operate.
That activity has placed armed civilians within feet of federal immigration agents at night in wild shrub land, with migrants caught in the middle, confused about who has actual authority on the border and what their rights are on US soil.
Life on the US-Mexican border
Show all 12
"Menacing or threatening migrant families and asylum seekers is absolutely unacceptable and must cease," New Mexico Governor Michelle Lujan Grisham said after the ACLU brought the video to light, calling the group's activities "completely unacceptable".
The men in these videos wear military-style uniforms, surround migrants with rifles and issue commands to stop and sit. One member can be seen walking in front of the camera with an AR-15 rifle.
In at least one video that has since been restricted, the group yells "Policia, alto!" – Police, stop! – at migrants, BuzzFeed News reported. In another, "a member of the militia is heard yelling in Spanish, 'Pistola, pistola' – gun, gun – at a group of people moments after they crossed the border at night," Buzzfeed wrote.
Photos show the men wearing police-style star badges.
In the April 16 video, Customs and Border Protection agents arrive and collect migrants but do not ask the group with guns to disperse or take their weapons elsewhere.
Armed vigilantes 'illegally' detain hundreds of migrants on US border
"Border Patrol has never asked us to stand down," Jim Benvie, a group spokesman, told the New York Times in a story published on 18 April.
Benvie did not reply to multiple requests for an interview for this story, but he has been active on Facebook, and described his group's motivation for their actions in two videos on Tuesday night.
"We are simply there because President [Donald] Trump declared a national emergency on the border we came down to find out what that emergency is," Benvie says. "We are sitting here right now and we're doing what we need to do."
Experts say the legal world these groups exist in is murky. What is the status of this group? Is it a militia? Is its actions protected by the constitution, or does the conduct rise to the level of kidnapping or impersonating law enforcement?
"Militia is a term used in a rather fluid manner," said Jonathan Turley, a law professor at George Washington University. "It's loosely defined as an armed group engaged in some paramilitary operation."
The Supreme Court has ruled it is an individual right to bear arms, Turley said, and if the members lawfully assemble without trespassing, they can exist in the ways neighbourhood patrols do – albeit armed with AR-15 rifles.
"In some ways these groups are George Zimmerman on steroids," Turley said, referring to the man who followed and killed Trayvon Martin and was exonerated on Florida's stand-your-ground, self-defence law.
According to the group's Facebook page, its objective is to "uphold the Constitution of the United States of America" and to protect citizens' rights "against all enemies both foreign and domestic" – phrasing that mimics the oath taken by US service members.
Dave Kopel, an adjunct professor constitutional law at Denver University, explained that in the American Revolution, militias were auxiliary forces that supplemented Continental troops across swaths of territory where an army presence was not always possible. Militias were crucial in raids and harassment campaigns against British soldiers.
Now, organised militias are National Guard units and some state guard groups, he said. All able-bodied men between 17 and 45 years old are members of an organised militia subject to mobilisation, according to US law.
The difference between those groups and the organisation at the border, Kopel explained, is a matter of oversight. Governors command National Guard troops. Presidents can activate them for federal service.
It is legal to carry firearms openly in New Mexico, and there is not a law banning the use of military-style uniforms, although Turley said some behaviour could catch the eye of prosecutors.
Most attorneys rely on explicit statements of misrepresenting oneself as law enforcement, but wearing police-style badges may get group members "dangerously close to the line of impersonating an officer."
The group has sought to distance itself from the appearance of coercion, with Benvie calling their activities "a verbal citizen's arrest" and suggesting that their activity is not actual detainment.
"We can't make them stay if they don't want to," Benvie told the New York Times.
Trump prototypes for Mexico border wall demolished in California
Show all 20
Still, Turley said, confusion may reign on the border when militiamen emerge from the dark with weapons drawn. "It's very likely they view these militia members to be law enforcement," he said.
Benvie told the paper the members were instructed not to point weapons and that military-style rifles were no longer permitted on patrols, though handguns were permissible. The 16 April video shows rifles in the hands of group members.
New Mexico has no statute on citizen's arrest, Alan Malott, a since-retired judge of the 2nd Judicial District Court in New Mexico, wrote in 2011, saying people can arrest private citizens who they believe "committed a felony-level crime or a breach of the peace in his presence".
In a statement on Twitter, CBP said it "does not endorse or condone private groups or organisations taking enforcement matters into their own hands. Interference by civilians in law enforcement matters could have public safety and legal consequences for all parties involved." It followed that tweet with phone numbers to call "if a member of the community witnesses or suspects illegal activity".
Carlos Diaz, CBP spokesman, declined to comment on what was shown in the videos, which appear to have shown armed civilians alongside Border Patrol agents.
Benvie did not respond to multiple requests for an interview, but he has shared several videos on his Facebook page over the past week, explaining the group's actions and their motivations.
"We have repeated time and time and time again this is not a militia," Benvie said onTuesday. "This is not an armed vigilante group. This is not the KKK. This is not a terrorist organisation.
"If we did anything wrong, if there had ever been anything wrong, not only would those videos have not been done live but the Border Patrol would have immediately acted," Benvie said. "They don't want civilians to enforce the law."
"However," he continues, "if you read the second part of their statement they do encourage citizens to observe and report illegal activity relating to immigration, and they do welcome that they they've even posted the phone number, OK? So the point I'm trying to tell you is, is that 'observing and reporting' more or less is what we've been doing."
The United Constitutional Patriots' leader, Larry Mitchell Hopkins, appeared in court Monday on charges from 2017 of being a felon in possession of firearms and ammunition. The FBI also contends his group was training for assassinations against liberal politicians and donors.
Hopkins, who goes by the pseudonym Johnny Horton and is referred to within the group as "Striker," was arrested and accused of impersonating a law enforcement officer in 2006.
"This is a dangerous felon who should not have weapons around children and families," Hector Balderas, the state attorney general, said in a statement after Hopkins's arrest. Balderas said the arrest "indicates clearly that the rule of law should be in the hands of trained law enforcement officials, not vigilantes."
A letter sent by the New Mexico chapter of the ACLU asked Balderas to investigate the group. "We cannot allow racist and armed vigilantes to kidnap and detain people seeking asylum," it said.
Benvie has said his group was welcomed by local law enforcement and said police were "happy we were there." However, the group's outpost in New Mexico was abandoned amid pressure from law enforcement, the Associated Press reported on Tuesday.
Sunland Police Chief Javier Guerra said it would take action if group members pointed weapons at migrants.
Support free-thinking journalism and attend Independent events
"We can arrest them for assault," Guerra said, AP reported.
But in the 16 April video, the woman narrating the incident sought more a more influential audience.
"Donald Trump needs to see this," she said.
Washington Post
Join our commenting forum
Join thought-provoking conversations, follow other Independent readers and see their replies