Grootbos magic: A Cape nature reserve for all the senses
Bewitched by the fynbos and enchanted by the milkwood forest at Grootbos Private Nature Reserve, Melanie Farrell samples fine food with a distinctly local flavour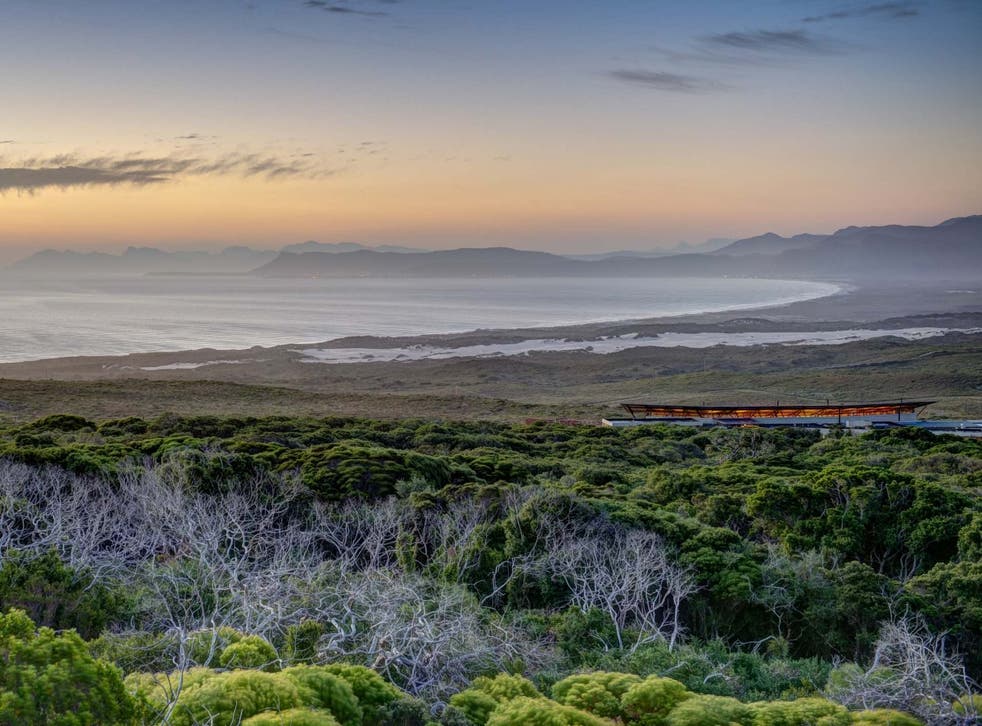 We arrive at Grootbos Private Nature Reserve after lunch on a Thursday, just as a long-awaited storm hits but because we're rain-starved Capetonians, we don't complain.
After checking in, we're guided through a path that winds its way through a thousand-year-old milkwood forest to our private suite. We're staying in one of 16 free-standing luxury suites at Forest Lodge. The super stylish and luxurious suites have floor-to-ceiling windows down one side of the building, with a private deck where you can take in the undulating views of sea, sky and fynbos.
We lap up the sound of the rain thrumming on the roof of our luxurious Forest Lodge suite where the fynbos (the Afrikaans for "fine bush") tickles the edges of the lodges and streams away to the shoreline beyond. It's a fine place to wait out a storm. With the lights dim and the log fire crackling in the open fireplace, we relax in our private lounge until suppertime when we follow a trail of lights through the enchanting milkwood forest to the main lodge.
Creative vegan dishes from YouTubers - In pictures

Show all 15
Here we find more log fires strung through the long, low, sea-facing space with the restaurant at the far end.
Supper is an indulgent occasion because we opt to have three courses plus the amuse bouche starter and palate-cleansing sorbets between our starter and main courses. We opt for vegetarian starters and the potato and leek veloute with truffle cream, and pepper lavash is a fine taster of what is to come.
After my Goat's Cheese Espuma (a shaved vegetable salad with pistachio butter and a dab of port toffee), I choose pan-fried prawns which come with a saffron bisque (I'm a sucker for a good bisque), linguini nero and dune spinach. It is delicious.
My husband orders Basil and Parsley Homemade Gnocchi served with tomato ragout, roast sweet potato, dried romano tomatoes and herb jel. It's good but I'm pleased with my prawn pasta dish.
Other seafood options include freshly shucked oysters with passion fruit kombucha or seared line fish (SASSI approved), served with sea urchin linguini and kelp. Short of catching it and cooking it yourself, this is as fresh as seafood gets.
If you're a meat-eater you'll be happy too. There is Beef Tataki, served with black garlic aioli, kimchi and coral tuille or grilled beef fillet served with pont neuf potatoes, braised baby onions, wilted greens and peppercorn sauce. All the cuts are from local cattle, of course.
For dessert, I order warm, gooey chocolate fondant with orange and lavender preserve, mini fynbos shortbread and vanilla ice cream. Need I say more?
Rainbow sunrise
The next morning I'm up at sunrise to see a double rainbow over clear skies and sunbirds flitting among the fynbos. After a delicious breakfast, including several tiny pastries (so much better than full-sized), we're off to visit the Growing the Future farm on the estate, part of the Grootbos Foundation's sustainability programme.
Our guide, Ruaan, is an infectiously cheerful chap. On the short drive through the fynbos to the farm he declares: "When I was younger working at Grootbos was my dream job. Now that I'm working here I feel as if I've achieved my dream but what do I do next?" It's a tough problem to have.
The farm is adjacent to the Grootbos Foundation's office, and the indigenous plant nursery where baby milkwood trees are among the plants propagated. The small milkwoods are being used to restore the 1000-year old original forests on the property to their former size. The foundation was set up in 2003 as a non-profit organisation that would work to conserve the critically endangered fynbos, while also focusing on the training and skills development of the surrounding communities.
We chat briefly to Julie, who runs the foundation and she explains that people from the area are offered training through the foundation at its Green Futures vocational training college where it offers training in horticulture, hospitality and guiding. Grootbos graduates are sought-after employees in eco-conscious guest lodges and hotels in the area because of their Grootbos training and most find jobs, either at Grootbos or at neighbouring guest lodges.
Organic goods, produced at the farm, are sold to the Grootbos Lodge kitchen and include fresh fruit and vegetables, organic eggs and honey from hives dotted around the fynbos.
Foraging on the seashore
Grootbos chef, Ben Conradie, says: "Grootbos is about supporting our local communities and being eco-friendly. The Grootbos Foundation is phenomenal to have on a chef's doorstep – wonderful veggie gardens, pigs who eat the scraps and chickens that produce organic eggs, as well as all the fresh saline delicacies the Atlantic Ocean has to offer." Conradie and his team can often be found foraging for edibles along the seashore near Grootbos.
After touring the farm and nursery, where ripe peppers are flourishing inside protective tunnels despite the cooler weather, we are whisked back to the lodge for lunch. I am hungry, my appetite primed by the sea air and scent of fynbos and the salad that I have with my crispy calamari burger is bursting with freshness and flavour. For dessert, and in the interests of research, I order a baked cheesecake served with honey ice cream made with honey harvested from the Grootbos farm's hives. The creamy cheesecake is delicious and so is the honey ice cream with a subtle hint of fynbos.
There's no need to eat elsewhere while you're staying at Grootbos but if you feel like venturing beyond its borders, nearby Stanford is a treasure trove of antique shops and farm-to-table restaurants. Plus there's a brewery on the outskirts of the village and an artisanal cheese farm 10 minutes out of town.
Community farm
After lunch, we meet up with upbeat Ruaan who takes us to an offshoot Grootbos foundation project, Masakhane Community Farm. Situated in an industrial area on the far side of nearby Gansbaai, adjacent to the township of Masakhane, the farm gives locals an opportunity to grow their own fruit and vegetables.
Zokhanya (Zozo) Bekani runs the Masakhane project, offers horticulture training and cultivates mushrooms in two wooden Wendy houses on the farm. "I am the mushroom queen," says Zozo.
Zozo is one of Grootbos's many success stories and I find myself caught up in her enthusiasm for cultivation.
Zozo started off doing a training course via the Grootbos Foundation's Green Futures programme and she then progressed to running courses and helping other Masakhane residents to learn about growing their own food. "But we couldn't understand why the women that we trained didn't take us up on the opportunity to grow their own food at Grootbos's farm," she says.
"We realised that they needed access to land closer to where they lived (in Masakhane) and started looking for some land there. Fortunately, someone offered us land in the business park that wasn't being used. It was just concrete and rubble and now look," says Zozo, with a sweep of her arm.
I take in the neat vegetable plots and the worm farm (in four disused baths) that produces nutrient-rich organic worm juice used to fertilise the garden.
"Anyone can have a plot to grow their vegetables and we give them seed and compost but they have to look after their plants and do their own weeding and harvesting.
"Any excess produce that they have can be sold to Grootbos Lodge, either for the kitchen or for the weekly veggie box that Grootbos employees can order," says Zozo. I ask Zozo why she's so keen on cultivating mushrooms.
"I went to a two-day workshop in Cape Town," she explains, "and I became passionate about growing mushrooms. I grow two types Oyster and Shiitake and I want to grow button mushrooms next."
Eating Zozo's magical mushrooms at Grootbos that night I feel transported to a parallel universe, one where a green economy encourages people to care for themselves and the land with respect. It's a little bit of Grootbos magic.
Melanie Farrell, founder of Green Route ZA, was a guest of Grootbos Private Nature Reserve
Support free-thinking journalism and attend Independent events
Register for free to continue reading
Registration is a free and easy way to support our truly independent journalism
By registering, you will also enjoy limited access to Premium articles, exclusive newsletters, commenting, and virtual events with our leading journalists
Already have an account? sign in
Register for free to continue reading
Registration is a free and easy way to support our truly independent journalism
By registering, you will also enjoy limited access to Premium articles, exclusive newsletters, commenting, and virtual events with our leading journalists
Already have an account? sign in
Join our new commenting forum
Join thought-provoking conversations, follow other Independent readers and see their replies