Venezuela crisis: How the collapsing economy is causing desperate parents to give up their children at orphanages
Sometimes, abandonment is the only way to ensure they are fed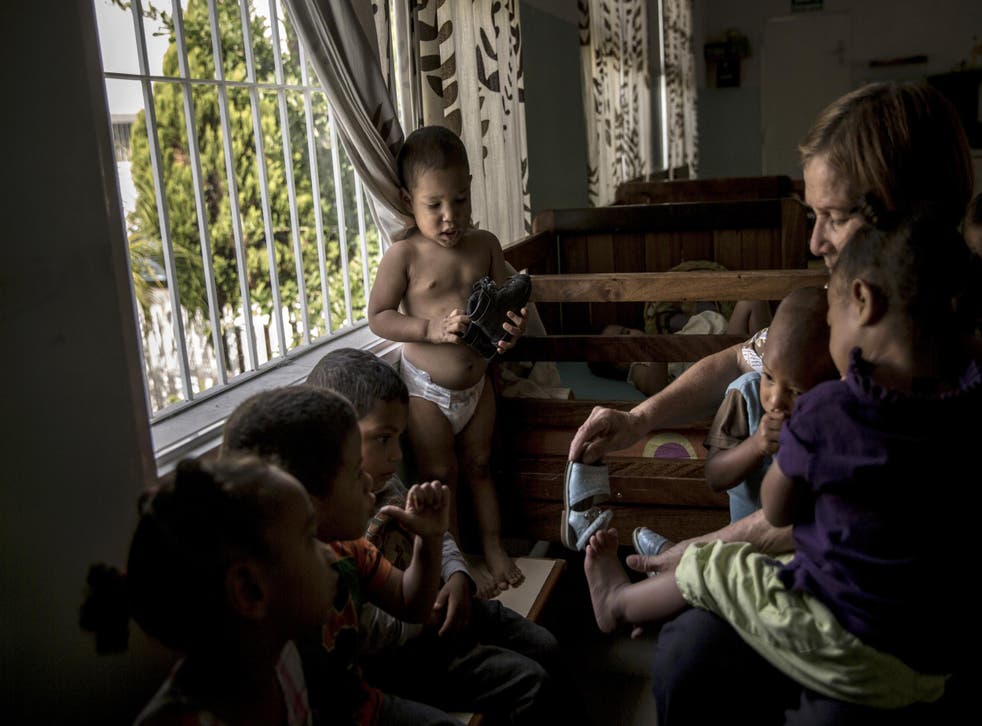 "Would you like to see the little ones?" asks Magdelis Salazar, a social worker, beckoning me towards a crowded playground.
We are at Venezuela's largest orphanage, just after lunch. The yard is an obstacle course of abandoned children. A little chunk of a boy, on the cusp of three, sits on a play scooter. He is called El Gordo – the fat one. But when he was left here a few months ago, he was skin and bones.
He zooms past a three-year-old in a pink shirt with tiny flowers. "She doesn't talk much," one of the attendants says, tousling the girl's curly hair. At least, not anymore. In September, her mother left her at a subway station with a bag of clothes and a note begging someone to feed the child.
Poverty and hunger rates are soaring as Venezuela's economic crisis leaves store shelves empty of food, medicine, diapers and baby formula. Some parents can no longer bear it. They are doing the unthinkable: giving up their children.
"People can't find food," Salazar says. "They can't feed their children. They are giving them up, not because they don't love them but because they do."
Ahead of my recent reporting trip to Venezuela, I'd heard that families were abandoning or surrendering children. Yet it was a challenge to actually meet the tiniest victims of this broken nation. My requests to enter orphanages run by the socialist government had gone unanswered. One child-protection official – warning of devastating conditions, including a lack of diapers – confided that such a visit would be "impossible". Some privately run child crisis centres worried that granting access to a journalist could damage their delicate relations with the government.
A Venezuelan colleague introduced me to Fundana – an imposing cement complex perched high on a hill in southeastern Caracas. Her family had founded the nonprofit orphanage and child crisis centre in 1991, and her mother remains the head of its board. Rachelle remembered volunteering there a decade ago, when she was a student and the children were almost exclusively cases of abuse or neglect.
There are no official statistics on how many children are abandoned or sent to orphanages and care homes by their parents for economic reasons. But interviews with officials at Fundana and nine other private and public organisations that manage children in crisis suggest that the cases number in the hundreds – or more – nationwide.
Fundana received about 144 requests to place children at its facility last year, up from about 24 in 2016, with the vast majority of the requests related to economic difficulties.
"I didn't know what else to do," says Angelica Perez, a 32-year-old mother of three, near tears.
On a recent afternoon, she showed up at Fundana with her three-year-old son and her two daughters, aged five and 14. She lost her job as a seamstress a few months ago. When her youngest came down with a severe skin condition in December and the public hospital had no medicine, she spent the last of her savings buying ointment from a pharmacy.
Her plan was to leave the children at the centre, where she knew they would be fed, so she could travel to neighbouring Colombia to find work. She hoped she would eventually be able to take them back. Typically, children are allowed to stay at Fundana for six months to a year before being placed in foster care or put up for adoption.
"You don't know what it's like to see your children go hungry," Perez says. "I feel like I'm responsible, like I've failed them. But I've tried everything. There is no work, and they just keep getting thinner. Tell me, what am I supposed to do?"
Venezuela descended into a deep recession in 2014, battered by a drop in global oil prices and years of economic mismanagement. The crisis has worsened in the past year. A study by the Catholic charity Caritas in poorer areas of four states found the proportion of children under five lacking adequate nutrition had jumped to 71 per cent in December from 54 per cent seven months earlier.
Venezuela's child welfare ministry did not respond to requests for comment on the phenomenon of children being abandoned or put in orphanages because of the crisis. The socialist government provides free boxes of food to poor families once a month, although there have been delays as food costs have soared.
For years, Venezuela had a network of public institutions for vulnerable children – traditionally way stations for those needing temporary or long-term protection. But child-welfare workers say the institutions are collapsing, with some at risk of closing because of a shortage of funds and others critically lacking in resources. So, increasingly, parents are leaving their children in the streets.
In the gritty Sucre district of Caracas, for instance, eight children were abandoned at hospitals and public spaces last year, up from four in 2016. In addition, officials there say they logged nine cases of voluntary abandonment for economic reasons at a child protective services centre in the district in 2017, compared with none the previous year. A child-welfare official in El Libertador – one of the capital's poorest areas – calls the situation at public orphanages and temporary care centres "catastrophic".
"We have grave problems here," says the official, speaking on condition of anonymity out of fear of reprisals from the authoritarian government. "There are definitely more abandoned children. It's not just that there are more, but also their health conditions and nutrition are much worse. We can't take care of them."
With the public system overwhelmed, the burden is increasingly falling on private facilities run by nonprofit organisations and charities.
Leonardo Rodríguez, who manages a network of 10 orphanages and care centres across the country, says that in the past, children placed with his centres were almost always from homes where they had suffered physical or mental abuse. But last year, the institutions fielded dozens of calls – as many as two per week – from desperate women seeking to give up their children so that they would be fed. Demand is so high that some of his facilities now have waiting lists.
To manage the surge in demand at Fundana, the organisation opened a second facility in Caracas with the aid of private donors. But it still had to turn down dozens of requests to take in children. At Bambi House, Venezuela's second-largest private orphanage, requests for placements surged about 30 per cent last year, according to Erika Pardo, its founder. Infants, once in high demand for adoption or foster placement, are also lingering longer in the organisation's care.
"Foster families are asking for older children because diapers and formula are either impossible to find or too expensive," she says. The number of pregnant women seeking to put their children up for adoption is also jumping.
Jose Gregorio Hernandez, owner of one of Venezuela's main adoption agencies, Proadopcion, says that in 2017 his organisation received 10 to 15 requests monthly from pregnant women seeking to give up their babies, compared with one or two requests per month in 2016. Overwhelmed, the organisation had to turn down most of the women. It accepted 50 children in 2017 – up from 30 in 2016.
For many Venezuelan families, hunger presents an excruciating choice. I meet Dayana Silgado, 28, as she enters Fundana's new food centre for parents in economic crisis. Silgado seems drained. The shoulder blades on her thin frame protrude from her tank top.
In November, she surrendered her two youngest children to Fundana after losing her job as a cleaner for the city during a round of budget cuts. At the centre, she knew, they would get three meals a day.
Fundana's home for children does not accept older kids, so Silgado is still trying to feed her two eldest – aged eight and 11 – at home. The free milk, sardines and pasta offered by the centre help. It is not enough, though.
After eating dinner, Silgado says, her children tell her: "Mom, I want more." "But I don't have more to give," she says.
© Washington Post
Register for free to continue reading
Registration is a free and easy way to support our truly independent journalism
By registering, you will also enjoy limited access to Premium articles, exclusive newsletters, commenting, and virtual events with our leading journalists
Already have an account? sign in
Register for free to continue reading
Registration is a free and easy way to support our truly independent journalism
By registering, you will also enjoy limited access to Premium articles, exclusive newsletters, commenting, and virtual events with our leading journalists
Already have an account? sign in
Join our new commenting forum
Join thought-provoking conversations, follow other Independent readers and see their replies