Russia is the unlikely choice to reduce corruption in African diamond mines
In an effort to stop rebel violence and take back control of the mines, the Central African Republic has brokered a deal with Russia, but lawmakers fear the partnership may do more harm than good
Tuesday 01 October 2019 17:42 BST
Comments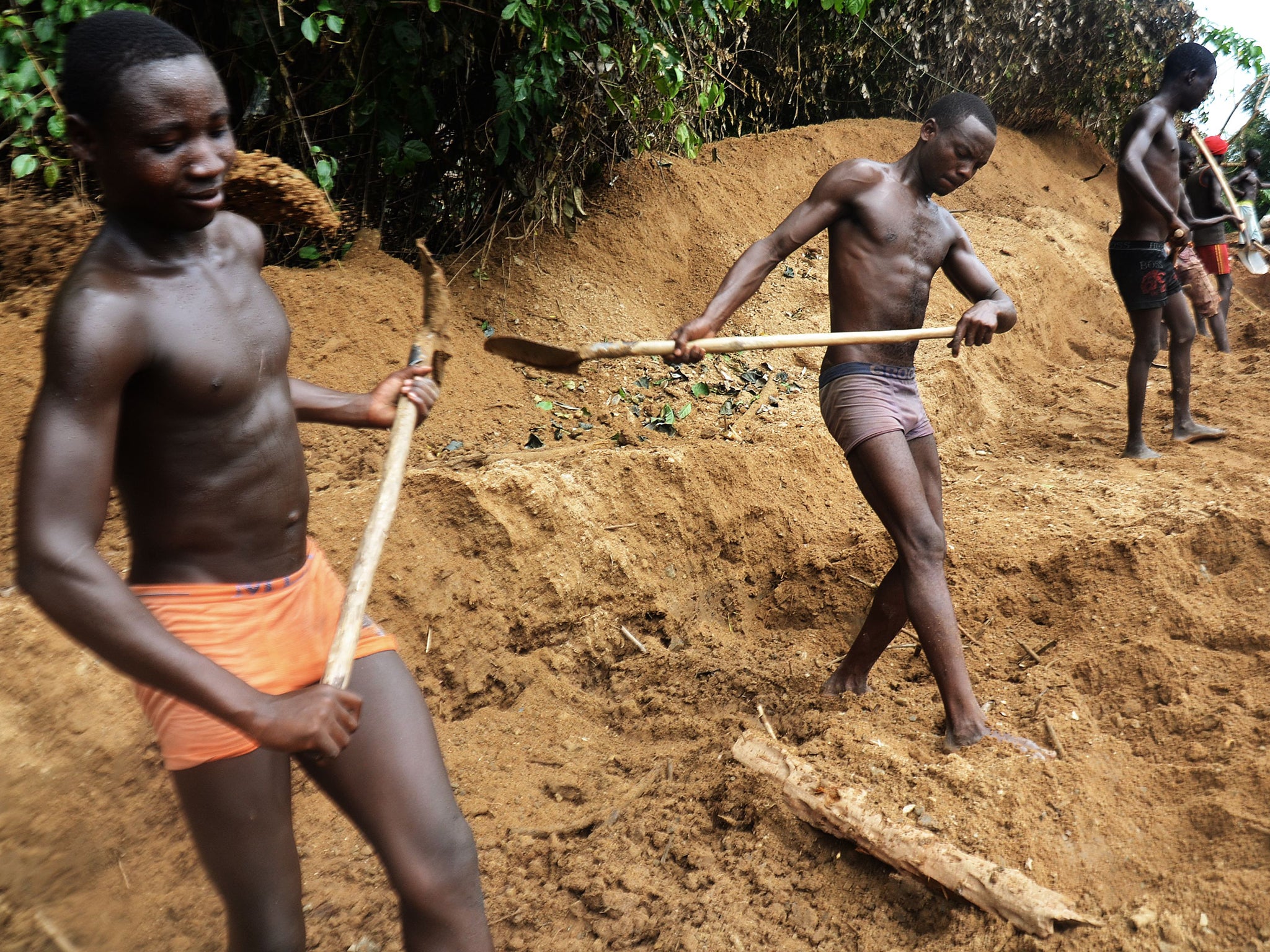 The dealer pulled back a shiny pink curtain and sprinkled the contents of two white envelopes across his desk: sparkling diamonds, more than 100 of them. Some gems are sold legally, he says. But many are trafficked by rebels who fight over the mines, adding fuel to a six-year uprising that has killed thousands and displaced more than one million people in the Central African Republic (CAR).
Now, hoping to wrest control over the diamond trade and piece the country back together, the government has turned to a new partner – Russia – in what some lawmakers fear is a dangerous bargain that trades one threat for another.
Russian mercenaries have fanned out across the nation to train local soldiers. A former Russian spy has been installed by the Central African president, Faustin-Archange Touadera, as his top security adviser. Russians shuttled warlords to peace talks with the government, helping lead to a deal with more than a dozen armed groups to stop fighting.
And the central figure behind the Russian involvement, according to local and western officials, is Yevgeny V Prigozhin, a confidant of President Vladimir Putin who was indicted in the United States last year, accused of helping to finance "information warfare" and disrupt the 2016 US election.
The Central African government has welcomed the Russians, betting that stability will enable it to sell more diamonds legally and use the money to rebuild the nation. "The rebellion in our country has cost us a lot," says Albert Yaloke Mokpeme, the spokesman for Touadera. "No one came to our aid except the Russian Federation."
But Russia's help comes at a cost. Its representatives have struck deals with the government to mine diamonds where the trade is legal – one of many signs that Russia's push into the country is closely tied to the profits it can reap. Russian operatives have even teamed with murderous rebels to obtain diamonds in areas where the trade is outlawed, cashing in on the very lawlessness they have been brought in to end, according to members of the Central African government, western officials and some of the warlords themselves.
More broadly, the fact that Russian mercenaries are training the nation's troops has unnerved some lawmakers. Human rights violations in the country are so common that the United Nations imposed an arms embargo against Central African soldiers. But the Russian trainers have been accused of abuses as well, including rounding up innocent bystanders in mass sweeps. "I keep thinking of what kind of army we are going to have if they are trained by Russians," says Hamadou Aboubakar Kabirou, a member of parliament.
Prigozhin's role in the country has set off international alarms. Three Russian journalists were killed last year under suspicious circumstances while looking into his ties to diamond and gold mining. The Central African government has said it is investigating the deaths, Russian officials have denied involvement, and Prigozhin's spokesman declined to answer questions about the companies' mining or security operations in the country.
As in the American election, the battle for control over the country is also being fought in the media and on social media. As Russian mercenaries connected to Prigozhin were streaming into the nation, Facebook sites were popping up with pro-Russian themes, showing photographs of local residents in T-shirts bearing a giant red heart and the slogan "Russia 2018".
Analysts and some diplomats say CAR has offered Russia a blueprint that it can export to other oil- and mineral-rich nations in exchange for mining rights.
As the US has pulled away from engaging Africa, withdrawing troops and offering no broad policy agenda, Russia has pushed hard into the continent, expanding its presence in unstable nations with abundant natural resources.
In CAR, tumult has reigned since 2012, when Muslim rebels, fed up with being overlooked by the government, invaded the capital and carried out a coup. Christian groups formed to beat back the rebels, and the nation veered towards genocide. Elections took place in 2016, but violent armed groups still rampage against almost anyone who gets in their way. More than a quarter of the people have fled their homes. The economy is crippled, and most of the population lives in poverty.
CAR has experienced few years of stability since breaking free from French colonial rule in the 1960s. Many of the old upheavals, too, centred on control of diamonds. "The world sees our diamonds as blood diamonds today, but we'll no longer have blood diamonds," says Leopold Mboli Fatran, the nation's minister of mines. "We are going to get control over all our diamonds."
In October 2017, a year after France generally disengaged from the country, the Central African president travelled to Sochi to ask Russia for help. While UN peacekeepers remained in the country, his nation's soldiers were still barred from receiving arms, and he complained publicly about the void France had left.
Later that month, Lobaye Invest, a mining company, was registered in Bangui, followed by a security company called Sewa Security Services 12 days later, according to registration information for the companies. Both are affiliated with Prigozhin, according to US intelligence officials, Western diplomats and a former Central African government official.
In December 2017, Russia then lobbied for – and received – an exemption to the UN arms embargo. The next month, the Russian government sent five military and 170 civilian trainers to Bangui. Sewa employees joined the presidential guard, and after a round of violence by rebel groups in 2018, Valeriy Zakharov, a former Russian intelligence official, was installed as the top security adviser to Touadera.
Lobaye, the mining company tied to Prigozhin, began work in diamond mines in the small swath of the country from which the gems can be legally exported, government officials says. But diplomats say the Russian ambassador complained that the activities there were not producing much.
In February 2019, as Russian officials looked on, more than a dozen armed groups signed a peace agreement with the Central African government. The deal, which the UN supports, puts warlords accused of sweeping crimes in place at cabinet-level positions. US officials now estimate the number of Russian mercenaries at more than 400, some in rebel-controlled areas where they can be spotted riding in white pickup trucks and drinking in local bars at night.
The three Russian journalists investigating Prigozhin's ties to diamond and gold mining were killed last year at a mine where such blood diamonds are extracted, near the city of Bambari, long a crossroads for violence.
Fighting among rebel groups near there has forced farmers into ramshackle camps, where people have nothing but threadbare shirts, ragged dresses and ripped pants. At a school for orphans, where the class size averaged more than 200, children were learning phrases in French: "I'm hungry" and "I'm thirsty" were written on a chalkboard.
The president, Touadera, tried to visit Bambari for a ceremony this year, despite warnings from rebels. Gunshots chased away cabinet members and their security contingents, scuttling the trip. The next day, the Central African military and their Russian mercenary trainers carried out mass arrests, sweeping up dozens of Muslims they presumed were part of the fighting, according to residents and a UN official.
Support free-thinking journalism and attend Independent events
One 38-year-old shop owner says he was rounded up by local soldiers, who deposited him at the Russian training facility nearby. Over the course of four days, he says he was hogtied, beaten and cut repeatedly by more than a dozen Russians in civilian clothes.
For now, the peace accord that the Russians helped broker mostly seems to be holding. But many victims of atrocities wonder whether they will see justice, especially now that warlords are in government and rebel fighters are being incorporated into the military. "It's like death has become banal here," says Pasquale Serra, an artist from Bangui who organised a ceremony for families to place bricks in a circle, representing their lost loved ones. After it was over, officials took the bricks away.
© New York Times
Join our commenting forum
Join thought-provoking conversations, follow other Independent readers and see their replies