Yvonne Baseden: Special agent who helped French Resistance on D-Day before being captured
Extraordinary story of the World War Two British secret agent who held out during Gestapo torture before being repatriated and marrying twice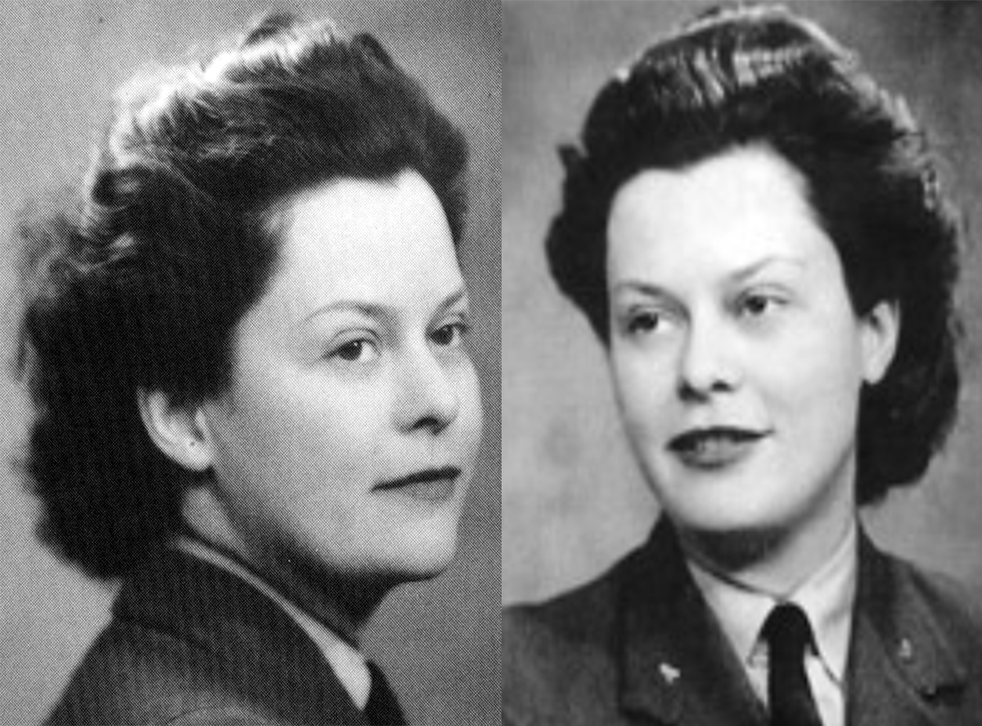 One of the last surviving female members of an elite band of courageous, idealistic and resolute people risking their lives across occupied Europe recently passed away at the age of 95 – but she led an extraordinary life.
From the age of 22, Yvonne Baseden was an agent in Britain's Special Operations Executive (SOE) and helped co-ordinate French Resistance fighters. Following one of the largest daylight airdrops of the Second World War, she was subsequently captured, tortured and survived the notorious Ravensbrück concentration camp where she also overcame illness.
Ms Baseden was awarded an MBE and France's highest honours – a Chevalier of the Légion d'Honneur, the Resistance Medal and the Croix de Guerre avec Palme.
The SOE, housed in Baker Street in London, was created in July 1940, shortly after France's surrender to Germany, by the newly appointed Prime Minister Winston Churchill, with a remit to create havoc and "set Europe ablaze". Dropped behind enemy lines, agents helped forge the secret army of resistance fighters who prepared the way for the Allied invasion. They all knew the consequences of capture by the Gestapo – often brutal interrogation and torture, followed by execution, or grim survival in a concentration camp. The F (French) Section alone sent 39 female agents into the field, of whom 15 were executed, two were liberated from camps, one escaped and two died of natural causes.
SOE was far ahead of contemporary attitudes in its use of women. From its inception, SOE began recruiting women with language skills into the Women's Auxiliary Air Force (WAAF), the First Aid Nursing Yeomanry (FANY) and the Auxiliary Transport Service before sending them for specialist training; many were used as couriers because they were seldom stopped at controls and rarely picked up in mass arrests.
Codenamed 'Odette', Ms Baseden was paired with a French aristocrat, Gonzague de Saint-Geniès, codename 'Lucien', and their mission was to re-establish the 'Scholar' réseau (network) around Dole, near Dijon, eastern France, after the Gestapo had compromised the previous one. Following an aborted first attempt, on 18 March 1944, Lucien and Odette were parachuted into Auch, just north of the Pyrenees. They landed some distance away from each other. Greeted by several Frenchmen, Ms Baseden was given a bicycle and was taken to a farmhouse. She then embarked on a two-day journey to Dole, near the Swiss border, where she was to operate with Lucien.
As a wireless operator behind enemy lines, an occupation which had a life expectancy of just six weeks, Ms Baseden was vital because she was the only link between London and the resistance in the Jura area. She was tasked with organising night-time drops of arms and explosives, while constantly moving about to avoid detection by the Gestapo's direction-finding technology. In addition, she also helped train fighters in setting explosive charges, which was particularly important in the run-up to D-Day (6 June).
Following D-Day, the resistance networks sabotaged bridges, railway lines and communications, considerably delaying German troops heading to the Normandy beaches; a two-day journey from southern to northern France took up to a fortnight, which helped the Allied troops and undoubtedly saved many lives and possibly shortened the war by several months.
With the new Scholar network re-established, the team's work increased as the Resistance grew bolder. In 'Operation Cadillac' they organised a mass daylight drop (14 July) by American B-17 Flying Fortress bombers, during which Ms Baseden was in radio contact with 36 Allied planes. Around 800 armed men and women from various local resistance groups were waiting to collect 3,791 canisters and 417 tonnes of armaments dropped at the designated targets.
The operation was a success; the next day a celebratory meal in a cheese factory ended disastrously. A German patrol arrested a 'Scholar' agent near the factory (which was also a safe house) because he was unaccountably carrying a radio transmitter. He knew nothing of the planned meal, but the Wehrmacht sergeant searched the factory on the off-chance of finding something there.
With their arrival, the team scattered for cover. The caretaker's wife cleared the table but the bicycles outside raised suspicions and guards remained. After hours, a noise was heard and more Germans returned. The sergeant fired a burst from his machine-gun through the ceiling to illicit a response. One bullet hit Gonzague de Saint-Geniès in the head, killing him, and blood leaked through the ceiling. Further shots were fired and the rest were caught. Ms Baseden was retrieved by the hair, punched in the face and manacled.
They were taken to Dole prison and transferred two days later to Dijon where Ms Baseden was placed in solitary confinement. Regularly interrogated by the Gestapo, she revealed nothing. Another captured Resistance fighter, however, declared Ms Baseden was a wireless operator and probably a British agent. She maintained she was "an ordinary French woman who had become involved with the Resistance".
In attempts to persuade her to reveal her Resistance contacts, the Gestapo beat her, stamped on her toes and bare feet and intimidated her – leaving her in a dark cellar for a few days before having a guard tie her to a chair and start firing at her feet. She later failed in a suicide attempt when she tried to cut her wrists with a piece of glass.
On 4 September, Ms Baseden was sent to Ravensbrück concentration camp (which was exclusively for women), near Berlin, where to her horror she encountered fellow SOE agents Violette Szabo, Lilian Rolfe and Denise Bloch; they were shot in February 1945. She also shared a hut with fellow SOE women, including Odette Churchill – the others were later sent to the gas chamber.
Conditions were tough, with mistreatment and abuse part of daily life. Ms Baseden laboured on a farm until falling ill with tuberculosis in February 1945. In the atmosphere of mounting apprehension among the camp authorities, as the Allied armies approached, a fellow prisoner and former escape-line organiser, Mary Lindell, secured Ms Baseden's removal in a Red Cross train to Sweden, from where she was repatriated.
Upon returning to England, Ms Baseden recalled: "Before me lay nine months in hospital, a lung operation, pain, and nights tormented by fearful dreams."
Born in Paris, in 1922, Yvonne Jeanne Therese de Vibraye Baseden was the daughter of Clifford Baseden, an officer in the Royal Flying Corps, who crash-landed during World War One on the Count and Countess de Vibraye's estate; invited to stay for dinner, he then fell in love with, and subsequently married, their daughter.
Yvonne lived in France for eight years and then the family travelled around Europe. They were living in Spain when the Civil War broke out in 1936, so returned to France, whereupon she attended a Parisian school. A year or so later she went to Tottenham, north London, to stay with her British grandmother and embarked upon a shorthand-typing course.
With the outbreak of war, she took a job as a bilingual typist and was asked to do some translation: "I got my first experience of where my French could be of some use." She recalled listening to de Gaulle's radio broadcast (18 June 1940) wherein he urged those of French nationality to continue the fight to free France and warned that: "Whatever happens, the flame of the French resistance must not and will never go out."
Filled with patriotism, 18-year-old Ms Baseden was determined to play a part but was rejected, "As mademoiselle was born of an English father".
Disappointed, she joined the WAAF as a general duties clerk. She was commissioned in 1941 (later promoted to section officer) and became an interpreter-secretary to an MI19 officer at Combined Services Detailed Interrogation Centre, known as 'the London Cage', where she also played a part in the interrogation of captured German airmen and sailors. Perhaps, somewhat ironically, she later discovered that her file noted, "This airwoman is not to be employed on confidential work", meaning she could not enter the ops room, due to having a French mother, which made the WAAF slightly wary of her.
Following a recommendation from WAAF colleagues, Ms Baseden was called by SOE (1 June 1943) and accepted their offer. Her fluent French and her looks – dark hair, olive skin and of small stature – made her the ideal recruit.
Like all female agents, she was seconded to FANY and kitted out in their uniform to avoid awkward questions from friends and family. She then embarked on a series of training courses, conducted at secluded country estates commandeered by the SOE and located throughout England and Scotland. Here recruits received commando-style training to improve fitness, as well as instruction on sabotage techniques and weapons training.
Demonstrating an aptitude for wireless operating, she underwent several months of specialist training – the only role both men and women undertook – learning all aspects of Morse code and wireless repairs. In addition, she underwent parachute training.
Once her training was complete, she met Gonzague de Saint-Geniès. He had been a prisoner in 1940 but had managed to escape by breaking his arm with a hatchet. He arrived in Britain in 1943 and volunteered to return to France. She later discovered that he was a distant relative.
Ms Baseden was given a new identity, 'Marie Bernier, secretary', a new French-style haircut, clothes, a large sum of money and a cyanide pill, which she refused. She was fully aware of the dangers she would face in occupied France: "We knew we were going into something pretty dicey.'
Postwar, she married Desmond Bailey, who was award the Military Cross, of the Colonial Service and accompanied him to Northern Rhodesia (now Zambia). Later, she worked for the French Commercial Attaché in Zambia, who was another former member of the SOE, Baron Albert de Schonen.
Ms Baseden remarried in 1966 to Anthony Burney, whom predeceased her, and they lived in Zambia and Lesotho until retiring to Portugal in 1972. While travelling by car in Zambia with her 12-year old son, they were surrounded by a hostile crowd at a junction. She opened her handbag to reveal a pistol and the mob disappeared. She returned to London in 1999.
On 25 September 1955, she appeared in the second episode of This is Your Life, presented by Eamonn Andrews. She also appeared in a French documentary (Robert et les Ombres/Robert and the Shadows) in which she met, 60 years after the events, two of the Resistance fighters who were in the field when she parachuted in.
Register for free to continue reading
Registration is a free and easy way to support our truly independent journalism
By registering, you will also enjoy limited access to Premium articles, exclusive newsletters, commenting, and virtual events with our leading journalists
Already have an account? sign in
Register for free to continue reading
Registration is a free and easy way to support our truly independent journalism
By registering, you will also enjoy limited access to Premium articles, exclusive newsletters, commenting, and virtual events with our leading journalists
Already have an account? sign in
Join our new commenting forum
Join thought-provoking conversations, follow other Independent readers and see their replies