Manchester bombing: First three victims named as vigil held in Lancashire
Mourners gather to remember first named victims, aged 8 and 18, who lived close to each other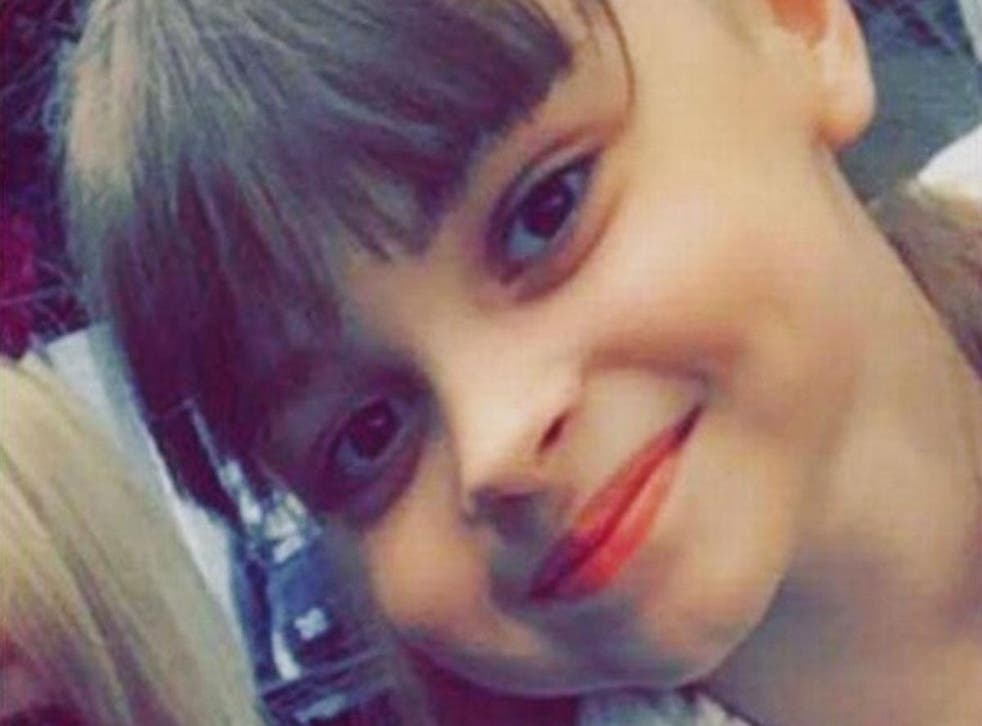 The first three victims of the devastating suicide bomb attack in Manchester have been named, as the desperate hunt for missing loved ones continues.
The youngest was Saffie Rose Roussos, an eight-year-old girl taken with her sister by her mother, Lisa, to watch the concert by former child star Ariana Grande.
Her 48-year-old mother is understood to be in intensive care under sedation and possibly unaware Saffie has died. Her older daughter, Ashlee, is reportedly being treated for shrapnel wounds in a separate hospital.
Saffie, a pupil at Tarleton Community primary school near Preston in Lancashire, was described by her headteacher Chris Upton as "simply a beautiful little girl in every aspect of the word."
"She was loved by everyone and her warmth and kindness will be remembered fondly. Saffie was quiet and unassuming with a creative flair."
He added: "The thought that anyone could go to a concert and not come home is simply heart-breaking."
Neighbour Salman Patel told Mail Online: "Saffie's sadly passed away and her mother, we understand, isn't aware. I am praying for the family, it is totally heartbreaking."
The post office worker said the tragic youngster's father, Andrew, had gone to pick up his family after what should have been a happy occasion to be greeted by a parent's worst nightmare.
He said: "He went to pick them up and arrived to find his wife in a critical condition, his elder daughter injured and his younger daughter lost.
"I thought he meant lost in the crowd but heartbreakingly he meant lost forever, as in the end.
"I am praying the mum pulls through and copes with the tragedy of finding out when she does about her daughter."
He said that Saffie was a "cheerful, chatty and delightful little girl and always smiling."
The first victim to be named was Georgina Callendar, an 18-year-old health and social care student described as a Grande "superfan" and a girl who "lit up a room".
She lived in the village of Hesketh Bank, very close to Tarleton where Saffie Roussos went to school.
A close friend told The Evening Standard the teenager, also known as Gina, had died in hospital with her mother at her bedside for her final moments.
Shelby Wharton said: "She was always very open, would talk to everyone. She was so nice. It does not feel real. I just pray for her family."
The day before the concert, the teenager posted a 2015 photograph of herself with 23-year-old singer Grande on Instagram, saying: "SO EXCITED TO SEE YOU TOMORROW."
A statement from Runshaw College in Leyland, Lancashire, where Georgina studied, said: "Our deepest sympathies, thoughts and prayers go out to all of Georgina's friends, family, and all of those affected by this loss."
The college said it was offering counselling and support to those close to the teenager.
The third victim was named as John Atkinson, 28, from Radcliffe in Bury.
Friends paid tribute to him on Facebook as "an amazing young man" and "a beautiful soul".
Tracey Crolla wrote: "Thinking of all the Atkinsons at this very sad time John Atkinson you turned into an amazing young man so kind and thoughtful you will be missed by everyone x x."
Other victims have been identified on social media and named locally but not officially.
Salman Abedi, a British born man of Libyan descent, has been officially named as the suicide bomber responsible for the deaths of 22 people, one for each year of his life.
Prime Minster Theresa May announced the terror threat level in the UK has been raised to critical for the first time since 2007, meaning another attack is considered "imminent". The Manchester attack is the worst terrorist incident ever to hit the north of England and the UK's worst since the 7/7 London bombings in 2005, which killed 52 people.
Her mother laid a single yellow rose in remembrance of her daughter at a vigil in Mark Square in Tarleton less than 24 hours after the atrocity took place.
At the vigil to remember Saffie and Georgina, friends of both girls released pink balloons as they sang and danced to the Ariana Grande song Put Your Hearts Up.
Join our new commenting forum
Join thought-provoking conversations, follow other Independent readers and see their replies