Marc Bolan – an overlooked fashion icon
Joobin Bekhrad
Thursday 21 September 2017 13:20 Comments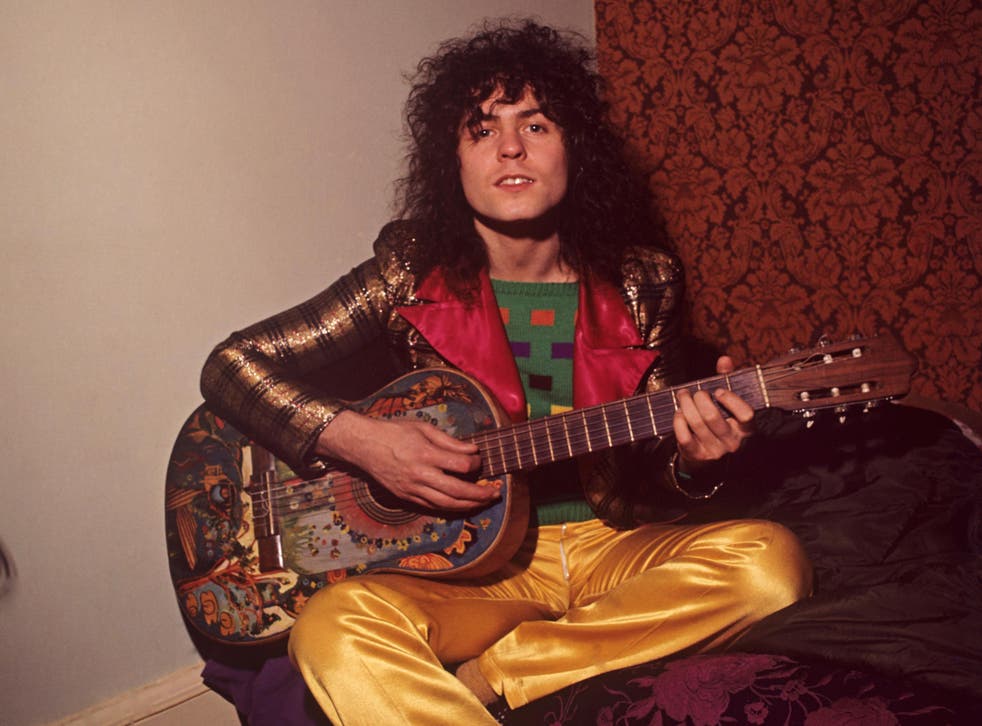 These days Rihanna is a designer. So is Kanye. So is Pharrell. So is Selena. Musicians have gone from fashion muses to fashion makers in the turn of a few seasons, one-upping style heroes of yesteryear like Mick Jagger and David Bowie – who nevertheless are routinely namechecked as inspiration in show notes.
Yet few words, if any, are devoted to the sartorial legacy of a man whose influence has done as much (if not more) to shape what we see on runways today: Marc Bolan, a wild child who once had all of Britain grovelling at his shiny heels.
Forty years after his death in a car crash just days before his 30th birthday, it is time the rock'n'roller was given his fashion due.
"He wasn't just a dedicated follower of fashion – he created fashion," said Alan Edwards, the English publicist who worked with both Bolan and Bowie. "With his black curls, made-up eyes and uniquely androgynous look, Marc helped pioneer a look that endures to this day. His hippie-chic influence can be seen all over the place, from Lenny Kravitz to Kate Moss."
Add to the list Slash (whose signature look owes much to Bolan's portrait on the cover of the 1972 album The Slider), St Vincent, James Bagshaw of the rock outfit Temples (a spitting image), and Johnny Depp in the Alice in Wonderland films. Generally speaking, though, the man behind glam rock is largely shrouded in obscurity, while Bowie is hailed as its poster boy.
Born Mark Feld into a Jewish family in London, Bolan always knew he wanted to be famous. First, he did it solely with style, appearing in mod outfits in magazine spreads and cardboard cutouts in department stores; later on, in the early Seventies, he did it with his band T. Rex. Widely credited with pioneering the glam rock movement, Bolan, with his corkscrew hair, sparkly make-up and flamboyant outfits, defined an era of glitter and gobbledygook, though he never broke through in America.
"A lot of fashion designers reference him today," said Oriole Cullen, senior fashion and textiles curator at the Victoria & Albert Museum. "You can really see that again and again. For instance, at YSL when Hedi Slimane was there, with the chunky platforms, baby-doll dresses, the snakeskin jackets."
According to Cullen, a host of other designers have also been influenced by the man once widely known as the "bopping imp" (Bolan was less than 5ft 6in tall). His influence can be seen in the glittery space boots of the latest Saint Laurent autumn collection, the lush red velvet trousers in Anna Sui's autumn show, and coruscating jackets and vivid patterned flares in Balmain's spring 2017 collections. (A Guardian article explicitly mentioned Bolan as an influence on Topman's autumn 2016 collection.)
There also is Michael Halpern, a New Yorker whose debut during London Fashion Week in February was heralded for its use of glitter fabrics and wide-flared trousers, and Paula Knorr, a recent graduate of Royal College of Art in London, with a liking for lamé and what Cullen called "wider flowing shapes".
And Gucci's current interstellar ad campaign, featuring ornate, shimmering jackets à la Bolan with wide lapels and sequins, has the T. Rex song "Ballrooms of Mars" written all over it.
Paul Smith, another Bolan fan, explained why. "Marc Bolan's look was always incredibly theatrical," he said. To the London designer, things have changed for the worse: "Sadly, it seems to me that there is almost no theatre left in popular music. Lots of skinny jeans, T-shirts and short haircuts."
The most overt example of Bolan's continued influence in fashion, however, can be seen in the designs of John Varvatos. A self-described "big fan" of the rocker, Varvatos' T-shirts often display Bolan's image, and the designer has "definitely" hung posters of the rocker in his studio.
For Varvatos, the rocker has been a longtime source of inspiration. "In men's wear, especially, style isn't just about the individual pieces – it's really about how you put your whole look together," Varvatos said, noting that Bolan "did this in a unique way that became his own, a hallmark."
It's easy to imagine that, had he lived, Bolan would have had a permanent place in the front row of every fashion week show. As Zowie Broach, head of fashion at the Royal College of Art and a co-founder and designer of the brand Boudicca, said, he "would have been deeply adored today and would have adored fashion today".
All of us whose wardrobes are in his debt should remember.
© New York Times
Register for free to continue reading
Registration is a free and easy way to support our truly independent journalism
By registering, you will also enjoy limited access to Premium articles, exclusive newsletters, commenting, and virtual events with our leading journalists
Already have an account? sign in
Join our new commenting forum
Join thought-provoking conversations, follow other Independent readers and see their replies