Inside the surprisingly old science of double vision: Charity uses optical illusion to deliver hidden message to children to report abuse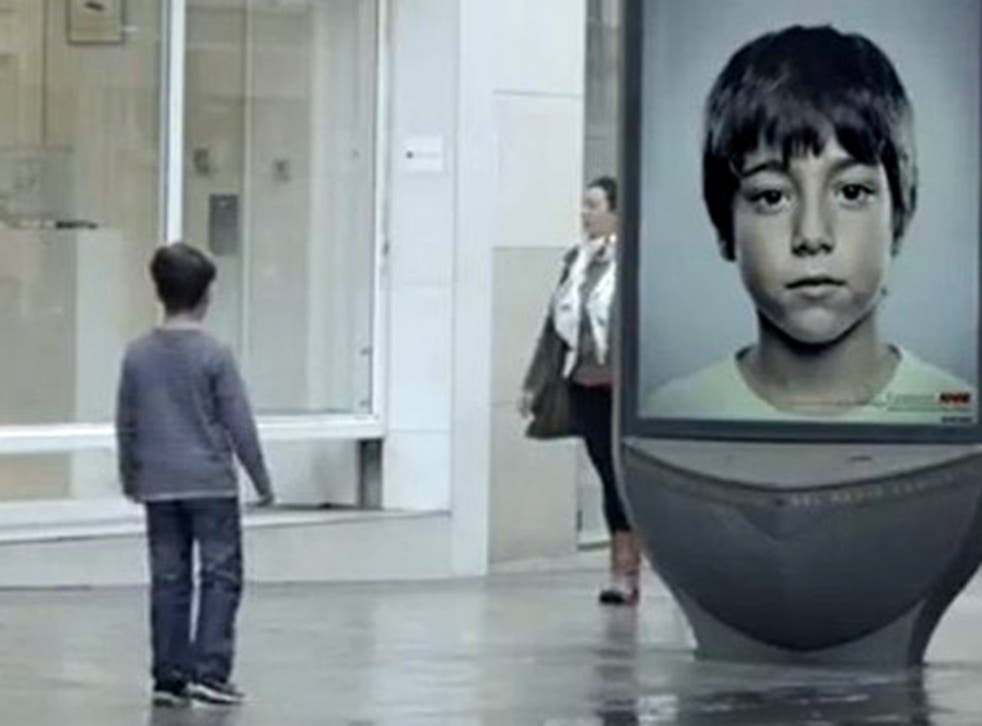 A charity in Spain has revealed an advert that uses an optical illusion to deliver a hidden message to passing children, encouraging them to report potential abuse.
The Anar Foundation used lenticular printing to create a poster that shows different images to passers-by depending on their height. Adults see a photo of a boy and the words, "sometimes, child abuse is only visible to the child suffering it". Children see the same face, bruised, and an additional message and phone number: "If somebody hurts you, phone us and we'll help you."
The foundation wants the gimmick, developed by the Grey advertising agency, to raise awareness of abuse and act as a warning to would-be abusers.
Lenticular printing dates back to the "turning pictures" of the 17th century. Pleated canvases revealed two different images as the viewer passed by. Modern techniques use similar alternate slices of different images. Strips of lenses laid over or bonded to them enhance the illusion, controlling what is seen from left or right or, in the case of the Spanish ad, top or bottom. During the 1930s, a fad emerged for simple lenticular images of winking women or political campaign buttons, many made by the American company, Vari-Vue. Later, advertisers began to realise the power of "motion" in static images.
Animated cards stuck to boxes of Cheerios cereal were so popular that the company had to put them inside boxes to prevent them from being swiped. As the technology has become more sophisticated, whole scenes have been rendered on flat surfaces as if by magic, bringing film posters, album covers and shop windows to life.
Artists, meanwhile, have reclaimed the technique. Damien Hirst used it to create a 3D moving image of his notorious diamond skull, while street artists have used centuries-old methods to create images on iron railings.
Register for free to continue reading
Registration is a free and easy way to support our truly independent journalism
By registering, you will also enjoy limited access to Premium articles, exclusive newsletters, commenting, and virtual events with our leading journalists
Already have an account? sign in
Register for free to continue reading
Registration is a free and easy way to support our truly independent journalism
By registering, you will also enjoy limited access to Premium articles, exclusive newsletters, commenting, and virtual events with our leading journalists
Already have an account? sign in
Join our new commenting forum
Join thought-provoking conversations, follow other Independent readers and see their replies