Naomi Campbell in race row over Cadbury chocolate
Model calls advertisment 'insulting and hurtful' as consumer boycott is threatened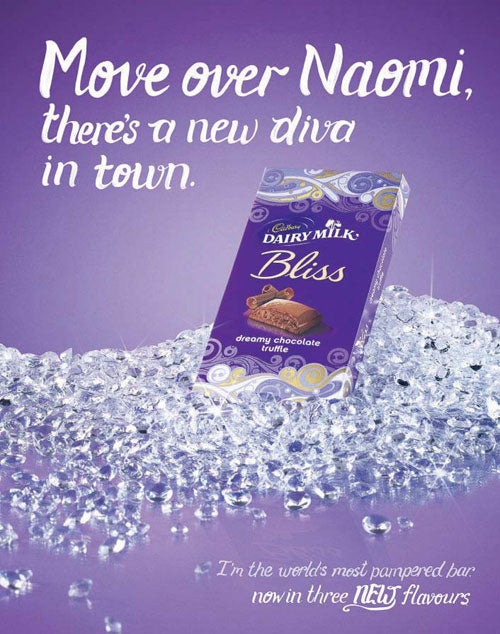 Cadbury is facing the prospect of a black consumer boycott after it compared Naomi Campbell to a chocolate bar in a new advertising campaign.
The supermodel – hardly known for taking things in her stride – is incensed that Cadbury used her name in the strap line to promote its new chocolate bar called Bliss, accusing the company of racism. The ad says: "Move over Naomi – there is a new diva in town."
Yesterday Campbell revealed she is considering "every option available" after Cadbury, owned by the US giant Kraft, refused to pull the ad campaign, which ran in newspapers last week: "I am shocked. It's upsetting to be described as chocolate, not just for me, but for all black women and black people. I do not find any humour in this. It is insulting and hurtful."
The model's mother, Valerie Morris, backed her daughter, saying: "I'm deeply upset by this racist advert. Do these people think they can insult black people and we just take it? This is the 21st century, not the 1950s. Shame on Cadbury."
Disgust at the ad prompted members of the public to complain to the campaign group Operation Black Vote (OBV), which has called for Cadbury to apologise. OBV's Simon Woolley said that without an apology, the "only recourse black people have is not to buy its chocolate". He has written to the American civil rights activists Al Sharpton and Jesse Jackson to ask them to mobilise the country's Afro-American population. "I want them to know what their parent company is doing in Europe. I've asked them to support us."
Mr Woolley said that, for black people, being likened to chocolate was as bad as being called a golliwog. "Racism in the playground starts with black children being called 'chocolate bar'. At best, this is insensitive, and at worst it demonstrates Cadbury's utter disregard for causing offence. Its lack of apology just adds insult to injury. The Eurocentric joke is not funny to black people.
"It's particularly galling because we've just had a week that saw the establishment fall over themselves to be close to the Obamas and yet black people are being derided in such an insulting and negative way," Mr Woolley added.
The black activist Lee Jasper said: "This issue is not just about the insult to Naomi Campbell. It's about how these companies treat black people in general. Part of the problem is that they don't see it as offensive."
The racism row comes just one week after a London School of Economics lecturer, Satoshi Kanazawa, hit the headlines for "research" claiming to show that black women are less attractive than those of other races.
A spokesperson for Cadbury insisted that the campaign was "a light-hearted take on the social pretensions of Cadbury Dairy Milk Bliss". He added later, however, that the campaign was "no longer in circulation... we have no plans to repeat the campaign."
Join our commenting forum
Join thought-provoking conversations, follow other Independent readers and see their replies