Dylan Jones: At the court of King Dylan
It's hard to decide which is more impressive - his suits or his contacts book. Dylan Jones, the editor of 'GQ', talks to Ian Burrell
Thursday 22 September 2011 05:37
comments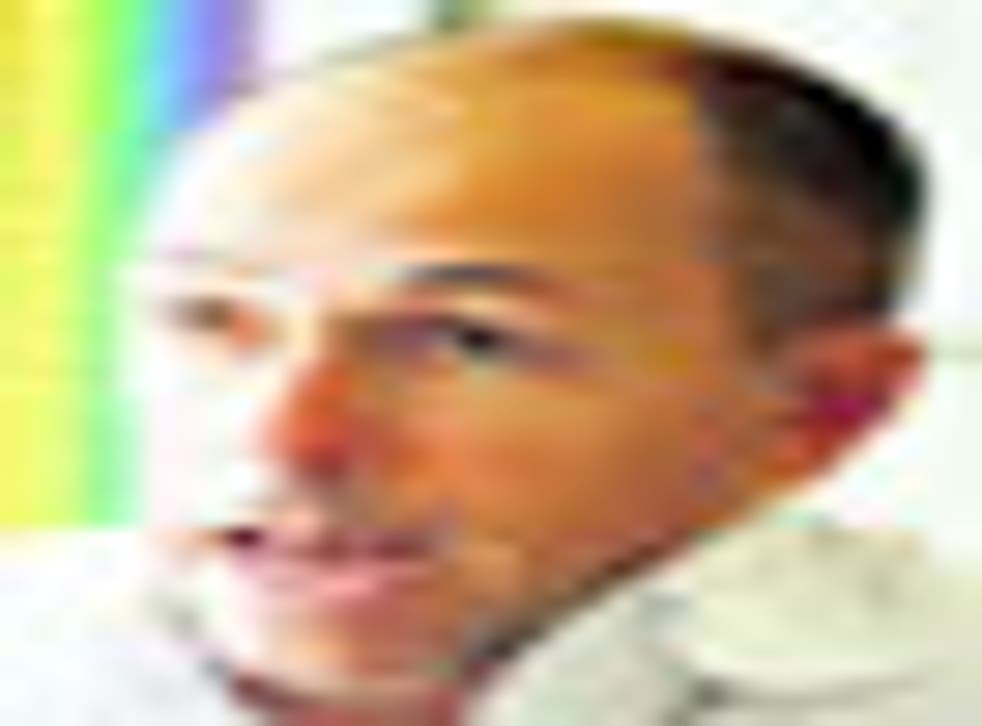 'Naomi!... Eva!..." You could hear the shouts of the paparazzi from halfway across Covent Garden as the supermodels, the Hollywood stars, the celebrity chefs and the TV funny men headed up the red carpet and into the Royal Opera House.
Following a champagne reception (Laurent-Perrier Brut NV), the peppered beef with scented celeriac dauphinoise had been washed down with Marques de Riscal Tempranillo 2004 when the comedian Jimmy Carr, who was having a difficult evening, called to the stage someone he introduced as "the person who writes the cheques".
The tall, slender figure of Dylan Jones stood before the microphone, pointedly put on his spectacles, looked out on his glittering audience and prepared to dish out his "editor's special award". The colour spreads the next morning in The Sun and Daily Mirror - like the clips on GMTV and the US entertainment channels - featured Naomi Campbell and Eva Herzigova, Rod Stewart and Penny Lancaster, Billie Piper, Justin Timberlake and the other big name attendees at Tuesday's GQ Men of the Year awards. The gongs were distributed to Rod and Justin, to Ricky Gervais, Russell Brand, Jeremy Clarkson, Jonathan Ross and Jamie Oliver, among others. But it was Dylan Jones's party, and the stars knew it.
"I'd just like to thank Dylan Jones for tonight," said actor James Nesbitt, presenting an award at the lavish Condé Nast-funded bash. "It's the one night of the year when it looks like Dylan is actually paying but of course we know that's not the truth."
Tory leader David Cameron accepted his Politician of the Year award in a recorded message. "One of the highlights of the year was being interviewed by your editor Dylan in the back of a [Toyota] Prius," he said, referring to GQ's June cover story, based on Jones's road trip to Cameron's Oxfordshire constituency.
Will Self (Writer of the Year) quipped he was proud to "be given this award, which is given to you by one man" (ie Jones). Jonathan Ross (Radio Personality of the Year) claimed Jones called him in the summer to offer him the award, provided he turned up. Ross gave thanks to the GQ editor, "even though you look like you would have been developing things for the Nazis years ago".
Dylan Jones, who is 46, has been editor of GQ for more than seven years, during which time he has confirmed its position as the leading title at the top end of the men's magazine market. ABC circulation figures released last month showed its sale at 126,797, up 0.4 per cent year on year, in a period when other men's titles such as FHM (down 16 per cent), Maxim (down 21 per cent) and Loaded (down 20 per cent) really suffered.
At Condé Nast's Vogue House, ahead of the Covent Garden extravaganza, Jones explains his formula: "It's great writing and great photography. It's not possible to find better writers working in the men's arena. We have a great roster." In his time in the editor's office (a room decorated by such things as an Elton John silver disc, and a miniature black taxi with Moët & Chandon branding), Jones has carefully cultivated big-name writers. He now offers readers such bylines as A A Gill, Boris Johnson, Rod Liddle, Tony Parsons, Piers Morgan and The Independent editor Simon Kelner. Many of these writers (all incidentally much older than 28, the age of the typical GQ reader) are his personal friends.
Asked about the importance of his own visibility at the Opera House bash, he plays it down. "Me? I don't think it's important at all, to be frank with you. I get involved with a couple of the awards but it's the presenter, the celebrities, the guests, and the dedicated staff of the magazine...," he says, unconvincingly. Condé Nast managing director Nicholas Coleridge once told these pages how much he admired the unquestionable marketing triumph that is the GQ awards and how "Dylan ... waltzes an incredible number of celebrities on to the platform". When Jones is reminded of his MD's admiration for high-profile editors he relents. "I think it's important because you carry your brand with you. I love this magazine and I love the people who work on it. I see nothing wrong with people sticking their head above the parapet," he says. "Also we don't have huge advertising budgets - you don't really see ads for the magazine, and we use what we have to its best advantage. One of the things you have is an editor."
Dylan Jones is a consummate networker and popular man. He is an accomplished writer and an astute reader of the runes (he has a 5,000-word interview with Gordon Brown by Spectator editor Matthew d'Ancona ready to roll). His decision to hire Piers Morgan as an interviewer ("the features department said I was mad because no one in their right mind would agree to be interviewed by Piers") has been vindicated with scoops such as George Galloway's extraordinary assertion that the assassination of Tony Blair would be morally justifiable.
But Jones seems to annoy some people, mostly in the publishing industry, where his habit of sticking his head "above the parapet" - as he puts it - has made him a target. Anthony Noguera, when editor of Arena, described him disparagingly as "the John Major of the men's magazine world". As editor of Maxim, Greg Gutfeld, an American with a madcap humour, deliberately tried to get in Jones's face, depicting him as out of touch. Jones was ridiculed as a cartoon figure wheeling his wheelchair across the pages of Maxim in search of a "free suit". Jones's views on the way to achieve stability in the Middle East were parodied as "go for mauves, lilacs and purples".
Jones's networking can trip him up. His eager endorsement of David Cameron jarred with a previous championing of the MP's Tory leadership rival. "It's David Davis all the way," wrote Jones in The Spectator, a contradiction the London Evening Standard's diarist gleefully pointed out.
Even the producers of young fogeys' bible The Chap - who might be expected to empathise with a man who so obsesses over his cuffs and collars - have devised a sarky column called Dandy Dylan: "Britain's most beautifully dressed man gives us a valuable sartorial tip from his private collection." This feature, accompanied by a caricature of Jones in an unlikely thumbs-up pose, mocks the GQ editor's speech. "Doeth anyone like pockettth? I bet they don't like them ath much ath me! Pocketth are gweeeeat! You can keep all thortth of thingth in them, like cointh, peanutth and wubber johnnieth." The humour is cruel partly because Jones does have a minor speech impediment, though a stammer rather than a lisp, resulting from a strict upbringing as the son of an RAF officer.
It doesn't appear to be something that has made him nervous of the public gaze. He found his way to magazines via a photography degree at London's St Martin's School of Art. "My degree show was an ironic photo love story which I wrote and shot and still have somewhere. Incredibly pretentious." A year and half of hanging around in New Romantic clubs later, he found work on the then fledgling style title i-D.
"I was 22 or 23 and spending most of my time getting up at midday and going to nightclubs. A friend, Mark Bayley, was shooting photographs for i-D and needed someone to interview the person. Seeing as I wasn't exactly over-employed at the time I helped him out," he says. "Then Terry Jones, who's still the editor in chief and owner of i-D, called me up and offered me a job and rescued me, invented me, gave me a career. I'm eternally grateful to him."
The i-D founder's instinct proved right, for his namesake has gone on to work on The Face, to edit Arena and to work for six years in newspapers for The Sunday Times and The Observer. He came to GQ in the wake of predecessor James Brown's abrupt departure following a decision to declare Afrika Korps general Erwin Rommel as a style icon.
During Jones's first three years circulation slipped from 145,000 to 116,000, but he has since reversed the slide and sales have been rock solid since 2003. A former hard-working chair of the British Society of Magazine Editors, Jones is optimistic about the industry's future. He says the internet jeopardises the prospects of weekly titles but claims high-end magazines - "beautiful artefacts ... products that you actually want to flick open and pore over" - are more secure.
The success of weeklies Nuts and Zoo has dragged other men's titles downmarket, defining GQ as something different. "It has a robust sexuality and sex is an important part of the magazine's DNA. But the sex isn't all-consuming," he says. "There's an issue with some of the men's magazines that they become overtly pornographic. Not that I have anything against pornography but when it's masquerading as a consumer title I do."
His mobile bursts into life, making an otherworldly din. It is the kind of cacophony that might have been produced had the Smash Martians from the instant potato adverts ever been introduced to Technics turntables. "I haven't worked out how to turn this off without opening it," says Jones, fumbling with the device before protesting ignorance of the music. "It's the tune it came with. I don't really do ring tones," says the author of iPod, Therefore I Am.
In fact, Jones doesn't even own a camera any more, and uses a disposable to take his holiday snaps. "I love my iPod and I love my BlackBerry, but I'm not that much of a gadgets person."
He has made a stand against the practice of cover-mounting CDs or DVDs. "[Instead] we try to produce editorial-driven ideas which we can do in conjunction with a sponsor in order to produce more editorial. We've done it with sport, our best-dressed list, our gear guide, our most-powerful men supplement, shopping guide, style guide. We could spend £70,000 on a CD or DVD and not have any inkling how successful it's going to be."
October's GQ awards issue weighs in at a hefty 380 pages, crammed with upscale advertising. Some readers feel that the lines between editorial, ads and advertorial are increasingly blurred. Jones denies any problem. "Advertorial is a fairly simple thing to grasp," he claims, crediting his readers with a certain media sophistication. "We don't do advertorials on the editorial side; it's something the advertising department does. It will have promotion written on it. Nothing wrong with it."
Jones - who writes a column for The Independent - does not need to go in search of a PR freebie. "There are probably more attempts to coerce and bribe journalists now than there have ever been before. We live in a world where consumer journalism is incredibly pervasive. If someone wants to send you something and you allow that to influence your editorial policy, that's dumb. It's silly and it's beneath you."
In other magazine sectors it's worse, he says. "If you work at one of the big women's fashion magazines you are inundated with the stuff. When my wife worked at Marie Claire, a car came round with all her Christmas presents from all the luxury goods companies and they covered the entire floor of our living room. We are not in that league yet."
Sponsorship is prevalent in GQ, not least on fashion spreads where readers might be confronted by a famous footballer combining a Burberry Prorsum suit with a Reebok T-shirt. Rio Ferdinand or Frank Lampard might get away with it but your average bloke wouldn't make it through the door at the local Yates's Wine Lodge.
Jones is philosophical about such things. "The stakes are higher these days because most successful athletes will have some sort of sponsorship deal. If we get access to a particular sportsman through one of their sponsors I don't necessarily see that as any conflict of interest. The readers are shrewd enough to know that if Nike sponsor a particular footballer and he turns up in a magazine wearing Nike that's a pretty easy thing to understand. It's usually mentioned in the copy anyway."
Besides, modern men are ready to be marketed to. "Men are beginning to consume far more like women," he says. "Men are usually less sophisticated as shoppers but they're being bombarded by shops, fashion brands, the grooming industry, media houses, by everybody. They are the growth market and subject to more aggressive advertising than ever before."
The day after the GQ Men of the Year Awards, Jones spent three hours with his team planning next year's 10th anniversary event. This year he elected to give his "editor's special award" to Borat, Sacha Baron Cohen's hideously dressed, socially inept, Kazakh alter ego.
Then after the ceremony, the Great British style arbiter and author of the new tome, Mr Jones Rules (How to Be a Modern Man), headed on to London's Kabaret club, where he finished his evening at 4am. On the dancefloor. Him and Borat.
Join our new commenting forum
Join thought-provoking conversations, follow other Independent readers and see their replies