How to End Poverty in 15 Years: Dealing in facts, not rhetoric
Star statistician Professor Hans Rosling is the go-to guy for explaining complex information in off-the-wall ways
Rhodri Marsden
Tuesday 22 September 2015 20:10 Comments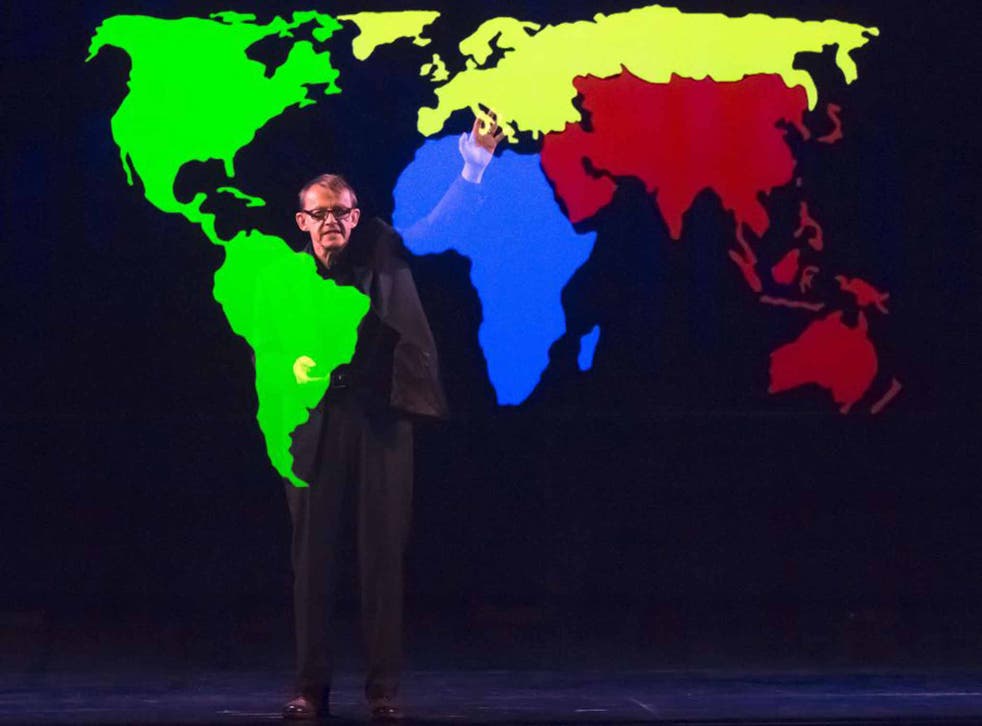 Professor Hans Rosling has become well known for harnessing the power of technology and design to present statistical information, but never before has he used bits of wool strung across on a wooden frame.
"We Swedes are quite good at self-assembly furniture, eh?" he jokes as workmen wheel the contraption onstage and the audience giggle.
Rosling is like the teacher we all remember fondly from school – unassuming, self-deprecating and with a sharp wit to boot – but over the past decade he's become internationally renowned as the "Jedi master" of data visualisation, with a particular focus on global development.
His latest show, DON'T PANIC – How to End Poverty in 15 Years screens tonight on BBC2; it considers the UN's goal of eradicating extreme poverty by 2030, examining definitions of poverty, our attitudes towards it and the chances of that goal being achieved.
"I deal in facts, not rhetoric," he says at the opening of the show, and goes on to upend attitudes and opinions by using data alone. No grandstanding or hectoring is required.
Professor Rosling's tentative step into the limelight came in 2006, when his first TED talk ("The Best Stats You've Ever Seen") started picking up views online. Today, that talk has been viewed more than 10 million times, and while Rosling's suits are sharper these days and his manner slightly less bumbling, his razor-sharp insight has remained consistent – as has his keenness to dispel myths and break down preconceptions.
One of his favourite tricks, deployed regularly over the course of 10 TED talks and three TV specials, is to ask his audience to respond to questions about global development – say, levels of vaccinations around the world, access to electricity or of numbers of children attending primary school. In every case, the estimates are woefully off target; thanks to a combination of our upbringing, our schooling and our media, we assume that poverty levels are far, far worse than they actually are. Indeed, in tonight's show, Rosling refers to the decrease in the number of people living in extreme poverty – currently 14 per cent of the global population – as "the greatest story of human history".
In his TED Talk from last year, How Not To Be Ignorant About the World, he calls for a systematic approach to fight "devastating ignorance", and in particular the widely held supposition that everything is always getting worse. ("Another way to think of it: most things improve.") In 2005, envisaging great "flowers" of information growing from unmined data sources, he founded the Gapminder Foundation along with his son, Ola, and his daughter-in-law Anna.
One of its first products was a piece of data visualisation software called Trendalyzer, which was quickly snapped up by Google; its characteristic bubble charts, with circles moving, contracting and expanding over time, are one of Rosling's main onstage tools. (An example, entitled The Wealth and Health of Nations, can be played with endlessly at gapminder.org/world.)
Tonight's programme is not so much a call to arms as a nudge to wake up; Rosling is not a campaigner or an advocate, although he does make an uncharacteristically bold suggestion towards the end of tonight's programme that international aid budgets should be better targeted. (For all his upbeat assessment of the eradication of poverty, he notes that "the last lap is often the toughest".)
But in the main, it's an unassuming, jovial chap with unkempt hair showing us some graphs. That might not sound like an appealing alternative to The Great British Bake Off, but it's approximately 98 per cent more likely to make you stop and think.
'Don't Panic: How to End Poverty in 15 Years' is on BBC2 tonight at 8pm
Register for free to continue reading
Registration is a free and easy way to support our truly independent journalism
By registering, you will also enjoy limited access to Premium articles, exclusive newsletters, commenting, and virtual events with our leading journalists
Already have an account? sign in
Join our new commenting forum
Join thought-provoking conversations, follow other Independent readers and see their replies