The Independent announces third consecutive year of profit since switch to digital
'The growing editorial team has risen to every challenge, and the future newsroom growth will no doubt see the journalism here leap from strength to strength,' says editor Christian Broughton
Thursday 05 March 2020 19:03 GMT
Comments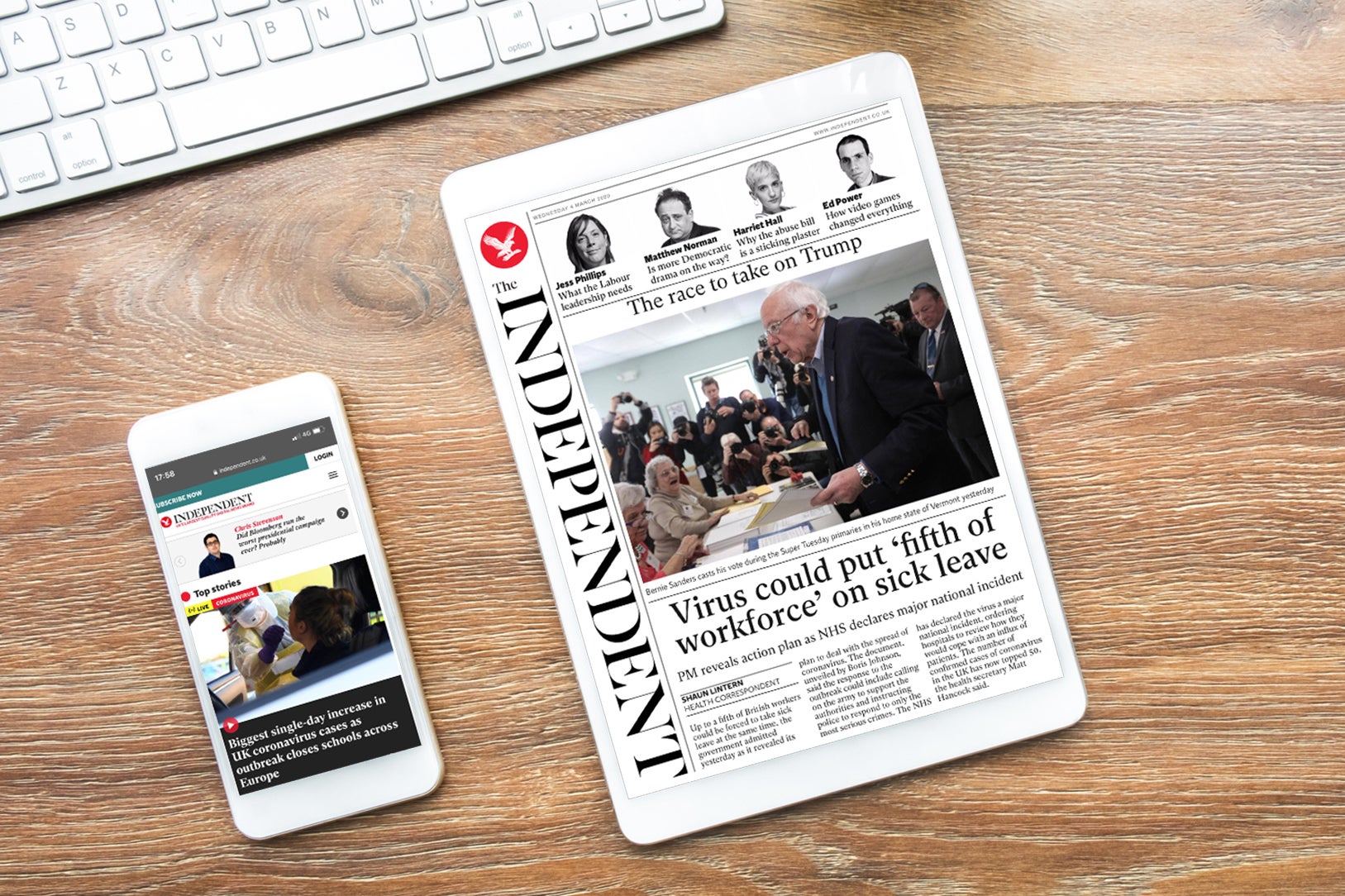 The Independent has announced a 9 per cent jump in annual turnover and the third consecutive year of profits since its switch to become a fully digital publisher.
Advertising revenues grew by 10 per cent, lifting turnover to £27m, with profits of £2.3m, figures show.
The results come as The Independent boosted spending on its editorial team by 12 per cent in its 2018-19 financial year. It now has more than 100 journalists in cities around the world, including significant investment in growing its US operation.
Revenue has almost doubled since The Independent closed its print operation four years ago to go digital-only on 27 March 2016.
Globally, the title now has an audience of 95 million unique browsers, up 22 per cent year on year, and has enjoyed a full quarter as the UK's largest quality digital news brand, according to analytics firm Comscore.
The results show that The Independent is now more profitable than the Telegraph Media Group, which made a pre-tax profit of £900,000 in 2018. The Guardian reported last year that it had returned to profitability after a period of losses, making an operating profit of £800,000.
"Few, if any, serious, quality newspapers in the world have successfully made the transformation from print to digital only," said John Paton, chair of Independent Digital News and Media Ltd.
"The Independent has been profitable since going all-digital and nearly four years in it continues to grow substantially on the top line."
Growth in the US has been particularly strong with monthly unique visitors surpassing high-profile digital pureplays such as Vice and Vox.
The Independent has 30 million monthly unique visitors in the US – its largest market – with January figures showing 18 per cent growth year on year.
Newswhip analysis has shown that, across social platforms, The Independent had the largest voice and reach on social media of any UK news brand (including the BBC) for political coverage in the run-up to December's UK election. Recent YouGov research confirmed The Independent as the UK's dominant centre-ground news brand.
Further international expansion this year is being led by Mr Paton alongside chief executive Zach Leonard and editor Christian Broughton, with a new US editor, Katie Davies, and Washington DC bureau chief, John T Bennett, joining in recent weeks.
"Two keys to our success are a relentless focus on investing in growth areas, and support of a diverse range of revenue streams across advertising, licensing and syndication, and readers," said Mr Leonard.
"This has served us, our advertisers and growing international digital audiences well over the last ten years."
Mr Broughton said: "The core principles that originally defined The Independent are now delivering extraordinary success in the digital era."
"It is truly independent in a time marked elsewhere by interference; international when others are increasingly inward-looking; proud to present disparate views when others fear to rock the boat.
"The growing editorial team has risen to every challenge, and the future newsroom growth will no doubt see the journalism here leap from strength to strength. The Independent's time has come."
Read more:
Profits at Independent overtake Telegraph's – FT
The Independent now more profitable than The Telegraph – Mediatel
Join our commenting forum
Join thought-provoking conversations, follow other Independent readers and see their replies