Jeremy Bowen: The man in the middle
For the BBC's Middle East Editor, steering a neutral path can sometimes seems impossible. Jeremy Bowen tells Ian Burrell how he deals with the challenge of 'objectivity'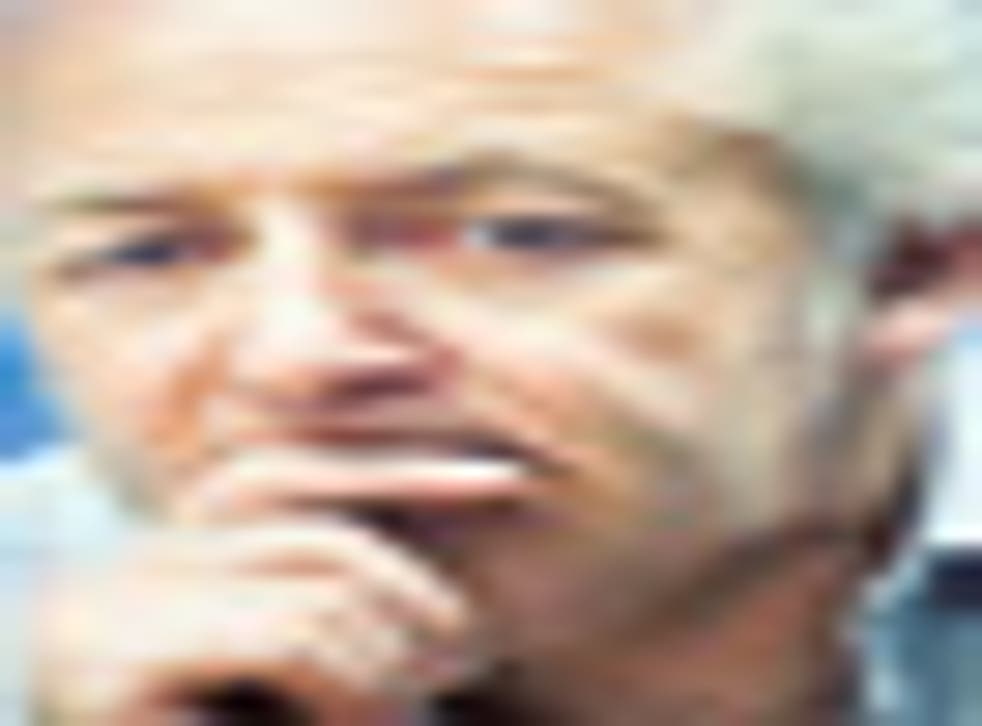 Jeremy Bowen's well-developed sense of humour has survived the experience of having narrowly avoided cluster bombs in Chechnya, snipers' bullets in Mostar, tank attacks in Lebanon and bricks in Broadwater Farm.
As Middle East editor of the BBC, he holds a position of such importance that people from all over the world look to him for an understanding of the course of international affairs.
As an exercise in explaining his place in the world, he has set out his experiences as a foreign correspondent of distinction and long standing in a book entitled War Stories. It is a work of remarkable honesty, in which he exposes his baser motives for seeking out the glamour of front-line reporting and berates himself as a "coward" for his failing to come to the help of a dying colleague. Just as a young Bowen once read the legendary James Cameron's Point of Departure and dreamed of a similar life of reporting from abroad, so young journalists could benefit from the BBC man's memoir as a primer for learning the techniques and the risks of modern war-reporting.
And yet, if Bowen were to do today what his brother Matthew did recently and type the name "Jeremy Bowen" into the search box of YouTube, he would be confronted by the sight of the comedian Harry Hill ridiculing his reporting talents.
The clip, which dates back to when Bowen spent two years working as a presenter, takes aim at a piece he made for BBC Religion about whether the story of Noah's Ark has any basis in fact. Hill, having first scoffed that the tale is "not the hardest one to disprove", pulls on a grey beard to imitate God's reaction, raging in a Cockney accent about Bowen's lack of journalistic credentials. "I don't mind them having a pop, questioning and that," says God. "But put someone decent on to it, like Attenborough or Dimbleby. Jeremy Bowen? Off Breakfast Time? You're 'avin' a laugh!"
Hill then goes on to spoof a gormless Bowen probing the veracity of the story of Goldilocks and the three bears.
Sitting in an office of his publisher's, overlooking Lincoln's Inn in London, Bowen responds to the comedian's impertinence. "Appalling," he says dryly. The fact that he drew attention to the clip himself and seems to know Hill's script by heart shows he can see the funny side.
Bowen, 46, even likens his appearance earlier in his career to Borat. After the incredible journey he has been on during his career, he can laugh off the mockery and the jibes at his willingness to dress up in bizarre outfits in aid of the BBC's Children in Need. A recent Daily Telegraph comment piece claimed he was "a thwarted thesp ... [who] whiles away the year in Middle East war zones, biding his time until the feverish opportunity to climb back into his Rocky Horror fishnets and swing his craggy old thighs at the cameras".
Bowen is more concerned about the opinions of the millions of BBC viewers, and users of its website, who turn to him for his interpretation of the shifts in the sand that affect the most vexing question of our times, the Middle East. He admits there is room for improvement here, and cites the continuing bafflement of viewers as a sign that there is a "perceived and quite serious flaw in our coverage".
"The Middle East is one of those areas where most people don't have any kind of hinterland. Even if they are well-informed people who take their news-watching responsibilities seriously, it's actually quite hard for people to understand. The BBC is the biggest broadcaster in the world and to be the BBC person whose role it is, more than anybody else's, to try to explain the most complex and newsworthy place in the world is a hell of a big job, really."
Not only must he demystify the Middle East, but he must do so in language that does not, through an inappropriate phrase or image, inflame suspicions that the BBC is biased. Bowen, who is a contributor to the BBC's new College of Journalism, is honest enough to say that objectivity is beyond him. "We all come from somewhere; we all have a prism through which we see the world; we all have an education, and views and experiences. It's a false objective to be objective.
"But I think I can be impartial by trying to disentangle all the threads that make up a story. That's an ambitious thing to do in two and a half minutes on TV. You have got to be aware of what your own prejudices and principles are and put them to one side in a box."
In the Middle East, words can be loaded with hidden meanings. Bowen, who lived in Jerusalem for five years, had an early taste of the consequences of getting it wrong when he referred to those bearded men who appear in the aftermath of suicide bombings to mop up every drop of blood of the victims as "zealots".
The BBC struggles to convince Israelis that it will give them a fair hearing, he acknowledges. "It's certainly the case that many Israelis and... many people in the British Jewish community regard us as, if not anti-Israel actively, then certainly pro-Palestinian. Some regard us as being actively anti-Israel and even anti-Semitic. I think it's unfortunate because it is not true. The difficulty of reporting from the Middle East is that what people really want, even if they realise you have to represent all views, is for you to come down on their side. They want you to acknowledge their victimhood and that it's not their fault. If you don't, you are on the other side. The reality is more complicated than that. I'm not a cheerleader for any side."
Bowen was never a thwarted thesp - he was born to journalism. His father Gareth reported the 1966 Aberfan coal slurry disaster for the BBC and became editor of news at Radio Wales. After reading advanced international studies at Johns Hopkins University in both Bologna and Washington DC, he thrust his foot in the door of the BBC.
Despite a series of mild setbacks, he was covering stories such as the Tottenham riots of 1985 and the Lockerbie air crash. In one of several dryly humorous references in War Stories, he recounts how he visited Berlin and had a drink with the BBC's long-standing but departing correspondent, who told him: "Nothing's going to change here. I'm fed up. I'm getting out." Two months later, the wall was torn down.
But Bowen's career didn't really start until he reached the battlefield and saw his first corpse in El Salvador in 1989. "I was still in my late twenties. I had seen dead bodies and heard shots fired in anger for the first time and I was having fun. I was starting to feel like a proper reporter."
The language he uses in his book to describe the period in his life when he was drawn to the hot spots is reminiscent of that of a recovering crack cocaine addict. Indeed, Bowen refers to "the war drug". He was "indestructible", and when he was high on danger after nearly being blown to pieces in the apocalyptic ruins of Grozny in 1995 he was "elated and out of control", "merry and hysterical". Yet, as he now realises, he was "drinking a potentially lethal cocktail from a very dangerous cup".
He explains that as a father of two young children he now chooses to distance himself from the front line. Having seen so many friends and colleagues killed on assignment, he knows his own luck is not infinite.
"You can minimise dangers and try to reduce them and be sensible, but in the end it's a numbers game; if you're in the wrong place at the wrong time, you'll die. I know that because it happened to a lot of my friends and nearly happened to me on numerous occasions."
The pivotal moment in his career - "in my life", he corrects - was the Israeli tank attack on the Mercedes car in which he and two colleagues were travelling through southern Lebanon in 2000. At the moment of the attack, Bowen and his cameramen Malek Kanaan were a short distance away doing a piece to camera. Their fixer and driver Abed Takkoush had remained in the vehicle to make a phone call to his son.
With the car in flames, the tank's machine gun prevented Bowen from going to his friend's aid. "I felt like a coward," he writes. "I decided I could not save him and that I had to save myself. The ending was not happy. Life is not a film."
After that, the thrill of war was never quite the same. Bowen suffered post-traumatic stress disorder and underwent counselling. He took the chance to work far from the firing line as a breakfast presenter, and when in 2003 the chance came up to report the Iraq invasion from Baghdad, a city he knew well, he turned it down.
Despite what he has learnt of the dangers, his attitude to young journalists who hanker for the excitement of the conflict zone is "Good luck to 'em".
"You make a name for yourself, you have some fantastic experiences, see amazing things, live on the edge - for a young person that's pretty attractive. You can go to a place where there are no rules. I used to love all that. You didn't have to worry about paying the gas bill and those mundane things. I used to take absolute pride in thinking, 'I don't know what I'm doing next week.' I felt quite superior, if truth be told, rather unattractively. I felt a bit smug and superior towards people who plan their lives."
Despite his susceptibility to the war drug, he was more truth-seeker than thrill-seeker. "Truth is the only motivation, the only rationalisation or excuse, frankly. I really felt strongly that it was necessary to look into the dark corners of the worst places. I was keen on doing it and I thought I could do it well. I still feel I could do it well actually, but I choose not to take the risks now." He's been to Lebanon, Jerusalem and Amman in the previous fortnight, but his vantage point now is the analytical "rooftop" view that he used to despise.
He is well regarded inside the BBC for his scriptwriting - he says he prefers Anglo-Saxon-rooted words to Latin ones because of their greater "urgency" - though he relies slightly less heavily on the "bang-bang" footage of war than he once did. He is well up the BBC hierarchy and doesn't need to worry any more about comments such as John Simpson's remark before the first Gulf conflict that "my dear chap, you simply must have a good war". The BBC's world affairs editor, Bowen writes, is accustomed to pulling rank ("bigfooting") on colleagues and arriving on their patch for a big story, telling one: "Think of me as the dentist. It's jolly painful to see me but it only happens a couple of times a year."
Moving to the couch on Breakfast, where he co-anchored with Sophie Raworth, helped to raise Bowen's profile and he admits that the vanity of greater public recognition played a role in his taking that job. "I was curious to see what it would be like to be a bit more recognised and it was quite a pleasant feeling, frankly. Occasionally you get upgrades on flights and nice tables in restaurants."
Popular presenting made him the butt of Harry Hill's humour - "There was a lot of contempt. Certainly if I'd have been Jeremy Bowen from Panorama he would have had a different point of view" - but he enjoyed covering the lighter end of the BBC news diet.
For a while, in fact, he preferred that subject matter to having to cover the Middle East from London, talking to correspondents on the ground who knew less than he did. "I was unhinged. I was going barmy. I was relieved when we had to cover floods in England," he says of his "cold turkey" period away from Jerusalem.
Now, he is again delivering his insights on the world's most troubled territories. His current assessment offers little reassurance. The diminishing prospect of a two-state solution in Israel means an increased risk of global crisis, he believes. "In December 1906, people didn't think 1914 was going to happen. The world was globalised by the standard of the time - there were undersea cables, telegraphs, fast ocean liners. They thought they lived in a hi-tech world. There hadn't been a really serious war for some time and it was a period of peace and technological innovation," he says. "The more I see of the instabilities of the Middle East, the more I worry that something terrible could be lying ahead of us unless we are very careful. And lucky."
Care and luck. Two things that Jeremy Bowen has - albeit belatedly - come to appreciate.
'War Stories' by Jeremy Bowen is published by Simon & Schuster at £17.99
Register for free to continue reading
Registration is a free and easy way to support our truly independent journalism
By registering, you will also enjoy limited access to Premium articles, exclusive newsletters, commenting, and virtual events with our leading journalists
Already have an account? sign in
Register for free to continue reading
Registration is a free and easy way to support our truly independent journalism
By registering, you will also enjoy limited access to Premium articles, exclusive newsletters, commenting, and virtual events with our leading journalists
Already have an account? sign in
Join our new commenting forum
Join thought-provoking conversations, follow other Independent readers and see their replies