Jimmy Savile report: BBC Director General Lord Hall's statement in full
A review by Dame Janet Smith has found there was a culture of 'reverence and fear' towards celebrities at the corporation, but there was no evidence BBC bosses were aware of the widespread sexual abuse carried out by Savile himself
Adam Withnall
Thursday 25 February 2016 12:37 Comments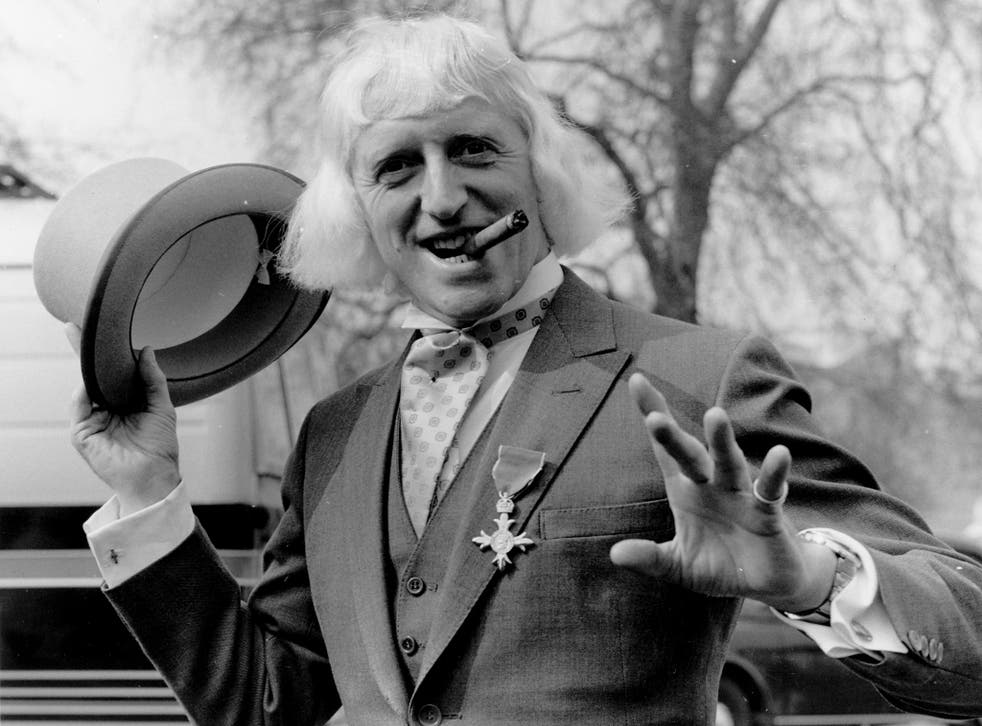 An independent review has found that BBC staff members were aware of complaints against Jimmy Savile but senior management were not informed, prompting accusations of a "whitewash" by a lawyer representing the victims.
The BBC Director General, Lord Hall, has issued a lengthy statement in response to the report. Here it is in full:
"Good morning.
I am proud to lead the BBC and I always want to think and believe the best of the organisation. But today – let us be in no doubt – we are hearing the worst.
And it is a very sobering day.
I want to start with the people who matter most – the victims, or survivors as many prefer to be known. When you read the report, almost all of them are numbers, prefaced by a letter. What we've all got to remember, though, is that every one of these is an individual with their own thoughts, their own traumas and their own terrible story they have been dealing with for so long.
So, to all the survivors of Savile and Hall, every one of you – on behalf of the BBC, I would like to say this.
What happened was profoundly wrong. It should never have started. It should certainly have been stopped. Whatever the circumstance and background to it – and clearly these reports explain this in some considerable detail – sexual abuse is sexual abuse. It can never be excused.
Whatever the issues for the BBC, they are as of nothing compared to your pain. A serial rapist and a predatory sexual abuser both hid in plain sight at the BBC for decades. It was a dark chapter in the history of the organisation, but a much darker one for all of you. The BBC failed you when it should have protected you. I am deeply sorry for the hurt caused to each and every one of you.
I also know that it cannot have been easy for you to come forward and confront the past like this. Many of you have done so for the first time. I admire your courage and am grateful for your honesty. Your voice has finally been heard but I also recognise it has been heard far, far too late.
So today we say sorry. We let you down and we know it.
We also say thank you. Your courage in speaking out lights the way for us all.
And now we must do everything possible to make sure that nothing like this ever happens again. We will learn the lessons of this dark period for ourselves and we will help share them with others.
The two reports commissioned by my predecessor have many judgements for us to reflect upon and much advice to offer. They draw conclusions and demand responses.
But the most powerful of their contents – the parts that, once read, cannot be forgotten – are the stories of the survivors themselves.
For everyone who truly wants to understand, this is the place to start. And I would urge every one of you to read those chapters.
It is all there.
The scale and nature of what they did was truly terrible.
The way Savile used his celebrity to promise access to excitement and fun and then grotesquely exploited it.
The oppressive power of his fame and his physical presence.
The sense that no one would believe a complaint. Even in their own families, survivors felt alone.
The idea that he was known as King Jimmy – there was no escape from him – and, I quote, "no one will believe you."
The idea that it was all alright because "that's Stuart Hall for you."
Another who said that, when she heard the report of Savile's death, she blurted out that she was glad he was dead and then told her husband – for the first time – that Savile had raped her.
And there was, if I may, one account that particularly stuck in my mind. One that hit me personally.
One of the survivors was told: "Keep your mouth shut, he's a VIP."
This hit me because it made it so very clear that we did that. We, the BBC, did that. Jimmy Savile committed many crimes in many places. But, uniquely, it was the BBC that made him famous. We made him a VIP.
And what this terrible episode teaches us, amongst other things, is that fame is power. A very strong form of power. And, like any form of power, it must be held to account. It must be limited. It must be scrutinised. And it wasn't.
It's too easy to say that this took place a long time ago in another time and another BBC. But we are not going to say that. The reports identify many failings.
Saying that of course all of this is in the past would be wrong. The BBC is its past as well as its future. We've taken pride and drawn strength from all we have been and all we have done. What sort of organisation would we be if we celebrated our history but failed to take responsibility for it?
Before I talk of the action we are going to take – let me add one more thing.
I note that the reports did not conclude that, in a formal sense, the BBC knew about Savile. But I take no satisfaction from that.
It seems to me that the BBC could have known. Just as powerful as the accusation "You knew", is the legitimate question: "How could you not have known?"
And much of this was down to the culture of the BBC at the time, which we must reflect on and act on. It was an organisation that was too hierarchical, too self-interested, too siloed to hear or act properly on the disturbing stories and rumours individuals had heard.
So what happens now?
This has been one of the most important inquiries in the history of this organisation. It has interviewed almost 500 people, taken nearly 3 years and cost £6.5m. It covers 1000 pages and three volumes.
And the nature of this inquiry has placed a very great responsibility on everyone to be open and frank, however painful for them personally, to help us understand and learn from what happened in the past.
I would very much like to thank Dame Janet Smith and Dame Linda Dobbs for their detailed and authoritative work.
And the best way I can do that is by undertaking the period of careful reflection and self-examination that the review recommends. Let me be clear: I accept their conclusions and recommendations in full.
And I believe it's equally important for me to say today that we have read, we have heard, we are listening and we understand.
We have read and heard how Hall and Savile abused and were able to continue their abuse because so much information was not acted upon. Dame Janet says she was struck by the amount of adverse material in the public domain.
We understand how what happened had its roots in an organisation that was too hierarchical and too self-absorbed to be able to act properly on the disturbing stories individuals had heard. It would be a brave employee who would complain – even if they'd known how to.
We realise there was a 'macho culture' – there were very few women managers back then – and critically we need to carry on the work we have been doing to get our child protection policies right.
And we can understand from these reports that our ways of communicating within the BBC were inadequate. One part of the organisation didn't talk to another. No sense then of us being "One BBC".
There was too much stress on protecting the reputation of the corporation – as opposed to protecting staff and the people coming to enjoy our shows.
And we should reflect with sorrow on the fact that although the BBC was as prone as any to the wilful blindness to sexism and sexual harassment that affected many organisations – it's even worse for us when our duty is to be better.
Let me now turn to action – to what we have been doing and what we are going to do.
Dame Janet makes one over-arching recommendation: for the BBC to review and independently audit all the policies we have in place that help people raise concerns and complaints. We will do that.
But let me also be clear: since I became Director-General, we haven't been standing still - we have made this a priority – and there is much we have done already:
· We now have a new child protection policy, shared across the industry, and a detailed procedure for complaints.
· We have child protection advisers, working together across the organisation.
· We have also put in place an improved whistle blowing policy, supported by an independent investigations unit.
· And we've brought in a wide ranging set of measures to encourage people to raise concerns about bullying and harassment – with a confidential hotline, independent experts assigned to cases and a service to allow mediation to take place wherever possible.
We've also wanted to make sure that these changes were achieving what we wanted them to do. So, in March 2014, we asked some external and independent experts - the GoodCorporation - to audit our policies, to make sure they were fit for purpose and to recommend improvements.
They found that the BBC has strong child protection policies in place and that our whistle blowing policy ranks well compared to other organisations. But they also made 53 recommendations for improvement. Of those, 51 are now complete, one is underway and in one case we have agreed to take forward what needs to be done in a different way.
So there are many things we have done, and there are many more things we will have to do. Because we must never be complacent.
We will, as Dame Janet recommends, review all our policies and procedures in light of her report, and that of Dame Linda.
I have asked Anne Bulford, the BBC's Managing Director of Finance and Operations to lead this work, reporting to me. That work will identify any areas where we need to do more.
I am committed – we are all committed – to creating a more open BBC where everyone has the confidence to raise issues and believe that something will be done about them.
I want the BBC to be a great place to work, a place where people come to do the best work of their lives.
Anne's work will help us make sure that is the case. And we will publish our progress in full, in July, alongside our Annual Report.
But there are some things we can commit to today.
On whistle blowing, we will launch a campaign to do more to raise the awareness of staff to what they can do – and must do – and also where they can turn to for help.
On child protection, we will work with the NSPCC to get their advice on how to help us build on what we are currently doing.
And we will, as Dame Janet asks, commission another independent audit to assess our progress, to test our systems and to see how our policies are operating in practice. This work will report in the autumn and – whatever recommendations are made – we will carry them out.
But I also want to make a further commitment. I want the BBC to do more as a programme maker – following on from the fine work done in this area in the past by Dame Esther Rantzen with Childline. We will, for example, work with the National Association for People Abused in Childhood, NAPAC, to raise awareness of the issues surrounding abuse.
On BBC One we have already commissioned a documentary called "The Abused". This gives the opportunity for many survivors who came forward as part of Operation Yewtree to share what happened to them. I want us to be a forum for a national debate about child abuse and about how we can do more to support survivors.
For me, reflecting on both these reports, the importance of getting the culture right in our organisation is key.
When I came back to the BBC three years ago, at a time of crisis – this crisis – I could see that we needed to change. I visited teams from all over the UK who told me how proud they were to work for the BBC. How committed they are to the BBC. But, they told me that we needed to change.
We have changed, we are changing. But we have more to do.
Dame Janet says we should look carefully at three areas – a lack of cohesion in the BBC, the hierarchical nature of the management structure, and our attitudes toward 'the talent'. These are all crucial issues – ones we are thinking about already and which we will push forward on in the coming months.
We are, for a start, building a simpler BBC with fewer divisions, fewer boards and fewer layers between the top of the organisation and the frontline.
With senior leaders who are more visible, accountable and approachable.
Where we work together as one team – for one BBC.
With management that's enabling and supports creativity. Management that demonstrates zero tolerance of bullying and harassment.
Where the values that all of us who work here believe in – are the values we live, day by day.
And where everyone feels able to speak truth to power.
These two reports tell me that the process we've begun of reforming this organisation must continue.
And, as is well known, I am already looking at the future shape of the BBC and I will have more to say next month.
Jimmy Savile: Life in pictures

Show all 15
I want this to help managers take more responsibility for their actions, and also to ensure the BBC is less hierarchical, less siloed. One BBC.
We'll be helped by our Senior Independent Director, Dame Fiona Reynolds, who I've asked to advise us on this important work, to ensure we live the values we believe in.
Finally, I want to share Dame Janet Smith's reflection when she handed me her final report. One of her aims has been to paint a vivid picture of Jimmy Savile so we can all understand his modus operandi, which will help us learn lessons for the future.
Part of that goes to the persona that Savile created, and that the BBC contributed to, that he was the nation's favourite uncle making children's wishes come true and doing a great deal for charity.
But just as chilling is what we see about how people responded to this persona, how they accepted it and how they failed to take steps to question it.
And we must take note of Dame Janet's final words. She says that "no organisation can be completely confident that it does not harbour a child abuser. Child sex abusers can be highly intelligent, articulate and charismatic but manipulative people."
That's why the biggest lesson for me is that we all have to be eternally vigilant.
In conclusion I would like to say this to the survivors of Savile and Hall.
You have shown extraordinary courage in coming forward and telling us all what you went through. We are determined to honour your courage.
We will learn the lessons from these terrible times.
We will confront the issues head on.
We will continue to address them in an open and honest way.
And we will be there for you.
So over time the BBC can be a stronger and better organisation.
And we can help bring some closure to this dark chapter.
That is the very least we owe to you."
Register for free to continue reading
Registration is a free and easy way to support our truly independent journalism
By registering, you will also enjoy limited access to Premium articles, exclusive newsletters, commenting, and virtual events with our leading journalists
Already have an account? sign in
Join our new commenting forum
Join thought-provoking conversations, follow other Independent readers and see their replies