Meet the BBC's guest editor (and other accidental heroes)
It was a moment of pure TV gold. When Guy Goma sat in the BBC's reception, he was waiting for a job interview. Minutes later he was broadcasting live to the nation, a hapless victim of mistaken identity. Here we salute those who, without ever meaning to, stumbled into the limelight - and brightened our lives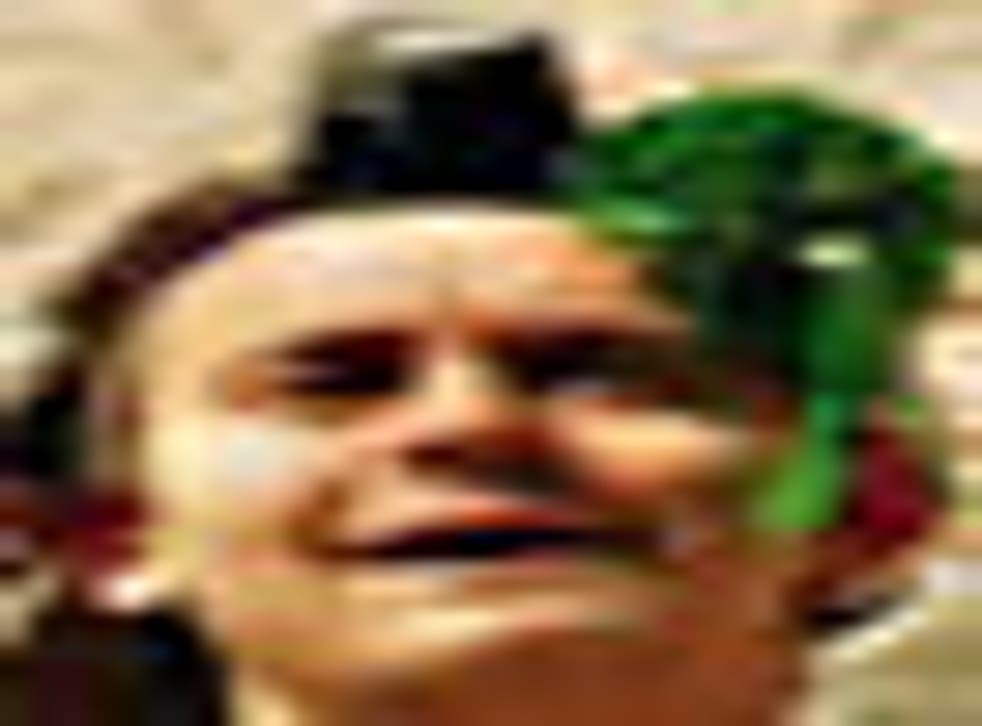 Guy Goma
One minute you're sitting in a reception area, then some bossy woman stands in front of you saying: "Come with me." The next thing you know, you're being led through a Kafkaesque nightmare of corridors. Perhaps he should have smelt a rat when they sat him in a chair and began applying make-up but, as he said: "I thought it was part of the job interview."
The story of Mr Goma is not one of stupidity. A cab driver who moved to England from the Congo in 2002, Mr Goma was at BBC TV Centre for an interview; he had hopes of becoming an IT assistant. He couldn't have known that the chap on the sofa nearby - also called Guy, in this case, Kewney - was an IT consultant waiting to go on live TV and be interviewed about the Apple vs Apple dispute. So when somebody said to Mr Goma, "Guy is it? About the IT thing?" he went along with it.
Viewers of the most-watched TV interchange in months - hundreds of thousands of people have now viewed the clip online - have reacted with a mixture of delight and sympathy at the key moment when the BBC's Karen Bowerman introduces Goma as "Guy Kewney, head of newswireless.net". Across his expressive face flit a dozen expressions in a second - mainly shock, fear, guilt, remorse, embarrassment - and guile as he wonders what to do next. But in the television age, you just keep going.
Ms Bowerman asked: "Do you think now more people will be downloading online?" to which she received the pithy reply: "Actually if you can walk everywhere you are going to see a lot of people downloading the internet and the website and everything they want. But I think it is much better for development to inform people what they want and to get the easy way and so faster if they are looking for it." After this the item was brought to a close.
The clip was posted on the internet and Mr Goma is now expected to make a fortune as an instant celebrity. "If he got himself a good agent, he could certainly have a good couple of months," said Max Clifford, hopefully. "If someone was creative, it could turn into a quarter of a million pounds this year."
John Walsh
Ed Devlin
Although reality television, as a genre, is still in its adolescence, the medium is already littered with the forgettable stories of those who try, and fail, to change their lives. But in 2001, a burger-flipper from Gateshead called Ed Devlin captured the imagination of the nation - or, at least, those who were watching Channel 4 one night at 9pm - with his humanity, humour and talent.
Faking It viewers witnessed Devlin's transformation, under the tutelage of Gordon Ramsay, from a grease-sodden snack-man to a producer of exquisite seared red mullet good enough to fool a trio of industry experts. It was a conversion Devlin was, at first, unwilling to undertake.
"It's like hell," he said. "I'm glad I don't have to live in his head. What's worse than death? Being Gordon Ramsay for the rest of your life."
But once Devlin had overcome his difficulties with the ranting, raving nature of the professional kitchen and his mentor, he soon warmed to his task. And, such was his skill in the final test - where he served his now famous red mullet followed by duck and then chocolate fondant - that the trio of judges declared his meal a "triumph".
Devlin had the chance, after his appearance on Faking It, to become a chef in his own right. David Laris, another of his trainers, offered him a job as a trainee chef at Mezzo, the restaurant where he works, but Devlin declined. He has returned to his original job, flipping burgers in the North-east, and only his friends are now in the enviable position of tasting his haute cuisine.
"I don't think I could cope with that environment day in and day out," Devlin admitted. "You're either cut out for it or your not."
Devlin may not have been cut out for life as a big time chef, but, for a few fleeting weeks, he made a convincing impression of someone who most certainly was.
Ed Caesar
Sarah Nelmes
According to Voltaire, at the end of the 18th century, 60 per cent of people caught smallpox and 20 per cent died from it. Whatever the exact figures, one thing is sure - smallpox was one of the biggest killers in Europe, and even those who survived the disease were left horribly disfigured.
So imagine the triumph when Edward Jenner, a rural British physician, made a discovery that would go a long way to eradicating smallpox for ever. And imagine his gratitude to the unintentional heroine of the piece - a milkmaid called Sarah Nelmes.
Jenner had heard tales that sounded promising - milkmaids never seemed to contract smallpox. The thinking was, that due to their continual proximity to cattle, and hence cowpox, milkmaids became immune to the deadlier virus.
In fact, some years before, a Dorset farmer had tried something similar. During the smallpox epidemic of 1774, Benjamin Jesty had, using a rudimentary version of the technique Jenner would employ, induced immunity in his wife and two children by exposing them to cowpox.
Jenner knew none of this when he decided to test his theories by scraping the cowpox lesions on a young milkmaid and injecting the material into an eight-year-old boy, James Phipps. Phipps, as expected, went on to develop cowpox but, when Jenner injected him with smallpox some weeks later, he was unaffected.
In 1798, Jenner published his results to the Royal Society and medical history was made. But none of it would have been possible without the pox-ridden sores of a girl called Sarah Nelmes. Phipps, too, played his part - but the award for best accidental hero in a supporting role goes to the source of all this lesion-producing nastiness: a cow called Blossom.
EC
Swampy
The A30 is not a place where many have made their name. But then Swampy never was one to follow the crowd. In 1997, the environmental protester (real name Daniel Hooper) became a celebrity when he retreated to a warren-like complex of tunnels underneath a proposed extension to the A-road between Exeter and Honiton. The police eventually unearthed Swampy's fellow protesters, but he continued to evade them for seven days.
After emerging to the glare of the sun and the TV cameras, he went on to become something of a figurehead for environmental extremism in the UK, appearing on the satirical news quiz Have I Got News For You, and, later, taking a leading role in the Manchester Airport protests.
But the dreadlocked earth monkey's love affair with the media was short-lived. The tabloids soon discovered that Swampy had decidedly middle-class parents from Buckinghamshire. His mother, Jill Hooper, said that she had opened a bottle of champagne when she heard the news that he had emerged safely from his hole in the ground - hardly the image of a stalwart eco-warrior.
As the newspapers began to investigate Swampy's past, the protester, as it were, went underground once more. He now refuses to talk to the media, although there are reports that he has become a father, and is still occasionally seen at the odd environmental rally. Even in his absence, Swampy remains something of a hate figure for the establishment. After a Greenpeace demonstration at the International Petroleum Exchange on 16 February 2005, one trader was heard to remark: "Sod off Swampy!" The trader's outburst is now a popular T-Shirt slogan.
EC
Derek Bond
When Guy Goma was assumed to be Guy Kewney, it led to nothing more than an embarrassing few minutes in front of the TV cameras. But for a 72-year-old grandfather from Bristol, the consequences of being a victim of mistaken identity were a lot more serious.
Derek Bond and his wife were on holiday in South Africa in early 2003 when he was arrested on the orders of the FBI on suspicion that he was Derek Lloyd Sykes, who was on its most-wanted list, accused of a telemarketing fraud. He was questioned for several hours but released, only to be held a few days later in a holiday village.
Bond, a charity worker and Rotarian, bore a resemblance to the police photograph of Sykes posted on the Interpol website. Both men wore glasses, and they shared the same birth date, but there were discrepancies in hair colour and height. While Sykes was said to have worn a toupee, Bond had receding hair.
After spending two weeks in a cell in a Durban police station - where he slept on the floor, had no electricity and had only a crossword for company - Bond was freed because of the publicity surrounding the case. The circulation of a picture of Sykes led to the arrest of a man of that name in Las Vegas. Bond later returned to his holiday destination, having accepted a free holiday from the KwaZulu-Natal tourist board.
He sought compensation from the United States - which, his solicitor said, had pledged it - but in 2005, Derek Bond learnt that none would be forthcoming.
Simon O'Hagan
Jason McElwain
It was a scene straight out of a Kevin Costner movie. At Greece Athena High School in Rochester, New York, an autistic teenager called Jason McElwain was allowed to hang out with the basketball team. He was passionate about the game, his dreams were full of hoops and slam-dunks, but his disability debarred him from being taken seriously as a player. The coach, Jim Johnson, allowed him to be "manager" so he could sit on the bench and wear the team jersey. Like a mascot.
During the last game of the season, Greece Athena were ahead and Johnson thought it would do no harm to let the disabled kid go on: he could hardly screw it up with just minutes to go. In fact, McElwain went bananas. He sank a three-point ball. Then another one. And another. The opposition looked on in amazement. His own team regarded him in wonder as he slammed in six winners in a row, then a two-point shot. When the fusillade was over, he'd scored 20 points in three minutes. The audience was in uproar. His team-mates carried him off the court.
A video of the event was put on the internet, picked up by CBS and beamed coast to coast, until the entire continent was watching the kid from Rochester who'd become the new all-American sports sensation. Inevitably, President Bush came a-calling for a photo-shoot with the boy. His mother, though, produced the most moving tribute: "This is the first moment Jason has ever succeeded [and could be] proud of himself. I look at autism as the Berlin Wall - and now he's cracked it."
A film of his exploits is now in production...
JW
Walter Wolfgang
Walter Wolfgang is an unlikely terrorist. An 83-year-old lifelong Labour activist whose German-Jewish family sent him to Britain to escape the Nazis in 1937, Wolfgang was the author of unremarkable political tracts such as 1956's "Tho' Cowards Flinch". Indeed, until the Labour Party Conference of 2005, Wolfgang was little more than a footnote in his party's history.
But all that changed when, during Jack Straw's speech in defence of the Iraq occupation, Wolfgang had the temerity to shout "Nonsense!" Despite his outburst's accuracy and concision, several security guardsbundled the frail old man out of the auditorium, confiscated his conference pass, and held him, briefly, under Section 44 of the Terrorism Act. And all in front of a national television crew.
The incident provoked a furore. The Labour Party, aware of itscostly PR own-goal, apologised for its "heavy-handedness". Tony Blair went even further, providing a "personal" apology on Radio 4's Today programme. Wolfgang's pass was returned to him the next day.
When Wolfgang reappeared for the rest of the conference, he did so to a hero's welcome. Parts of the Labour Party and anti-war sections of the media embraced him, and his plight was even championed on the front page of a national newspaper.
"When you have an international debate that does not deal adequately with the international issues of the day," explained Wolfgang, "the least you can do, if someone is talking nonsense, is say so."
EC
Ali Dia
In the Guy Goma story, the person who was really left with egg on their face was the BBC News 24 presenter Karen Bowerman. Football manager Graeme Souness knows exactly how she must feel.
Ten years ago, when Souness was the manager of Southampton, he had a player recommended to him called Ali Dia. As the recommendation was supposed to have come from Liberian great George Weah, who was then World and European footballer of the year and the star striker for AC Milan, Souness decided to give the player a try-out.
Ali Dia's new team-mates noticed that he was strangely reluctant to exert himself in training, but no one made a big issue of the fact. Weah wouldn't have recommended a dud, would he? And anyway, it was reasoned, Dia hadn't been at the club very long and was probably still acclimatising to the way the game was played in Europe.
Souness put Dia on the bench for a Premiership match against Leeds United. His chance came after half an hour when star player Matt Le Tissier was injured. Within seconds, Dia had a first opportunity for glory, with time and space to score from all of 12 yards. He kicked the ball straight at the goalkeeper. Come the second half it was obvious that Dia was completely out of his depth, and the substitute was substituted.
Further research revealed that Dia was a 30-year-old amateur from Senegal. He didn't set out to dupe Southampton, he was simply hoping to get a few games somewhere. He also claimed not to have realised his contact was passing himself off as Weah. Dia ended up taking a business degree iat the University of Northumbria, graduating in 2001.
Nick Harris
Jessica Lynch
Jessica Lynch never wanted to be an all-American hero, but America didn't listen. In 2003, when Lynch was a 19-year-old supply clerk with the 507th Maintenance Company, she was captured by Ba'athists near Nasiriyah in Iraq. Nine US soldiers were killed in the ambush.
A little over a week later, Lynch was rescued. It was the first reported successful rescue of a US prisoner of war since the Second World War, and the first ever of a female American soldier.
On her return, Lynch claimed she was being manipulated by the media, operating under the orders of the US government."They used me to symbolise all this stuff," she said. "I don't know why they filmed [my rescue] or why they say these things... I did not shoot, not a round. I went down praying to my knees. And that's the last I remember." Lynch also stated that, contrary to reports, she had been well treated by her Iraqi captors, a position since corroborated by foreign journalists.
To make matters worse, in November 2003 the pornographer Larry Flynt said that he had bought "fully nude" pictures of Lynch from fellow soldiers. Ultimately, Flynt decided not to publish them, deciding that Lynch was a "good kid". For Lynch, who had never sought the limelight, it was conclusive proof that being a hero was much more trouble than it was worth.
EC
The Tamworth Two
They were actually a brother and sister and only five months old, but that didn't stop the media calling them "Butch" and "Sundance" as the brace of Tamworth Ginger pigs evaded capture, outran the law and stole the hearts of the nation for a whole month in early 1998.
Butch was a sow and Sundance a boar and they weren't supposed to live very long in the leafy environs of Malmesbury, Wiltshire. On 8 January, their owner, Arnoldo Dijulio, took them in a lorry to the local Malmesbury abattoir, V&G Newman's. When they were unloaded from the truck, some sixth sense registered in their porcine cerebella that they were too young (and too pretty) to die, and they suddenly legged it.
They squeezed through a fence, bravely swam across the river Avon (their first experience of swimming) and took off into the fields and the dense woodland around Tetbury Hill. As police and farm hands searched for them, the story in all its full anthropomorphic glory broke in the papers and on TV.
"Butch" and "Sundance" became hot news in America and even Japan. Viewers were appalled to learn that the pigs' heartless owner, Mr Dijulio, planned to reduce them to pork chops the minute they were caught, no matter how adorable their adventures. A full-scale rescue mission began.
Reporters from Tokyo to Texas arrived to cover the story, while the UK newspaper offered Dijulio money to save the pigs. Questions were even asked in the House of Commons, when the Home Office minister George Howarth said there were striking similarities between the pigs' predicament and that of the Conservative Party.
After a week of careless freedom, the pigs were seen rootling for scraps in the garden of a Mr and Mrs Clark. Butch was captured. Sundance escaped. The next day he was cornered in a thicket and shot with a tranquiliser gun. Bizarrely, a tabloid newspaper bought the pigs from their owner in return for exclusive rights to their (five-month) life story. Eight years later, they're still going strong, living happily together in a Rare Breeds Farm in Ashford, Kent, probably still bragging to their bored neighbours about their great escape.
Their adventures have been dramatised as The Legend of the Tamworth Two, broadcast on Easter Monday 2004 with Kevin Whatley as the pigs' evil owner, renamed Wolf. The film used real pigs, their actions enhanced by computer technology.
The executive producer Sally Woodward rhapsodised about "how the story of Butch and Sundance became a legend, of how Britain once again took the underdog to their hearts - or in this instance, the under-pig - and in the process briefly made them the most famous fugitives in the world."
JW
Diana Gould
It was 1983 and the run-up to the general election. In the Nationwide studio at BBC TV Centre, Sue Lawley was hosting a live phone-in with Prime Minister Margaret Thatcher, who was confidently looking forward to a second term of office for the Conservatives.
Then Diana Gould, a 58-year-old geography teacher from Cirencester, Gloucestershire, came on the air. Her disembodied voice asked: "Mrs Thatcher, why, when the Belgrano, the Argentinian battleship, was outside the exclusion zone and actually sailing away from the Falklands, why did you give the orders to sink it?"
Thatcher replied: "But it was not sailing away from the Falklands. It was in an area which was a danger to our ships."
Revealing a geography teacher's precision, Gould persisted. "It was on a bearing of 280 and it was already west of the Falklands, so I cannot see how you can say it was not sailing away from the Falklands.
"When it was sunk," said Thatcher, "It was a danger to our ships."
"No," said Gould firmly, "You just said at the beginning of your answer that it was not sailing away from the Falklands, and I am asking you to correct that statement."
Rattled, Thatcher blustered about the exclusion zone, but Gould came back with the "north of West" bearing and would not let it drop until Gould was faded out. She became an overnight heroine: the woman who stood up to Thatcher, virtually accusing her of a war crime. Thatcher was furious and relations between government and the BBC were soured through the 1980s.
JW
Join our new commenting forum
Join thought-provoking conversations, follow other Independent readers and see their replies