HuffPost Arabi: Arabic version of site promises to give a voice to bloggers in the Middle East
Arianna Huffington says site will put 'rise of Isis and extremism' into context
Adam Sherwin
Monday 27 July 2015 18:55 Comments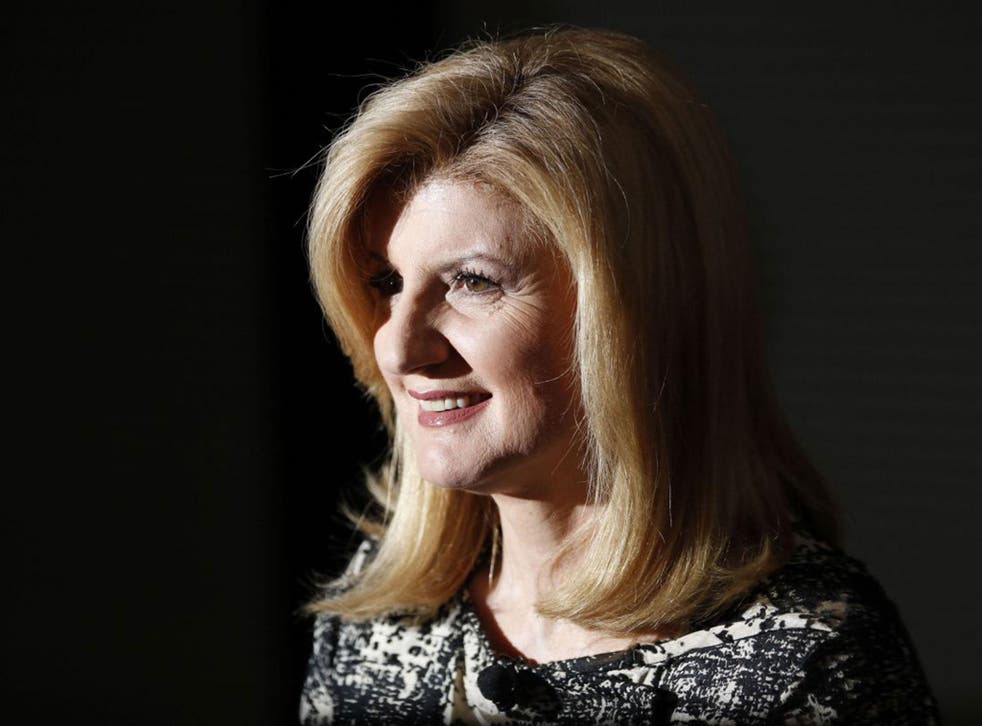 A new Arabic language edition of the Huffington Post will give a voice to bloggers from across the region - including those who might succumb to the message of Isis - the platform's founder Arianna Huffington promised.
Launched on Tuesday, HuffPost Arabi is the 14th international edition of the blogging platform, which has close to 100m global monthly unique visitors.
HuffPost Arabi is a joint venture between Ms Huffington, who founded the Post in 2005 and Wadah Khanfar, a former director-general of the Al Jazeera television news network.
Ms Huffington said the Arab-language platform would be open to "anyone with something to say - from politicians and business leaders to activists and students."
The new site, which could challenge the BBC, Al Jazeera and other regional news providers, will put the "devastating rise of Isis, extremism, and sectarian and ethnic tensions" into context, she promised.
But the content will also stretch from "politics and religion to cooking, poetry, recipes and personal stories."
Targeting an audience of 300m, the site, which has its editorial base in London, will give voice to a population disillusioned since the Arab Spring uprisings. Just 38% of Arab young people believe that the Arab World is better off, down from 72 percent in 2012, a poll quoted by Ms Huffington found.
Would Arabi publish a blog by a British girl who has run off to Syria to join Isis?
Mr Khanfar said: "Of course, you have to. It would be an interesting story to share her views so people could correct them and engage in a debate. It is part of a healthy society to share these views."
Ms Huffington agreed, adding: "The discussion about Isis often asks why are they so much better at using social media. We have to make sure we use social media to engage in every aspect of the Arab world. Our goal with Arabi is to go beyond the obvious reporting of violence and an inventory of who has died."
"We want to present the Arab world from the inside out. So much of the Western perception is looking from the outside in."
Ms Huffington chose London as Arabi's base to avoid legal threats from regimes in the region opposed to free speech.
Saudi blogger Raif Badawi was given a 10-year sentence and 1,000 lashes for speaking out about secular liberalism.
Mr Khanfar said the Post would use its global editions to fight the cause of any contributors who faced a backlash from repressive governments.
Ms Huffington said Arabi's news and views would sit easily alongside the more salacious Kim Kardashian-based content which attracts millions of Western views to the AOL-owned business.
She said: "HuffPo everywhere is a mixture of the highbrow and lowbrow. We're going to do stories about Arab entertainment too."
The platform aims to educate Western readers too. "Even people in Governments don't know the history of the region - like George Bush who invaded Iraq without knowing the difference between Sunni and Shia," Ms Huffington said.
Claiming to be the first-of-it's-kind online news site for the entire Arab world, Arabi will showcase the "untapped potential" of a region associated with conflict, devoting a special section to "solutions" which have benefited people in the region.
The launch contributors include Queen Rania of Jordan on the importance of increasing the Arabic footprint online; Syrian screenwriter Hakam Al Baba on post-Arab Spring confusion; Ali al-Dhafiri, a writer and television personality from Saudi Arabia, writing on Iran's ever-changing relationship with the region and students from Egypt, Sudan, and Jordan.
The platform will also feature a dozen Arab YouTube stars, including young Jordanian stand-up comedian Abu Al Ghoor talking about urban legends and superstitions and a Saudi cartoonist and filmmaker, Malek Najar, discussing social issues in Saudi society through cartoons.
Huffington Post is now preparing to launch a dedicated Chinese platform, its founder said.
Register for free to continue reading
Registration is a free and easy way to support our truly independent journalism
By registering, you will also enjoy limited access to Premium articles, exclusive newsletters, commenting, and virtual events with our leading journalists
Already have an account? sign in
Join our new commenting forum
Join thought-provoking conversations, follow other Independent readers and see their replies