Journalism's next generation: A new wave of writers are going online to get their message across
High-quality reporting is flourishing outside traditional newsrooms.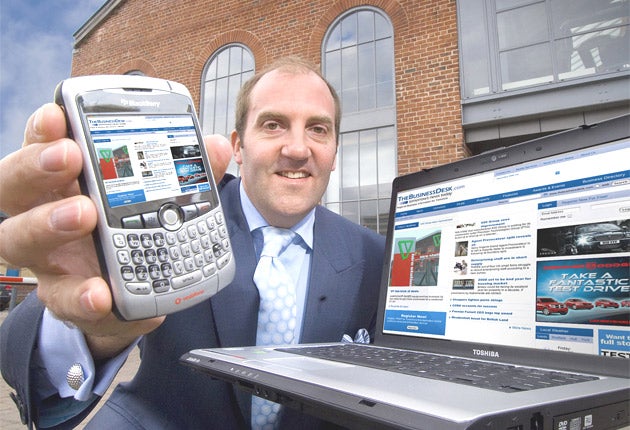 Being the former dance critic of the The Daily Telegraph didn't make it any easier for Ismene Brown to learn business skills on the hoof. Brown's qualifications were her training as a pianist and viola player at the Royal College of Music, but as one of the founders of Theartsdesk.com she has had to find a new role as an entrepreneur.
In so doing, Brown and a number of other former professional print journalists are transforming the online landscape in Britain, creating a network of expertly written websites that cater for the specialist audiences that are arguably no longer being served as they once were by more traditional media organisations.
Brown wasn't expecting to have to do this. She was one of a raft of Telegraph colleagues who fell victim to a round of redundancies a little more than a year ago. She is now part of a team of 30 core writers who bring 2,000 users a day to the Arts Desk site, where yesterday her review of the Birmingham Royal Ballet at the London Coliseum sat alongside an interview with Barrie Keeffe, writer of The Long Good Friday. The site already has significant investment behind it, and is about to begin a marketing push which it is hoped will increase its audience from 60,000 visitors a month to 150,000 by the time it celebrates its first anniversary in September.
A similarly titled venture, The Business Desk, began last year in Yorkshire as the idea of the former Yorkshire Post business editor David Parkin and has mushroomed to include sister sites based in Manchester and Birmingham. Last month The Business Desk launched an iPhone app, which already has 1,000 downloads. Meanwhile two former Sunday Times travel writers, Mark Hodson and David Wickers, have founded 101holidays.co.uk, moving beyond the user-generated reviews of many travel sites to offer the kind of quality writing that is the product of four decades of exploring the world for a living. Just over a year after launch, 101 Holidays has a spin-off site, 101 Short Breaks, and is about to unveil 101 Honeymoons.
All this is long overdue. In America, entre- preneurially driven online journalism – that which exists outside of the established news brands – is light years ahead of what has so far emerged in Britain. Most famous is Arianna Huffington's news site Huffington Post, which six months ago sailed past The Washington Post and Los Angeles Times in terms of unique visitors, and is now rolling out a series of city-based HuffPo sites across the US.
Other online American journalism sites sit among the rest of the media furniture like favourite old armchairs. News and culture site Slate was founded by former New Republic editor Michael Kinsley way back in 1996. Londoner Nick Denton's New York-based Gawker Media empire is seven years old, incorporating 10 weblogs – from fashion-led Jezebel to tech-specialist Gizmodo.
In Britain the garden is nothing like so mature. Some of the more notable journalism sites have been bought by established publishing houses. The news-magazine website The First Post is part of Felix Dennis's Dennis Publishing, and the decade-old entertainment site Digital Spy, set up by 16-year-old schoolboy Neil Wilkes, is now owned by Elle publisher Hachette Filipacchi. But nothing here has anything like the presence of Tina Brown's Daily Beast in New York, which reached some 3.9 million monthly users by its first anniversary.
All of this may be about to change as scores of British journalists, laid off by newspapers or denied the commissions previously available to freelance writers, seek to work online. "The internet can be a place for dilettantes, fools and oddballs," says Brown, 55. "But it is also an incredibly convenient place to introduce all sorts of educative and informative links. We thought we could put out better quality work on the web than we had in print." The Arts Desk journalists were invigorated by the realisation they would be unconstrained by limits on words, or demands from editors that they pursue particular angles. They formed a collective that included such names as the Fleet Street veteran Jasper Rees, the music writer Adam Sweeting, the film critic Sheila Johnston and the classical music specialist David Nice. A dummy was produced and presented to arts organisations. "They said nobody has done this before, it is green fields," recalls Brown. "They would back us in principle but we had to prove we would finish what we had started."
It helped that the project received enthusiastic support from web design company 3B Digital, and money was saved by using Google open-source software. The site launched in September with private investment, but Brown points out that all the journalists involved have a huge stake in the success of the business. "We have all put our futures on the line, we need to have that returned, or every bit of effort has been wasted. We would have stopped long ago if we thought there were no legs in this."
The gamble for those that once made their living merely by crafting sentences is made greater by the uncertainties of a business environment that changes almost daily. From Rupert Murdoch's plans for online pay-walls to Steve Jobs's iPad, the big plays by the moguls have major effects for journalist entrepreneurs down the food chain. Brown, though, believes she is onto something. The Arts Desk aims to have reviews on its site by 2am, straight after a show, whereas newspaper critics may not see their work published until much later. "It is cold potatoes by then," she says scornfully.
The site is now drawing advertising from the South Bank Centre, the O2 and London theatres. It has hired a specialist digital publisher, Kevin Madden, who formerly worked for Dennis on The First Post.
Brown is confident The Arts Desk has a long future. "There's always going to be arts, and there's always going to be a need for criticism and a place for people who want to share opinions," she says. "But you do have to keep your pecker up."
Hodson and Wickers founded 101 Holidays at the start of last year after becoming convinced that users of travel websites were being given an excess of choice and information. "We came up with the idea of curation," says Hodson. "Between us, we had 40 years of writing for the Sunday Times travel section and we have lots of knowledge of places, resorts and travel companies that we trust. We thought we would come up with 101 ideas for great holidays we felt we could recommend."
It is a widely held view that the internet has made writers of everyone. Whether we prodigiously blog or just contribute to message boards, we all like to think that we can make a pithy observation. That shouldn't mean the specialist correspondent cannot have a greater resonance. "One of the core principles of our site is expert recommendation," says Hodson. "User reviews are great for search- engine optimisation and they are free copy. But some people don't like user reviews because they don't know who to trust. We are trying to say 'Believe us' because we have been to all these places." They have hired Jane Anderson, former travel editor of You & Your Wedding magazine, to run 101 Honeymoons, on the basis that "she has literally been on hundreds of honeymoons".
The holiday companies whose tours are recommended pay 101 an annual fee. Some may ask whether such a model risks compromising the editorial integrity of the site, but renewal payments indicate that the business is working and the fact that it has such a small cost base means that it is already in profit. Hodson believes such entrepreneurial measures are essential for travel journalists, when newspapers are handing commissions to celebrity holidaymakers or sending staff writers on freebies. "There's a danger that a whole generation of travel writers with a tremendous knowledge of destinations is going to be lost," he says.
The former Metro writer James Ellis, 42, has set up Traverati.com with two travel journalist colleagues, Kieran Meeke and Catherine Quinn, and a private backer. "The idea is to appeal to that elusive band of people that advertisers want – young, urban professionals with a sense of adventure," says Ellis. Traverati will further mark itself out by producing content themed to a particular country. A Kenyan special, featuring unusual expeditions such as safaris by camel, has attracted financial support from the country's tourist board and business organisations.
But if any of these entrepreneurial adventures are to thrive it should be The Business Desk. Parkin, along with colleagues Ian Reeves, the former editor of The Birmingham Post, and Chris Barry, the former business editor of the Manchester Evening News, ought to know their way around a balance sheet by now. Their secret is to be at work early in order to analyse the stock- market performances of local companies in time to send an 8.30am email to the smart phones of their 36,000 registered users. "You wouldn't get that information from a local paper until the following morning," says Parkin. "Our catch line is 'Tomorrow's news today'."
Smart marketing is key. The Business Desk has been careful to reject down-market advertising to protect its own reputation. "We were clear that we wanted to work with the best brands, and we prepared to play the long game to do it." Jaguar and the Flybe airline have since come on board. For Britain's journalists, writing is now only the start.
Join our commenting forum
Join thought-provoking conversations, follow other Independent readers and see their replies