Murdoch blasts search engine 'kleptomaniacs'
News providers say their content is being exploited by Google and Yahoo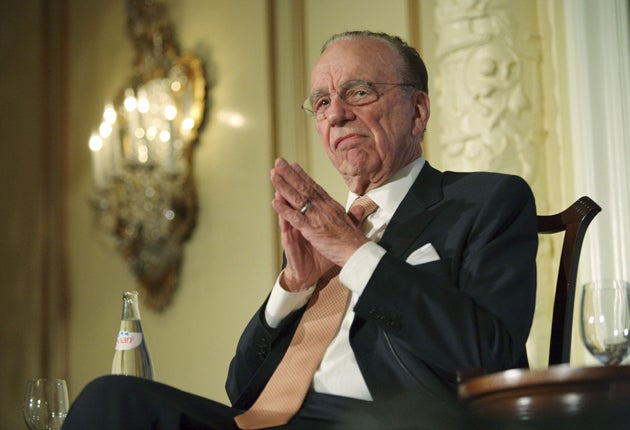 Rupert Murdoch fired the latest salvo in the war of words between news providers and internet search engines yesterday, describing the likes of Google and Yahoo as "content kleptomaniacs" and promising to charge them for using his company's content.
Speaking to delegates at the World Media Summit in Beijing, Mr Murdoch said that search engines and other websites that use free content published by his sprawling News Corporation, which includes The Times and The Sun, would soon be charged for doing so.
"The aggregators and plagiarists will soon have to pay a price for the co-opting of our content," said Mr Murdoch.
"If we do not take advantage of the current movement toward paid content, it will be the content creators – the people in this hall – who will pay the ultimate price and the content kleptomaniacs who triumph."
Other News Corporation executives have recently described search engines as "vampires" and "tapeworms". News providers argue that Google and the other search engines use content for their aggregated news service, which many consumers read instead of clicking through to the full story on a newspaper website. This, they argue, limits online traffic and reduces their appeal to advertisers who are increasingly seeking online exposure.
Mr Murdoch's comments were echoed by other media executives. Tom Curley, head of the US news agency Associated Press, said that news providers were being "exploited" by search engine groups, adding that media organisations needed to "decisively act to take back control of our content".
"We will no longer tolerate the disconnect between people who devote themselves – at great human and economic cost – to gathering news of public interest and those who profit from it without supporting it," he said. Gavin O'Reilly, chief executive of Independent News & Media, which publishes The Independent and The Independent on Sunday, also backed Mr Murdoch's efforts to force search engines to pay for content, and pointed out that organisations like the World Association of Newspapers (WAN) had already lobbied to protect publishers' rights.
Mr O'Reilly highlighted the role of Acap, an industry-wide, non-proprietary tool that allows publishers to register copyright on content that appears on the internet.
"INM is very supportive of this policy and has worked – through my presidency of WAN and chairmanship of Acap – to launch Acap to give publishers the tools that allow them to protect their copyright and enhance their ability to monetise."
Google and Yahoo rubbished the suggestion that they should pay for online newspaper content, pointing out that they already abide by existing agreements and that by carrying story headlines they were encouraging readers to click through to a newspaper website.
"We encourage initiatives that aim to help search engines and web publishers work better together, but it's important that such initiatives work for the entire web, meaning millions of web publishers. We think Acap presents major problems for end users and the web as a whole such as facilitating spam and phishing," said Google.
"As such, Google cannot honour it in its current form. Together with other search engines, we are in constant contact with newspaper publishers worldwide and are likewise happy to continue talking on Acap."
One industry analyst, who preferred not to be named, said: "If anything, the newspapers should be paying Google and the rest of them for carrying the index of the stories in the first place." Yahoo declined to comment.
The debate over search engines' use of newspaper copy follows several bitter exchanges over issues such as paid-for content and online books.
Join our commenting forum
Join thought-provoking conversations, follow other Independent readers and see their replies