New spoof-soap 'Thamesmeerd' is drawing audiences online: What are the ingredients for the perfect soap?
One of the show's stars, Rhodri Marsden, runs through the sitcom rulebook, Post-It notes in hand
Rhodri Marsden
Tuesday 23 February 2016 20:25 Comments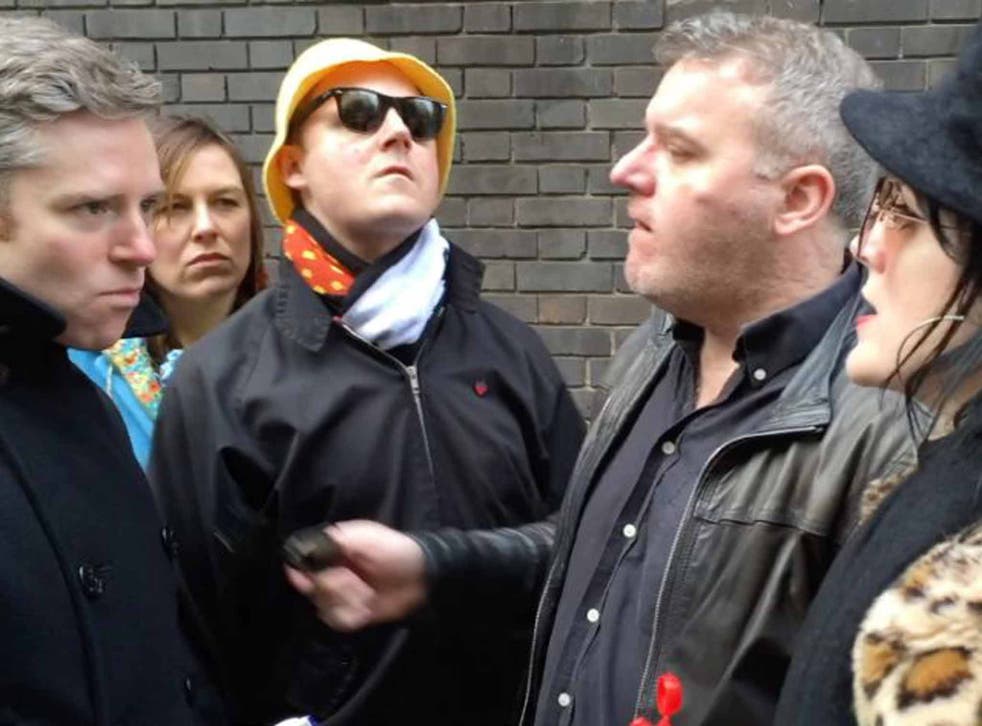 Not many people realise that Erinsborough – the fictional suburb that features in the Australian soap opera Neighbours – is, give or take a couple of letters, an anagram of neighbours. When my bandmate Paul Kelly announced during a rehearsal that our band, Dream Themes, should make and star in its own soap, he mentioned this piece of trivia and added that he'd anagrammed "Dream Themes" to find the name of the town where said soap should be set. "How about Thamesmeerd?" he said. "Not to be confused with Thamesmead, of course."
The inevitable confusion among rookie minicab drivers between Thamesmeerd and Thamesmead is one of many mundane plot devices that Kelly scrawled on Post-It notes as his idea took shape. Others included fierce rivalry in the local horticultural competition, Thamesmeerd In Bloom; the opening of a controversial hipster café, OMG Crisps, which sells "sit-down crisp-based meals with hot drinks"; the catastrophic social reverberations when locals start to use a new dating app called Tickle, and the musical endeavours of Dream Themes, our real-life TV theme covers band, who in Thamesmeerd live together in the same flat. (You know, a bit like the Monkees.)
One of the consequences of hyper-connectivity and the power of smartphones is that such ideas are less likely to be forgotten in the fug of a hangover. And so, a couple of weeks ago, the internet was presented with the first episode of Thamesmeerd, a soap made with no resources other than two phones, a bunch of friends who had no experience of acting, directing, editing or filming, and a wealth of ideas taken magpie-like from other soaps as an tribute to the genre. Within days it had picked up thousands of views on YouTube and a load of abuse on Reddit. Result!
So what are the ingredients for the perfect soap? "Soap characters tend to have really sound foundations," says Kelly. "You've got to have the local busybody – the equivalent of Dot Cotton in EastEnders or Mrs Mangel in Neighbours. Then there's the wheeler-dealer who lives in a nicer house than everyone else. The pub landlords with a slightly rocky relationship, the gobby sisters, the local hard-man, and the character who gets their words muddled and says everything wrong." Our theme tune, composed by Dream Themes' guitarist Dicky Moore, is a celebration of classic soaps, from the dramatic drum fill of EastEnders to Brookside's sweeping synthesizers.
In the 60-odd years since the first soap was aired on British TV, we've all become subconsciously and intimately acquainted with the rulebook. There'll be moments where two characters smile and hug, but then their smiles slowly fade as their real thoughts become apparent. Characters will, for no reason, become enthusiastically involved in capers, whether it's the health benefits of juicing or keeping chickens in their back garden. There'll be a nearby town that characters visit but you rarely see (Hotton in Emmerdale, Ansons Corner in Neighbours, Chippington in Thamesmeerd.) "In our Christmas Day episode the local pub will burn down and a baby will be born," says Kelly. "That's textbook. I think you have to do that, or you have your soap-opera license revoked."
If YouTube has proved one thing, it's that entertainment doesn't have to be slick to have broad appeal. That has allowed people to shrug off their inhibitions and just get on and do stuff. While that undoubtedly results in a lot of dross – and many will sneer at Thamesmeerd's chaotic incompetence – there are few more glorious things in life than having a stupid idea and following it through to its absurd conclusion. "I found a Thamesmeerd idea on a Post-It down the back of the sofa yesterday," says Kelly. "It just says 'QUICKSAND'. You never see quicksand, do you? I think Thamesmeerd should definitely have some quicksand."
Episodes one and two of 'Thamesmeerd' are now online at thamesmeerd.com
Register for free to continue reading
Registration is a free and easy way to support our truly independent journalism
By registering, you will also enjoy limited access to Premium articles, exclusive newsletters, commenting, and virtual events with our leading journalists
Already have an account? sign in
Join our new commenting forum
Join thought-provoking conversations, follow other Independent readers and see their replies