Olafur Arnalds: 'Broadchurch' soundtrack composer reveals how to spot clues in the music
The Media Column: "The music is a narrative all of its own," says director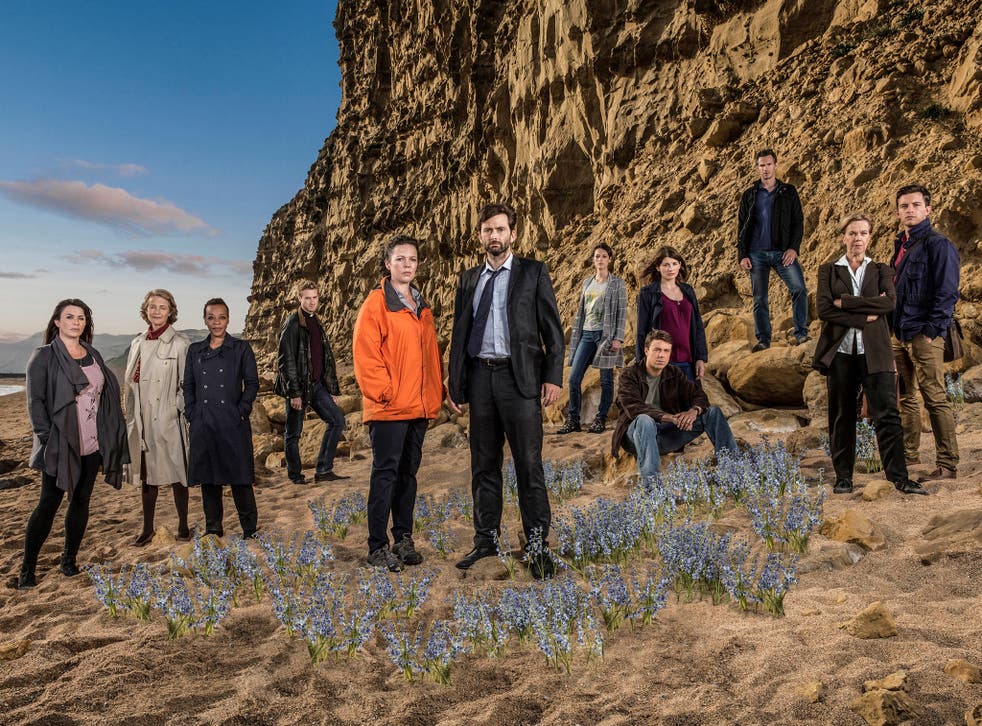 Don't ask Ólafur Arnalds, the composer whose melancholy interventions provide the haunting backdrop for Broadchurch, to reveal the secrets of the ITV drama's new series. "I'm under strict directions about what I can and cannot say," the Icelandic musician says.
But while Arnalds won't shed any light on the murder mystery which gripped seven million viewers upon its return last week, clues to unravelling the murky plot are actually concealed within his Bafta-winning soundtrack.
Arnalds' austere yet evocative score, inspired by the jagged cliffs which frame the Dorset-set drama, about a hunt for the killer of a young boy in a small coastal community, plays a central role in the internationally acclaimed series.
"The music is a narrative all of its own," says Chris Chibnall, the Broadchurch creator who commissioned the 28 year-old contemporary classical composer and performer.
An original soundtrack might once have been a secondary consideration for television dramas. Commissioning a full-scale orchestra is an expensive business when cheaper library music is on hand.
However the rise of "box-set" television dramas, giving viewers an immersive, novelistic experience, has given small-screen composers, previously the poor relation of their Hollywood counterparts, a bigger canvas upon which to work.

Broadchurch series two in pictures

Show all 36
Mogwai, the Scottish experimental post-rock band, acquired a new audience with their eerie soundtrack for the supernatural French drama The Returned.
The atmospheric opening theme to Scandinavian drama The Bridge, "Hollow Talk" by Choir of Young Believers from Copenhagen, became a cult hit. It has been included in a cash-in compilation album, Fade To Black, which compiles soundtrack music from "noir" series including The Killing, Top of the Lake, Peaky Blinders and True Detective.
A compilation of Arnalds' Broadchurch music is released next week, followed by a UK tour in which the composer will bring to life his minimalistic compositions, recorded on piano, synths and a limited palette of strings.
Alison Graham, television editor at the Radio Times, says: "The terrific music is important in building Broadchurch's chilly atmosphere and dark mood. Like the best music, it's unobtrusive and doesn't tell you what you should be feeling."
Yet viewers detected a change in Arnalds' mix of classical influences, avant-garde electronics and ambient effects when Broadchurch returned with a pounding, pumped-up, score. Some complained on Twitter that it was "over-dramatic" and "distracting".
"For the first episode the music was indeed very fast and had a lot of pace," says Arnalds, who began his career playing in heavy metal bands. "The characters are not happy, there is confusion and madness. The soundtrack is very aggressive, it's definitely not an accident." Was it too loud? "The volume level is not really my part of the job," he says.
Did he follow the Twitter debate that his score prompted? "I follow the comments. I love how my Twitter feed blows up every Monday at 9pm. I reply to some people who ask questions and make nice comments. But I don't participate in the debate about the soundtrack, I concentrate on making my music."
Arnalds, who has released three solo albums and composed music for the Hunger Games franchise, records at a church in Reykjavík – "it gives the strings an ethereal, reverberating sound" – and in his own studio.
"People do use sound libraries and fake things on computers but I need live musicians to do the things I want," he says. "No matter how much technology you have – and fake strings do sound incredible – and no matter how much you tweak the sound, you miss the humanity."
Arnalds agrees with Christopher Nolan, the Interstellar film director, who said he employed music as part of a carefully layered soundtrack, sometimes at the expense of the clarity of actors' dialogue.
"Films are about more than dialogue," says Arnalds. "Music, like cinematography and plot, is one of the elements which combine to get a message across."
An early visit to the Dorset location helped Arnalds capture the mood of Broadchurch. "I went to Bridport and looked at the town. I worked from images of the cliffs. It was important to get the atmosphere of the town.
"Chris [Chibnall] gave me some guidelines. He asked for intimacy and a purity in the music to fit with the emotional feel of the show. So there was a lot of piano and strings.
"There was a theme for each character and there was always a slightly different theme for the person revealed as the killer. We left some clues in there. If you watch the first series again and pay attention, the music lets you know who the killer is."
The compilation offers similar hints. "People who listen closely can get a little sense of what's going to happen in series two. This series, the musical theme is more about Broadchurch as a town rather than individual characters. It's broader, it's about unifying everything."
Arnalds will perform the Broadchurch soundtrack at a concert in Bridport next month, during a UK tour which opens at the Barbican. "We'll be rearranging the tracks to make them more exciting and triumphant," he says. "There will be electronics, synthesisers and a brass trio. I want to give it an extra flavour."
Working on a series which has a global audience has been a novel experience. "I'm finishing episode seven but I'm still writing the finale," revealsArnalds. "It's nerve-wracking. I know how many people are going to watch it."
Thanks to its popularity, the producers are wary of a Sony-style hack attack. "The studio has been upgraded with the latest encryption technology," the musician says. "I'm not allowed to tell any of the musicians and co-arrangers what is going to happen in the plot. I just say 'play something exciting!'"
Ólafur Arnalds' Broadchurch soundtrack series 1 & 2 is released on January 19. The Broadchurch live tour begins at the London Barbican on February 22.
Twitter: @adamsherwin10
Register for free to continue reading
Registration is a free and easy way to support our truly independent journalism
By registering, you will also enjoy limited access to Premium articles, exclusive newsletters, commenting, and virtual events with our leading journalists
Already have an account? sign in
Register for free to continue reading
Registration is a free and easy way to support our truly independent journalism
By registering, you will also enjoy limited access to Premium articles, exclusive newsletters, commenting, and virtual events with our leading journalists
Already have an account? sign in
Join our new commenting forum
Join thought-provoking conversations, follow other Independent readers and see their replies