The Media Column: Culture Secretary John Whittingdale will be the centre of attention as telly types gather in Edinburgh
Whittingdale loaded the BBC with £650m bill to cover cost of free TV licences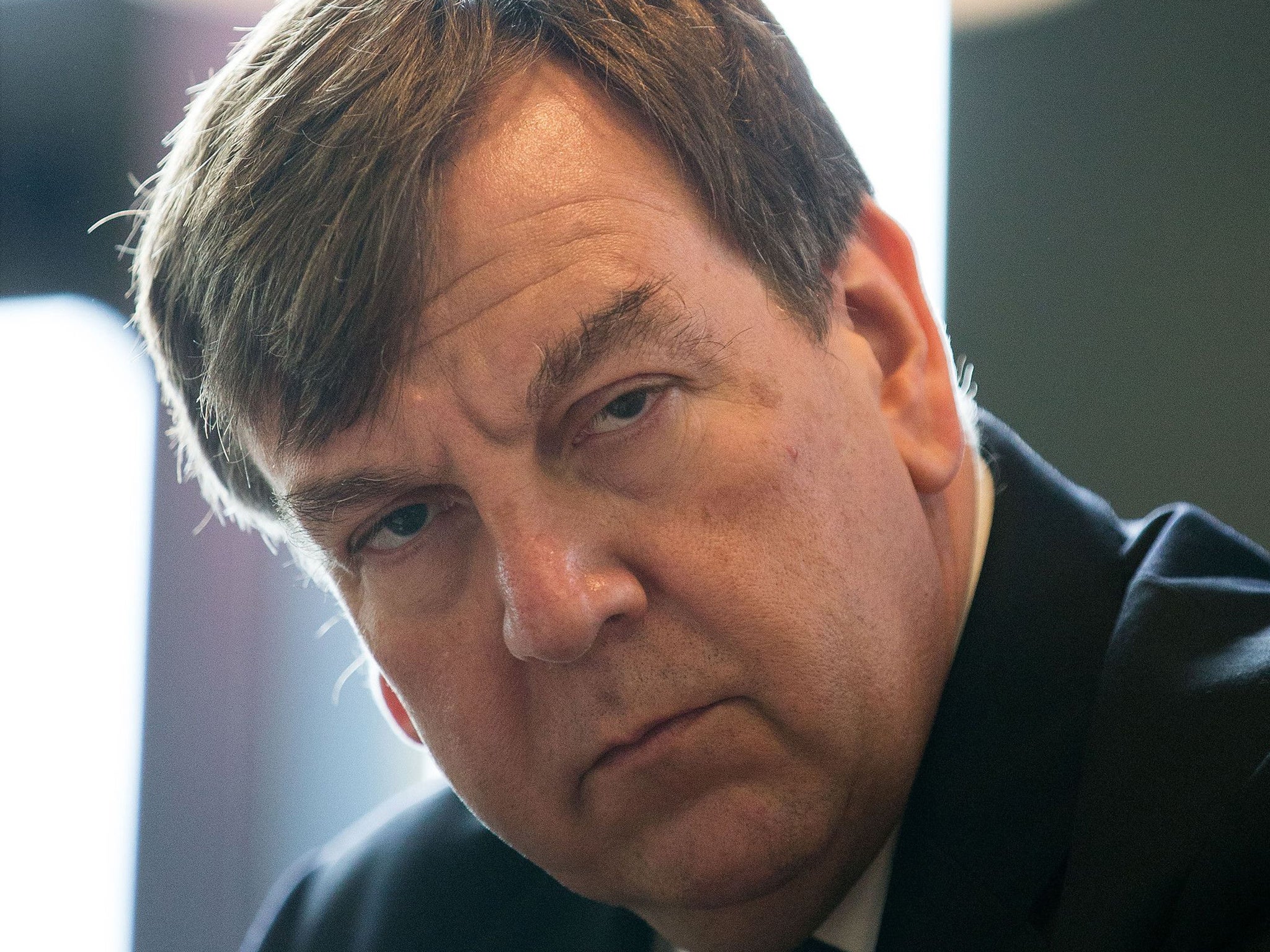 Armando Iannucci might be the star turn at this year's Edinburgh Television Festival, which opens on Wednesday, but the name on the lips of most of the delegates appears elsewhere on the bill.
It's the Culture Secretary, John Whittingdale, who is no stranger to this famously raucous gathering of telly types, tagged to the tail end of Auld Reekie's month of arts-based festivities. ITV executives might recall a lively night out at a karaoke bar near Waverley station some years ago, when the veteran Tory MP and rock fan belted out his standard, Meat Loaf's "Bat out of Hell".
Self-identification as a creature from Hades fits with Whittingdale's positioning at the festival as the spectre haunting the future of the BBC and public-service broadcasting in general. In person he more resembles Peter Mannion MP, the affable, Thatcher-era Tory journeyman created by Iannucci and his colleagues for the BBC political satire The Thick of It.
But there's not a lot of laughter at the expense of politicians coming out of Broadcasting House these days. Not since Whittingdale loaded the BBC with a £650m bill for covering the cost of free licences for the over-75s, then launched a consultation paper which leaves the organisation anxious about its future.
With Chancellor George Osborne apparently determined to seize a rare opportunity to settle political scores and change indelibly the nature of publicly-funded media and its relationship with government, "his" Culture Secretary appears to be stepping into a bear pit by pitching up at television's largest annual gathering.
BBC iPlayer's most popular shows in 2014
Show all 20
One might think that channel controllers, directors, screenwriters and runners – their passions aroused by the threat to their creative expression – would besiege the Pentland Suite at the International Conference Centre, where Whittingdale will be interviewed on Wednesday by ITV news presenter Alastair Stewart, and refuse to allow him to leave until he agrees to abandon his attacks on both high-brow and popular culture alike.
But I suspect the anger will be muted and that the Culture Secretary will be no more inclined to U-turn than his mentor, Margaret Thatcher, with whom he would eat lasagne working into the night as her political and private secretary in the late 1980s.
For all the festival's commitment to issues such as diversity and challenging documentary-making, for all its sponsorship by The Guardian and its transfer of north London dinner-party conversation to the bars of Edinburgh, it's an environment where Whittingdale would certainly feel more comfortable than Jeremy Corbyn, and even former Culture Secretary Andy Burnham.
Whittingdale has little to fear from a convention attended largely by affluent broadcast executives and entrepreneurial production company heads keen to land commissions or learn techniques in making money online. It's a community he has spent much time getting to know. His philosophical belief is that the BBC is there to provide essential services that the commercial market doesn't. Most representatives of commercial broadcasters – with the possible exception of those from Channel 4 – would see him as an ally, unless the BBC was made to chase their advertising.
For 10 years Whittingdale was chairman of the House of Commons Select Committee on Culture, Media and Sport, giving him greater knowledge of the sector than any of his predecessors. No one argues that he is not across his brief.
He may use Edinburgh to highlight issues over BBC executive pay and wasteful spending. He will also likely express public surprise that the broadcaster has raised its guard following briefings to right-wing papers on brutal BBC cuts. But having pointedly described the BBC's traditional licence-fee funding model as "worse than the poll tax", he is clearly on a mission.
The committee role was his dream job and he never expected to be given control of the whole culture department. Now, instead of shuffling around the corridors at Edinburgh, looking for someone to go and sing AC-DC numbers with or talk plot lines from favourite shows like Downton Abbey and Thunderbirds, he is, at the age of 55, up on stage as one of the "talent".
Although he enjoyed a high profile as chairman of a committee that castigated the TV industry for the phone-in quiz scams of yesteryear, and, most famously, took on the Murdoch empire over phone-hacking, Whittingdale was sometimes a figurehead rather than its mainsail. It didn't have a Tory majority and the chairman rarely voted. The architects of the hacking probe were the Labour men Tom Watson and Paul Farrelly, even if Whittingdale's role in the chair was creditable for someone who previously gushed admiration for Murdoch.
Yet, despite his position as committee chairman, Whittingdale seemed desperate for other things to do. The list of all-party parliamentary groups to which he is signed up is extraordinary. Those devoted to dance, film, intellectual property, publishing, video games and media, are evidence of his interest in creative industries.
He is fascinated with eastern Europe and his memberships of Westminster groups on Ukraine, Belarus, Georgia, Bulgaria, Hungary and Armenia offer copious travel opportunities. I have written of his connections to Ukraine gas billionaire Dmitry Firtash, whom the US wishes to extradite on corruption charges. Whittingdale has denied being in any way influenced by Mr Firtash and said that trips he took to Ukraine funded by the Firtash-linked British Ukrainian Society were "to promote closer relationships between Britain and Ukraine".
A Winchester-educated Eurosceptic whose key working experience outside Westminster was a few months at NM Rothschild merchant bank, he has the easygoing demeanour of Ken Clarke or Chris Patten, while is firmly on the Tory right. He is an opponent of gay marriage. His appointment to the Cabinet delighted hard-line backbenchers on the 1922 Committee. They will expect him to back Mr Osborne in cutting the BBC down to size.
Divorced with two children, Whittingdale pours himself into activities in his constituency of Maldon, Essex, which he has represented since 1992. He is vice-president of the rugby and cricket clubs, president of the choral society, patron of a sailing organisation, and friend to a local church. He is a regular at the Maldon Tandoori, and the brewing industry named him a "beer champion" for his enthusiastic dedication to real ale.
Whittingdale was in the bar of the Grand Hotel when the Brighton bomb went off in 1986 and is a tougher character than his avuncular manner suggests.
He might be in charge of what David Mellor branded the Ministry of Fun, but for all the wit expected to be on display when Iannucci delivers the MacTaggart lecture, jokes at the Culture Secretary's expense won't come easy – not when the stakes are this high.
Online bullying – by newspapers
A culture seems to have emerged whereby it's deemed acceptable – in the name of humour – to be more vicious in online news than in print. Witness the appalling publication on the Daily Express website of an item headlined "39 of the World's Worst Mugshots", featuring photos of people with facial disfigurements alongside commentary of breath-taking spite. "...Gives a new meaning to the term 'bubble head'", was the caption on a shot of a man with a large growth on his face. "...Looks like she should be on the cast of The Walking Dead", accompanied an image of a woman with a facial port wine stain.
Dr James Partridge of the charity Changing Faces rightly complained to the Independent Press Standards Organisation. The Express has removed the item and apologised for its "poor taste".
The mile-high photo opportunity
Some years ago I found myself on an easyJet red-eye to Ibiza in the unexpected company of David Cameron. Most of the passengers were agog.
To my dismay, a press officer began encouraging holiday-makers to trail up the aisle to where the Prime Minister was sitting in the front row with his children and bodyguard. Those without paper were advised to proffer scraps from complimentary copies of the Daily Mail for Mr Cameron to sign, which was symbolic I suppose. "Go an' git 'iz autograff!" barked one mother, admonishing her reluctant son for lack of ambition. Of course Mr Cameron deserved no sympathy, as he blatantly sought kudos as a "man of the people". But it was a depressing spectacle, nonetheless.
Last week the PM took another easyJet to Portugal and was filmed by a teenage passenger eating crisps. "Guys I'm crying, he was eating Pringles," she noted as she posted the footage on Twitter.
There it might have ended, if BBC News and most national newspaper websites hadn't considered the revelation an amazing scoop. "I found the experience humbling," Ashleigh, 16, confided to the national broadcaster of her sighting of Mr Cameron with the paprika-flavoured snack.
A day later, Victoria Beckham posted on Instagram a photo of husband David, flying in first-class and apparently asleep, his tattoos and his children's toys neatly juxtaposed. The couple are masterful manipulators of the media and, inevitably, this photo too became "news". This is where we are.
Join our commenting forum
Join thought-provoking conversations, follow other Independent readers and see their replies