Playboy's literary heritage: ​The nude pictures were always accompanied by heavyweight writing
John Walsh flicks through back issues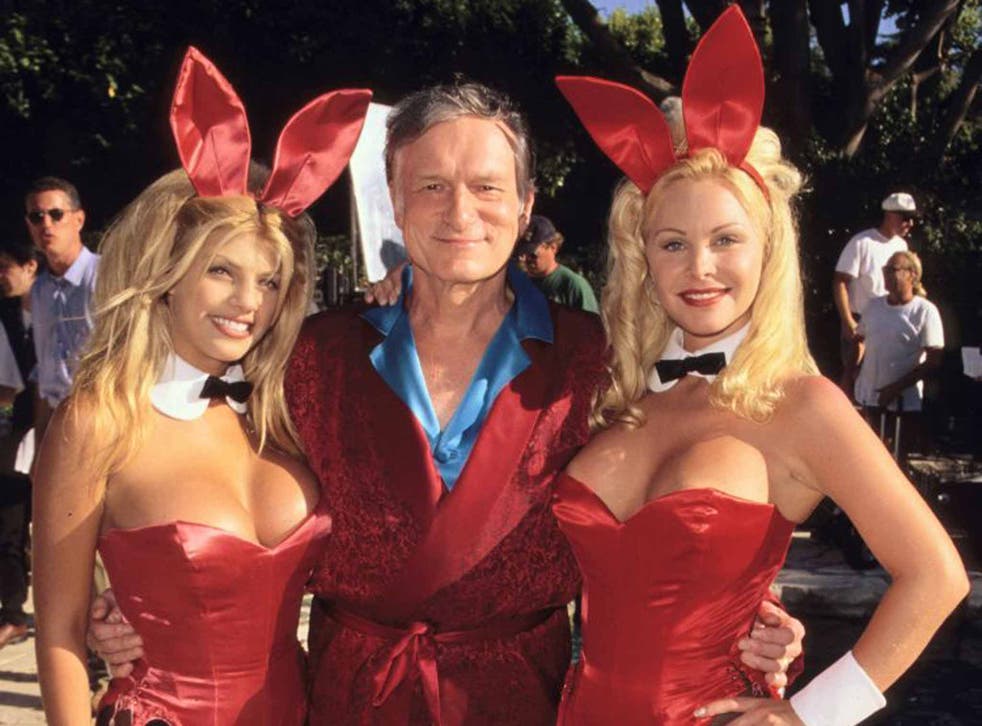 From Marilyn Monroe's cheerily arm-waving pose on the first front cover in December 1953 to Ana Cheri, the "alluring Miss October", gracing the front of the current issue, Playboy has always been about the girls. For 62 years, Hugh Hefner's organ has shamelessly objectified the female body and offered its readership the spectacle of 700-odd "Playmates" arrayed in naked splendour for the furtive assessments of men.
Hefner pulled off a brilliant trick, over the years, in persuading the world's most beautiful actresses and models to appear in his pages with nothing on – they include Brigitte Bardot, Jayne Mansfield, Kim Basinger, Naomi Campbell, Madonna, Sharon Stone, Kate Moss and Charlize Theron. But he pulled off another coup by insisting that Playboy wasn't just an aid to masturbation.
It was a "lifestyle and entertainment magazine" whose readers could expect eloquent writing about cars, exotic travel, fine wines, sport and the arts alongside the breasts and bottoms; far from being a "one-hander magazine", it brought a world of intelligent rumination to the smart modern [male] reader, in the form of essays on politics, serialised literary fiction, investigative journalism and thoughtful interviews. A copy of the magazine might feature Amber Solitaire from Horse's Neck, Idaho (34D-25-38) displaying her remarkable nipples, but that didn't mean that the chap reading it was a wanker. Look! There's a feature about the democritisation of Cuba, and an interview with Lewis Hamilton…
It's all change now, though. From March 2016, there will be no nudity in the magazine at all. There will still be photo-shoots of women looking non-directionally on-for-it, but nakedness is out. "It's just passé at this juncture," the magazine's chief executive Scott Flanders told The New York Times, explaining that the availability of free porn online has queered the pitch for soft-porn fans. And something had to be done to halt the slide in circulation. At its zenith, in 1972, Playboy sold 7.2 million copies; today it's lucky to shift 800,000. And Hefner knows better than to make the content more hardcore; Penthouse tried that and went out of business in 2013.
The new-look magazine plans to target the young urban male audience and will employ a "sex-positive female" columnist. And the content will be made "safe for work" so that it will be allowed on Twitter, Instagram and other social media. But now that it's lost its unique selling proposition, will it be able to attract the same calibre of writers that it used to?
Because they were a phenomenal line-up. Saul Bellow, PG Wodehouse, Margaret Atwood, Ian Fleming (for whom Playboy could have been personally invented) and Arthur C Clarke all published their work in its pages. Ray Bradbury's book-free dystopia Fahrenheit 451 was serialized over three issues, in March, April and May 1954. The magazine's golden years ran from 1966 to 1976, when the novelist and critic Robie Macauley was in charge. "In the years when he was fiction editor," wrote David H Lynn, "Playboy was second only to The New Yorker in prestige as a place for serious writers to display their talents." He called in such luminaries as John le Carré, Roald Dahl, J P Donleavy, Arthur Koestler, John Updike, Kurt Vonnegut, Doris Lessing, Nadine Gordimer, John Irvine, Bernard Malamud, Joyce Carol Oates and Ursula LeGuin.
Every issue of Playboy also ran a major interview. Their subjects could be international titans such as Vladimir Nabokov, and limited-vocabulary hip-hop exponents to please younger readers. Politicians from across the spectrum featured: they included Martin Luther King and Malcolm X, both of whom were interviewed by Alex Haley, later to write Roots.
It was in Playboy in November 1976 that Jimmy Carter, then a mere presidential candidate, admitted to having "committed adultery in my heart many times". In 1980, David Sheff interviewed John Lennon and Yoko together. The magazine featuring the interview was on the news stands in January 1981 on the day Lennon was murdered.
Will Playboy actually have a point, once the naked flesh has gone? Wasn't the soft-porn titillation the whole, the only point? When people said – so often that it became a cliché – "of course I only buy it for the articles, ha-ha-ha," did any of them mean it? A corrective view was provided by Amy Grace Loyd, who was taken on at the New York office on Fifth Avenue in 2005, to help resuscitate the magazine's literary tradition.
She looked back on her time there without regret and with evident pride. "There were no photography studios on site, no auditions held for Playmates or Bunnies," she told Salon.com in 2013. "So it was all the easier to believe what us editors and staff writers told ourselves: The women showcased in the magazine were carnival barkers. They got the folks into the tent, but it was the articles, the essays, the interviews and reviews, the short stories, that kept them there." Now the barkers (and hooters) have gone, will the carnival be over?
Join our new commenting forum
Join thought-provoking conversations, follow other Independent readers and see their replies