25 years of The Independent on Sunday: The stories, the writers and the changes over the last quarter of a century
On 28 January 1990, the very first issue was published. Susie Mesure revisits 25 stories and writers, while staff who were there on day one, and still work here now, remember the early days
Susie Mesure
Sunday 25 January 2015 01:00 Comments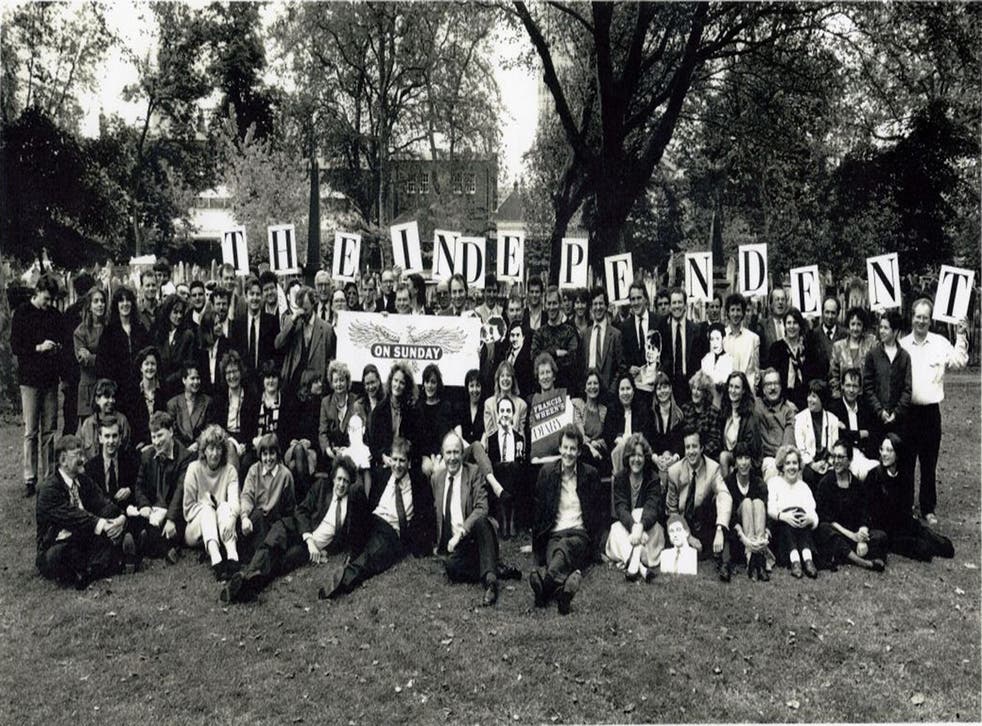 Alexandra Griffiths
It was the picture that made the front page of the first edition of The Independent on Sunday; a smiling young mother, leaving St Thomas' Hospital in London with her 19-day-old baby held tightly in her arms.
The mother was Dawn Griffiths and she had just been reunited with her daughter Alexandra after 17 days of anguish. Alex had been snatched from the hospital only 36 hours after her birth, and the entire country was gripped by the police hunt that followed. There were frantic appeals by Dawn in her hospital gown, police divers scouring rivers, fingertip searches of woodland and a tabloid frenzy that included a £20,000 reward offered by The Sun newspaper.
Alex was held in a remote Cotswold cottage for 17 agonising days before police received a tip off and reunited the family. It later emerged that Alex's abductor, a 33-year-old nurse called Janet Griffiths (no relation), wanted to use the baby to convince her millionaire lover to leave his wife. She was later briefly held in a psychiatric hospital, dying of cancer three years later.
25 years of The Independent on Sunday

Show all 25
The front-page photograph for the paper seemed to capture a perfect happy ending, but, unsurprisingly, the family's ordeal didn't end when the cameras left on 28 January 1990. It left a lasting legacy, and by the time Alex was three, her parents had separated, and her mother had tried to take her own life.
In 2000 on the 10th anniversary of the kidnapping, journalist Cole Moreton visited Dawn and Alex and found a family still struggling after its ordeal. Yesterday he said: "What really struck me was that Alex was never, not for one second, out of Dawn's sight. She would follow her everywhere with her eyes."
Today, Dawn is happily remarried and Alex has had a superb education, courtesy of a £110,000 fee paid for the family's exclusive story by the now defunct News of the World. It meant she could attend a prestigious girls' school in Darlington, and she went on to study at Manchester University. The family's next brush with the media was in 2011, and was a far happier one; Alex had competed in ITV's Britain's Got Talent. Few watching knew that at one point she'd been the most famous baby in Britain.
Winnie Mandela
She may be merely the ex-wife of South Africa's best-loved statesman but that will never stop Winnie Madikizela-Mandela from generating headlines. She made our first front page after giving reporter John Carlin (whose book Playing the Enemy was turned into the 2009 film Invictus) an exclusive interview weeks before Nelson Mandela's release from jail. Carlin's story revealed that Mandela had insisted the ban on the African National Congress, whose leadership had been exiled since 1960, must be overturned before he would allow himself to be freed. Today, Winnie Mandela, who was married to the former South African president for 38 years before their divorce in 1996, is busy fighting her late ex-husband's will; although he left her nothing, she claims a house in Quru he bequeathed to his family via a trust belongs to her.
Death of the 7-inch single
Newspapers are renowned for prematurely calling the death of things and The IoS was no exception with a story predicting the death of the 7-inch single. But in its defence, this seemed about as safe a bet as they came. Simon Garfield, latterly the author of books on topics from typography to cartography, noted that in January 1990, sales of 45s accounted for less than half of all singles, with combined sales of 12-inch, cassette and CD singles overtaking them. And so it came to pass. Until, suddenly, it didn't, as the trend for all things retro sparked a craze for all things vinyl including, naturally, the 7-inch single.
Chris Huhne
Long, long before that conviction and those speeding points, before even his stint as a Secretary of State, or his bid for the Liberal Democrat leadership, loyal readers will recall a very different Chris Huhne. Or, more accurately, Christopher, according to his byline as Economics Editor, when pay rises and impending tough budgets were on his mind. Today he writes occasional pieces for The Guardian as well as holding the European chairmanship of Zilkha Biomass Energy and working as a consultant for Nationwide Energy Services.
Silcott's conviction is quashed
To the tabloid press, Winston Silcott was "The Beast of Broadwater Farm", the man jailed in 1987 for the murder of PC Keith Blakelock on 6 October 1985, during the Broadwater Farm estate riot in Tottenham, north London. No matter that the case against Silcott, who was on bail at the time of the riot for a different murder, was flimsy at best, the police had got their man. Or had they? By 1990, the doubts about Silcott's guilt were growing, largely because his conviction rested on words he allegedly said to the police during an uncorroborated interview in a police station. Had there been witnesses? No. Forensic evidence? Forget it. James Dalrymple wrote a brilliant piece exposing the flaws. In November 1991, Silcott's conviction was quashed after scientific tests suggested his confession, along with thos of two others charged (Engin Raghip and Mark Braithwaite) had been fabricated. Today, the "Beast" is more emblematic of 1980s institutional racism than the Tottenham riots. PC Blakelock's killer remains unknown, after a trial last year acquitted another man, Nicky Jacobs.
Lynn Barber
The Fleet Street interviewing legend perfected her skills on this newspaper, starting with three pages devoted to meeting the late zoo-owner John Aspinall for The Sunday Review. Nick Hornby turned her memoir, An Education, into a film starring Carey Mulligan.
Chunnel trains in safety row
The images of 20-mile tailbacks on the M20 and passengers stranded outside St Pancras underline how much the continent relies on the Channel Tunnel. But back in 1990, completion was still four years away. Then, as now, fears about fire dominated safety concerns, as we reported in our inaugural business section, with rail experts worrying that corners were being cut to save costs.
Clear the way for HD TV
Never mind that watching a TV programme in high-definition still feels modern to many of us, to our Japanese friends we are all hopelessly slow adopters because, yes, the first IoS disclosed that manufacturers in Japan were preparing to sell the first HD TV sets back in 1990.
Stephen Glover
He was one of the three men who co-founded The Independent in 1986. In 1990, he became founding editor of The Independent on Sunday, but the Sunday reins were taken over by Ian Jack in 1991. Since then, Glover has written columns for various titles and has written regularly for the Daily Mail since 1998. He's also author of the 1993 book Paper Dreams, which documents the creation and early days of the titles.
Probation services
We reported that proposals allowing private companies to take over probation services had been proposed by the Conservative Home Secretary, David Waddington. A consultation paper would outline how private companies and voluntary groups might develop what he called a "fruitful partnership" with the probation service.
It took 25 years, but Waddington's plan has now come to fruition – in part. Justice Secretary Chris Grayling announced in October that contracts worth more than £450m had been put in place for private companies, Sodexo and Interserve, to manage more than half of contracts for probation services for low- to medium-risk offenders, probation services for high-risk offenders staying in the public sector.
In the same month, we reported that plans to sell the probation service may face legal action from the Napo probation union, claiming Grayling did not pilot the reforms, leading to incidences of the public and officers coming into danger as a result. Napo dropped its High Court bid in December, recognising that Grayling realised serious public safety risks were involved.
Equal opportunities
If 35 – 35! – pages of "executive job" ads in a national newspaper were not surprising enough, things get really weird when you start reading them – for instance, the language companies used to woo graduates. Take an ad for Sainsbury's Management Training scheme, which concluded: "Applications are welcome from males and female of all races." Try imagining a company today spelling that out.
Sebastian Faulks
Many will know him either for his foray into James Bond's world, or for his French historical novels, or will have seen the TV dramatisation of Birdsong. But for Sebastian Faulks, as for many others, before the books came the journalism. For his first IoS column, he recounted an adventure on, wait for it, a giant electric tricycle, one of Sir Clive Sinclair's less successful ventures, the C5.
Advertising space
That British Aerospace, known today as BAE Systems after its 1999 £7.7bn merger with Marconi Electronic Systems, could once have taken a full-page ad looking for aircraft engineers would seem almost fanciful to its current executives. The company's previous board sold BAE's stake in Bristol-based Airbus eight years ago to chase a bigger slice of the US defence market. But shrinking military budgets changed the picture and BAE's fortunes: a failed attempt in 2012 to merge with EADS to create a European defence-cum-aerospace giant mean the British company is more likely to be cutting jobs than creating them these days.
What with the furore over decades of corruption allegations, which led to BAE accepting guilt and paying several hundred million pounds in penalties in the US and UK largely concerning the al-Yamamah arms deals with Saudi Arabia, the company has endured more turbulence than all of the aircraft built by those it recruited back in 1990.
Taking the lid of the banks
When the former Wall Street trader Michael Lewis wrote Liar's Poker about the testosterone-fuelled existence of investment bank Salomon Brothers in the mid-1980s, he thought he was chronicling a vanishing world. The crazy Gordon Gekkos; the so-called "big swinging dicks" and their absurd antics: little did he realise that 25 years later he'd have made a highly lucrative career out of continuing to write similar books. Looking back to Liar's Poker, he said recently: "I thought a system that paid a 24-year-old like me money to give financial advice must be crazy, but I never thought it would last."
Michael Bateman
The IoS started as it meant to go on in matters gastronomic when it hired Michael Bateman as Food Editor. Bateman, who died aged 74 after being struck by a car outside his Norfolk home, is regarded as the father of modern food journalism. All the column inches readers devour today are indebted to Bateman's obsession with food, a subject national newspapers had largely ignored before his pioneering articles. He wrote about chicken for the first Food and Drink pages, championing what was then still nascent but rising demand for "real" free-range, preferably organic, birds.
Ernest Saunders
"The endless sorrow of Ernest Saunders", trumpeted the headline on the inaugural pull-out Business on Sunday section, which caught up with the former Guinness chairman during what then seemed a never-ending wait for the trial that eventually convicted Saunders, one of the "Guinness Four", for conspiracy, theft, and false accounting for his involvement in Guinness's battle to win control of Scottish United Distillers in 1986.
Today, Saunders is arguably better remembered for his skill at evading jail time rather than the dirty tricks used to inflate the Guinness share price. The "Ernest Saunders" defence requires contracting an incurable disease from which one later recovers: in Saunders's case it was the early onset of Alzheimer's. This prompted his early release, after serving 10 months of his five-year sentence. He miraculously made a full recovery and went on to have a second career as a business consultant, notably to Carphone Warehouse.
Bristol City beat Chelsea
Bristol City fans will be hoping history repeats itself when their team meets West Ham in today's fourth-round FA Cup tie. The showdown between the League One side and Premier League West Ham mirrors Bristol City's fourth-round match 25 years ago when they took on Chelsea – and won 3-0.
Ask the (famous) people
A "vox posh" of celebrities on the burning issues of the day (it was about cigarette-smoking, in our first issue) has become a stalwart of modern journalism. Some famous names – who will remain anonymous – slammed the phone down if called too often for a comment.
Electoral college
The Labour Party leader, Neil Kinnock, wanted Labour candidates for Parliament to be chosen by all local members, we reported 25 years ago. At that time, selections were made by a committee, on which local trade unions had put forward 40 per cent of delegates. Three years later, John Smith extended the principle of one member, one vote to leadership elections, before dying suddenly in 1994, less than two years into his leadership. Last year, Ed Miliband took party democracy a stage further.
Germaine Greer
Greer reviewed a book on Shakespeare for the first issue but is, of course, more famous as an author herself – including the groundbreaking The Female Eunuch (1970). More recently she did a stint on Celebrity Big Brother and regularly appears on the BBC's news quiz Have I Got News For You. Greer is an emeritus professor in English Literature and Comparative Studies at the University of Warwick.
Bophuthatswana
Rewind a quarter of a century and you find not only companies that don't exist any more and people who have died: entire countries have disappeared since then. Take the Republic of Bophuthatswana, which featured on page 60 of the business section. The state's "recently established Arts Council" hoped to lure "experienced orchestral players" to "live and work in a country with a beautiful climate and delightful people".
And if you're thinking, Bophuthatswhere? Well, the country was one of 10 territories created by apartheid South Africa to palm off its different black ethnic groups; another 10 were created in South West Africa (now Namibia). This particular Bantustan – or black homeland – was reintegrated into South Africa in 1994; its land distributed among the new provinces of the Orange Free State (now Free State), Northern Cape, and North West Province.
Martin Amis
The opening paragraph of Martin Amis's review of Bill McKibben's The End of Nature, which appears in The Sunday Review's books section, is pure pull-no-punches Amis.
Here, he knocks his victim's book for failing "to fulfil the rolling prophecies of his publicity kit". It's a great read. As you would expect from the novelist we love to hate even more than we love to read his books.
Alexander Chancellor
In the past 25 years, Alexander Chancellor, who wrote a political notebook in the first Independent on Sunday, has edited The New Yorker and has been a columnist for The Times and The Guardian. The former Washington Editor for The Independent (1986-88), Chancellor was appointed CBE for services to journalism in 2012, and last year he became editor of The Oldie magazine.
Mike Gatting
The last of cricket's "rebel tours" to apartheid South Africa, an England XI led by former England captain Mike Gatting, was featured in the first issue. Mandela was soon to be released from prison and President De Klerk had hinted at reform, but the country was still segregated and the tour caused massive controversy. Gatting repeatedly insisted "We're just here to play cricket", but he stoked more anger when he described the protests outside the team's hotel as "a few people singing and dancing".
Gatting and his side were accused of selling out and accepting huge sums of money, and the timing of the tour was heavily criticised.
However, while many were ostracised for breaking the boycott on South Africa, Gatting's career has apparently not been damaged. He continued to feature in test matches for England until 1995, and he retired in 1998.
He has worked as a coach and commentator since, and in 2013 he was made president of the Marylebone Cricket Club, which owns Lords Cricket Ground and is one of the sport's oldest institutions.
Male anorexia
We reported that as many as one in 10 of those suffering from an eating disorder, such as anorexia nervosa or bulimia nervosa, were male. Janet Treasure of the Institute of Psychiatry explained: "Anorexia often goes unnoticed in men. For one thing, they don't have periods to lose. Also, they may use excessive exercise rather than rejection of food to help them lose the weight."
The numbers of male sufferers, or at least those coming forward, has risen since then. Sam Thomas, founder of charity Men Get Eating Disorders Too, says. "I'm inclined to say that [the people coming forward] are the tip of the iceberg."
IoS writers remember...
Steve Connor
Then Science Correspondent, now Science Editor
Perhaps the single most distinctive part of The Independent on Sunday when it launched was its review section, which was a beautifully designed and deliberately intelligent magazine without the tacky glossiness of the conventional Sunday supplements at that time.
I remember someone describing it as looking like a nouvelle cuisine menu, tastefully designed in a sort of minimalist way with lots of artful white space, but packed full of interesting – and almost edible – long reads. The Sunday Review was home to a weekly science page, the first I think to be published in colour.
My most embarrassing moment in the first year was when I almost killed someone who would become one of England's greatest living novelists. I had to interview a visitor in a quiet place, and the news editor suggested using the empty office of Sebastian Faulks, one of the editors of the Review who would later write the bestsellers Birdsong and Charlotte Gray.
His office lights were out. I went to open the door which seemed a little stiff, so I put all my weight behind it to force it open. Unfortunately Sebastian was lying prostrate on the floor dealing with a splitting headache, which wasn't helped by the door cracking open on his skull, not once but twice.
Luckily, he suffered no long-term damage and never mentioned it again. He was a true gentleman. Either that or the concussion had caused amnesia. Sorry, again, Sebastian, if you do remember it.
David Connett
Then a general reporter, now News Editor
My introduction to the newsroom was through bleary eyes. I had just stepped off an overnight flight from Hong Kong, where I had been working. Two weeks earlier the deputy news editor, Steve Davis, had called me up and persuaded me to return to London instead of going to the Melbourne Age in Australia where I had already accepted a job.
"When else in your life will you get an opportunity to work on a new newspaper, starting from scratch and be in on the ground floor from day one?" The once-in-a-lifetime opportunity seemed much less attractive through my muzzy, jet-lagged brain, but Davis was nothing if not persistent – he even banned his then wife, who was heavily pregnant with their first child, from giving birth on or before the launch – her due date. Little Shannon Davis was eventually born a week later. Her younger sister came to The IoS on work experience two years ago.
To begin with, this was a surprisingly calm place, considering we were about to launch in the face of a sharp economic downturn, but the pace quickly picked up. The then news editor Peter Wilby was a, cantankerous but incredibly rigorous journalist who drove me spare with his demands. Now, as news editor myself, I appreciate the example he set. Wilby never lost his irascible streak and went on to edit this newspaper, then the New Statesman magazine, and continues to be a must-read columnist, while Davis now heads one of Australia's most respected journalism colleges.
John Lichfield
Then Washington correspondent, now Paris correspondent
I had already been in the US capital for two years working under the great and good Peter Pringle for The Independent. When The IoS was launched, I was commanded to produce a scoop or a "good read" for the new newspaper every weekend. I did my best, with mixed results. Above all, I had enormous fun, travelling all over the US for three years.
For the first edition, I set out to acquire a "scoop" – an interview with Margaret Thatcher's economics guru, Sir Alan Walters. Both he and the Chancellor, Nigel Lawson, had resigned after a policy brawl the previous year. Sir Alan had given no interview since then. He happened to live around the corner from me in Georgetown. I haunted his doorstep for days. Eventually, he answered his phone. "I don't speak to The Independent," he said (there had been some quarrel).
"Professor Walters," I said brightly. "I am not working for The Independent. I am working for a new newspaper, The Independent on Sunday." A pause. "Good try," he said – and hung up.
The following year found me in Wisconsin, trying to reconstruct the life of the cannibal Jeffrey Dahmer. His neighbour demanded $50 to give an interview, and allow me inside the building where Dahmer had eaten several young men. I checked with the office before incurring the expense, and was told to charge it as "lunch".
Mike Spillard
Then Picture Editor, now assistant Picture Editor
Twenty five years? It feels more like a century or two. No proper computers, no rolling news, no smart phones. And no digital cameras enabling photographers to email pictures from anywhere, in seconds. We operated in the blissful ignorance of the pre-digital age. And in black and white only. Colour photographs? Don't be vulgar!
And we all smoked, all the time. Especially the editor, the urbane Stephen Glover, whose gasper of choice was a Gauloise – and who would occasionally take conference in black tie if he had a formal do to attend later. And the hard-of-hearing news editor, Peter Wilby. ("A tax on bus drivers? Outrageous!" "No, Peter. Attacks on bus drivers...") The office was in the now hyper-trendy City Road, next to Silicon roundabout. Back then it was less salubrious, and contained a number of untouched Second World War bomb sites. One of these was the company car park. I recall leaving the office late one Saturday, having bought the last of some chips in the canteen. It was raining. Sitting in my car, in a bomb site, eating cold chips on a Saturday night I thought; "This is the life!"
Our low-tech existence meant that film had to be brought into the building, processed and printed before it could go in the paper. If a picture was going on the front or big inside I'd have an extra large print done. Or rather two or three until we'd got it right. One was kept, the others binned. It makes me weep now to think of all the superb photographs in landfill somewhere.
Register for free to continue reading
Registration is a free and easy way to support our truly independent journalism
By registering, you will also enjoy limited access to Premium articles, exclusive newsletters, commenting, and virtual events with our leading journalists
Already have an account? sign in
Join our new commenting forum
Join thought-provoking conversations, follow other Independent readers and see their replies