Breast cancer charities criticise The Sun's new Page Three 'Check 'em Tuesday' for trivialising the disease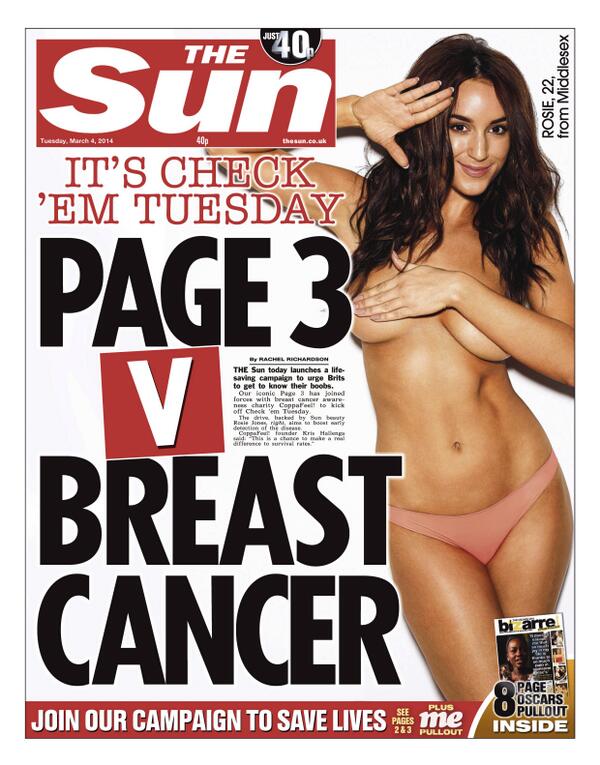 Charities and campaigners have raised concerns over The Sun's new Page Three "Check 'em Tuesday" campaign to persuade women to examine themselves for the signs of breast cancer with claims it could "trivialise" the disease.
Breakthrough Breast Cancer said the reality of the condition was "wildly different" from the approach in the newspaper's controversial topless feature which has come under mounting pressure to be dropped by opponents including more than 150 MPs.
Another major charity, Breast Cancer Care, said focusing the campaign through Page Three meant that it was in danger of being viewed as "ill-judged and insensitive" by victims or relatives.
Campaign group No More Page Three meanwhile questioned why it was necessary to use sexualised images to promote health messages about the potentially deadly condition and said it would not end its opposition to semi-naked pin-ups.
The six-month Sun campaign will be featured on Page Three every Tuesday. It was launched this morning accompanied by photographs of a topless model.
Breakthrough's senior policy officer Sally Greenbrook acknowledged that efforts to raise awareness were well intentioned and that early detection could save lives.
"However, by running the campaign through Page Three, this campaign also runs the risk of trivialising breast cancer, when it in fact devastates lives and families. The reality for many women who have been treated for breast cancer is wildly different from the approach of Page Three, and it would do our many thousands of supporters a disservice not to acknowledge this," she said.
Samia al Qadhi, chief executive of Breast Cancer Care, also welcomed efforts to promote self-checking. "We appreciate this is aimed at young, healthy women but our campaign on body image highlights the impact of breast cancer on those affected of all ages. Treatment can deal a crushing blow to a woman's self-esteem, body image and relationships and this can persist for years afterwards," she said.
Sun editor David Dinsmore said he was proud to be involved in the campaign which is being launched in association with the charity Coppafeel!  
"We thought we could do some real good with the paper with Page Three and get some messages out to a group of people – particularly the under 35s who perhaps are not as aware of the dangers of breast cancer as others," said Mr Dinsmore.
CoppaFeel! founder Kris Hallenga, who was diagnosed with incurable breast cancer five years ago at the age of 23, said her symptoms had been ignored for eight months resulting in the cancer spreading.
"For us it is a brilliant platform to get across a lifesaving message. They are the most famous boobs in Britain. For us to be hopping on the back of that page and The Sun as a whole is a huge opportunity. This is a campaign aimed at women that have never even thought about their breasts before. This is not aimed at people who have got the disease already," she said.
In a statement, No More Page Three said that it hoped more women would be alerted to the need to check their breasts but it would not lessen its determination to put an end to the daily publication of images of topless models in Britain's best-selling daily newspaper.
It said: "We applaud the models for doing what they feel is right to help and congratulations to the founder of CoppaFeel! for securing this partnership with a powerful platform like the Sun.
"That said, we can't help but feel that it's a real shame the Sun has decided to use these sexualised images of young women to highlight breast cancer. They will say that they want to use the power of Page Three as a force for good – we say that a society in which sexualised images of young women are seen as that powerful has to change."
It added: "And together, if we keep fighting against the sexist representation of women in the media, one day we'll look back and wonder why it was thought necessary to fight this horrific disease with images, for male titillation, of young women in just their pants.
Caroline Lucas, Green MP for Brighton Pavilion, who wore a No More Page Three T-shirt during a Commons debate on the subject, said she hoped the campaign would lead to improve detection rates.  But she added: "I'm not sure why the Sun couldn't encourage people to check their breasts without linking it to Page Three, which - far from being created to help women - makes objectification an everyday and damaging phenomenon."
Join our commenting forum
Join thought-provoking conversations, follow other Independent readers and see their replies