Christopher Jefferies was vilified for a murder he didn't commit - now he's a privacy crusader
Jefferies was arrested in 2010 for the murder of Joanna Yeates, and saw his character traduced by the tabloid press. Powerful people now seek his opinions, he has an agent, and his story is to be made into a film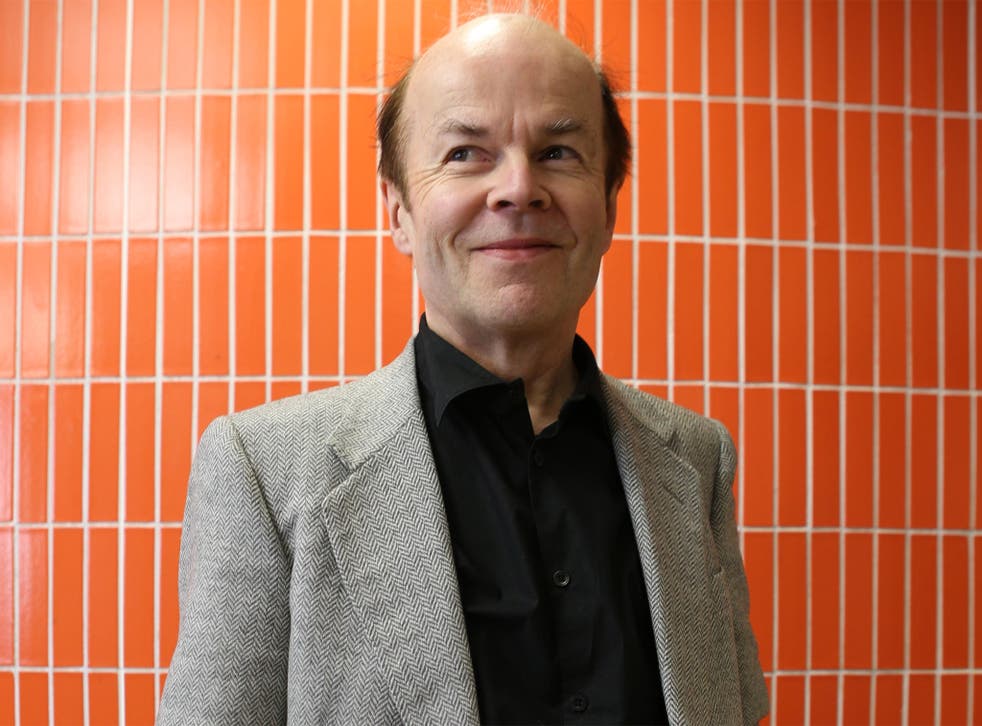 Christopher Jefferies doesn't look the way you might think. In 2010, when he was arrested for the murder of Joanna Yeates, and saw his character traduced by an insinuating barrage of libel in a tabloid press that was yet to see its ferocity curbed, there was an unspoken supposition that lay beneath it all: well, he looks the type.
Had a 40-year-old family man with neat hair and a suitable expression of concern been suspected of the crime, the speculation might have been somewhat restrained. But Mr Jefferies, a retired English teacher who lived alone, combined the prissiness of a polo neck with eccentrically unkempt white hair and a shabby old coat. Under the deranged scrutiny of the media, he had the misfortune to arrange his face in such a way that he appeared to be smirking. This, in the eyes of his tormentors, was enough.
A different man arrived in Cambridge to give a lecture to an audience of students at Anglia Ruskin University earlier this week. These days, Mr Jefferies does not smirk; he appears poised and self-assured, buoyed by the productive bubble of anger that survives even now. He wears winklepickers and a blazer and black shirt that fit him well, and his hair is short and dark. He appears to have lost a bit of weight. By the perverse calculus that deemed his previous appearance indicative of the capacity to kill, his look today would only hint at possible white-collar crime: insurance fraud, perhaps, or tax evasion.
"At times I've hardly been able to go anywhere without people stopping me and commenting," he says with a shrug when I sit down with him afterwards. "I need to be slightly careful how I seem in public, because the chances are someone will recognise me."
Indeed, more than four years after his surreal experience was taken up as one of those dismaying parables of our age, the world is still not finished with Chris Jefferies. Important people want his opinion on the tortuous aftermath of the Leveson Inquiry, and the question of a suspect's right to anonymity; in a few months, ITV will screen a two-part drama about his experience by Peter Morgan, peerless chronicler of the most remarkable lives of the era; and then there are lectures such as this one. He even has an agent. "It is not," he says drily, "the retirement I intended. In different ways, my time has been taken up with the things that followed from it ever since it happened."
The funny thing is: despite all the trauma of his experience, these days, Mr Jefferies rather seems to be enjoying himself. For one thing, he is steeped in his subject, with an intimidating range of reference and a crusader's conviction that the press's worst excesses must be reined in. For another, he is a bit of an orator, making me think, paradoxically enough, of a high court judge. I'm told that his lecture will be an hour, but in the event he speaks fluently, reading from dozens of handwritten A4 sheets, for nearly 90 minutes. He is entirely composed, but there are a few moments – as when he bites with particular force on a description of the tabloids' material as "private, scandalous, and defamatory" – when his sense of injustice and astonishment is electrifying.
People remain shocked and fascinated by his experience, and the auditorium is packed. Taking questions at the end, Mr Jefferies ranges enthusiastically around the floor like the teacher he was. If his manner has a certain peevish formality, he nonetheless makes the students laugh. His only self-conscious gesture is the occasional flattening of the few flyaway hairs that remain.
After a resounding round of applause and the fervent thanks of the criminology department, Mr Jefferies weighs up his strange new life in a meeting room. That, I suggest, was quite fun. Perhaps the way his life has changed is a silver lining as well as a cross to bear.
"It certainly is interesting," he agrees. "But people occasionally say, well, are you glad it happened? And the answer to that is no, of course I'm not. I certainly wouldn't want to go through that again. But on the other hand, if some good does emerge from it all, then yes, I shall be extremely pleased."
His fluency – he speaks in paragraphs, albeit rather stiff ones – and commitment make me wonder if he has ever thought of a more formal sort of political engagement, perhaps as one of those idiosyncratic independent MPs who act as Westminster's occasional conscience. After all, he has concrete goals, already well-documented, that might more easily be brought about in office: the independent statutory regulation of the press; the introduction of a right to anonymity until the moment a suspect is charged. So how about it?
"I don't think so," he says. "The problem is that there would be so much that goes on in Parliament and constituency business that I would not really be interested in."
It's rather a shame, I remark: his anger is obviously still a source of energy. He smiles faintly. "Well, I'm not unhappy if that is what has come over."
That self-propulsion is what has made him a sort of folk hero, really: the sense that people have of his having fought back against powerful forces that might have left many of us paralysed. "One or two people did say to me at the time that they thought that, if it had happened to them, they might have just crawled away and tried to forget it."
His peculiar good fortune, of course, was to be subjected to such obviously outrageous treatment that his vindication was as big a news story as his vilification had been. "There are many, many, many cases where that isn't the case," he says. "So the police have a responsibility as a public body to highlight somebody's exoneration where there's been adverse coverage and the person has been shown to be entirely innocent." This doesn't come naturally, even in a case as blatant as that of Mr Jefferies. Astonishingly, his bail wasn't lifted until six weeks after Vincent Tabak, the neighbour who subsequently confessed to killing Joanna Yeates, had been charged.
Mr Jefferies is quietly proud of his determination. He uses the Peter Morgan drama – he has read and approved the script, and talked to Mr Morgan at length – to make a point about what it took to fight back. "There are things in the film which happen in a way that very closely resembles reality," he says, "and then there are things which happened but in a different way, and there are things that didn't happen at all.
"But there's one particularly striking difference to me. In the film, I have to be persuaded by various people to take action. Whereas, in fact, my very first words to the solicitor when he was driving me away from the police station were: somebody has got to be sued for this. That was absolutely my determination from the start."
I wonder if he learned anything new about himself from it all. He reflects for a moment. "I suppose," he says matter-of-factly, "that I did discover a certain resilience."
So what about now? Does he have any sense that anyone has learned anything from what happened to him? I'm sure the tendency of some parts of the press to rush in with premature – and possibly illegal – reporting on suspects has faded a bit. He agrees, but only up to a point. "One would be aghast if that wasn't the case," he says. He is not convinced that any such change is permanent, and he believes the Independent Press Standards Organisation (Ipso), the body replacing the PCC, to be inadequate. Backsliding, he says, "is precisely what has happened in the past, and that is likely to happen in the future if all that is on offer is Ipso."
So there is much that he remains determined to fight for. But at some point – if not yet – the questions that animate him will be settled. What will he do then? It sounds like his agent may ultimately have a bit less to do. "What I want," he says, "is to do what I intended when I retired, which is why I started to read for a degree in French: I want to spend more of my time there."
Maybe this isn't terribly surprising. His experience has taught him some distaste for the British way of doing things. "There is something about the puritan element in Britain's past which is responsible for our sort of secret prurience. That's the role of the popular press, who reflect on the one hand a moral censoriousness, and on the other this salacious, sensational prying."
You can see why France might be appealing. There are many things to recommend it, of course, to the cultivated retiree, and I presume that they are at the root of his dream: food, culture, weather, landscape. But he mentions something else, too. "In France," he says with a smile, "they have some very strict laws on privacy."
When he finally gets there, perhaps he will let his hair grow again.
Register for free to continue reading
Registration is a free and easy way to support our truly independent journalism
By registering, you will also enjoy limited access to Premium articles, exclusive newsletters, commenting, and virtual events with our leading journalists
Already have an account? sign in
Register for free to continue reading
Registration is a free and easy way to support our truly independent journalism
By registering, you will also enjoy limited access to Premium articles, exclusive newsletters, commenting, and virtual events with our leading journalists
Already have an account? sign in
Join our new commenting forum
Join thought-provoking conversations, follow other Independent readers and see their replies