Dispatches from the Blitz: Why Peter Ritchie Calder was a true war hero
He refused to toe the government line in 1940, and reported the stories he felt were vital.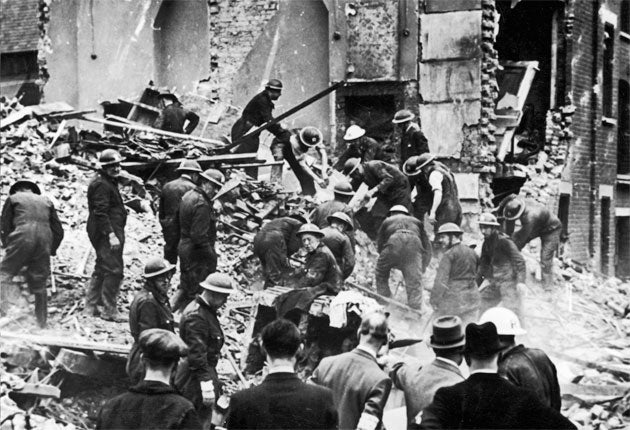 Blitz mania is upon us. As the 70th anniversary looms, television teems with images from 1940. On BBC1, Dr Who confronts Daleks in the Cabinet War Rooms. Almost as absurdly, in Channel 4's Blitz Street, Tony Robinson bombs a replica 1940s terrace, supervised by safety inspectors.
Britons like sentimental accounts of wartime solidarity. They conceal darker memories, but we can console ourselves that such a massaging of reality was prevalent even back then. The government feared mass panic and the Ministry of Information (MoI) sought to sustain morale. Most journalists helped willingly; holding government to account in wartime takes rare courage.
For journalists reporting the Blitz, the challenge was intense. Any reporter who questioned official conduct risked denunciation for "giving succour to Nazis". Few tried. By September 1940 the government had already finessed the myth of Dunkirk, repackaging calamitous defeat as miraculous salvation. It hoped to sweeten Londoners' response to bombardment too.
The line was clear: plucky Brits, harmoniously united in a national family presided over by a paternal King, were "all in it together". Press coverage included plucky babies who slept soundly through Luftwaffe raids, bus drivers braving unexploded bombs, and a story about trawlermen who dodged German E-boats to catch cod. Titles such as the Daily Mirror and Daily Express drummed home the MoI's spin that the King, Queen and princesses shared their subjects' suffering and fortitude and were "in it" with them. In fact they were mostly at Windsor.
Peter Ritchie Calder, reporting for the Daily Herald, regarded himself as a watchdog, protecting the interests of ordinary people exposed to total war. He did his job brilliantly, putting his steel helmet on "in earnest for the first time" on the morning of 8 September 1940, to spend weeks trudging the battered streets of London's East End.
Calder, who would die in 1982 aged 76, wrote compelling stories fizzing with quotes, observations and the authentic voices of ordinary Londoners. The best of it was collected in a book, The Lesson of London, published in 1941 as part of a series edited by George Orwell.
An auxiliary fireman fighting blazes in riverside warehouses tells Calder: "It was bloody awful up on the water tower, playing the hose into the warehouse... I'd had a lot of practice, but not with three storeys threatening to topple on me at any minute. I don't mind admitting now that I was sick – twice. Once through the window, right into the fire, and again when I was relieved and got to the ground."
In a dock south of the Thames, a resident describes the firestorm effect created as incendiary bombs suck in oxygen: "You'd have thought that Jerry had brought his own gale with him."
Calder is horrified when children he profiled in 1939 are killed while sheltering in a school. "I knew that school would be bombed," writes Calder, "It was not a premonition. It was a calculable certainty. Three times I warned the Whitehall authorities during that evening that the people must be got away before more bombs dropped and certain disaster overtook them."
Calder is spurred to fury. He reveals that the planning to deal with homelessness among the bombed-out people of the East End is worthless. Officials treat like automata bomb victims displaying psychological symptoms "as acute as surgical shock".
The Government initially denies responsibility for housing and feeding survivors. This crucial work is left to the London boroughs, and they are starkly incompetent. Calder describes a "jigsaw of parochialism," and bureaucrats "as jealous of their territorial integrity as a beer baron of his precinct".
In one borough, official advice on where to find food and shelter means an eight-mile walk for mothers with exhausted, hungry children, with no certainty of a meal or bed at the end of it. There is vile snobbery: an official in prosperous Epping is horrified at the prospect of East Enders being evacuated to his borough. Bombed-out families multiply with each raid, but there are no arrangements for communal feeding. For reporting these facts Calder faces accusations of "giving comfort to the enemy". But his determination to speak truth to power hastens improvements.
If journalism is the first draft of history, that is just what Ritchie Calder was writing. His journalism inspired his son, the historian Angus Calder, to write the seminal academic histories of the Blitz, The People's War (1969) and The Myth of the Blitz (1991).
Ritchie's work also reminds us that dissident journalists published by independent news organisations are very good at reporting that holds power to account. To secure new 'first drafts' that can inform electorates, investigate wrongdoing and promote empathy, democracies must learn to cherish and fund a diverse range of quality independent journalism.
The state's interest is always to persuade media to depict its conduct favourably. During war, this interest becomes a compulsion.
Ritchie Calder was no pacifist. He ended the war in charge of propaganda for the D-Day landings. But his work encourages us to ask who is writing today's first draft of history. Saving journalism is not simply about protecting journalists' jobs. It means preserving the supply of awkward, dissident reporting that promotes progress in democratic states.
Tim Luckhurst is Professor of Journalism at the University of Kent
Join our commenting forum
Join thought-provoking conversations, follow other Independent readers and see their replies