Inside Burma - part 2: The battle to wrest the news from state control
While no longer a pariah state, Burma is hardly in from the cold. In the second of a three-part series, Peter Popham uncovers the truth about a country torn between its past and the future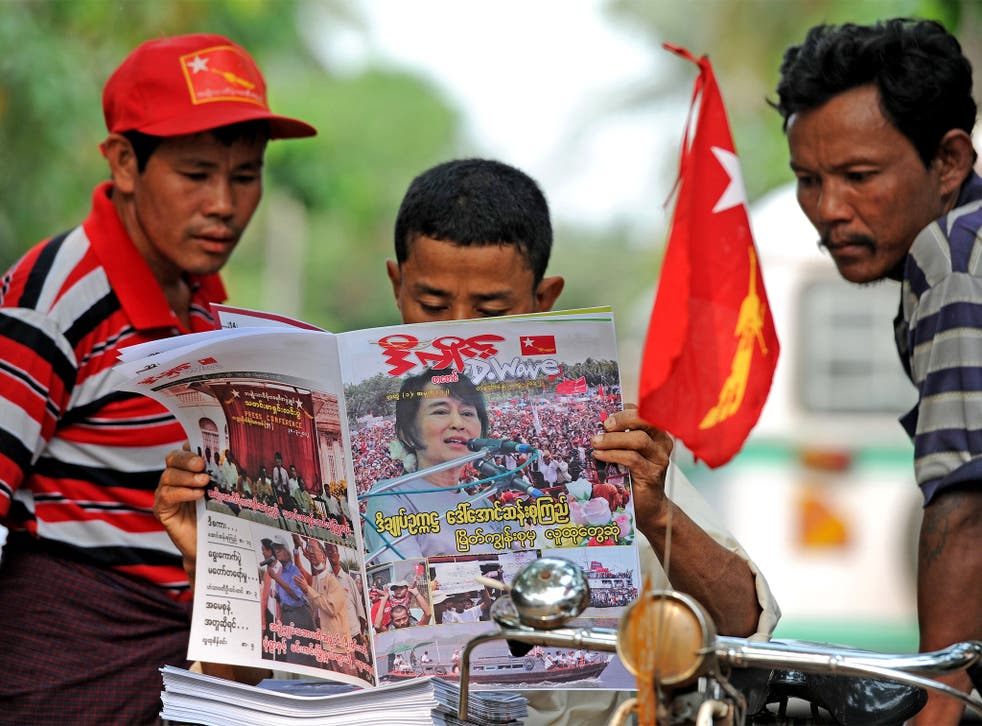 The New Light of Myanmar newspaper holds a special place in the affections of frequent visitors to Asia's former hermit state. For many years it was Burma's only daily paper. The front page splash usually featured a general meeting an ambassador or feeding Buddhist monks or opening a school. Negative views of the country's rulers or their policies were taboo, likewise any indication that Aung San Suu Kyi even existed.
In Burma's media revolution, one might suppose that this paper would have been an early victim. Far from it: prized by many Burmese readers for its social and death columns and government tender notices, it is doing fine. Not only has it survived, it recently announced that it was changing from tabloid to broadsheet.
Only in Burma's looking-glass world could a newspaper contemplate doing that. And only in Burma are publishers tripping over each other to launch new daily newspaper titles. It seems Burma is going in the opposite direction to the rest of the world.
In reality the situation is not as sunny as it appears. Kyaw Min Swe, editor of one of the new dailies, The Voice, and secretary of the recently formed Press Council, explains that the new titles were a reaction to the lifting of censorship. "When we came to journalism," he says, "our dream was to publish daily papers, and now there are 14. But they don't make money: it is the weekly magazines that keep the dailies going, and now their circulations are going down, too." And despite the novelty of the new titles, Burmese publishers face the same crunch as their counterparts elsewhere. "Here, nobody under 25 reads papers," he says. "Everyone is on social networks."
With Norways's Telenord and Qatar's Ooredoo rolling out 3G networks in Burma soon, the digital frenzy can only get hotter. And one of Burma's boldest media pioneers is banking on high-speed internet to vindicate his online-only approach.
Nathan Maung set up Kamayut Media in 2012, and its young reporters upload a clutch of video-based news reports and short features to its website every day. With its mission to "report on physical, structural, racial and cultural violations in Myanmar", Kamayut's approach is a bigger challenge to the authorities than other start-ups. Kamayut, "committed to the highest standards of independent … journalism", is an outgrowth of the underground media movement which gave the world clandestine coverage of events such as 2007's Saffron revolution.
Journalism of this sort is never cost-free, and my arrival in Kamayut's peaceful, slightly monastic office coincides with the return of one of their young reporters who has just been thrown out of Arakan state for reporting the tensions between Buddhist and Muslim communities. After menacing him by phone, a mob showed up at his guest house and broke into his room, scattering his possessions and punching him before police arrived and arrested him "for his own safety". A few hours later they put him on a plane back to Rangoon.
For Nathan Maung, the mission to report what is really happening in Burma remains a struggle, despite all the reforms. Kamayut's robust stand against Buddhist-on-Muslim violence infuriated new nationalist media, which spread lies about the company being underwritten by Al Jazeera.
The Press Council's Kyaw Min Swe says the appearance of a level media playing-field in Burmese media is deceptive. "State-owned newspapers dominate the market, and they prepared a lot before the government granted licences to privately owned papers. They have printing presses all over the country, and they put other papers in trouble by suddenly lowering their ad rates."
As Nathan Maung sees it, the straightforward tyranny of military rule has been replaced by the plots of the powerful, controlled from behind the scenes. The attacks on Muslims across the country come into this bracket in his view, though they found fertile ground in Burmese racism. "Ordinary Burmese are very xenophobic, and Aung San Suu Kyi is vulnerable to that because of her marriage to a foreigner," he says. "The head of a political group called the Peace and Diversity Party has openly challenged Suu Kyi, claiming that if she rules Burma it will become a Muslim country… If she were openly to condemn the killing of Muslims, it would be a big problem for her and her party."
The attacks on Muslims and the slurs on Ms Suu Kyi are early rumbles in a long campaign which will culminate in next year's general election, when the military's proxy party, the Union Solidarity and Development Party, will harness the state-owned media to tackle Aung San Suu Kyi's National League for Democracy. Then Kamayut and the rest of the independent media will really have a fight on their hands.
Register for free to continue reading
Registration is a free and easy way to support our truly independent journalism
By registering, you will also enjoy limited access to Premium articles, exclusive newsletters, commenting, and virtual events with our leading journalists
Already have an account? sign in
Register for free to continue reading
Registration is a free and easy way to support our truly independent journalism
By registering, you will also enjoy limited access to Premium articles, exclusive newsletters, commenting, and virtual events with our leading journalists
Already have an account? sign in
Join our new commenting forum
Join thought-provoking conversations, follow other Independent readers and see their replies