James Murdoch steps down at NI
Wednesday 29 February 2012 15:18 GMT
Comments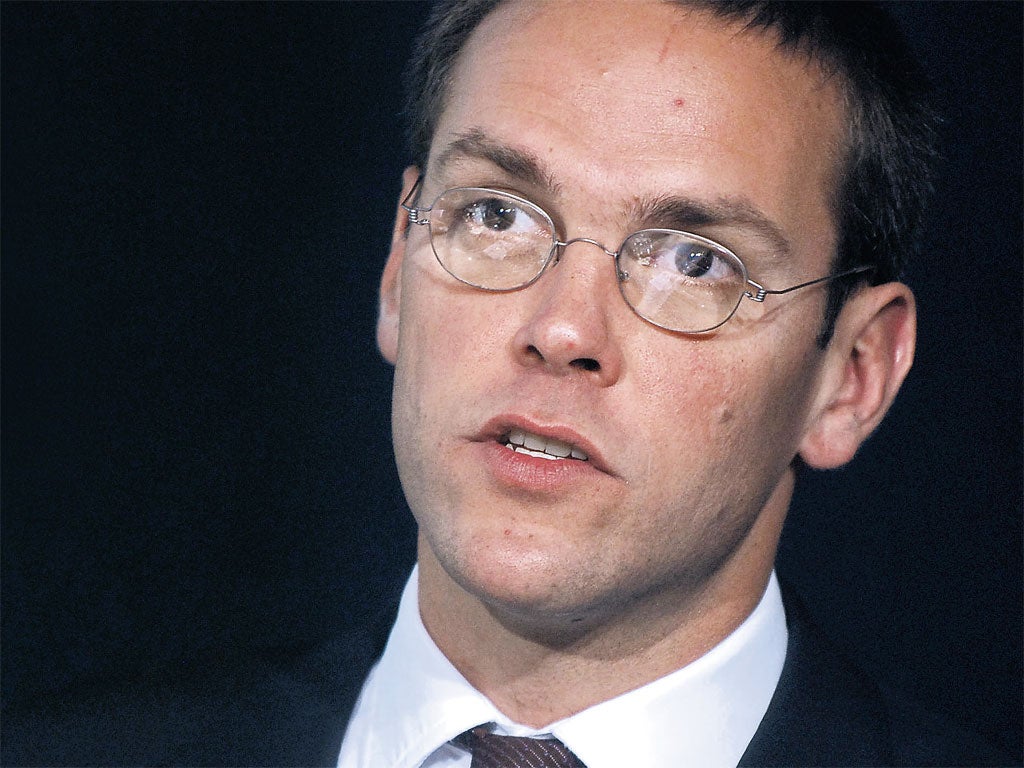 James Murdoch is to step down as executive chairman of News International, it was announced today.
Parent company News Corporation said in a statement the move would allow him to focus on expanding the company's international TV businesses.
Mr Murdoch has faced intense scrutiny in the wake of the News of the World phone hacking scandal.
The company said Mr Murdoch, who is its deputy chief operating officer, was stepping down from the role in NI, which is its UK publishing unit, following his relocation to the company's headquarters in New York.
His father Rupert Murdoch, who is News Corporation's chairman and chief executive officer, said: "We are all grateful for James' leadership at News International and across Europe and Asia, where he has made lasting contributions to the group's strategy in paid digital content and its efforts to improve and enhance governance programmes.
"He has demonstrated leadership and continues to create great value at Star TV, Sky Deutschland, Sky Italia, and BSkyB.
"Now that he has moved to New York, James will continue to assume a variety of essential corporate leadership mandates, with particular focus on important pay-TV businesses and broader international operations."
Mr Murdoch junior said: "I deeply appreciate the dedication of my many talented colleagues at News International who work tirelessly to inform the public and am confident about the tremendous momentum we have achieved under the leadership of my father and Tom Mockridge.
"With the successful launch of The Sun on Sunday and new business practices in place across all titles, News International is now in a strong position to build on its successes in the future.
"As Deputy Chief Operating Officer, I look forward to expanding my commitment to News Corporation's international television businesses and other key initiatives across the Company."
Mr Mockridge was appointed chief executive officer of News International last summer after former News of the World editor Rebekah Brooks was forced to resign in the wake of the phone hacking scandal.
Mr Murdoch found himself at the centre of the hacking scandal after it was claimed he had been told that phone-hacking was more widespread at the News of the World than was originally admitted.
He had previously told the Commons Culture Committee he was not aware of the notorious "For Neville" document, which blew apart the company's stance that hacking was the fault of a single rogue reporter - former royal correspondent Clive Goodman, who was paying private investigator Glenn Mulcaire to carry it out.
But Tom Crone, former legal chief of NoW publisher News Group Newspapers told MPs he was "certain" he told Mr Murdoch Jr about the now-notorious email.
Labour MP Chris Bryant, who received a £30,000 settlement after having his phone hacked by the News of the World, said: "After all we've heard, James Murdoch's resignation is long overdue.
"On his watch, we have seen the biggest corporate corruption scandal since 1720 and historic titles like The Sun have been brought into disrepute.
"It is time he also left BSkyB. He is not a fit and proper person."
James Murdoch's close involvement, alongside father Rupert, in the family's media empire was never more visible than during the pair's joint select committee appearance last July.
But it was also clear who was in charge, as the media mogul at one point silenced his son with a mere touch on the arm to declare: "I would just like to say one sentence. This is the most humble day of my life."
Ex-minister and former National Union of Journalists president Denis MacShane, who received a £32,500 settlement, said: "The Murdoch empire, as in Greek tragedy, is collapsing in full view of an astonished world.
"The crown prince has been sacrificed to appease the public horror at what is being revealed of the collusion, corruption and criminality of the Murdoch empire as it bought politicians and police indiscriminately.
"As at the end of Citizen Kane, the sight of a great media mogul losing it is full of pathos but the Murdoch reign is drawing unpeacefully to its end."
John Whittingdale, chairman of the Commons Culture, Media and Sport Committee, which is carrying out its own inquiry into phone-hacking allegations, told Sky News: "We took evidence twice from James Murdoch. He was very clear that he did not know about phone hacking, although he did authorise substantial payments to several of the victims of phone hacking.
"Even if he wasn't aware of the details of phone hacking, I think it caused some surprise to us that he was willing to sign off those payments without asking questions about the detail as to why it was necessary."
Mr Whittingdale said the committee's report, which will be published "in due course", would comment on the fact that Mr Murdoch claimed not to have read a key email sent to his mobile phone, which revealed that phone hacking at the News of the World went beyond a single reporter.
He suggested that Mr Murdoch's departure may be an indication of News Corporation's determination to preserve its newspaper empire in the UK.
"If News International wanted to move on, to start afresh, then his presence was always going to be a problem for them," said Mr Whittingdale.
"Obviously they've just launched a new newspaper, the Sun on Sunday. One assumes that they are still committed to producing newspapers in the UK and still maintaining a substantial stake in BSkyB.
"To some extent, the decision to withdraw James Murdoch from the UK may be connected with their wish to remain in the UK and to demonstrate that the people now running the company are completely unconnected in any way with what has happened over the course of the last few years."
News Corporation shares were 2% higher on Wall Street following the announcement.
PA
Join our commenting forum
Join thought-provoking conversations, follow other Independent readers and see their replies