Local newspapers: Read all about it? If only ...
The writing's on the wall for the local press. As more newspapers close, Ian Burrell asks what we're losing along the way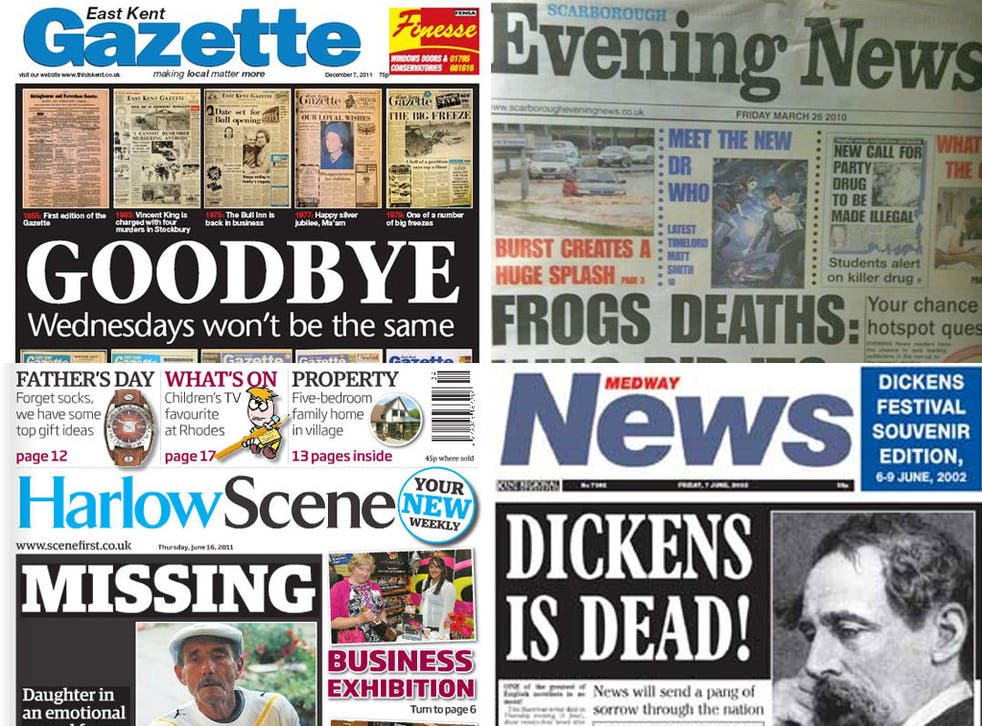 Walsall's most famous son is Jerome K Jerome, but the Staffordshire town is a little short of writers these days. When it comes to newspaper reporters, the former global capital of the leather industry couldn't even match the size of the crew of Jerome's fabled boat.
One by one, all of the newspapers left Walsall. At the turn of the millennium, a Walsallian could have gone into one of three town centre newsrooms and spoken to reporters from the Express & Star, the Evening Mail, the Walsall Observer, the Walsall Advertiser or the Walsall Chronicle, according to their choice.
But the Walsall Observer stopped its presses in 2009 after 141 years. The free weekly Walsall Advertiser is now produced from an office 17 miles away in Tamworth, while the Evening Mail is based on the other side of Birmingham and the Chronicle, a weekly free paper, is written in Wolverhampton.
Today, Walsall's nearest staff journalist is more than eight miles away in Cannock, where the Wolverhampton-headquartered Express & Star maintains a bureau, having closed its Walsall office three years ago. "What it means is that if you are a man or woman on the street and want to speak to a reporter, you can't really do it face to face," says Lee Kenny, who teaches journalism at Birmingham City University. Kenny, who is producing a documentary on the decline of the West Midlands media, said he recently made a visit to the Walsall magistrates' court and spoke with the clerks. "They said it's very rare these days that you see a journalist."
David Winnick, the Labour MP for Walsall North, said: "I've no criticism of the reporters. With less staff they do a very conscientious job, but there's not enough of them and they're no longer based in the town. There's undoubtedly a crisis over local newspapers which has an impact – it's bound to – on democracy."
Considering that the Express & Star is Britain's most successful local newspaper operation, the only title with a circulation in excess of 100,000, it is not hard to see why MPs will tomorrow be holding a special debate on the demise of the regional press. The adjournment debate has been called by Louise Mensch, the Tory MP for Corby, who is especially concerned by the decision of Johnston Press, one of Britain's largest regional publishers, to turn a number of its well-known daily papers into weeklies.
The Corby edition of the Northampton Evening Telegraph series is one of the papers being reduced to once-a-week publication, as are the Halifax Courier, the Peterborough Evening News, the Scarborough Evening News and the Northampton Chronicle as Johnston Press moves to a "platform neutral" strategy. The plan is to make greater use of digital content but a number of local offices are being closed.
Last night Mensch called for the local press to be given tax advantages to help ensure its survival. "The local press performs a unique function in our democracy, as often only a local paper will hold a council or MP to account," said Mensch. "Government has to look at ways of preserving Britain's most popular print media – read by an estimated 33 million people per month. When we think of so many things that are subsidised that have only limited appeal, surely there is a case for tax advantages for local papers. And if a pure profit model doesn't work, government should look at ways to facilitate local communities and businesses owning their own papers – like the supporters trust model for football clubs."
Another MP with concerns is Peter Hain, the former Secretary of State for Wales, who has seen print media disappear from his Neath constituency.
Since the closure of the 75-year old Neath Guardian in 2009, along with the neighbouring Port Talbot title, local news has been covered from Swansea by the South Wales Evening Post. "The Evening Post does a good job but the Neath Guardian is still much missed," said Hain. "You had a paper that was just about Neath as opposed to a paper that has several pages about Neath alongside a lot of material about Swansea and the wider area."
Dominic Ponsford, editor of Press Gazette, said the financial situation was "incredibly serious" and could lead to a day when the Government had to consider ways of returning titles to their local communities. He pointed out that some publishing companies had exposed themselves to debt at the same time as an economic recession and extreme structural change with the growth of the internet.
"Newspapers are so important at a local level, but it's death by a thousand cuts and it's very sad... brands that have a century of goodwill built up won't be worth so much if the journalism is cut back so much that people stop respecting them."
In the West Midlands, Becky Sharpe, chief news editor at the Express & Star, said she had confidence in her Cannock-based team of four Walsall reporters, plus a journalist assigned to covering the town's football club. "Little has changed," she said. "We still have a dedicated Walsall news editor and put out a dedicated Walsall paper and it sells 15,000 a day."
But Steve Auckland, chief executive of Northcliffe Media, producers of the Walsall Advertiser, was more positive, saying that the shift in the regional press from daily to weekly publishing was beneficial to readers as well as publishers. He said that retail advertisers spent their money at the end of the week whereas Monday to Wednesday editions were often short of news, thin on pages and unpopular with consumers. "So we are saying this is a once a week brilliant product for this town and we are putting everything into it." He said the Torquay Herald Express had grown its best-day circulation by 30% since going weekly, while keeping 82% of its revenue and saving money by cutting its reporting staff.
The Newspaper Society remains upbeat and points to research which predicts an upturn in advertising revenue coming into the regional press later in the year. It also highlights that the vast majority of newspaper closures in the past decade have been of "marginal" free weekly titles occupying second or third position in their local market. There was a significant expansion of free titles in the 1980s. A society spokeswoman said: "Overall, the number of [local newspaper] titles has declined by 13.2 per cent over 10 years. But within this, paid for titles have declined by just 1.1 per cent compared to free titles which have declined by 24.6 per cent."
But Lee Kenny said the process of covering towns from centralised offices gave an impression of normality that disguised a worrying absence in local news gathering. "We took our students to visit the Lord Mayor of Walsall," he said. "He told us it was a problem for local democracy."
Join our new commenting forum
Join thought-provoking conversations, follow other Independent readers and see their replies