Mail on Sunday 'refutes' hacking claim
Brian Farmer
Monday 21 November 2011 19:30 Comments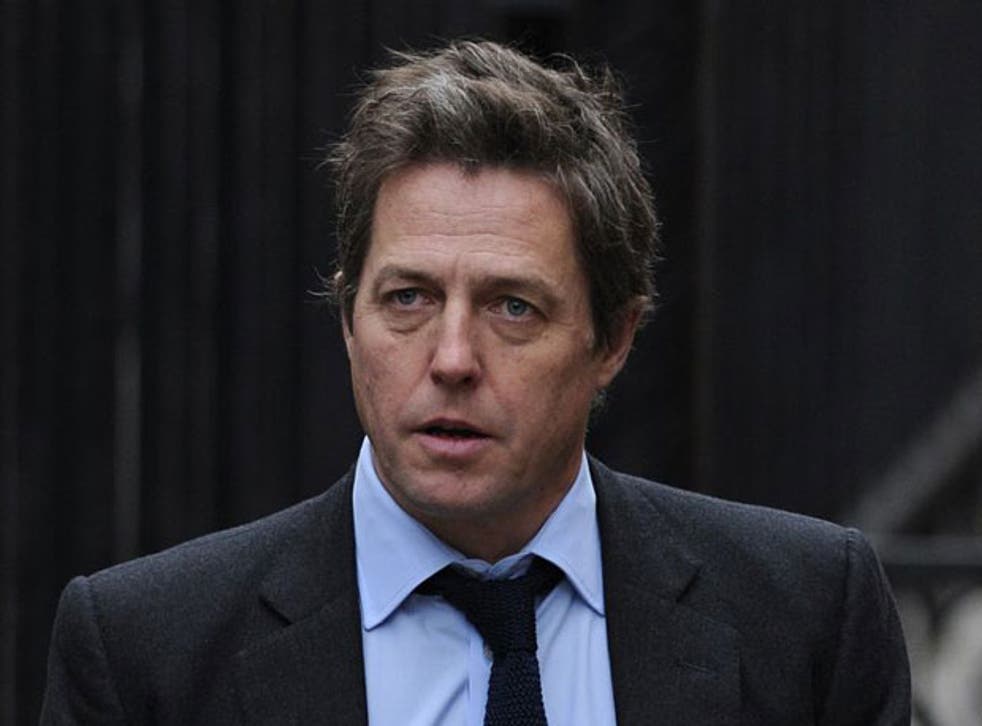 The Mail on Sunday newspaper tonight "utterly refuted" a suggestion that it had hacked the phone of actor Hugh Grant.
Bosses issued a denial after Mr Grant had told the Leveson Inquiry of his suspicions about a story published four years ago.
A spokesman for the newspaper said information had come from a freelance journalist who had spoken to a "source".
Mr Grant told Lord Justice Leveson about the "bizarre, left field" story and said he would "love to hear the (Mail on Sunday's) explanation".
He said he had not made the allegation in public before but said he had been preparing documents and going through his "trials and tribulations" when the "penny dropped".
Mr Grant said the story claimed that his relationship with then girlfriend Jemima Khan was on the rocks because of his "late night phone calls with a plummy-voiced studio executive".
He said the story was untrue and he had not been able to think "for the life of me" what the source of the story could be.
The only explanation he could think of was that messages had been left on his phone by an executive's assistant, who had a voice which could be described as "plummy".
"I was preparing these statements, going through these trials and tribulations," he said. "Then the penny dropped."
He added: "I would love to hear what the (Mail on Sunday's) explanation of that is, if it wasn't phone hacking."
The newspaper's spokesman said: "The Mail on Sunday utterly refutes Hugh Grant's claim that they got any story as a result of phone hacking.
"In fact in the case of the story Mr Grant refers to, the information came from a freelance journalist who had been told by a source who was regularly speaking to Jemima Khan."
In April 2007, Mr Grant accepted undisclosed libel damages over claims that his relationship with Ms Khan was destroyed by a flirtation with a film executive - and his conduct over Liz Hurley's wedding.
The settlement of Mr Grant's legal actions over articles in the Mail on Sunday and the Daily Mail in February 2007 was announced at the High Court in London.
Mr Grant's solicitor, Simon Smith, told Mr Justice Gray that the damages would be donated to the Marie Curie Cancer Care charity.
He said the first article - Hugh, Drew and the Jealousy of Jemima - alleged that Grant, while in a relationship with Ms Khan, was conducting a flirtation with a female senior Warner Bros executive.
Mr Smith said Mr Grant did not know of a woman from Warner Bros matching this description, let alone that he was conducting a flirtation with her. As far as he was aware, she simply did not exist.
After that hearing, Mr Grant said in a statement: "I took this action because I was tired of the Daily Mail and Mail on Sunday papers publishing almost entirely fictional articles about my private life for their own financial gain.
"I'm also hoping that this statement in court might remind people that the so-called 'close friends' or 'close sources' on which these stories claim to be based almost never exist."
Grant said he experienced further press intrusion over his relationship with Chinese actress Tinglan Hong, who recently gave birth to his daughter.
The News of the World published a front-page story headlined "Hugh's Secret Girl" in April which featured pictures taken with a telephoto lens without the couple's knowledge, the inquiry heard.
Grant said he visited Ms Hong in hospital in London the day after the baby was born in late September.
He told the hearing: "I had been very reluctant to be present at the birth because of the danger of a leak from the hospital bringing this press storm down on the mother of my child and what was about to be my child.
"So I had actually made a plan with the mother not to visit at all but to visit when she got home from hospital a few days later.
"She was very happy with that plan. She had her parents there and she had my female cousins there.
"But actually on the day after the birth I couldn't resist a quick visit. I thought I was going to try and get away with it. I went, had a look, it was very nice.
"But the day after that, I think it was, the phone calls started, from the Daily Mail in this case, saying 'We know about Tinglan having had the baby, we know about Hugh having visited, we know what name she checked in under, we're going to write this story'.
"So all my fears about the leak seemed to have been justified."
The inquiry heard that the Daily Mail did not run an article about the birth of Grant's child until the story was broken by an American magazine.
But Grant said: "I think the reason they didn't publish it was because they would not have looked good to have published it merely on leaked information from a hospital, which is unethical."
A spokesman for the Daily Mail said: "The Daily Mail unequivocally denies Hugh Grant's allegation that it secured information about the birth of his child from a source at the hospital.
"In fact the information came from a source in his showbusiness circle more than two weeks after the birth.
"We then spent a further two weeks seeking a response to the story from his publicists.
"None was forthcoming and indeed we did not publish anything until Grant's publicist issued a statement describing the baby as the product of a 'fleeting affair'. Throughout, the Mail behaved with total journalistic propriety."
PA
Register for free to continue reading
Registration is a free and easy way to support our truly independent journalism
By registering, you will also enjoy limited access to Premium articles, exclusive newsletters, commenting, and virtual events with our leading journalists
Already have an account? sign in
Join our new commenting forum
Join thought-provoking conversations, follow other Independent readers and see their replies