Panorama: How we uncovered the Fake Sheikh's sting tactics
"No one knows quite how many people have gone to prison thanks to the evidence of Mazher Mahmood"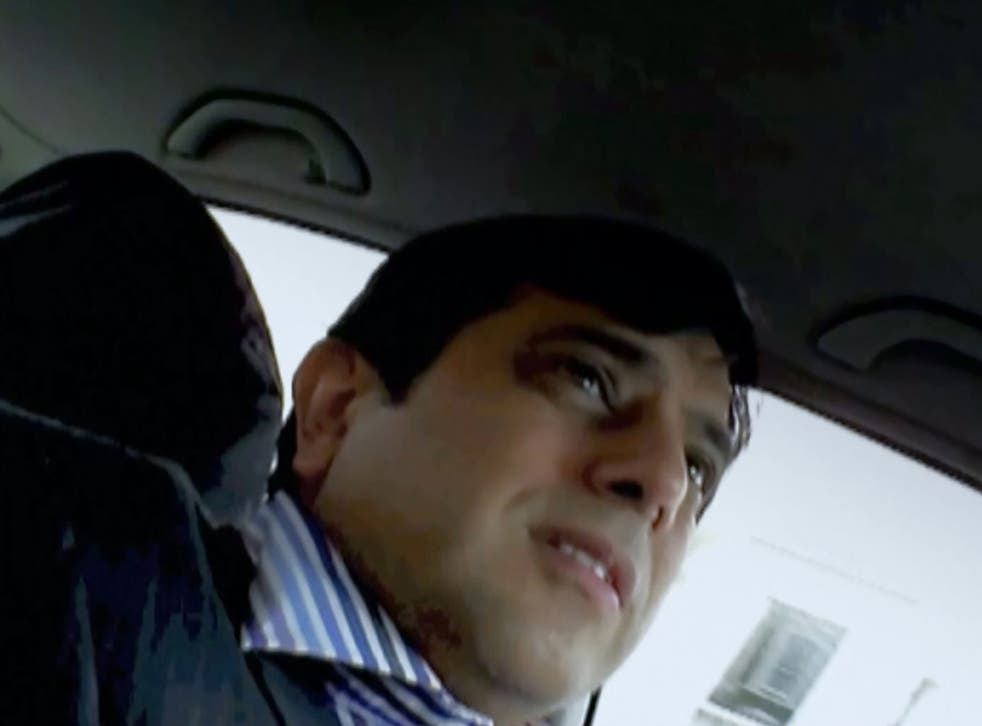 The strongest witness against the claim that Mazher Mahmood is a great investigative journalist is not one of his former fixers or victims – but the man in the dish-dash himself.
The Fake Sheikh's own secret camera footage on the sting against former London's Burning star John Alford is revealing. The location, as ever with the former News of the World star reporter, is fancy: a suite in the Savoy.
Mahmood, in his classic Arab dress, announces the date and time to the secret camera's unblinking eye: 'Wednesday the 13th of August 97. The time is now 6.50.'
On Team Mazher are the reporter himself, an associate also dressed in dish-dash, an attractive female assistant, a technician and a former ex-police officer hired by the News of the World from Southern Investigations – where private eye Daniel Morgan worked until his murder in 1987.
On tape, Mahmood is sitting in an armchair, fiddling with a worry bead: "You know if he supplies [drugs] his career is over as well. He's finished. He could get banged up tomorrow."
Mahmood rocks back and forth on his armchair, giggling, appearing to relish the prospect of ruining a man's life: "All so I could shag a bird at the Savoy."
Enter the target. Mahmood jumps up, as over-the-top as a game-show host. Team Mazher had approached Alford him with talk of a Hollywood movie, the possibility of working alongside De Niro, Pacino, all his heroes. Alcohol was pressed but Alford was on the wagon. "I would love a water please."
The woman, a News of the World reporter, asks: "Are you sure that's all you want?"
Mahmood breaks in. His natural accent is posh Brummie but when he dons the dish-dash he speaks mock-Arabglish: "You disappoint us, you must be champagne."
Alford admits he is a recovering alcoholic: "I have had to stop the drinking. I have been teetotal now for six months." Team Mazher brings up the subject of drugs.
The child star had also been a heavy cocaine user. But he was off that too: "I don't myself. I have been two years nothing. You'd don't take. When I was 13 everything, everything. So I started very young…"
It is impossible to watch this surveillance tape without feeling sympathy for Alford. He offers to help the woman get some cannabis, but becomes wary when the sheikh asks him to supply a big amount for a party. Then the group moves elsewhere in the hotel. Alford says that for three hours they piled on the pressure for him to supply them with drugs.
The recording equipment was back on when Alford supplied Team Mazher with small amounts of cannabis and cocaine. Alford was sent to prison for nine months: "I lost my house, I lost my career, everything I'd worked for since the age of nine went down the pan in a day."
No one knows quite how many people have gone to prison thanks to the evidence of Mazher Mahmood. The Fake Sheikh has claimed around 270 successful criminal prosecutions based on his work. An investigation for Rupert Murdoch's NewsCorp found around 90 convictions; an independent investigation found around 70.
But after the collapse of the trial of Tulisa Contostavlos, when a judge effectively accused Mahmood of lying to him in court, all of those convictions need to be looked into.
Our Panorama team looked very closely at five Mahmood stings: the ones involving Tulisa; Alford; Johnny Bryan, former lover of Sarah Ferguson, the Duchess of York; Page Three girl Emma Morgan; and the Victoria Beckham kidnap plot.
Mahmood's modus operandi comes out, again and again. Swanky locations; a deal too good to be true; a request made to supply Mahmood with drugs; complaints of pressure off-camera; recording equipment that captures the fall from grace.
Oh – and all of the targets are unsuspecting, sometimes almost comically naïve. They are not criminal Mr Bigs. The Crown Prosecution Service has said it believes no one is currently in jail on the evidence of Mahmood. If his targets never were big criminals, that makes sense.
But the people who put an axe into Daniel Morgan's head in the car park of the Golden Lion pub in south London are big criminals. Panorama uncovered evidence that an undercover police investigation in 1999 into that murder and the company he worked for, Southern Investigations, came across links between corrupt police officers and tabloid journalists.
We have seen a letter dated July 1999 from the private eye firm which begins "Dear Maz" – that's Mazher Mahmood – "Further to our (rather enjoyable) operation to assist you I now take the liberty of enclosing a note of our charges".
Perhaps Panorama's most troubling discovery is that after the collapse of the Victoria Beckham kidnap plot trial, the police investigated Mahmood, under code name Operation Canopus.
Mahmood was interviewed under caution. He told detectives he gets information from hookers from drug addicts and he said: 'I've got bent police officers that are witnesses, that are informants.'
Who were these 'bent police officers'? That question remains unanswered.
The man in the dish-dash will soon learn if he's to face charges following the collapse of the Tulisa trial. Mahmood denies perjury and perverting the course of justice.
John Sweeney presented 'Panorama: The Fake Sheikh Exposed' on Wednesday
Register for free to continue reading
Registration is a free and easy way to support our truly independent journalism
By registering, you will also enjoy limited access to Premium articles, exclusive newsletters, commenting, and virtual events with our leading journalists
Already have an account? sign in
Register for free to continue reading
Registration is a free and easy way to support our truly independent journalism
By registering, you will also enjoy limited access to Premium articles, exclusive newsletters, commenting, and virtual events with our leading journalists
Already have an account? sign in
Join our new commenting forum
Join thought-provoking conversations, follow other Independent readers and see their replies