Phone hacking 'might have' happened, says Daily Mirror editor Richard Wallace
Ella Pickover
,
Jessica Nightingale
Monday 16 January 2012 17:11 Comments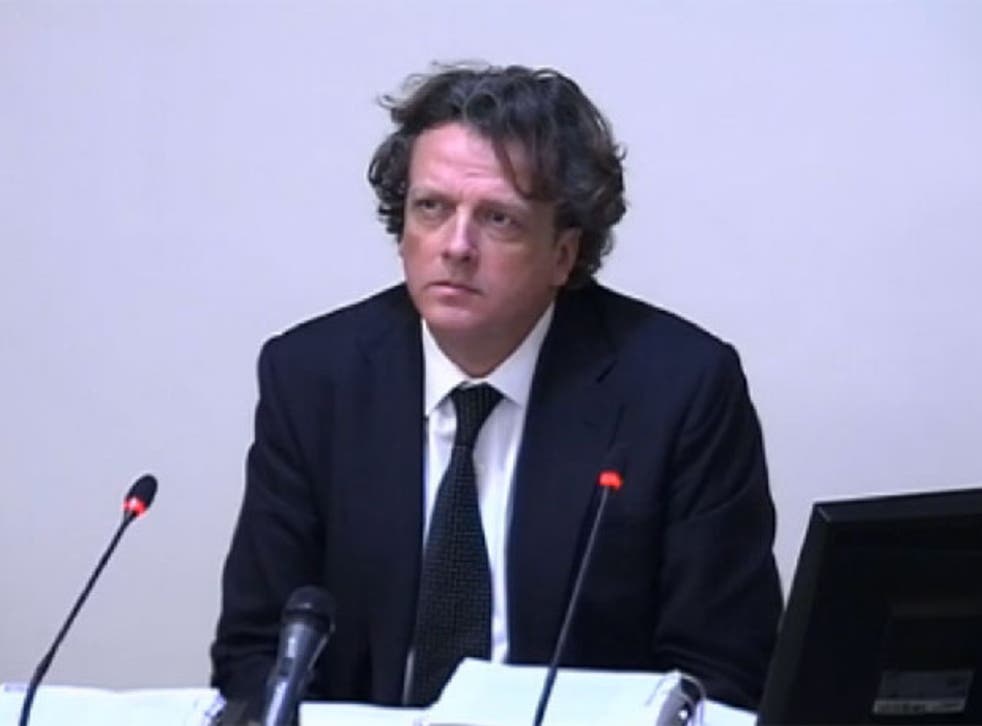 The editors of the Daily Mirror and the Sunday Mirror have conceded that phone hacking might have occurred at their newspapers.
The Leveson Inquiry into press standards heard that the interception of voicemail messages could have taken place in the newsrooms of both of the tabloids.
Richard Wallace, who has edited the Daily Mirror since 2004, said the practice might have taken place in the newsroom without his knowledge.
But he insisted that there are "significant positives" in tabloid journalism and he was confident that reporters who work at the newspaper act within the code of practice.
Counsel to the inquiry David Barr asked Mr Wallace if he knew about hacking at the paper.
"Not to my knowledge," replied Mr Wallace.
Mr Barr asked if it might have occurred without his knowledge.
"It might well have," said Mr Wallace.
He said it was possible that a story the newspaper ran about Sven Goran Eriksson's affair with Ulrika Jonsson in 2002 might have come from the interception of voicemail messages.
Mr Wallace, who has worked at the paper for more than two decades, said the tip about the story came from the showbusiness department, adding: "I can't even recall who actually put the story forward, to be honest."
Mr Barr asked: "Is it possible, even if you weren't told, that it was phone hacking?"
Mr Wallace replied: "It's possible, yes."
Piers Morgan, who was editor of the paper at the time, flatly denied intercepting Jonsson's messages when he appeared before the inquiry.
Sunday Mirror editor Tina Weaver told the hearing she was not aware of phone hacking at her newspaper but there was no guarantee that it had not occurred.
Ms Weaver was asked about a BBC article which claimed there was routine phone hacking in the newsroom of the Sunday Mirror.
She said her organisation was "not happy" about the story which contained "anonymous allegations from seven years ago".
Mr Barr asked her if it was her position that there was "no guarantee" that phone hacking had not occurred at the newspaper. She replied: "That is correct."
Ms Weaver told the inquiry that the story the Daily Mirror published about Cherie Blair's pregnancy in 1999 came from public relations guru Max Clifford.
The inquiry previously heard from Tony Blair's former communications director Alastair Campbell, who said he believed the story might have been obtained from phone hacking.
Mr Campbell admitted that he had "no evidence" that journalists intercepted the voicemails of either Mrs Blair or her lifestyle consultant Carole Caplin, but queried the source of a number of articles about the former prime minister's wife.
"I do not know if her (Ms Caplin's) phone was hacked, or if Cherie's was, but knowing what we do now about hacking and the extent of it, I think it is at least possible this is how the stories got out," he said in the statement.
But today, Ms Weaver told Lord Justice Leveson: "The information came in to the then editor, Piers Morgan, and I was his deputy and he asked me to write it.
"He purchased it from Max Clifford, I think that's a matter of record, and he told Mr Morgan where he received the original information from, I believe."
Mr Wallace also used his platform at the inquiry to apologise to Chris Jefferies, who was wrongfully arrested on suspicion of the murder of landscape architect Jo Yeates.
He said: "I wish to express my sincerest regret to Mr Jefferies, his family and friends who had to see this unfold.
"We obviously caused him and his nearest and dearest great distress which I regret, personally, greatly and I regard it as a black mark on my editing record."
Mr Jefferies, Miss Yeates's former landlord, previously told the inquiry that the national press "shamelessly vilified" him.
One Daily Mirror front page carried the headline "Jo Suspect is Peeping Tom" beneath a photograph of Mr Jefferies, and another front-page headline read "Was Killer Waiting In Jo's Flat?", with sub-headings below reading "Police seize bedding for tests" and "Landlord held until Tuesday".
Sly Bailey, the chief executive of Trinity Mirror, which runs five national titles and more than 140 regional newspapers, said she was unaware of hacking at any of her papers and that she promoted ethics as a "general source of business".
"I have seen no evidence to show me that phone hacking has ever taken place at Trinity Mirror," she said.
In her witness statement, she added: "With regard to the print media, I believe ethics to mean that our journalism has truth, accuracy and fairness at its heart, with no tolerance of bullying, or harassment, unlawful activity or corruption in our newspapers and websites.
"I see high standards of ethics being critical to our success."
Mrs Bailey added that she had not launched an investigation into phone hacking at her company because she had seen no evidence of it.
She said the BBC Newsnight article about hacking at the Sunday Mirror was "terrible journalism".
"They were running unsubstantiated allegations as if they were fact and I think that is terrible journalism," she said.
She added that following the closure of the News of the World, she instigated a review of editorial controls and procedures.
Mrs Bailey also spoke about Mr Morgan, who lost his job as editor of the Daily Mirror in 2004 after he published fake Iraqi abuse photographs.
She said it was a "catastrophic editorial error" that lost a lot of readers for the title.
"Frankly it was not so much the publishing, which I do believe that Mr Morgan did in good faith, but what happened in the intervening period, the board lost confidence in him as editor and that is why we fired him."
The People editor Lloyd Embley categorically denied that hacking had occurred at the Sunday tabloid.
Mr Embley, who has held the position since November 2007, told the inquiry: "I do not believe that hacking has ever occurred at my newspaper.
"I have never asked anyone to hack a telephone, I have never seen anyone hack a telephone."
Tomorrow the inquiry will hear from broadcaster and editor of Private Eye Ian Hislop and executives from The Times and The Guardian.
PA
Register for free to continue reading
Registration is a free and easy way to support our truly independent journalism
By registering, you will also enjoy limited access to Premium articles, exclusive newsletters, commenting, and virtual events with our leading journalists
Already have an account? sign in
Join our new commenting forum
Join thought-provoking conversations, follow other Independent readers and see their replies