Piers Morgan 'unaware of phone hacking'
Tuesday 20 December 2011 16:57 GMT
Comments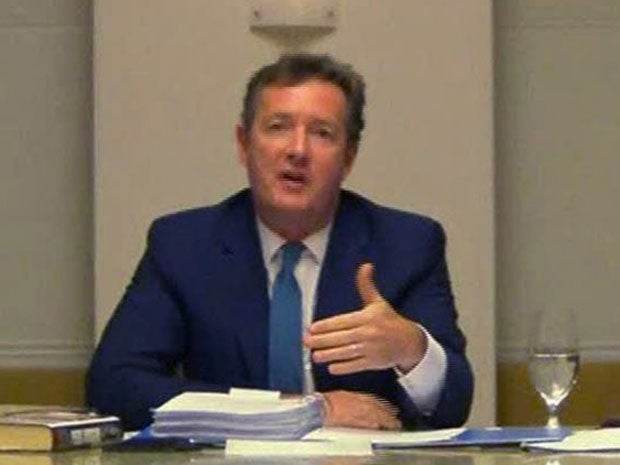 Former tabloid newspaper editor Piers Morgan today told an inquiry into press standards that he was unaware of any phone hacking when in charge at the Daily Mirror.
And Mr Morgan said he had not been "directly involved" in the use of private investigators at the Daily Mirror.
Mr Morgan, former editor of the Daily Mirror and News of the World, told the Leveson Inquiry that "ethical considerations" had been "interwoven" into his work.
But he said British libel laws had imposed "enormously onerous" requirements.
Mr Morgan, now a CNN interviewer, gave evidence to the hearing in London via a video-link from the United States.
Mr Morgan said he was unaware of any phone hacking going on at the Daily Mirror under his leadership, adding: "To the best of my recollection, I do not believe so."
He said he had not been "directly involved" in the use of private investigators at the Daily Mirror.
"I was never directly involved," he said. "This was dealt with through the news desk or the features desk so, like most editors, you just would not get directly involved."
He added: "But certainly all journalists knew they had to operate within the law. That was enshrined in their contracts of employment."
Inquiry chairman Lord Justice Leveson was told that Mr Morgan had made a statement to the inquiry in which he said: "Ethical considerations were interwoven into my work."
But Mr Morgan said, in the statement, that libel laws "imposed enormously onerous requirements".
Lord Justice Leveson was told that Mr Morgan became the News of the World's youngest editor in 1994 at the age of 28 and went on to edit the Daily Mirror between 1995 and 2004.
Mr Morgan was also asked about his book The Insider: The Private Diaries Of A Scandalous Decade.
Robert Jay QC, counsel to the inquiry, read extracts from the book.
The extracts included detail of an incident in 1996, when Mr Morgan decided not to publish a story after receiving a leaked copy of the Budget, and a complaint by Earl Spencer, who said his former wife had been mistreated.
Lord Justice Leveson asked the witness: "Have you listened to recordings of what you knew to be illegally obtained voicemail messages?"
Mr Morgan replied: "I don't believe so, no."
Mr Jay went on to ask Mr Morgan about a recording of a voicemail message left by Sir Paul McCartney for Heather Mills when the couple were suffering problems with their marriage.
Mr Morgan refused to tell the inquiry about the details of when he heard the message because he wanted to protect his source.
"I'm not going to discuss where I heard it or who played it to me," he said.
Mr Jay pressed Mr Morgan on the matter, and asked him: "But it was a voicemail message wasn't it?"
He replied: "I believe it was, yes."
Lord Justice Leveson asked Mr Morgan: "The only person who would lawfully be able to listen to the message is the lady in question or somebody authorised on her behalf to listen to it. Isn't that right?"
He replied: "Possibly."
After Lord Justice Leveson said "well...", Mr Morgan added: "Sorry, what do you expect me to say?"
Lord Justice Leveson then said he was "perfectly happy" to call Heather Mills to give evidence "as to whether she authorised you to listen to her voicemails".
Mr Morgan said: "All we know for a fact about Lady Heather Mills McCartney is that in their divorce case Paul McCartney stated as a fact that she had recorded their conversations and given them to the media."
Mr Jay asked him whether he had hacked the phone of Ulrika Jonsson when she was in a relationship with Sven-Goran Eriksson.
He flatly denied intercepting her messages.
Mr Jay then asked him about a lunch that Mr Morgan and Jonsson both attended in 2002 when he advised her to change her voicemail code and "mimicked her Swedish accent".
"I do not recall anything like that," Mr Morgan said.
Talking about his time as an editor, Mr Morgan said: "I would say the average editor is aware of 5% of what his journalists are up to at any given time on any newspaper."
He admitted using the services of Benji "The Binman" Pell.
Mr Morgan said: "Did I think he was doing anything illegal? No.
"Did I think it was on the cusp of unethical? Yes.
"If you threw something away you are disregarding it and you clearly have no use for it and it is going off to the rubbish tip."
Mr Morgan said he had "no reason or knowledge" to believe that hacking was going on.
He said he would "not usually" ask journalists about the sources of their information.
Mr Jay asked: "Are you seeking to distance yourself from these sources of information because the sources we are talking about are the fruits of phone hacking?"
Mr Morgan replied: "No".
He said he was not aware of journalists employed by him using private eye Steve Whittamore to get stories.
When Mr Jay asked about the tens of thousands of pounds which would have been paid to the investigator, Mr Morgan said that the money would have been cleared by the managing editor or by news or features desks.
He added that reporters were contracted to work "within the law".
Mr Morgan said he did not "believe" that paying police officers was "something that happened" when he was editor at the Daily Mirror and added: "I have never been made aware of any evidence of that at all."
Mr Morgan accepted that journalists were "under pressure" but denied sending "menacing" emails to staff.
"Journalists are under pressure to bring in stories - that's their job description," he said.
"I would quibble with menacing in tone. I would certainly occasionally put a rocket up their collective backsides if I felt we were not performing well enough."
He said there was no "individual" code of conduct for the Daily Mirror but a copy of a Press Complaints Commission code was "on display" in the newsroom.
And he said there was "regular guidance" from lawyers.
Mr Jay asked Mr Morgan if he had the "necessary judgment" to be a newspaper editor at the age of 28.
He replied: "I tried my best." When pressed on the matter, he added: "I came to rely on much older, more experienced people on the staff who were invaluable.
"But certainly when I first went in I think it is right to say that I was, you know, I was pretty young. I was 28."
Mr Morgan was also questioned about his view on the issue of privacy, which he described as "a central point" of the inquiry.
"I have very little sympathy with celebrities who sell their weddings for a million pounds - one of the most private days of their lives - and then expect to have privacy if they get caught having affairs," he said.
On the subject of celebrities, Mr Morgan added: "They are the very last people who should be protected by privacy law."
The inquiry heard that Mr Morgan first made reference to knowing about phone hacking in a diary entry in January 2001.
It reads: "Someone suggested today that people might be listening to my mobile phone messages. Apparently, if you don't change the asked security code that every phone comes with, then anyone can call your number, and if you don't answer, tap in the standard four digit code to hear all your messages."
Mr Morgan said he had "no idea" who made him aware of the way messages are hacked.
At the end of the day, Mr Morgan said that he felt "like a rock star having an album brought out from his back catalogue about all his worst-ever hits", adding: "I do feel still very proud of a lot of the very good stuff that both the Mirror and the News of the World did during my tenure as editor.
"I've been watching a lot of the Inquiry and I think a lot of it has been very useful, but I do think there has to be a better balance because a lot of the very good things that the newspapers were doing in those periods and continue to do are not being highlighted at all."
PA
Join our commenting forum
Join thought-provoking conversations, follow other Independent readers and see their replies